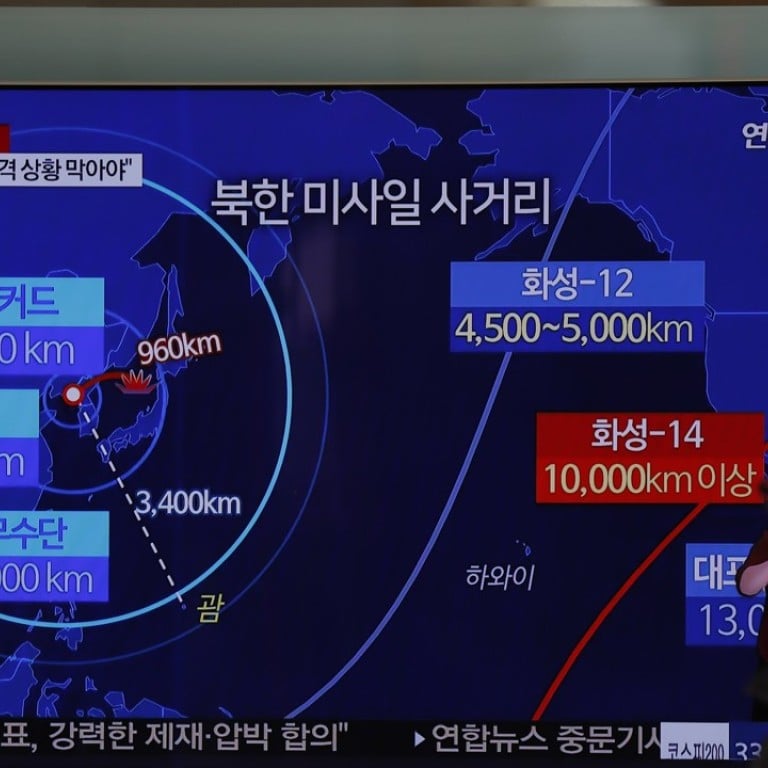 Airline pilots saw flash believed to be from North Korean missile over Japan
Korean Air official said the missile didn't endanger safety of two aircraft
A South Korean airline said captains of two of its passenger planes saw flashes believed to be from North Korea's latest missile launch while flying over Japan, and reported the sightings to ground control.
A Korean Air official said Wednesday that the planes were headed for South Korea's Incheon Airport after departing from San Francisco and Los Angeles.
He didn't want to be named, citing office rules.
He said the captain of the first plane reported seeing a flash to Japanese ground control about an hour after North Korea fired what it said was a new intercontinental ballistic missile.
Japan's defence minister said the missile landed in the Sea of Japan (East Sea) about that time.
The airline official said the captain of the second plane made a similar report four minutes later as his plane passed along the same route.
He said both planes safely landed at Incheon and the missile didn't endanger their safety because the trajectory was far enough from the planes' flight paths.
Watch: South Korea responds with its own missile test
North Korea said the new missile reached an altitude of around 4,475 kilometres – more than 10 times the height of the International Space Station – and flew 950 kilometres during its 53-minute flight.
"After watching the successful launch of the new type ICBM Hwasong-15, Kim Jong-un declared with pride that now we have finally realised the great historic cause of completing the state nuclear force, the cause of building a rocket power," according to a statement read by a television presenter.
North Korea described itself as a "responsible nuclear power", saying its strategic weapons were developed to defend itself from "the US imperialists' nuclear blackmail policy and nuclear threat".
US, Japanese and South Korean officials all agreed the missile, which landed within Japan's exclusive economic zone, was likely an ICBM. The test did not pose a threat to the United States, its territories or allies, the Pentagon said.
"It went higher, frankly, than any previous shot they've taken, a research and development effort on their part to continue building ballistic missiles that can threaten everywhere in the world, basically," US Defence Secretary Jim Mattis told reporters at the White House.
The UN Security Council was expected to meet on Wednesday to discuss the launch, which Secretary-General Antonio Guterres strongly condemned.
China, North Korea's lone major ally, expressed "grave concern" at the test, while calling for all sides to act cautiously.
The new Hwasong-15, named after the planet Mars, was a more advanced version of an ICBM tested twice in July, North Korea said. It was designed to carry a "super-large heavy warhead".
Based on its trajectory and distance, the missile would have a range of more than 13,000 kilometres – more than enough to reach Washington DC and the rest of the United States, the US-based Union of Concerned Scientists said.
Associated Press and Reuters