Crime
Get more with myNEWS
A personalised news feed of stories that matter to you
Learn more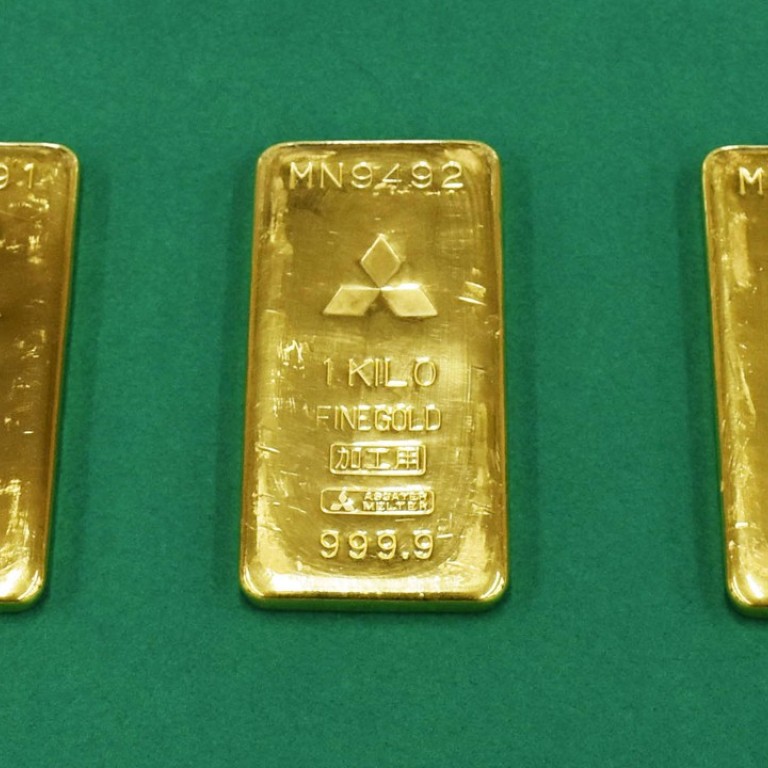 Criminals smuggling gold into Japan concealed bars in aeroplane toilets as gangs grow more sophisticated in their tactics
Of the 294 gold smuggling cases detected in the year to June 2016, 135 originated in Hong Kong, 88 were from South Korean cities and 27 started in Singapore
Japanese authorities have warned international gold smuggling rings are becoming more sophisticated after cracking a scheme to conceal gold bars in aircraft toilets.
Police in Nagoya have arrested six people in connection with the latest in a growing number of smuggling attempts. The six men were accused of illegally importing five gold bars on a Japan Airlines flight from Taiwan to Nagoya's Chubu Airport in July 2017.
The 5kg of gold had a value of 22.8 million yen (US$210,000) but the smugglers were attempting to avoid 1.82 million yen in consumption taxes.
"Gold smuggling has taken off in Japan since the consumption tax was raised from 5 per cent to 8 per cent in April 2014," said Stuart Witchell, Hong Kong-based managing director of Berkeley Research Group.
"People buy the gold overseas, avoiding Japan's 8 per cent tax, then smuggle it into Japan to resell it with the consumption tax built in for an 8 per cent additional profit.
"Japan's yakuza groups and drug organisations are using this as a means to make quick profits as well as money laundering. There are basically no criminal penalties for this activity, only a customs fine, and the gold is not confiscated, so this low risk-high reward activity will probably only increase when Japan raises its consumption tax to 10 per cent."
Japanese customs detected just eight attempts to smuggle gold into Japan in the 12 months to June 2014, according to the Finance Ministry in Tokyo. Underlining the new-found appeal of the underground trade, that figure climbed to 467 cases in the year to June 2017, involving 870 million yen in evaded tax.
Of the 294 gold smuggling cases detected in the year to June 2016, 135 originated in Hong Kong, 88 were from South Korean cities and 27 started in Singapore.
With customs officials increasingly aware of the ways in which the precious metal is being brought into Japan, criminal groups are devising more imaginative ways in which to evade their scrutiny.
In the latest breakthrough, customs have confirmed the five gold bars were taken aboard the Japan Airlines flight in Taiwan. Once airborne, the passenger entered the toilet, removed a plastic panel at the rear of a toilet cubicle and deposited the gold inside the empty space.
The suspect disembarked in Nagoya and went through customs with nothing to declare. Aware in advance the aircraft was expected to continue domestically from Nagoya, an accomplice boarded the flight to retrieve the gold and was able to avoid customs procedures at Tokyo's Haneda Airport.
Customs officials had already discovered the hiding place, however, and removed the gold.
Of the six individuals arrested, one was a 48-year-old Sri Lankan national who owns a used car showroom in Nagoya. Another suspect was a Malaysian, while the others were Japanese.
Police believe the gang has used similar hiding places aboard international flights on repeated occasions in the past 18 months.
This article appeared in the South China Morning Post print edition as: Smugglers stash gold in toilets on aircraft