Robotics
Get more with myNEWS
A personalised news feed of stories that matter to you
Learn more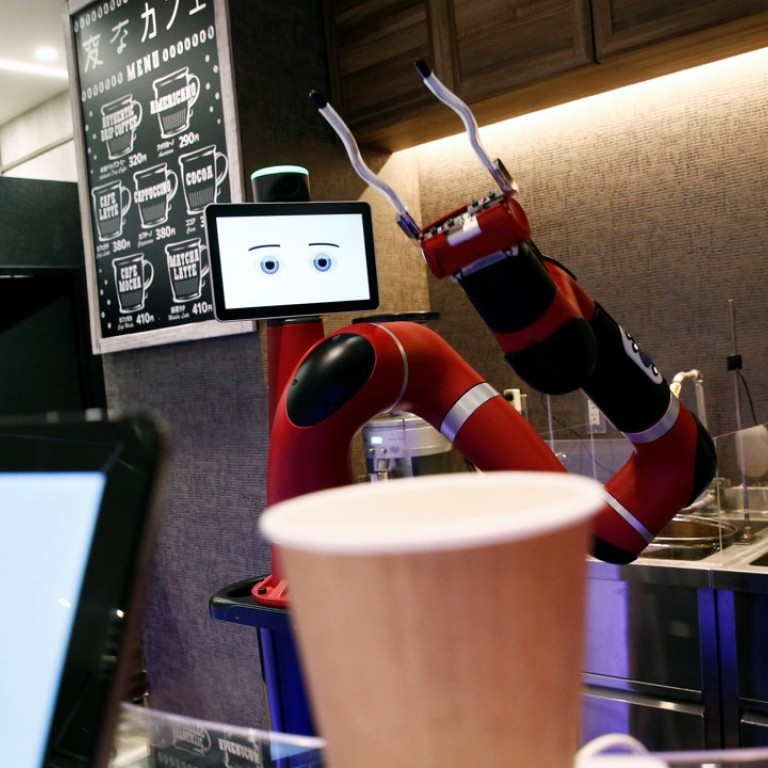 Video
'Hello. Would you like delicious coffee?' Robot barista replaces human staff at Japanese cafe
Customers first need to buy a ticket at a vending machine to order a drink they can choose from a menu of seven items. The robot will then scan the QR code of the ticket to serve them
Travel agency H.I.S. said on Tuesday that a robot will serve drip coffee to customers at a cafe it plans to open next month at its flagship branch in central Tokyo.
The agency will open its "Henn Na Cafe" or "strange cafe" featuring a robotic arm and an automated coffee maker inside its store in Tokyo's Shibuya district.
The move will add to the company's series of services using robots, including at the "Henn Na Hotel" or "strange hotel" in Sasebo, Nagasaki Prefecture where a woman-shaped robot and a dinosaur robot welcome customers at the front desk.
Watch: robot replaces human barista in Japanese cafe
At the Shibuya cafe, customers will be welcomed by the US-made robotic, with an attached screen showing expressions of a person's face and speaking in Japanese: "Hello. Would you like delicious coffee?"
Customers first need to buy a ticket at a vending machine to order a drink they can choose from a menu of seven items. The robot will then scan the QR code of the ticket to serve them.
It grabs a paper cup and moves it toward the coffee machine before pouring grinded coffee beans into the machine and pressing a button to make the drink. When it is ready, the robot places it at a reception counter.
It takes three to four minutes for the robot to serve one cup of coffee, priced at 320 yen (US$3). The robot can also discard coffee beans and clean filters by itself.
"Using artificial intelligence, we want to make it learn smooth movements," an H.I.S. official said.