Japan
Get more with myNEWS
A personalised news feed of stories that matter to you
Learn more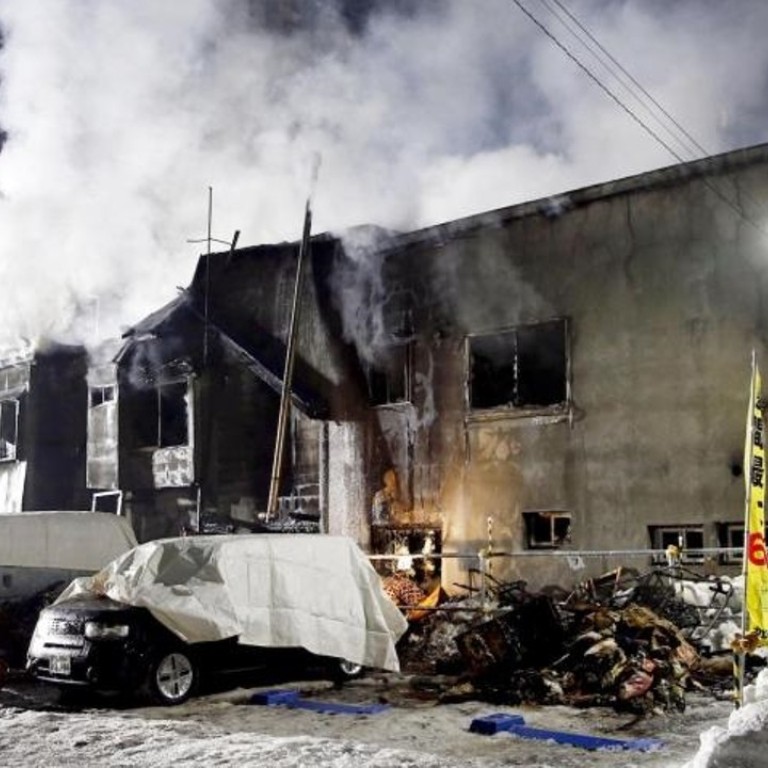 Fire engulfs Japanese aged care home, leaving 11 people dead
After dawn, police and firefighters were combing the black remains of furniture in freezing temperatures
Eleven people died in a fire on Wednesday night at a lodging facility in Sapporo that housed impoverished elderly and disabled people, with only five residents surviving, police said.
The lodging in the northern prefecture of Hokkaido, which provided low-cost shelter for welfare recipients, was totally gutted. Japan has about 1,700 such facilities, often used by elderly people unable to enter care facilities or rejected by flat owners.
A total of 16 residents aged between 40 and 90 were living in the decrepit three-story wooden home built on a 400-square-meter lot about 1.5km north of Sapporo railway station.
The blaze started at about 11.40pm on Wednesday and firefighters battled the flames until about noon on Thursday when it was finally brought under control.
Eight men and three women died in the fire, and three others were injured. Police are still trying to identify the victims, many of whom were believed to be elderly.
Noriyoshi Fujimoto, the head of the company that rented out the nearly 50-year-old building and operated the facility, said: "We thought we could deal with the blaze with fire extinguishers."
"Some of the residents could not eat or take a bath without the support of others so they may not have been able to escape," a senior member of the operating company said.
According to the operator, residents each had in a room of about 10 square metres, for which they paid 36,000 yen (US$330) per month. Each room had a kerosene heater and smoke alarm, but no fire sprinklers.
Fire services said the facility was not obliged to install sprinklers by law, but when authorities checked the lodging in March 2014, the operator was warned of its failure to inspect fire protection equipment and report its findings, something it is required to do once every three years.
By December 2016, however, the facility was found not to be committing any legal violations, with fire extinguishers and alarms properly installed, according to the authorities.
Neighbours said they could hear screams coming from the home as the blaze broke out, with some joining rescue efforts.
A 70-year-old man said he dragged one resident away from the facility, who was found crouching in the snow after jumping from the second floor. He also said freed a woman from the first floor by breaking the window grilles with a shovel.
"I have heard there were residents who moved to the lodging after their family members died. I cannot stand [this tragedy]," said a 74-year-old man who runs a nearby ramen shop frequented by the residents.
A 64-year-old man who had been inside the facility, said: "The aisle was narrow and the entrance only had a space for one person to pass."
According to the Ministry of Health, Labour and Welfare, 537 cheap or free accommodation for impoverished people were registered with local governments across Japan as of June 2015. Another 1,200 unauthorised similar facilities were also believed to be in operation.
An estimated 15,600 people depend on the registered facilities, with 90 per cent of them being welfare recipients and 40 per cent aged 65 or older. Due mainly to financial reasons, they cannot rent flats or enter care facilities.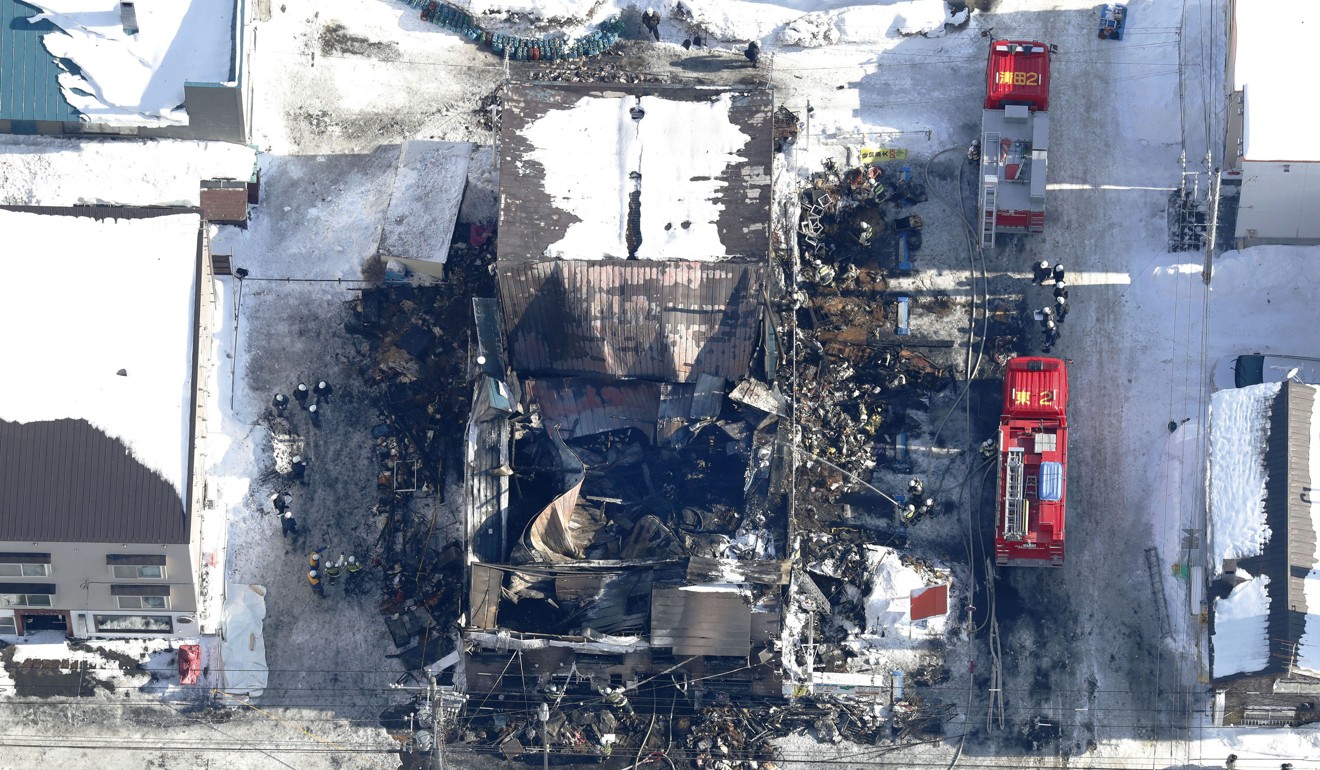 Yasuhiro Yuki, a professor specialising in social security at Shukutoku University, said such facilities are operating ostensibly to provide "temporary" lodging until the residents find new homes but the reality is often different.
"It is difficult for the elderly to find a place to move to and quite a few people have been staying at those facilities for years," he said.
Fire protection measures have been a challenge for facilities providing accommodation to low-income earners as they are generally made up of a cluster of small rooms. Facility operators are reluctant to spend too much money on equipment because it will lead them to charge higher rents.
"Support groups are usually scant of money and not many can enhance fire protection equipment or hire a building manager. We need public backup," said Nagao Morimatsu, a senior member of a non-profit organisation assisting the needy in Kitakyushu in Fukuoka Prefecture.
Deputy Chief Cabinet Secretary Yasutoshi Nishimura said the government will consider measures to prevent similar repeat disasters after fire authorities have concluded their investigation.
This article appeared in the South China Morning Post print edition as: Tragedy as fire guts old people's home