Defence
Get more with myNEWS
A personalised news feed of stories that matter to you
Learn more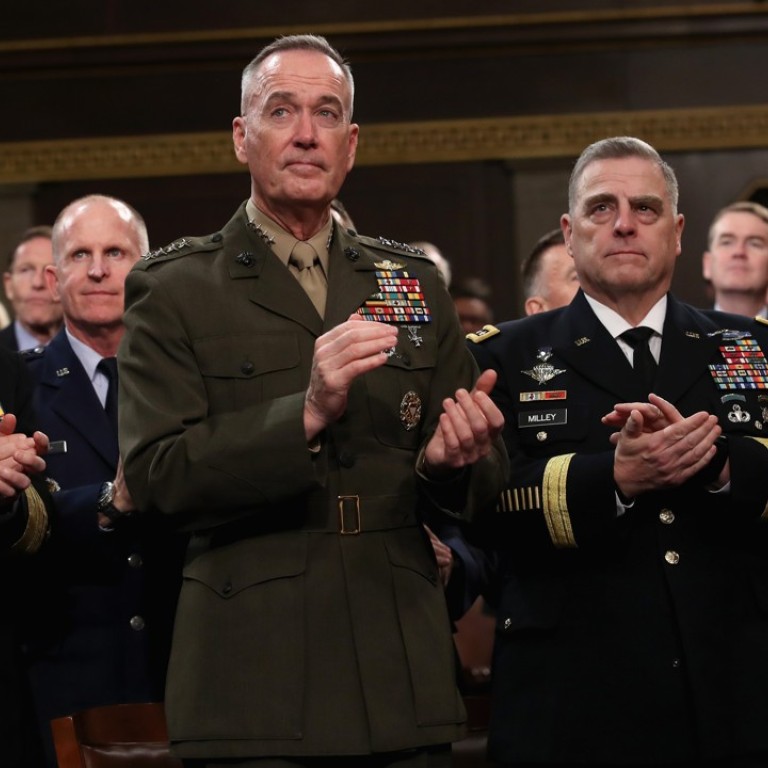 'No decline': top US general Joseph Dunford insists presence in Asia-Pacific remains undiminished – without mentioning China
While visiting Australia, Dunford also stressed the US seeks a peaceful outcome to the crisis over North Korea's push to develop intercontinental ballistic missiles
US commitment to the Asia-Pacific remains unwavering even though rivals falsely depict its influence as waning, the country's top general said on Tuesday.
General Joseph Dunford's remarks came weeks after the Pentagon unveiled a new national defence strategy labelling China as a "strategic competitor" that bullies its neighbours, and as America seeks to counter a narrative that President Donald Trump's administration is uninterested in Asia unless seen through the prism of North Korea.
"There's absolutely, in some corners, a concerted effort to portray the United States as a declining power, and obviously I reject that," Dunford, the chairman of the Joint Chiefs of Staff, said without naming China directly.
"If you look at the health of our alliances in the region … The evidence reflects anything other than a decline in Pacific power. We have enduring interests here, we have enduring commitment and an enduring presence in the Pacific."
Dunford is on a week-long visit to parts of the US military's enormous Pacific Command, which spans almost half the globe.
It follows trips by other senior Trump officials, including Defence Secretary Jim Mattis, Secretary of State Rex Tillerson and the president himself.
They want to show that as China rises, America is not reducing its presence in the Asia-Pacific, where to a major extent it has underwritten regional security since the end of the second world war.
When Trump as a candidate suggested South Korea and Japan should get their own nuclear weapons and berated allies for not pulling their weight, Asia-watchers feared for American engagement under the new president.
Trump's withdrawal from the Trans Pacific Partnership trade deal made matters worse, though he has recently made noises about America possibly rejoining.
Malcolm Davis, a senior analyst at the Australian Strategic Policy Institute, said observers are encouraged by recent US moves, including publication of a new national defence strategy calling Russia and China "Great Power" rivals.
"[Trump] seems to have returned a focus to the Asia-Pacific region and is making clear that he's not about to pull out on Asia-Pacific allies," Davis said. "He might talk in terms of America first … but he is making the case that America is not about to turn its back."
Under Barack Obama, the United States pursued a much-vaunted "pivot" that saw Washington try to shift its focus from the Middle East to the Asia-Pacific.
The national defence strategy spells out that "interstate strategic competition, not terrorism, is now the primary concern in US national security," and makes clear America will focus on Asia in the context of China's growing military might.
"As China continues its economic and military ascendance, asserting power through an all-of-nation long-term strategy, it will continue to pursue a military modernisation programme," Defence Secretary Jim Mattis wrote in the strategy. "[China] seeks Indo-Pacific regional hegemony in the near term and displacement of the United States to achieve global pre-eminence in the future."
But Abe Denmark, a former Pentagon official under Obama who now directs the Asia Program at the Woodrow Wilson International Centre for Scholars, said Asian partners still see America as disengaged.
"Even though they see us as in retreat or decline, they still want to work with us and keep us in the region. There's no realignment [with China], but a tremendous amount of uncertainty," he said.
Dunford also warned that any war with North Korea would be "nasty" and said America still hopes to find a peaceful solution to the ongoing crisis. He said the Pentagon's role is to bolster diplomatic efforts by providing a clear message about US war-fighting capabilities.
"Right now, the military dimension of the problem is reinforcing Secretary [of State Rex] Tillerson's economic and diplomatic pressure campaign," Dunford told reporters travelling with him after he visited US Marines temporarily deployed to an Australian air force base in Darwin. "His diplomatic efforts are underwritten by a credible military strength."
Dunford stressed the US seeks a peaceful outcome to the crisis over North Korea's push to develop intercontinental ballistic missiles that have the capability of reaching the US mainland.
Still, he said, President Trump has asked him and Defence Secretary Mattis for a "full range" of military options.
Earlier, after having lunch with troops, Dunford responded to a marine's question about how – in the event of a war with North Korea – the military would avoid the high casualty rates that were incurred during the Korean war of 1950-53.
"We're obviously a different force than we were even 10 years ago," Dunford said, referencing America's space, cyber and missile-defence capabilities. "But at the end of the day it will be a nasty war if we fight on the Korean Peninsula and it's going to involve marines and soldiers taking ground, alongside obviously our allies and partners.
"If you are a Marine, and frankly if you are anybody in uniform, if you wake up in the morning always believing that this is the last day that you will be at peace, you are going to be in the right place," added Dunford, who was head of the Marine Corps before becoming chairman of the Joint Chiefs.
"The last thing you want to do when you are in uniform is to be complacent and to think, nah, we are never going to go to war."
The US Marines have been sending troops to Darwin since 2012 on a rotational basis to train with their Australian counterparts and show a regional presence. Last year, 1,250 were deployed but that number is expected to increase in 2018.