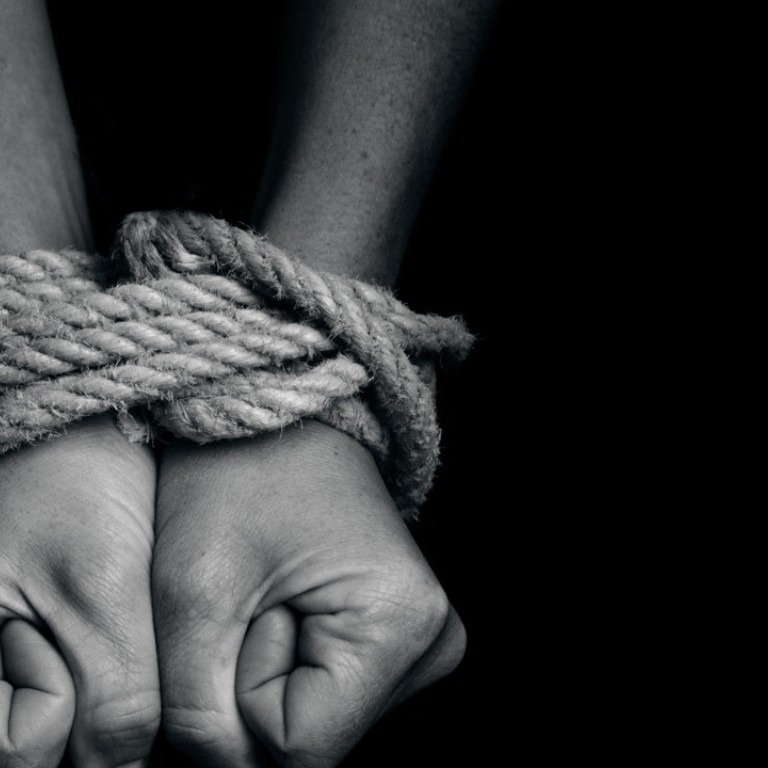 North Korean labourer takes Dutch shipbuilder to court over claims of 'slave-like' working conditions
The legal action could pile pressure on other companies in the Netherlands and beyond that profit from modern slavery in their global operations
Claimant says he endured 12-hour working days in unsafe conditions and had much of his earnings seized by the North Korean government
A North Korean labourer has filed a landmark criminal complaint against a Dutch shipbuilding company that allegedly profited from the abuse of workers in its supply chain in Poland and was aware of the "slave-like conditions", lawyers said on Thursday.
A law firm representing the worker – who has not been named for his safety – has asked the Netherlands' public prosecutor to file a case against a shipbuilder it says knowingly benefited by buying items that were cheaper because of the use of forced labour.
The legal action could pile pressure on other companies in the Netherlands and beyond that profit from modern slavery in their global operations, according to lawyers and activists.
"Dutch law offers a unique provision which criminalises the act of profiting from exploitation," said Barbara van Straaten, a lawyer with Prakken d'Oliveira, a law firm in the Netherlands that specialises in human rights cases and filed the complaint.
"This opens the possibility to hold companies accountable which are not direct perpetrators in the labour exploitation, but which nonetheless knowingly profit," van Straaten said.
The Dutch shipbuilder, which is not being named to avoid undermining a possible prosecution, employed Polish shipyard Crist SA despite knowing it subjected workers to "inhumane, slave-like conditions" to lower costs, the complaint alleged.
The worker behind the complaint said he endured 12-hour working days in unsafe conditions and had much of his earnings seized by the North Korean government, according to his lawyers.
Crist SA said it has never employed North Korean workers directly, but referred to a Polish staffing agency, Armex, which it said had "done some work" for the shipyard before 2016.
"We learned there was a possibility of irregularities in regards with employment of Armex workers (some of them were from North Korea) but we do not know the details," a spokesman said by email.
"Without the time frame, the name of the ship building firm (the subject of the complaint), or the project name, we cannot give you specific information on the issue."
The North Korean embassy in Warsaw could not be reached for comment but has previously denied workers are deprived of pay.
The complaint marks the first time a case has been sought in the Netherlands over worker exploitation involving a Dutch firm committed outside the country, van Straaten said.
Under the country's anti-trafficking law, offenders can be jailed for up to 18 years and fined 83,000 euros (US$94,900).
The Netherlands' prosecutor's office said it had received the criminal complaint but did not disclose any further details.
Poland's national labour inspectorate found 29 North Koreans working at a Crist shipyard illegally in 2013 who were supplied by Armex yet had initially been employed by a company registered in North Korea.
The inspectorate did not say whether it took any action.
A search on Poland's online National Court Register found that Armex went into liquidation last year, although the exact date is unclear.
"We allege this is a sham construction (the relationship between Crist and Armex) and that in fact the North Koreans were directly employed and instructed by Crist," van Straaten said, adding that the there is evidence to support the claim.
Crist did not respond to this specific allegation.
Activists say North Korea sends tens of thousands of workers abroad and takes their pay to earn foreign currency that offsets the impact of UN sanctions over its nuclear weapons programme.
Many work in Polish shipyards, construction sites and farms, but face widespread exploitation and send up to 90 per cent of their salaries back to the hermit state, according to the European Alliance for Human Rights in North Korea.
Poland issued nearly 3,000 work permits for North Korean workers between 2008 and 2016, according to the Leiden Asia Centre, a research institution in the Netherlands which has linked dozens of Polish companies to their employment.
As the world strives to meet a UN global goal of ending modern slavery by 2030, businesses are facing growing regulatory and consumer pressure to ensure their supply chains are free of slaves - yet campaigners say companies are rarely penalised for abuses.
About 25 million people are estimated to be trapped in forced labour, from farms to factories, according to the United Nations.
The severity of this case highlights significant gaps in labour protections within the European Union, and the lack of remedies available to exploited workers, the lawyers said.
"This legal action, targeting labour exploitation in supply chains, will send a strong message to multinational corporations," said Gearoid O Cuinn, head of the Global Legal Action Network, a UK-based charity backing the complaint. "Profiting from forced labour entails serious legal risk."
This article appeared in the South China Morning Post print edition as: N Korean acts over 'slave-like' conditions