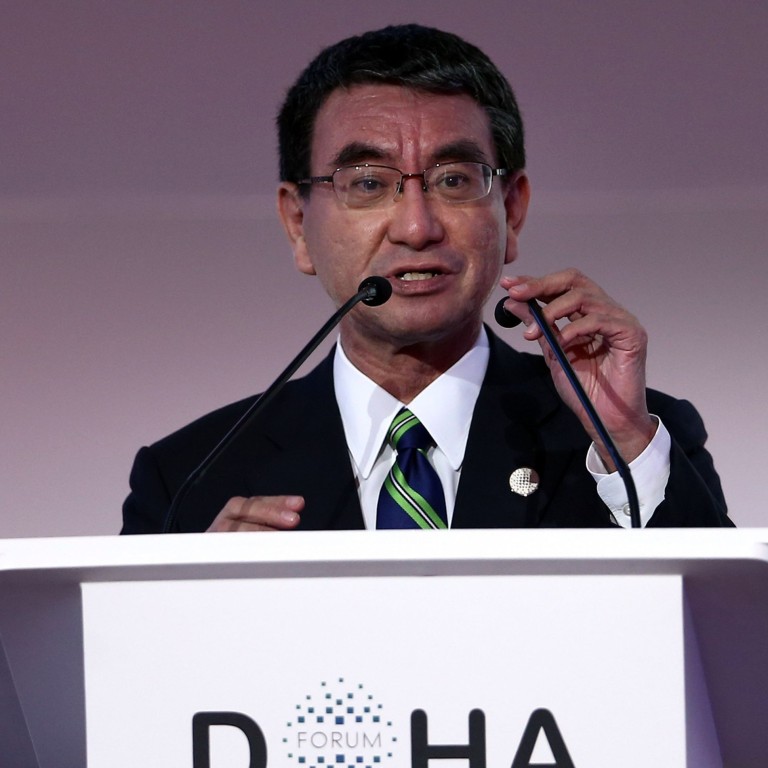 Japan's defence chief hits out at Beijing on South China Sea, military build-up
Taro Kono, seen as a potential successor to Prime Minister Shinzo Abe, made the remarks days ahead of a meeting with Chinese counterpart Wei Fenghe
His comments serve as a reminder for Beijing to play by the international rules even as ties with Tokyo warm, according to one analyst
Japan
's Defence Minister Taro Kono has criticised
China
for its actions in the contested
South China Sea
and waters close to Japan, days before visiting Beijing to meet his Chinese counterpart, Wei Fenghe.
"China is engaging in unilateral and coercive attempts to alter the status quo based on its own assertions that are incompatible with the existing international order," Kono on Sunday at the Doha Forum, an international conference in Qatar.
The senior politician – who previously served as foreign minister and has been touted as a potential successor to Prime Minister
Shinzo Abe
– added that Japan "is also concerned about China's rapid enhancement of its military power without transparency, including its nuclear and missile capabilities", public broadcaster NHK reported.
"The rule of law, which is of critical importance to global stability and security, is a value shared by the international community, including China," he said, adding that countries cannot be permitted to expand their spheres of influence by force and "aggressors must be forced to pay the cost".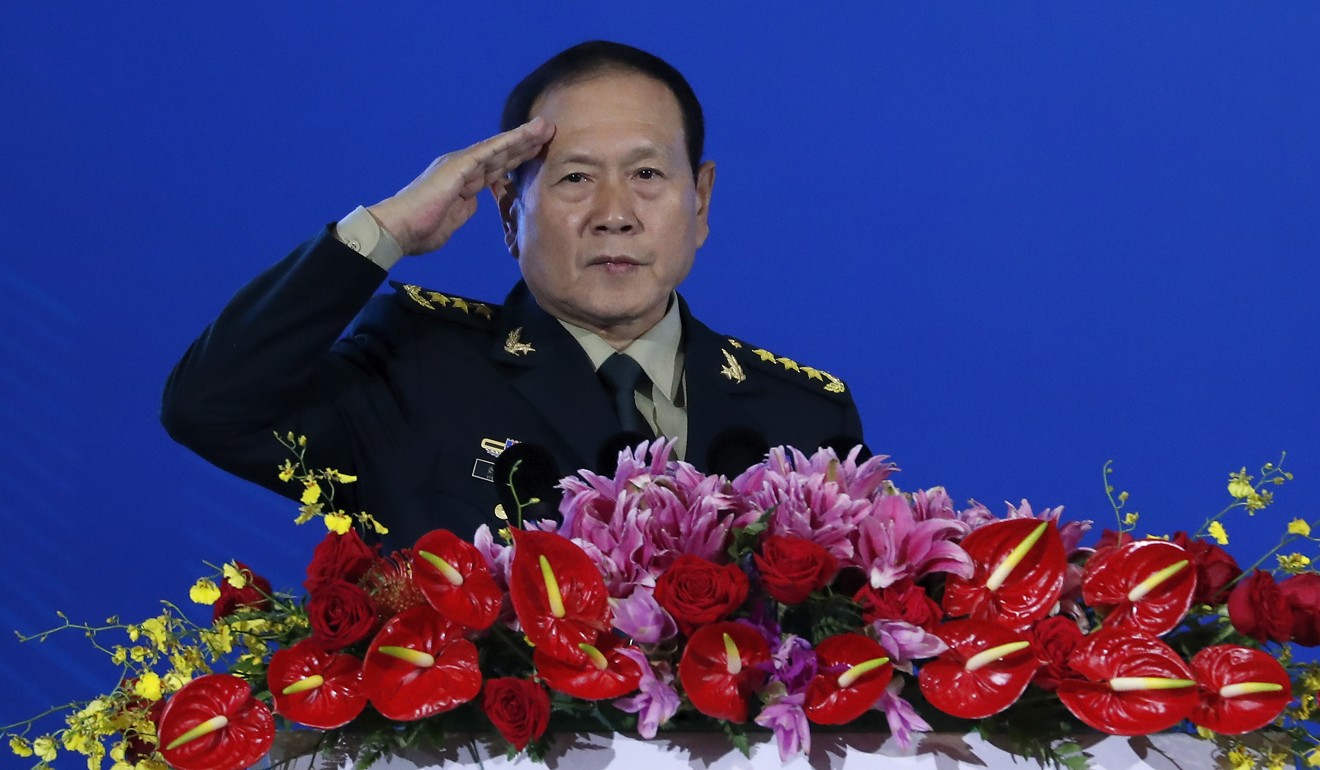 Hiromi Murakami, a professor of international relations at the Tokyo campus of Temple University, admitted to being "rather surprised" at the tone of the minister's comments.
"Japan has to collaborate with other countries in the region if it wants to resist China – I think 'contain China' is too strong a term – and Tokyo is working hard to do the same with India."
Chinese state media has not commented on Kono's remarks, but analysts said Beijing would doubtless be paying close attention. Recent tensions
between the US and China
have forced Beijing to focus on boosting ties with its neighbours, with Chinese President
Xi Jinping
expected to make a state visit to Japan next April, amid improving bilateral ties that have historically been marred by disputes over wartime history and territory – such as Tokyo's control of a group of uninhabited islands in the East China Sea which Beijing claims as the
Diaoyu Islands
, but are
called the Senkaku Islands in Japan
.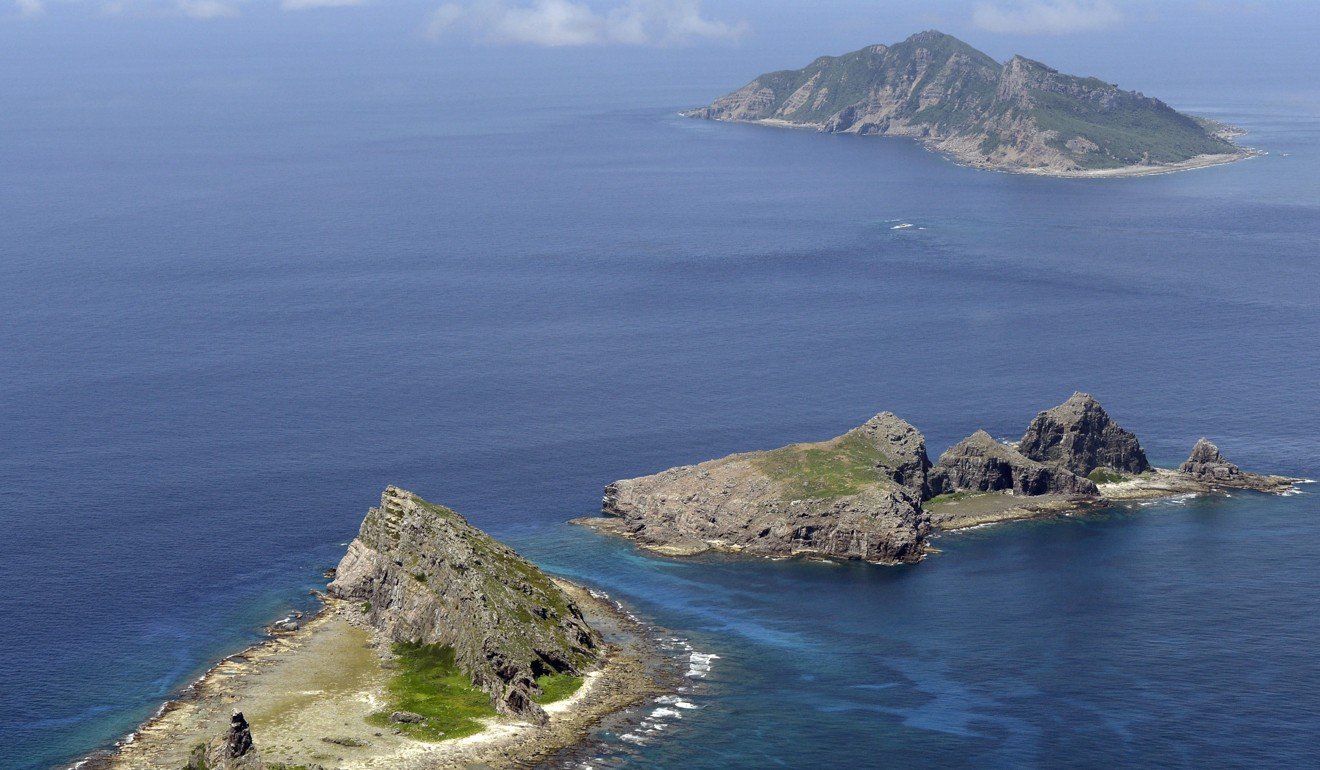 Jun Okumura, an analyst at the Meiji Institute for Global Affairs, agreed that Kono's comments were "unusual", but he pointed out that they were completely in line with Tokyo's positions on the issues as laid out in its annual defence and security white paper published earlier this year.
Japan has called on Beijing to adhere to the principles of international law on the question of islands and atolls in the South China Sea, a number of which Beijing has unilaterally claimed and built military facilities upon. Other regional players – such as the Philippines and Vietnam – have made rival claims.
Okumura suggested that while Beijing might want to "soothe things" over, Japan could be seeing this as an opportunity to make its point and "be a little bit more aggressive".
"Just as long as they don't push too far and it leads to escalation, of course."
Kono, who is expected to arrive in Beijing on Wednesday, is likely to raise the issue of the
Belt and Road Initiative
, China's ambitious infrastructure plan to boost global trade, and reiterate Japan's support for some of the projects that are presently being discussed.
"The point is that they are talking with each other and that these meetings are now becoming more routine," Okumura said. "That is something that everyone can fall back on."