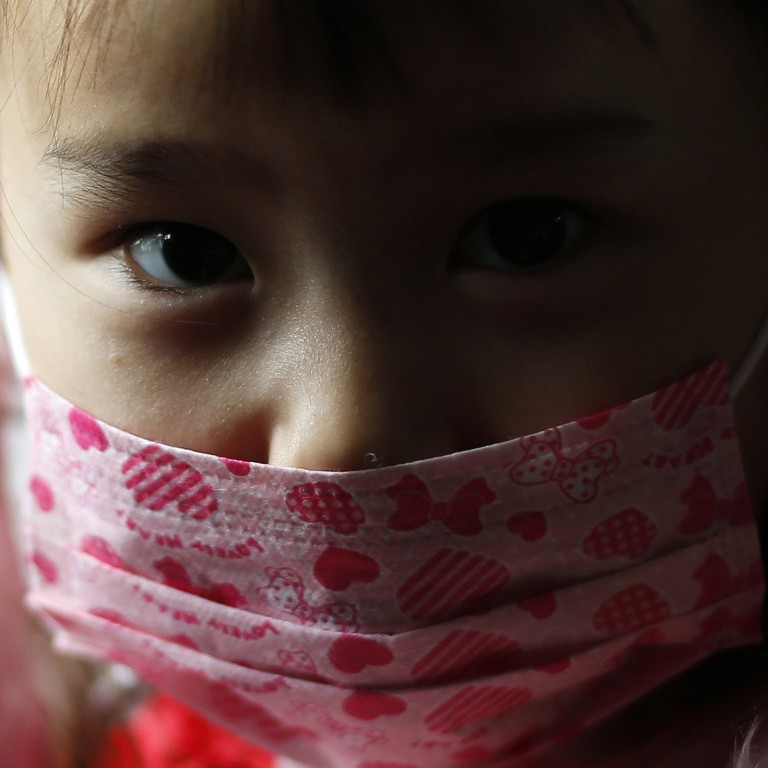 Wuhan pneumonia: China steps up efforts to control spread of coronavirus
Airport in central China city introduces temperature checks for all passengers as concerns grow virus may be spreading overseas
Chinese man living in Japan confirmed as second case outside country, while two Chinese tourists put in quarantine in Vietnam after showing signs of fever on arrival
Chinese authorities have stepped up their efforts to prevent the spread of a respiratory disease linked to a newly discovered
coronavirus
, as reports suggest the virus has spread to neighbouring countries.
Since Wednesday, passengers at Tianhe International Airport in Wuhan – the central Chinese city where the outbreak began – have been required to pass through electronic temperature sensors at each of its exits. Any that are found to have a body temperature of more than 38 degrees Celsius (100 degrees Fahrenheit) are then required to undergo a manual check and if the high temperature is confirmed, spend a period of time in a quarantine facility.
An internal notice by the airport, which was shared on social media, advised airlines to refund passengers or allow them to change their tickets if they were affected by the new checks.
Meanwhile, authorities in Wuhan, which has recorded 41 infections and
one fatality
, said they had also installed body temperature sensors at three key railway stations in the city.
Aged in his 30s, the man is said to have travelled to Wuhan earlier in the month, where he developed a fever. On his return to Japan he was admitted to hospital with pneumonia but was discharged five days later when his condition improved.
Meanwhile, Vietnam's health ministry said on Thursday that two Chinese tourists – a 22-year-old man and a three-year-old boy – had been placed in isolation after showing fever-like symptoms on their arrival in the country.
Blood samples from the two patients, who flew into Da Nang on Tuesday as part of the same tour group, were being tested to determine the cause of the fever, it said.
While Chinese officials have found no clear evidence to suggest human-to-human transmission of the virus, it has also not been ruled out.
The market also sold live animals such as poultry, bats and marmots, along with wildlife parts, prompting concerns that the infectious respiratory pathogen emerged from an as-yet-unidentified animal reservoir.
The virus has captured worldwide attention because of similarities with the one that caused the 2002-03 outbreak of severe acute respiratory syndrome, which infected more than 8,000 people globally and killed more than 600 in mainland China and Hong Kong.
Other Asian countries have raised the alert with stricter checks on passengers at airports and other transit points since the outbreak, which was identified on January 9 as a new strain of coronavirus, since named 2019-nCoV by the WHO.
On Thursday, the WHO said it was working closely with officials in China, Japan and Thailand, and encouraged all countries to be vigilant.
"It is not surprising that there are cases outside of the People's Republic of China and it is possible that there will be cases in other countries in the future," a WHO spokeswoman said.
On Wednesday, the US state department issued a health alert about Wuhan, urging people travelling in the region to avoid contact with animals, animal markets or animal products, among other precautions.
On Thursday, officials from the Centres for Disease Control in Taiwan said they had put Wuhan on a higher level of travel alert as health authorities in the mainland city had been unable to rule out the possibility of human transmission.
Meanwhile, Hong Kong's Centre for Health Protection said that as well as reporting cases of people suspected of developing respiratory symptoms after visiting Wuhan, medical workers should flag up patients who had visited a hospital in mainland China or had close contact with someone confirmed to have been infected with the new virus.
This article appeared in the South China Morning Post print edition as: New virus screening measures in Wuhan