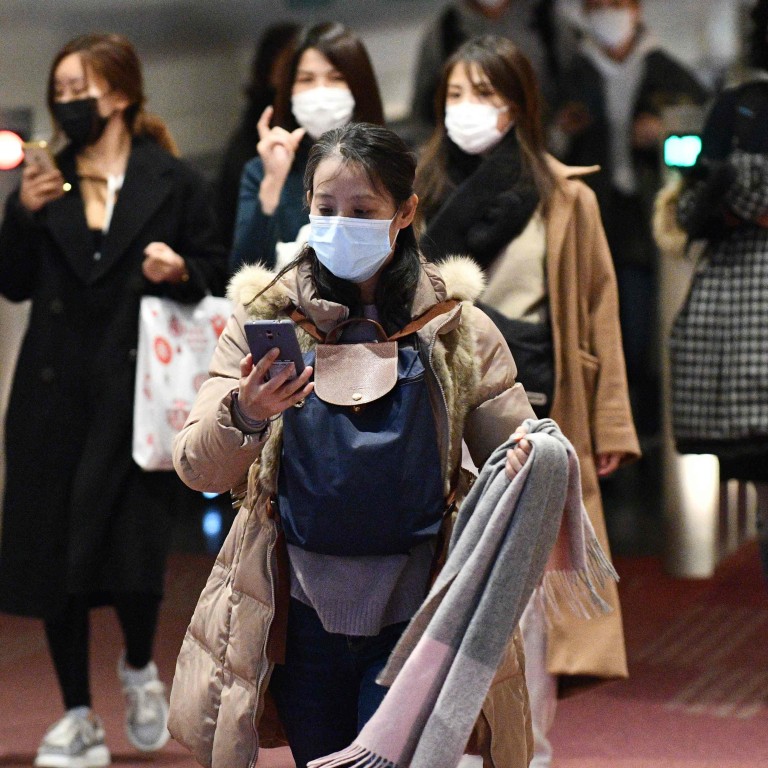 China coronavirus: Japan confirms three evacuees from Wuhan infected, bringing total to 11
Japan is not forcibly quarantining arrivals, saying they lack the legal basis to confine people who have not tested positive for the virus
Meanwhile, in South Korea a senior health official was mobbed by protesters objecting to government plans to use their county as quarantine site
The three people arrived in Japan on Wednesday, on the first flight to evacuate Japanese citizens from the Chinese city of Wuhan, the epicentre of a deadly outbreak that has killed 170 people and injected thousands.
The three evacuees raise the number of cases in Japan so far to 11, including two people who appear to have contracted the virus without travelling to China.
"In addition to the eight cases, among the people who returned from Wuhan yesterday, infection [with the new coronavirus] has been confirmed in one person with symptoms and two other people who have no symptoms," Health Minister Katsunobu Kato told parliament.
Prime Minister
Shinzo Abe
told lawmakers that the three returnees would be treated in a special medical facility.
The new cases emerged after authorities on Wednesday confirmed a second instance in which a person tested positive for the virus without having travelled to Japan.
The driver told authorities he had driven two groups of tourists from Wuhan earlier in January and developed symptoms afterwards.
"The eighth case is the second suspected incident of human-to-human transmission in Japan," Kato said. "We are in a truly new situation."
Japan is not forcibly quarantining arrivals, saying they lack the legal basis to confine people who have not tested positive for the virus. Instead, returnees have been asked to stay at home until they test negative for the virus. But Kato revealed on Thursday that two people on the first flight had refused the test.
"This test is not mandatory and we ask for it on a voluntary basis," he told lawmakers. "We don't have the legal basis to force them so we let them go home."
There has been fierce criticism online, with one Twitter user dubbing returnees who refused testing "terrorists".
"People talk about human rights, but how is quarantine discrimination?" asked another, adding: "Becoming the source of a pandemic would definitely be negative for a person who was released instead of quarantined."
Meanwhile, South Korean President Moon Jae-in on Thursday urged residents not to give in to fear following unruly protests in response to quarantine plans.
The government has said it would evacuate the first of about 700 citizens from Hubei province on Thursday and keep them in isolation in Jincheon county, home to 26,000 people. The proposed facilities are usually used as training centres for public servants and Jincheon residents on Wednesday parked tractors to block roads and accosted a senior health official.
A crowd of about 200 residents grabbed vice health minister Kim Kang-lip by his clothes, yanked his hair and pelted him with plastic water bottles. About 300 riot police attended the scene in Jincheon, about 70km southeast of Seoul, and Kim managed to escape the crowd.
Moon on Thursday sought to reassure residents, saying the initial evacuees would be those with no symptoms, and they would be held in isolation.
"The government will be taking air-tight steps to ensure the residents of areas where the facilities are do not need to be concerned," Moon said.
"The weapons that will protect us from the new coronavirus are not fear and aversion but trust and cooperation," he said, decrying "fake news" for creating excessive anxiety.
South Korea has so far reported four coronavirus confirmed cases, the first on January 20 and the latest on Monday. An online petition urging the South Korean government to impose a
blanket ban on Chinese travellers
has received about 600,000 signatures in a week.
Additional reporting by Reuters