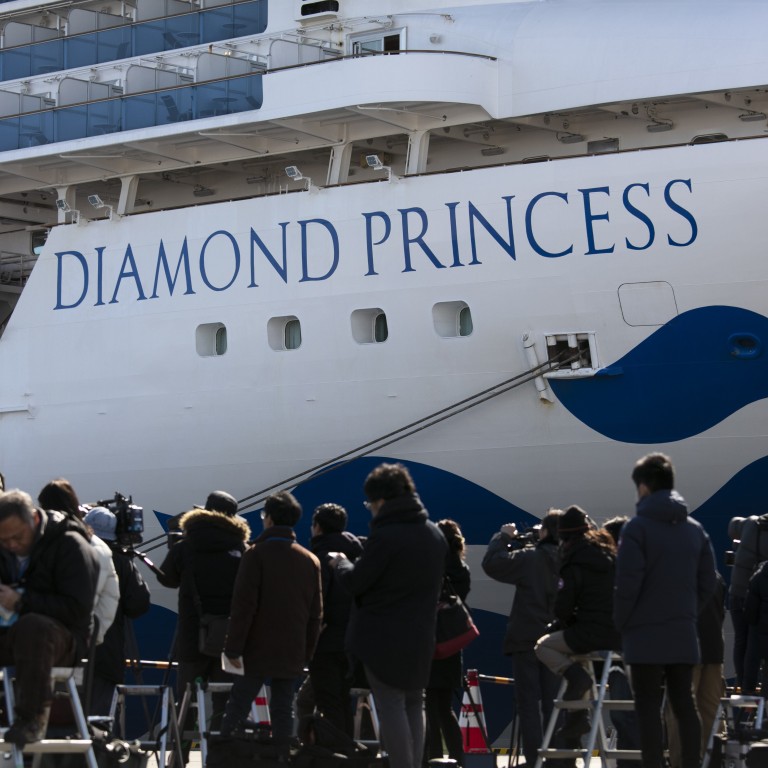 Coronavirus: 44 more cases on Diamond Princess cruise ship anchored off Japan
There have now been 218 cases confirmed on the cruise ship, taking the total number of infections in Japan to 247
There are now questions about whether the quarantine on the ship is working, with dozens of new cases diagnosed almost daily
Another 44 people on board a cruise ship moored off Japan's coast have tested positive for
the novel coronavirus
, the country's health minister said on Thursday.
Health Minister Katsunobu Kato said the 44 new cases were detected from another 221 new tests. They raise the number of infections detected on the Diamond Princess to 218, in addition to a quarantine officer who also tested positive for the virus.
In total,
Japan
has at least 247 confirmed cases of the new disease that apparently started in Wuhan, a city in central China, in December.
Kato said authorities now want to move elderly people off the ship if they test negative for the virus, offering to put them in government-designated lodging.
"We wish to start the operation from tomorrow or later," Kato told reporters. "On the ship, there are those of advanced age and with pre-existing conditions. There are also those who are having to stay in rooms with no windows until the incubation period finishes [on February 19].
"We will conduct ... tests for those who are high-risk and if they test negative, those who wish to disembark can go and live in a lodging facility that the government will prepare."
Of the newly diagnosed infections, 43 are passengers, and one a member of the crew.
The Diamond Princess set off from Hong Kong on January 25 for a trip scheduled to end on February 4. Instead, it has been moored off Japan since February 3, after it emerged that a former passenger who disembarked in Hong Kong last month had tested positive for the virus now named Covid-19.
The ship was placed into quarantine soon afterwards and authorities have asked passengers and crew to remain on board until February 19.
Those who have tested positive for the new virus have been taken off the ship to medical facilities, but questions have been raised about whether the quarantine on the ship is working, with dozens of new cases diagnosed almost daily.
"We are following guidance from the Japan Ministry of Health on plans for disembarkation protocols to provide medical care for these new cases," Princess Cruises said in a statement provided by Negin Kamali, director of public relations.
Despite being taken off the Diamond Princess, 35-year-old Rebecca Frasure, from the US state of Oregon, remained frustrated.
After being diagnosed with the virus, she was initially taken to a hospital in Tokyo and put in a room accessible only by a sealed plastic chamber, then moved to single quarters. She said her symptoms were gone, though she had no idea when she might be allowed to leave.
"The hospital staff are as much in the dark as I am," she said. "No one can tell me how long I will be here or what needs to be done for me to be released."
Despite Carnival's strict measures, the virus may be spreading through the vessel's close quarters – increasing the potential for passengers to contract it despite stopping it from reaching Japanese soil.
The infection of a quarantine official, announced separately on Wednesday, has caused more disquiet. The worker wore gloves and a mask and disinfected his hands regularly when he spent a day collecting health questionnaires and taking people's temperatures on the ship February 3-4, according to Japan's health ministry.
"The quarantine is working to keep the virus offshore – it's obvious the quarantine is not working on the ship," said Stanley Deresinski, a Stanford University professor of infectious disease and a specialist at a hospital connected to the school. "With these infection rates, it's very likely that there's ongoing transmission."
Passengers are confined to cabins and required to wear masks and keep their distance from each other when they are allowed out for brief periods on open decks.
Internet connections have sometimes been unreliable but Matt Smith, a lawyer from California, said staff had provided more on-demand movies and added live TV channels to help passengers pass the time. He requested and received clean sheets but changed the bed himself after crew members dropped them at the door to avoid close contact.
"It's almost like we're on the ship alone except for the crew who bring us food and things and occasional voices from nearby balconies," he said.
Some passengers have also posted updates on social media, many expressing support for the crew.
"Capt. just apologized for slow internet. Who in the hell is complaining about internet and food?! Why are we getting 9:30 am cookie service and evening soda? Please stop the waste and let the crew rest," a passenger named only on her Twitter account as Shannon wrote.
Dozens of passengers have formed online communities to share information and pass the time.
On a video posted to Facebook, Sally Abel said: "You sit out on the balcony and you hear people coughing all the way along. It is nothing like a holiday, but it is complete relaxation."
Additional reporting by Bloomberg, Tribune News Service, dpa