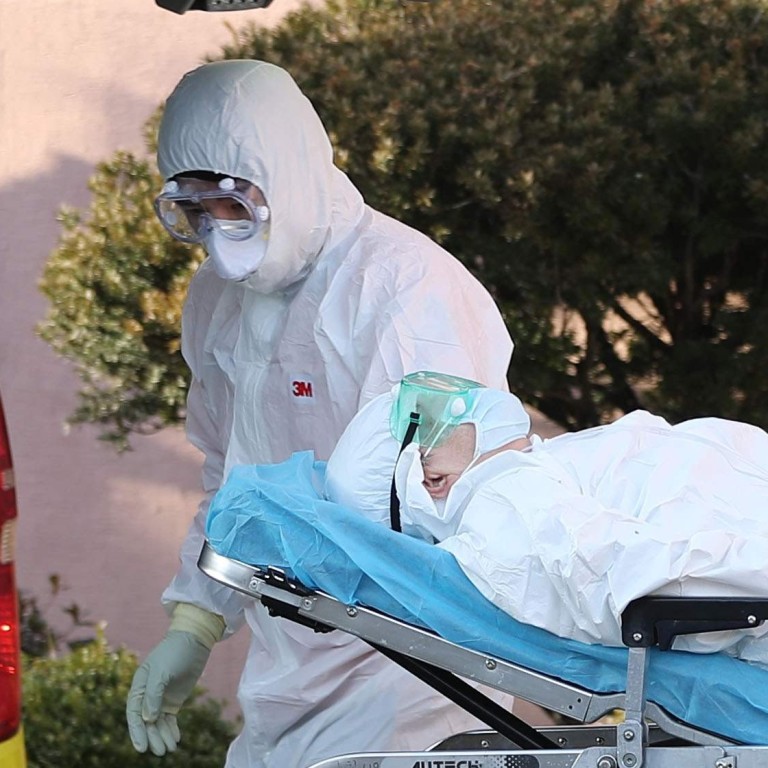 South Korea raises disease alert level to 'highest' as coronavirus cases surge
South Korea on Sunday reported 169 new cases of coronavirus and four new deaths, in the largest number of confirmed infections outside China
The outbreak can largely be traced to a religious sect in Daegu, the nation's fourth-largest city
South Korea
raised its alert on the new coronavirus to the highest level on Sunday after reporting four more deaths and 169 more cases.
President
Moon Jae-in
said the country was facing a "grave turning point" following a government meeting called to discuss the outbreak.
The country has seen a rapid surge in the number of coronavirus cases since a cluster of infections emerged from a religious sect in the southern city of Daegu.
Professor David Hui Shu-cheong, an infectious disease expert at the Chinese University of Hong Kong, said Hong Kong might consider issuing travel advice on South Korea, but in the meantime any Hongkongers planning to visit "should wear masks and be vigilant about personal hygiene".
"The government could consider asking travellers from Korea and Japan to fill in a health declaration as a precaution," he said. "The cases in Japan are mostly to do with the Diamond Princess cruise ship, while those in South Korea are to do with some church gatherings in two regions. South Korea is still working to contain the virus, so asking people to avoid going there will do, unless there is a more serious outbreak."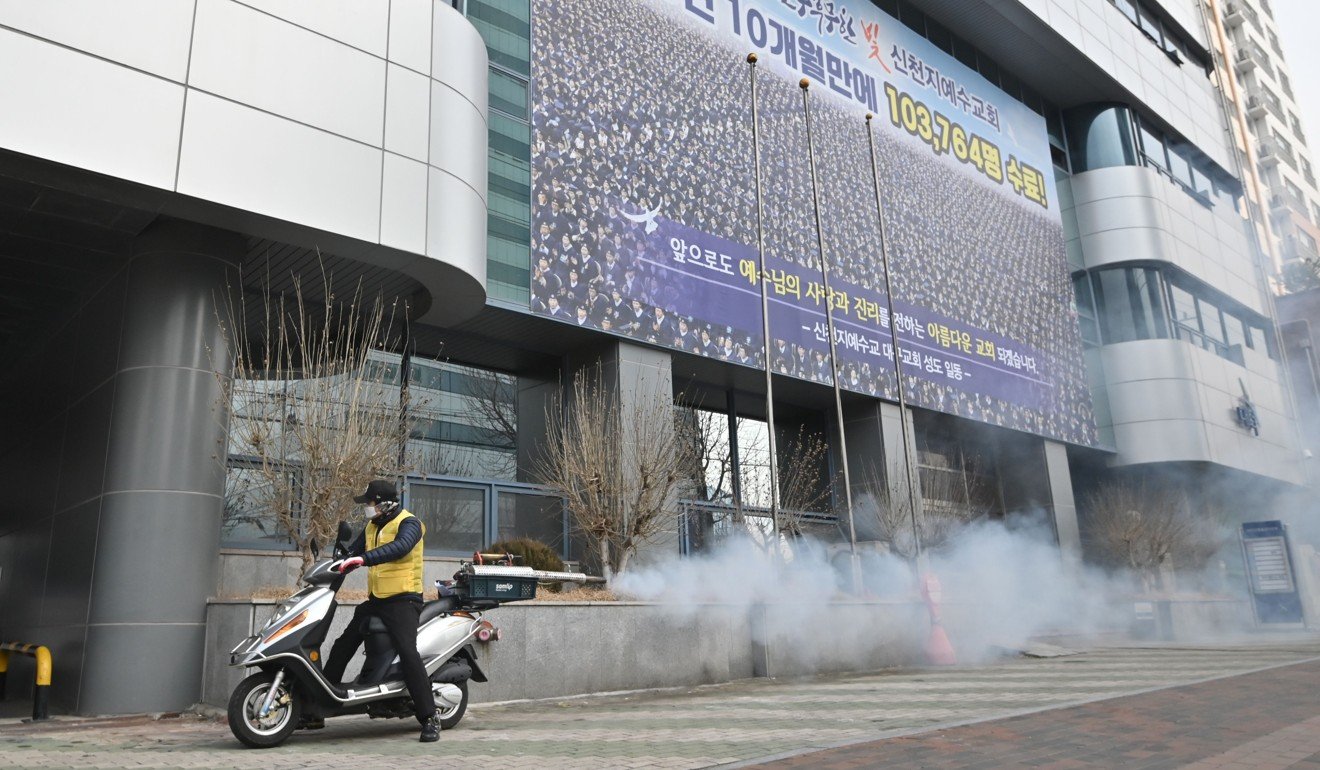 Hong Kong's Security Bureau has not issued a travel alert for South Korea or Japan despite the rise in infections, but said it would issue an outbound travel alert, on the advice of the Food and Health Bureau, "should there be public health reasons" to do so.
Dr Leung Chi-chiu, chairman of the advisory committee on communicable diseases at the Hong Kong Medical Association, said the government should consider tightening the screening of Korean tourists if the outbreak worsened.
"Politically we may not be able to impose a ban on Korean visitors. But maybe we can tighten the quarantine requirements for Koreans to discourage them to come, like requiring them to be quarantined for 14 days on arrival. It is in effect asking them not to come," he said.
"Now they have also raised their alert status to serious level. It is not unfair for us to do something in response."
Hong Kong legislator Yiu Si-wing, who represents the travel sector, also urged the government to consider issuing a travel alert for South Korea if the outbreak continues.
In 2019, Hong Kong received more than 1.04 million South Korean tourists, accounting for about 8.5 per cent of non-mainland Chinese visitors, according to statistics by Hong Kong Tourism Board.
Since February 12, Seoul has adopted "strict quarantine screening" procedures for visitors from Hong Kong and Macau, in addition to those from China. They are required to use specific counters and fill out a special quarantine report that includes providing their mobile phone number, the address of where they are staying in South Korea, and disclosing any visits to Hubei province within the past 14 days.
More than 10 flights a day connect Hong Kong and Incheon Airport in Seoul, according to Airport Authority figures.
South Korea's national toll of 602 cases is now the highest outside mainland China, apart from the Diamond Princess cruise ship in Japan, after the number of the infections soared in recent days.
The four deaths, reported on Sunday, take South Korea's toll to six.
Mainland China
reported 648 new infections
for a total of 76,936. The daily death toll fell slightly to 97. In all, 2,442 people have died in the country from Covid-19.
One of the victims in South Korea was at a hospital in Cheongdo, a southern city linked to the religious sect, where around 100 cases were reported.
Among the latest infections, 75 involved the Shincheonji Church of Jesus in the southern city of Daegu, the Korea Centres for Disease Control and Prevention said in a statement.
Hundreds of members of the church have now been infected, starting with a 61-year-old woman who developed a fever on February 10 but attended at least four church services in Daegu before being diagnosed.
Daegu – with a population of 2.5 million – reported more than 90 new cases on Sunday, bringing the city's total to 247, mayor Kwon Young-jin said.
"The crisis level of Daegu and the North Gyeongsang province is grave," said Kwon, who advised locals to stay indoors.
The mayor asked all Shincheonji members with symptoms to come forward and be tested.
"Hiding is not the answer. If you hide, it could hurt your health, your family's health, and will not help in the early cessation of the situation," Kwon told a news conference.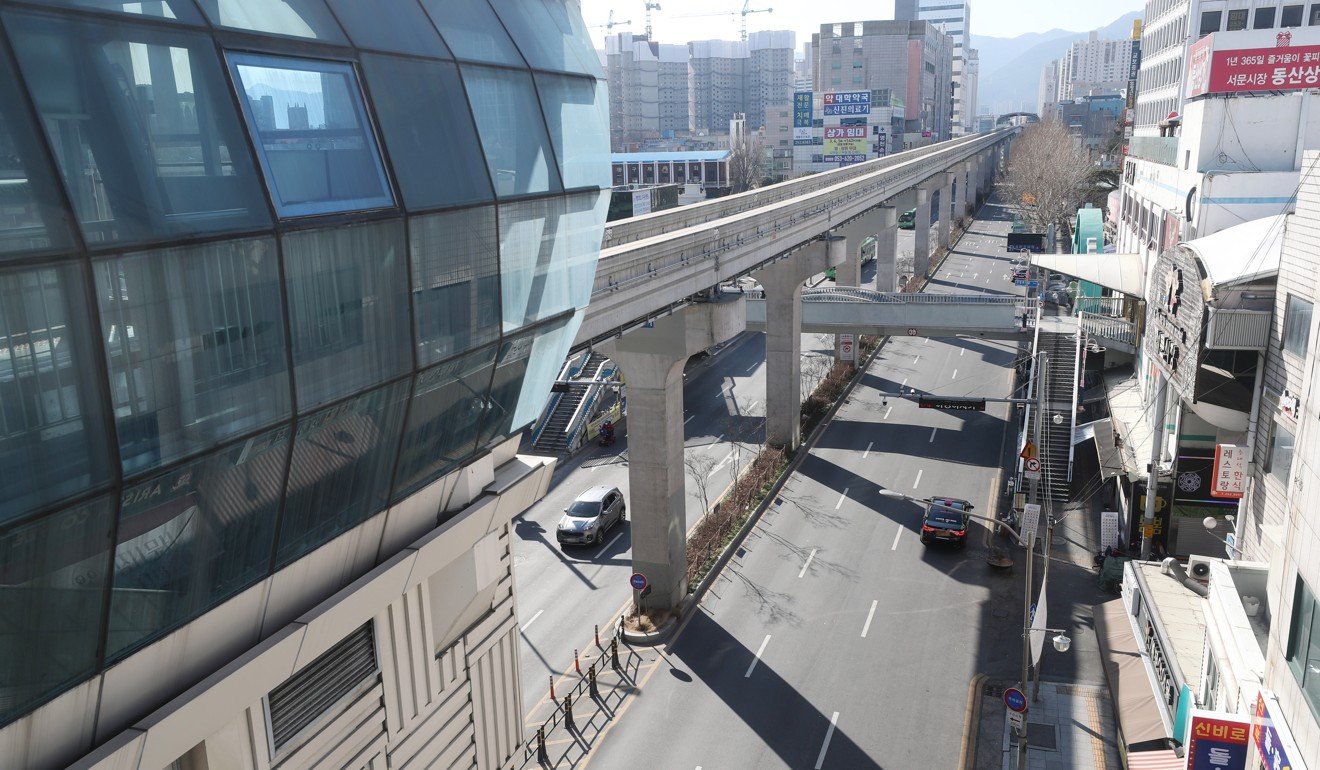 Kwon said there were concerns that the number of those infected in Daegu could see yet another massive increase because authorities were launching intensive examinations of church members with virus-related symptoms. More than 9,000 worshippers were being tested.
Downtown Daegu was mostly deserted with shelves at some supermarkets and stores empty. Many restaurants, bars, real-estate offices and tour agencies have shut down as traffic nosedived and people stayed home, ordering food and supplies online.
Daegu and Cheongdo – the birthplace of Shincheonji's founder Lee Man-hee – were designated as "special management zones" on Friday.
Established in 1984, the Shincheonji church has 200,000 followers across the country, including some 13,000 in Daegu. According to Pastor Shin Hyun-uk, an anti-cult campaigner, it has some 20,000 followers in about 30 other territories including Japan, China, Hong Kong and countries in Southeast Asia.
"They are in general seen as a dangerous, vile cult that has been growing fast by abusing the belief in the last judgment," he said, referring to some denominations' belief in the second coming of Christ.
Shincheonji claims its founder, Lee Man-hee, 88 has donned the mantle of Jesus Christ and will take 144,000 people with him to heaven on the day of judgment.
The US State Department on Saturday raised its travel advisory to South Korea, joining a handful of countries bolstering their vigilance against the country's recent spike in the number of infections.
Singapore and Britain have also advised their nationals "against all but essential travel to Daegu and Cheongdo". Anyone who has pneumonia or a severe respiratory infection and has been to the two Korean cities within 14 days will now be considered a "suspect case" for coronavirus, Singapore's health ministry said in a statement.
From Monday midnight, Macau will impose medical surveillance at the border on any non-resident who visited South Korea in the past 14 days.
Leong Iek-hou, coordinator of the city's Control of Communicable Diseases and Surveillance of Diseases Department, said South Korea had been listed as a "high risk area" given the spike in infections and that there "appeared to be community outbreak".
The casino hub already requires travellers from the Chinese provinces of Guangdong, Henan, Zhejiang, as well as Beijing and Shanghai, to undergo medical screening. Macau health bureau chief Lei Chin-ion has previously said people would have to wait for six to eight hours at the border for such checks.
On Saturday, 43 South Koreans entered Macau. All flights between Macau and South Korea will be stopped from March 1 onwards.
Globally, nearly 78,000 people have been infected in 29 countries. In some countries, some virus clusters have shown no direct link to travel to China.
Israel, which reported one case, turned back a South Korean airliner with most of its passengers after it landed at the country's Ben Gurion airport on Saturday evening. Twelve Israelis on board were evacuated and quarantined. The plane was taxied away from the allotted terminal, Israeli media reported.
South Korea earlier informed Israel that nine members of a group who toured Israel and the West Bank for a week this month tested positive for the virus. The tourists were diagnosed upon returning home. Israeli and Palestinian health authorities asked people who were in close contact with the tourists to quarantine themselves – including 180 pupils and 19 staff from three separate schools, according to Israel's health ministry.
A team of global experts with the World Health Organisation is on the way to China's Wuhan, the epicentre of the outbreak, WHO Director-General Tedros Adhanom Ghebreyesus said Saturday. It has been visiting other parts of China this week.
Tedros also told a meeting of African health ministers that the WHO is concerned about cases with "no clear epidemiological link, such as travel history to China or contact with a confirmed case". He is especially concerned about the growing number of cases in Iran, where 28 people have been infected.
Iranian health authorities on Saturday reported the country's sixth death from the virus.
Reporting by Alvin Lum, Kang Chung Ng, Agence France-Presse, Associated Press, DPA
This article appeared in the South China Morning Post print edition as: Seoul on highest alert level as infections surge