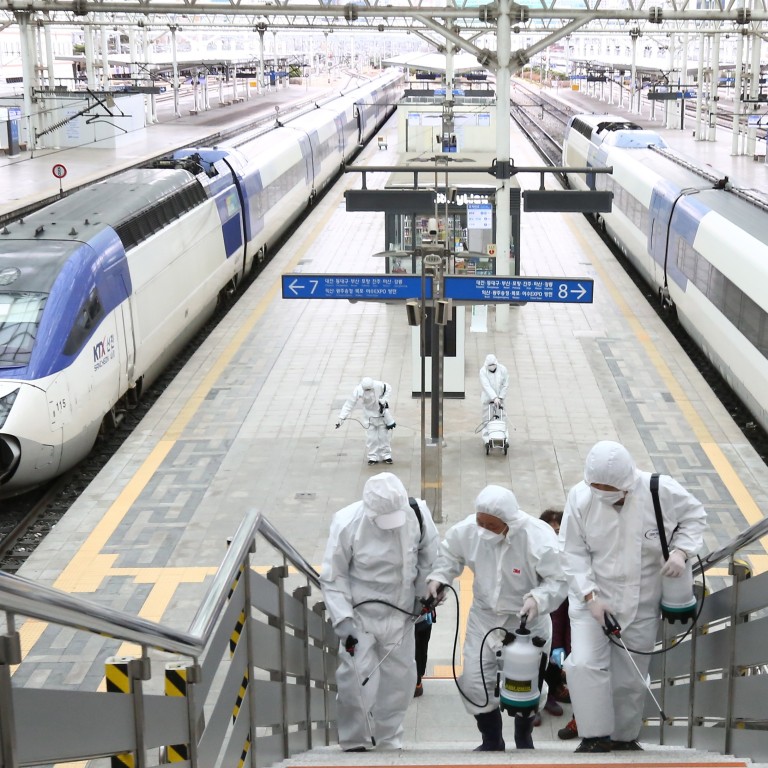 First US military coronavirus infection confirmed in South Korea as cases hit 1,261
The US soldier is stationed at Camp Carroll, 30km north of Daegu, and is now in self-quarantine at his off-base residence
South Korea also recorded its 11th casualty and the nation is on its highest alert over the outbreak, with most cases found in Daegu and Cheongdo
South Korea's
coronavirus
case total jumped well into four figures on Wednesday as authorities reported 284 new infections, taking the overall tally to 1,261, by far the largest outside China.
Among the new infections, a US soldier stationed in South Korea has tested positive for the coronavirus, commanders said on Wednesday, the first US serviceman to do so.
The soldier is stationed at Camp Carroll, 30km north of Daegu, US Forces Korea said in a statement, adding that he had been put in self-quarantine at his off-base residence. South Korean authorities and US military health professionals were tracing his contacts to determine if other people may have been exposed.
About 28,500 US troops are stationed in South Korea as deterrence against potential aggression from North Korea. United States Forces Korea previously said a widowed dependent had the virus, the first case involving a USFK-related individual. South Korea's 600,000-member military has reported 18 cases and placed thousands of soldiers in quarantine as a precaution.
Two bowling alleys at Camp Walker and Camp Carroll and a golf course at Camp Walker were closed after the soldier's case was confirmed. All restaurants at the bases, and also Camp Henry and Camp George in Daegu, will now provide only takeaway meals with soldiers and family members prohibited from dining there.
The Korea Centres for Disease Control and Prevention (KCDC) also confirmed an 11th person has died: a Mongolian man in his 30s who became the first foreign national to fall victim to the outbreak. Yonhap reported that he had been in hospital in the South awaiting a liver transplant.
Of the new cases, 134 were from Daegu city, where a branch of the
Shincheonji Church of Jesus
, which has been linked to outbreaks, is located. Another 19 infections came from the neighbouring county of Cheongdo.
The church on Tuesday said it had agreed to provide authorities with the names of all its members in South Korea, estimated by media at about 215,000 people. The government plans to conduct coronavirus tests on all of the members, the prime minister's office said in a statement.
"We have obtained a list of 212,000 number of the Shincheonji believers from the church last night," vice health minister Kim Gang-lip said at a briefing on Wednesday.
"We will pass the list to local governments," he said. "Local governments will check whether the believers have respiratory or fever related symptoms and visit their homes to test them."
The streets of Daegu – which has a population of 2.5 million – have been largely deserted for days, apart from long queues at the few shops with masks for sale.
Mask manufacturers have increased their total output to around 10 million a day, but availability remains limited and the government said it will ban people from exporting face coverings.
Authorities urged the public to exercise extra caution, advising citizens to stay home if they have a fever or respiratory symptoms.
"The government will mobilise all resources and means" to try to control the outbreak, Prime Minster Chung Sye-kyun told a meeting in Daegu, where he is leading the government response, Yonhap reported.
The three passengers, all Chinese, arrived in the city of Nanjing on Tuesday morning and were discovered after customs personnel boarded the aircraft on landing to screen passengers for symptoms, state broadcaster CCTV said.
The three were immediately sent by ambulance to a hospital for isolation and testing, while 94 people who had sat near them on the plane were sent to a hotel to be quarantined, CCTV said.
At least 14 countries have announced tighter restrictions on travel from
South Korea
in response to the growing number of cases.
The Philippines on Wednesday banned travellers from the North Gyeongsang province.
Singapore on Tuesday announced it would ban short-term visitors who have recently been to Cheongdo and Daegu. The curbs, similar those on anyone who has recently travelled to mainland China, will come into effect on Wednesday.
The world's 12th-largest economy suffered its worst fall in business sentiment in nearly 17 years due to the fast-spreading coronavirus, according to a central bank survey taken days before South Korea became the country with the largest number of cases outside China.
The business sentiment index (BSI) for March was compiled from a survey of 3,242 corporate enterprises between February 11-18.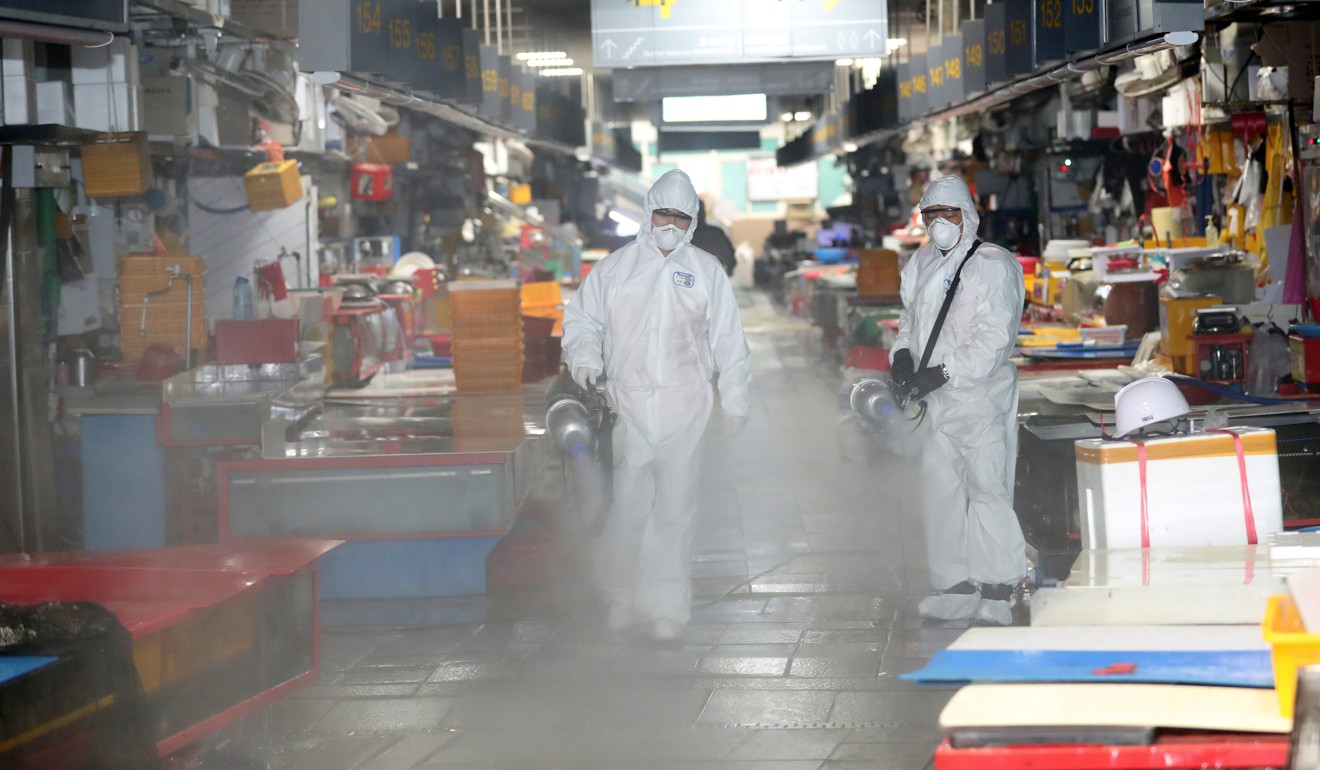 Published by the Bank of Korea on Wednesday, the manufacturing BSI for March dipped to 66 on a seasonally adjusted basis from 79 for February, its biggest monthly decline since April 2003, as firms fretted over the potential loss of business due to the epidemic in neighbouring China, South Korea's biggest trading partner.
The latest index reading was the lowest since March 2016 when the index stood at 63 and was far below 100, meaning the number of companies expecting business conditions to deteriorate outweighed those seeing an improvement.
Bank of Korea is expected to cut its benchmark interest rate to a record low of 1 per cent at a policy meeting on Thursday to counter the economic impact from the virus. It would be the third reduction in seven months.
Scores of events have been cancelled or postponed, from K-pop concerts to the start of the K-league football season, with casualties on Tuesday including parliamentary sessions and the World Team Table Tennis championships.
The culture ministry said a total of 24 national museums and libraries will temporarily close.
Additional reporting by Reuters
This article appeared in the South China Morning Post print edition as: American soldier infected in South Korea