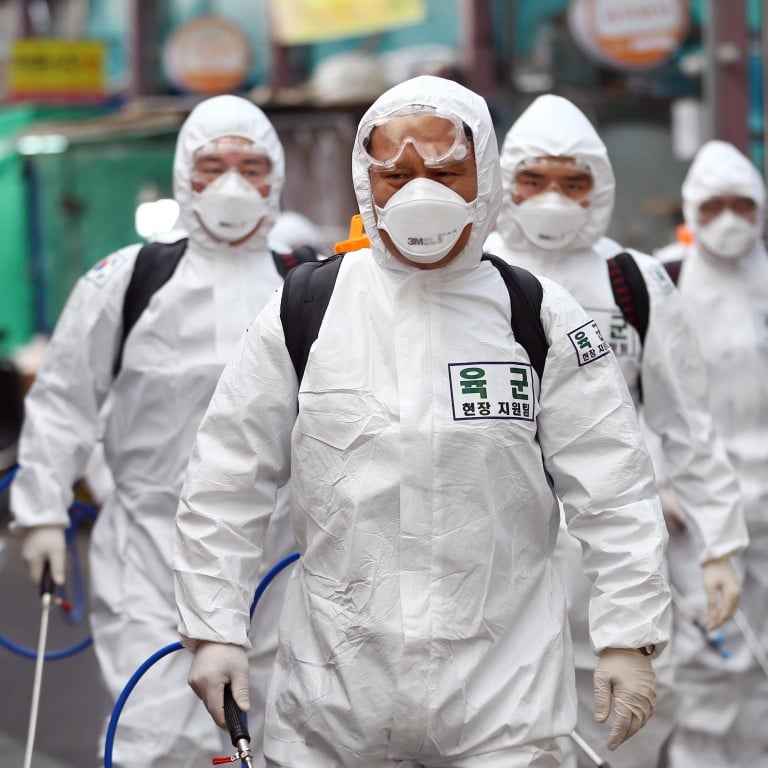 Coronavirus: South Korea's cases hit 5,186 with 28 deaths as Moon Jae-in 'declares war'
South Korean president announced US$25 billion in funding to help combat the coronavirus
WHO boss says 'surveillance measures are working and Korea's epidemic can still be contained'
South Korea's president declared war on the
coronavirus
on Tuesday, ordering additional hospital beds and more face masks to be made available as the number of cases rose by 851 in the worst epidemic of any nation outside China.
President
Moon Jae-in
apologised for shortages of face masks and promised support for virus-hit small businesses in Asia's fourth-biggest economy, which has now reported 5,186 cases of the flu-like disease and 28 deaths.
"The entire country has entered war against the infectious disease as the crisis in Daegu and North Gyeongsang province has reached the highest point," he told a cabinet meeting, referring to the two hardest-hit parts of the country.
"I am very sorry to the people that we are not able to supply masks swiftly and sufficiently, and have caused inconvenience."
Moon said the government will inject more than 30 trillion won (US$25 billion) into the economy to address the "grave" situation brought on by the outbreak.
The central bank has warned of a contraction in the first quarter for the world's 12th-largest economy, noting the epidemic will hit both consumption and exports.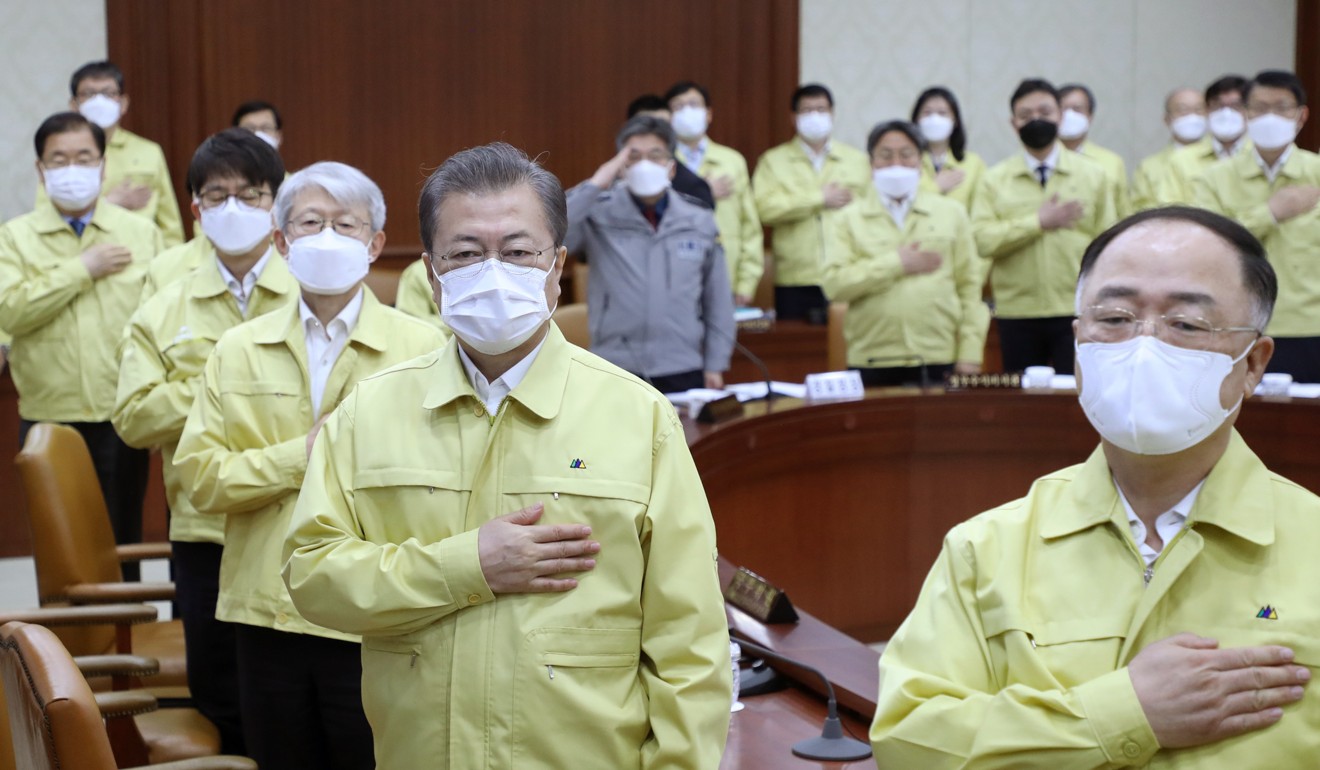 The virus which originated in China late last year began to spread rapidly in South Korea after it entered the congregation of a secretive Christian group in Daegu city, the
Shincheonji Church of Jesus
.
Daegu's mayor told reporters he had asked the president for 3,000 more hospital rooms to cope with the rising number of the coronavirus patients.
Sect leader Lee Man-hee tested negative for the virus on Monday, having been threatened with arrest unless he agreed to be examined. Authorities said more than 190,000 Shincheonji members had been checked as of Tuesday.
Lee had earlier apologised for the sect's role in spreading the virus and called the epidemic a "great calamity".
Moon ordered masks to be stockpiled as a strategic item so suppliers can produce them without the risk of surpluses.
People are forming long queues for masks at retail stores and online suppliers are selling out as soon as stock arrives, even though the World Health Organisation (WHO) says healthy people only need to wear masks if they are caring for someone who is sick.
Lee Ji-eun, a 34-year-old doctor in Seoul, said her daily routine began with surfing the internet to try to find masks for her family.
"It is totally a lottery. I click 'buy' like crazy every morning, but I only succeeded in purchasing a few last week," she said.
"There aren't enough even for doctors when treating patients."
A man was caught lining up to buy a mask in Daegu after testing positive for the virus, a police official said.
Meanwhile, the head of the WHO on Monday singled out the
epidemic in South Korea
– as well as the outbreaks in Iran, Italy and Japan – as the "greatest concern".
Director general Tedros Ghebreyesus told a press briefing in Geneva that most cases in South Korea appear to have originated in five known clusters, rather than the wider community.
"That's important because it indicates that surveillance measures are working and Korea's epidemic can still be contained," he said.
More than 80 countries and regions have implemented travel restrictions or 14-day quarantines for visitors from South Korea.
The South Korean government said that from Tuesday, it will check the body temperatures of passengers on all direct flights to the United States before boarding. Anyone who has a fever of 37.5 degrees Celsius or higher will be denied boarding.
Vice-President Mike Pence, who is overseeing the US response to the coronavirus outbreak, on Monday said President Donald Trump had authorised the State Department to raise the travel advisory for South Korea's hardest-hit city of Daegu to the highest level.
"The American people should know that we are saying that they should not travel to certain sections of Italy or South Korea," he said. "Those advisories may expand, but we'll allow the caseload in those countries to define that."
The rest of South Korea remains subject to the second-highest travel advisory, which suggests Americans reconsider travelling there.
Pence also welcomed the increased screening at airports for passengers travelling to the US.
"South Korea, actually, about three hours ago fully implemented the screening on all direct flights at all airports," he said. "It will be multiple temperature checks in the airports for people before they are boarding. And we're working very closely to assist them in implementing that."
Additional reporting by Associated Press and Agence France-Presse
This article appeared in the South China Morning Post print edition as: South Korean leader declares 'war' as infections pass 5,000