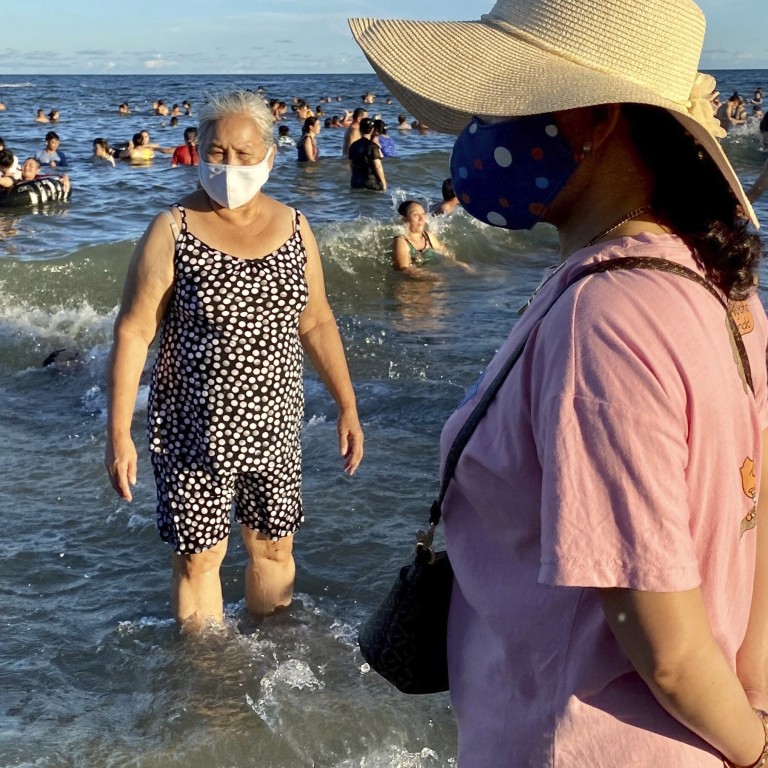 Coronavirus latest: Vietnam evacuating 80,000 from Da Nang as Asian governments battle second wave
Records set for daily increases in the Australian state of Victoria and in India, where epidemic is spreading faster than anywhere else in the world
Indonesia's confirmed number of coronavirus cases has surpassed 100,000, the most in Southeast Asia
As several Asian countries confront a
second wave of coronavirus infections
, governments have clamped down in an attempt to contain the disease, with Vietnam locking down the city of Da Nang and preparing to evacuate about 80,000 people.
Elsewhere, there were new records set for daily increases in the Australian state of Victoria and in
India
, where the epidemic is now spreading faster than anywhere else in the world, while Indonesia's total number of infections passed 100,000, the most in Southeast Asia.
Vietnamese authorities have issued a stay-at-home order for the central city of Da Nang, and the government has been on high alert after recently recording its first local cases in three months, all in or around Da Nang, which has a population of about 1.1 million people.
Vietnam on Monday reported 11 new infections after more than three months without any domestically transmitted cases, the Ministry of Health said. The new cases are all patients and health workers at Da Nang Hospital in Da Nang, where a 57- year-old man on Saturday was confirmed to be infected by the coronavirus, the country's first local case since April.
The ministry also said that the virus is a new strain that has not previously been found in Vietnam. The mutated strain has a faster speed of infection, but its harmfulness compared to the previous strain is not yet known, it said.
Vietnam has also reintroduced social distancing measures in Da Nang. By imposing strict quarantine measures and carrying out an aggressive and widespread testing programme during the pandemic, Vietnam has kept its total tally of reported infections to just 420, with no deaths.
Vietnam is still closed to foreign tourism but there had been a surge in domestic travellers looking to take advantage of discounted flights and holiday packages to local resorts.
Following the discovery of the new cases, Prime Minister Nguyen Xuan Phuc ordered police to step up a crackdown on illegal immigration to the country. State media on Sunday said police in Da Nang had arrested a 42-year-old Chinese man it said was the head of a criminal group which helps people illegally enter Vietnam from China.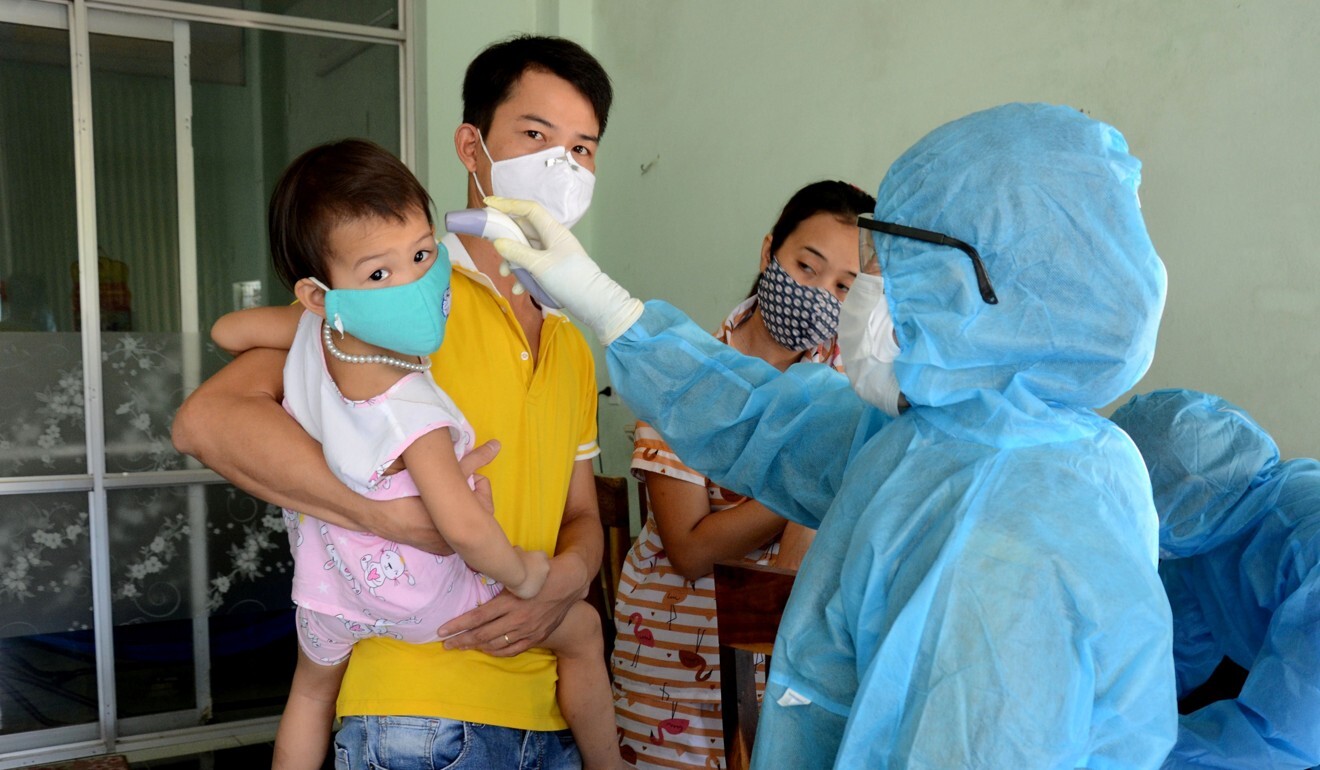 Da Nang's authorities locked down two hospitals where two victims visited, and ordered their patients, medical staff, caregivers and family members – about 7,000 people in total – to be quarantined for 14 days, local media reported.
Under the stay-home order, residents can only go out for essential needs. Gatherings of more than two people in public areas other than schools, hospitals or workplaces are not allowed and people must practise safe distancing.
The evacuation will take at least four days, with domestic airlines operating about 100 flights daily from Da Nang to 11 Vietnamese cities, the government said in a statement. Those returning from Da Nang to other parts of the country would be required to quarantine at home for 14 days, the health ministry said.
Vietnam
has postponed its hosting of Asia's largest security forum and an annual meeting of Southeast Asian foreign ministers to September due to the pandemic.
Australia
's hard-hit state of Victoria reported a record 532 new infections on Monday, as authorities struggle to bring the second wave of infections under control.
The daily tally announced on Monday followed Victoria's 459 new cases reported the previous day, and is a new national record. There were six additional fatalities, State Premier Daniel Andrews said at a press conference.
"Five of those six deaths are connected to outbreaks in aged care," he said.
Andrews warned that more deaths will occur if Victorians do not follow health guidelines.
"The ultimate consequence if people are going to work sick is that people will become infected and, therefore, people will die," he told reporters in Melbourne.
Andrews said some industries may have to be shut down by the government if people continue to attend work.
"Lockdown will not end until people stop going to work with symptoms," he told reporters. "Unless we see a change, then we're going to continue to see these numbers at unacceptably high levels."
South Korea on Monday recorded 25 new coronavirus cases, bringing its national caseload to 14,175 infections and 299 deaths. It has seen a recent rise in cases, most of them imported. The Korea Centres for Disease Control and Prevention on Monday said 16 of the new cases were tied to people arriving from abroad.
Meanwhile, a man who tested positive for the coronavirus in South Korea after travelling from
New Zealand
may have caught the disease during his transit through
Singapore
, the New Zealand Health Ministry said.
New Zealand has managed to eliminate community transmissions after going into one of the world's strictest lockdowns in March, but it has continued to urge citizens to practise safe habits and go for testing if they feel unwell.
Korean media reported the traveller in his 20s arrived in
South Korea
on July 22. He had no symptoms but tested positive on July 23. He was admitted to Dongsan Hospital for treatment.
"South Korean authorities have informed us that based on their initial investigations, they suspect the traveller was infected during the transit in Singapore airport," New Zealand's health ministry said. "However other causes, including infection in New Zealand, can't be ruled out at this stage."
India's coronavirus epidemic is now growing at the fastest rate in the world, increasing 20 per cent over the past week to more than 1.4 million confirmed cases, including almost 50,000 on Monday – a new daily record. India trails only the US and Brazil in the number of confirmed infections.
Maharashtra, Tamil Nadu, Andhra Pradesh and Karnataka are among the states where the maximum number of daily cares are being reported.
The world's second-most populous country has been ramping up testing, with 515,472 samples taken on Sunday, according to the Indian Council of Medical Research.
Still, India and Brazil have some of the world's lowest testing rates, with 11.8 tests and 11.93 tests per 1,000 people respectively, compared to the US with 152.98 tests per 1,000 and Russia with 184.34, according to Our World in Data, a project based at University of Oxford in the UK.
Indonesia announced its confirmed number of coronavirus cases has surpassed 100,000, the most in Southeast Asia, as an official said the government still does not know when the outbreak will peak.
The Health Ministry announced 1,525 more cases on Monday, bringing the country's confirmed total to 100,303. The actual number is thought to be considerably higher because of factors including limited testing. The ministry also reported 57 more deaths, bringing the death toll to 4,838.
Indonesia reached the milestone a week after President Joko Widodo overhauled Indonesia's Covid-19 committee to also focus on economic recovery along with handling health aspects.
"[We] can't let up. This aura of health crisis needs to be echoed until a vaccine is available and can be used effectively," Widodo told a meeting on Monday addressing committee members.
An increased number of recent transmissions have been linked to work places such as offices and factories.
The chief of the National Covid-19 Mitigation Task Force, Doni Monardo, said the government was still unable to predict the pandemic's peak.
"I also don't know when the peak will come. Seeing fluctuating developments, there are areas that have decreased cases, some have increased," he said.
Unlike some neighbouring countries, Indonesia has never completely locked down after Widodo warned it would hurt millions of poor people though some areas have brought in restrictions.
As part of the opening up of the economy, the island of Bali, the main gateway for tourists, plans to allow international visitors back from September 11.
Laura Navika Yamani, an epidemiologist at Airlangga University, said Indonesia should be wary of opening up without improving testing and tracing.
"So now that we've fallen into the 'new normal', interactions between people are inevitable so the risk of transmission will be around and possibly widen," she said.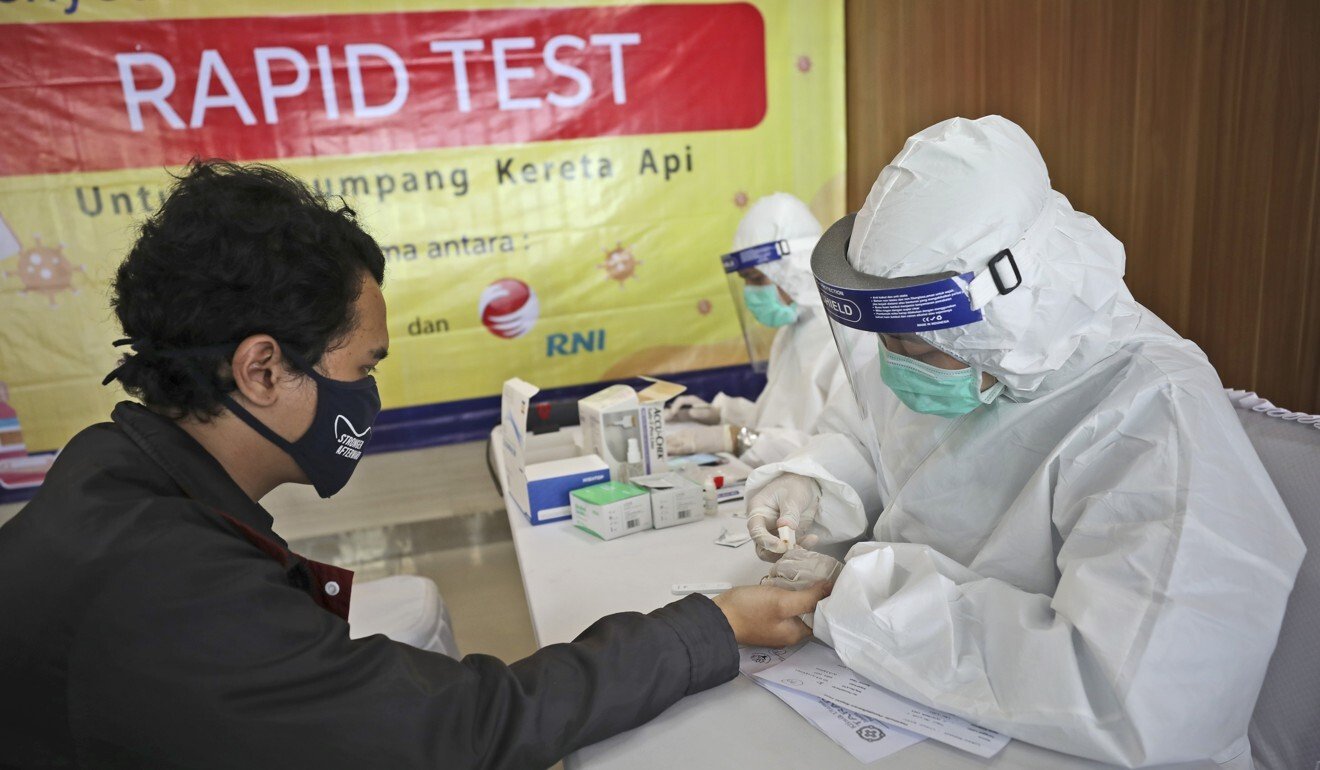 Papua New Guinea's prime minister on Monday ordered a swift lockdown of the capital and warned the number of coronavirus cases will likely explode in coming days, after the country recorded its first confirmed Covid-19 death.
As local testing kits ran out and meagre hospital resources approached capacity, James Marape announced the discovery of 23 new cases in the last 24 hours and said that without drastic action, "numbers will grow out of control".
Papua New Guinea had seen only 11 cases until a week ago. The total now stands at 61, with new cases being found daily.
In the
Philippines
, stricter quarantine measures may be enforced as the number of cases crossed 80,000 on Sunday. The level of active cases of 52,406 is the highest in Southeast Asia.
Japan's health ministry will conduct its first nationwide survey, possibly next month, to look into how the pandemic has affected mental health, according to ministry and other sources.
The online survey covering 10,000 people is aimed at finding out if the government's requests for citizens to avoid unnecessary outings and voluntarily shut businesses led to an rise in cases of depression and other forms of mental stress, the sources said.
The results of the poll are expected to be used by local mental health and welfare centres across the country in responding to future mental illness cases amid a sign of a resurgence in Covid-19 infections.
Reporting by Bloomberg, AP, NZME, Reuters, Kyodo
This article appeared in the South China Morning Post print edition as: measures return as Asia battles new outbreaks