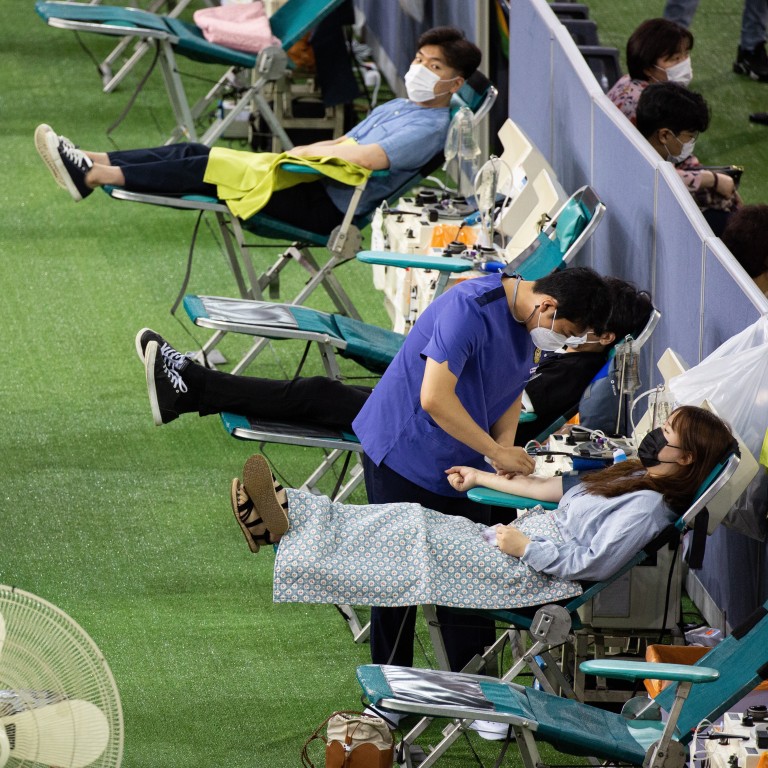 Coronavirus: South Korea on edge with rise in unlinked cases, patients in critical condition
The 235 new cases reported on Tuesday brought the country's total to 20,182 as officials warned about an increase in unlinked cases
The government unveiled plans to increase spending aggressively for the next few years after the country's economy shrank in the last quarter
South Korea
's daily new coronavirus cases edged down for the fifth consecutive day on Tuesday but authorities expressed concern over a rise in untraceable transmissions and a growing number of patients in critical condition.
The Korea Centres for Disease Control and Prevention (KCDC) reported 235 new
Covid-19
infections on Tuesday, bringing the country's total to 20,182 cases and 324 deaths.
Tuesday's numbers mark a slight decline from 248 cases recorded the previous day.
Acting Seoul City mayor Suh Jung-hyup said the ratio of cases with unknown origin among diagnosed infections in the Seoul metropolitan area has increased from 7.1 per cent to 31.9 per cent over the past two weeks.
"This phenomenon serves as a strong warning that we may contract the virus at any place as we are engaging in daily activities in normal circumstances," Suh said.
The government has imposed eight-day, stricter social distancing measures in the greater capital area until September 6, restricting dining at restaurants and shutting down churches, nightspots, gyms and after-school academies to contain the virus.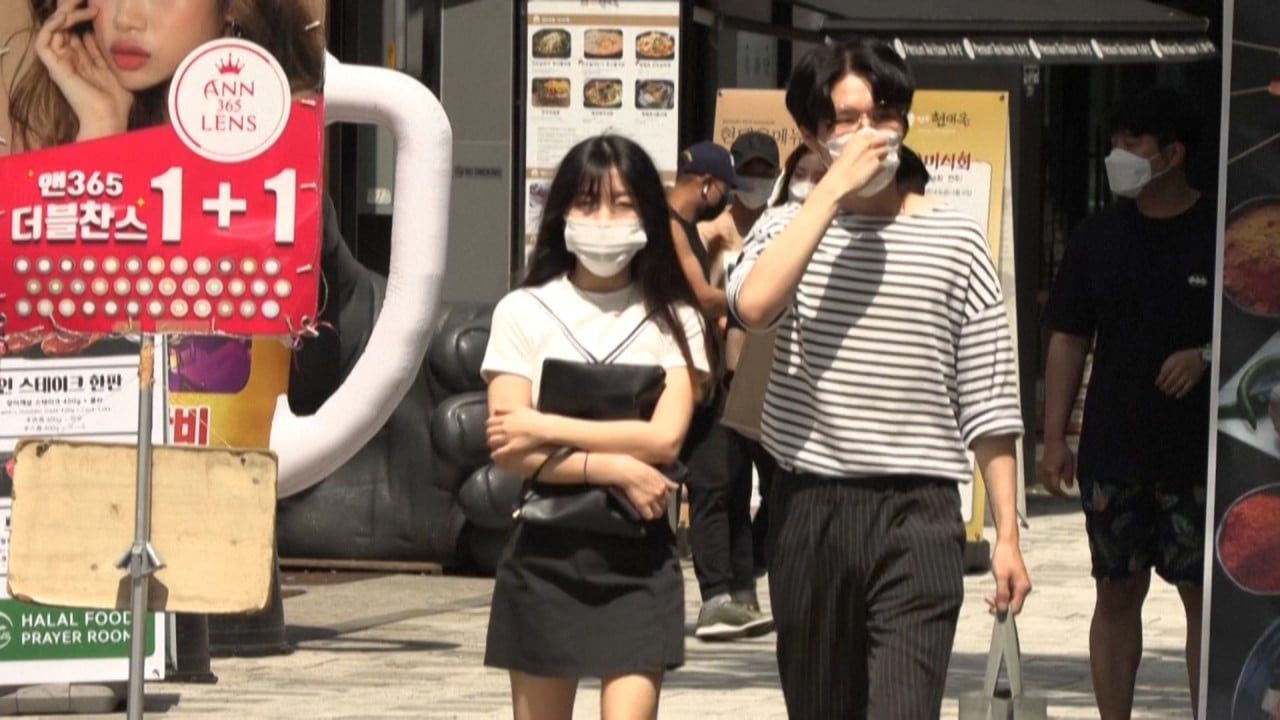 02:11
South Korea 'on the brink of a nationwide outbreak', authorities warn
South Korea 'on the brink of a nationwide outbreak', authorities warn
Health Minister Park Neung-hoo urged the public to stay home and minimise outside contact this week, calling it a critical period in determining the direction of the pandemic.
"We are dealing with a more dangerous situation than any time. Please remember that only by pausing our daily routine and actively pursuing distancing, we can protect ourselves," he said.
The KCDC said the number of Covid-19 patients in critical condition was 104, more than 11 times from two weeks earlier.
South Korea, once regarded as a success story in its efforts to contain the coronavirus, has recorded over 4,000 new cases in the past two weeks. Many of those cases have been traced to the
Sarang Jeil church
in northern Seoul and an August 15 anti-government rally attended by the church's followers and right-wing activists.
Meanwhile, the country's economy shrunk by a seasonally adjusted 3.2 per cent in the April-June period from the previous quarter, revised central bank data showed, the sharpest contraction since the final quarter of 2008. South Korean exports fell for a sixth straight month in August.
The government unveiled plans to increase spending aggressively for the next few years and said it was prepared to boost policy support should the rate of infection worsen significantly.
"[Some] downturns are inevitable in the real economy due to the tightened preventive measures," Vice Finance Minister Kim Yong-beam said at a policy meeting.
To counter a slump in exports and the retail sector, the government said it planned to boost spending on welfare and jobs by 10.7 per cent, and allocate 11.9 per cent more on social infrastructure projects.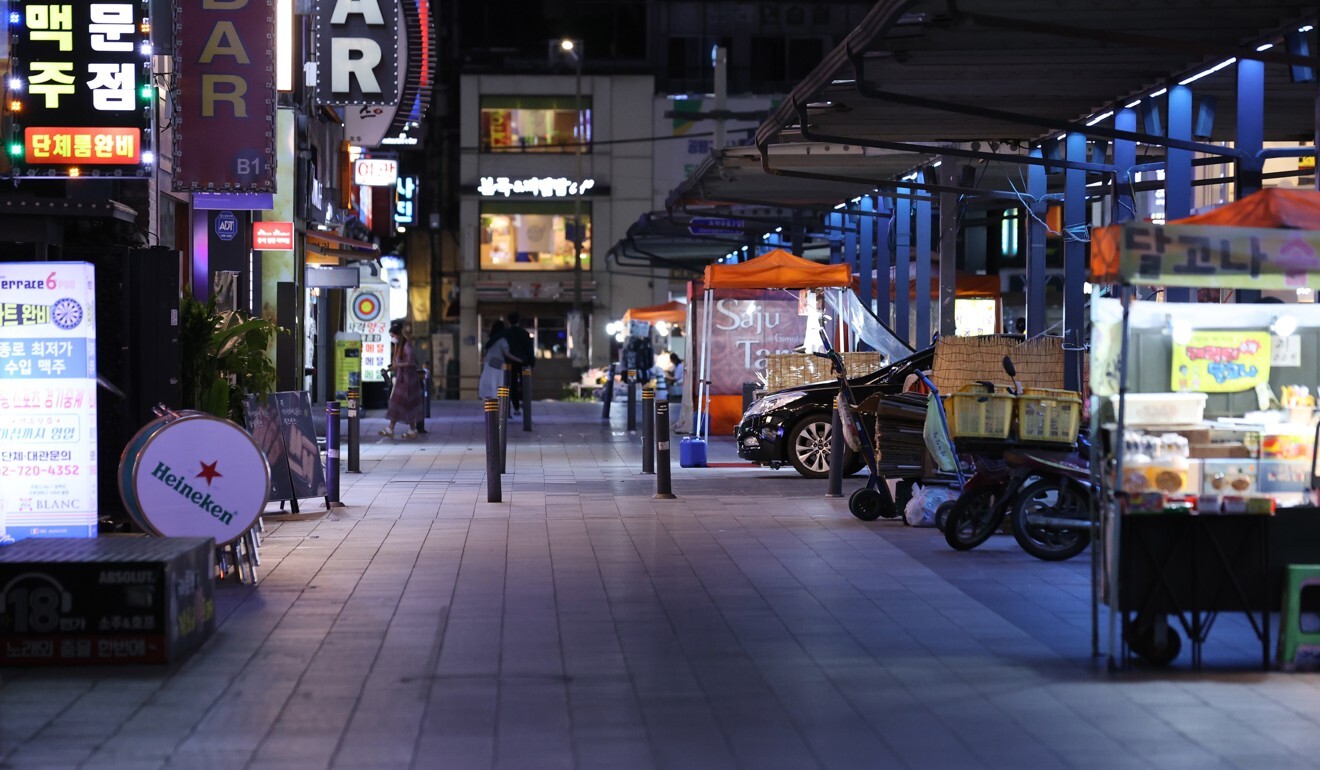 The central bank kept interest rates steady on Thursday, but sharply downgraded its 2020 growth outlook. The Bank of Korea said gross domestic product would likely shrink 1.3 per cent in 2020 – the biggest contraction in more than two decades – from a previous forecast for a 0.2 per cent decline.
In the latest blow to economic activity, a minor-league baseball pitcher tested positive for the coronavirus on Monday, casting doubt on the rest of the sport's season, Yonhap news agency reported.
In late July fans had been allowed to attend baseball games in limited numbers, but with the rising number of infections, stadiums were once again closed to fans by mid-August.
Additional reporting by Reuters