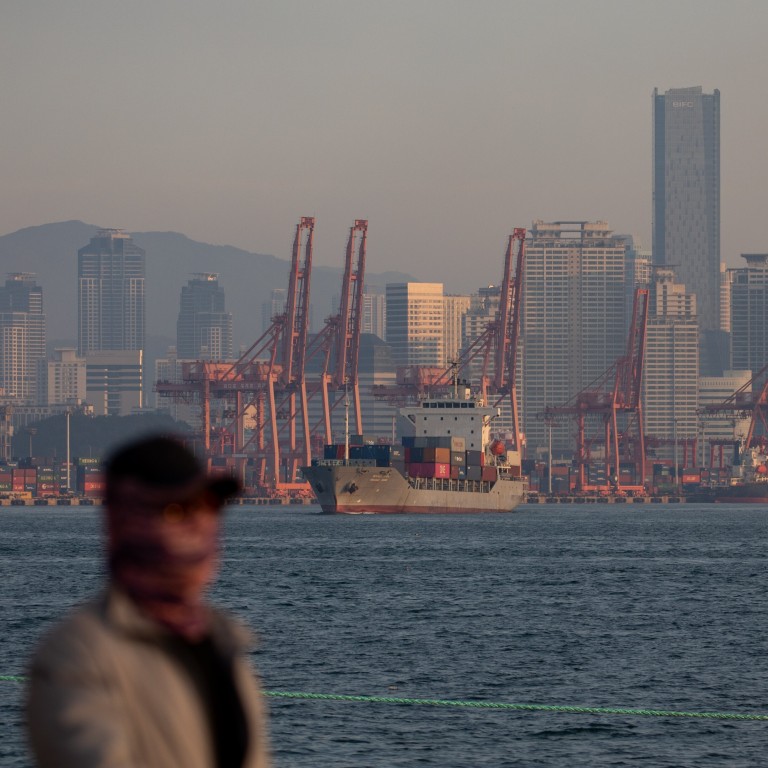 South Korea sees dramatic leap in foreign direct investments in Q3 as confidence returns
Inward FDI during July to September surged 83 per cent to US$3.1 billion, as investors made their postponed funding 'with vengeance', a trade official said
The country has succeeded in containing the coronavirus pandemic with a combination of testing, hi-tech contact tracing and strong public cooperation
Foreign direct investment (FDI) in
South Korea
has made a dramatic turnaround in the July to September period, reflecting investors' confidence in the country and other Asian nations coping with the Covid-19 crisis, South Korean officials said Tuesday.
FDI that was made in South Korea during the July-September period surged 83 per cent to US$3.1 billion. This brought the accumulated FDI to US$8 billion for the first nine months to September, up 1.4 per cent from a year earlier – and a reverse from a 34.5 per cent year-on-year decrease in the previous quarter to June.
"This is a drastic turnaround," Kim Kyu-seong, a senior trade ministry official said.
Foreign investors who had balked at investing in South Korea due to uncertainties over the Covid-19 crisis in the first half of this year began to "make their postponed investment with vengeance" in the third quarter to September, Kim said.
At the end of the first half of 2020, South Korean government officials were greatly concerned as the United Nations Conference on Trade and Development warned the global FDI was likely to plunge 40 per cent and South Korea saw the arrival of FDI fall by more than 20 per cent in the first half, trade ministry officials said.
"But investors started gaining confidence in this country's ability to control the virus and began to carry out their backed-up investment commitment," another senior trade ministry official Park Jung-wook told journalists.
During the July-September period, the increase in actual FDI in Asia's fourth-largest economy by countries other than the United States and the European Union was large enough to offset drastic falls in investment from the US and the EU that are facing feared coronavirus spikes in coming weeks.
Across Asia, Singapore had the largest volume of inbound FDI, followed by Hong Kong and China.
South Korea has largely succeeded in restraining the highly contagious virus by combining aggressive testing and hi-tech contact tracing amid strong public cooperation in carrying out precautionary measures.
Consequently, it was able to ease its social distancing scheme to the lowest level last week after feared new spikes following the fall harvest holidays from late September to early this month did not materialise, thanks to widely-accepted precautions.
Public facilities, as well as bars and clubs, have been allowed to resume operations for the first time in many weeks on the condition that infection prevention measures are strictly followed.
Total investment into South Korea from places closely linked to the Chinese economic sphere, such as Singapore, Hong Kong, China, Taiwan and Malaysia, has surged 53.5 per cent on-year to US$2.44 billion in the July-September period, the trade ministry said.
In contrast, investment from the EU fell 32.5 per cent on-year to US$2.29 billion, US investment was down 28.1 per cent to US$630 million, and investment from Japan plunged 56.5 per cent to $430 million during the same period.
Investment from China rose 38.5 per cent to US$200 million in the nine-month period. "Volume from China is not so large but the growth rate for this year looks large because of a low base effect," Kim said, adding China's FDI investment in South Korea suffered last year amid the prolonged
US-China trade row
.
01:59
Coronavirus survives 28 days on glass and banknotes, says Australian study
Coronavirus survives 28 days on glass and banknotes, says Australian study
South Korea last month moved to bolster FDI in hi-tech industries in materials, parts and equipment, by raising tax incentives and government subsidies and expanding infrastructure to attract FDI.
Post-crisis digitalisation was a key part of its New Deal projects through which 20 trillion-won (US$16.8 billion) would be ploughed next year alone in areas including 5G, artificial intelligence, smart health care, renewable energy, robot technology and hydrogen vehicles, according to South Korea's finance ministry.
According to financial services firm Société Générale, South Korea has high-quality skilled manpower, a strong electronics industry and stable international financial positions with low liabilities.
"South Korea's IT, medicines, health, digital and AI are among its greatest assets that are most appealing to foreign investors," Jenny Chu, honorary foreign investment promotion ambassador for South Korea, told journalists on Tuesday.
But opaque regulations, an economy dominated by family-oriented business conglomerates, an ageing population and high labour costs, a heated real estate market as well as a high dependence on imported raw materials, are South Korea's drawbacks.
The central Bank of Korea (BOK) forecast the South Korean economy would retreat 1.3 per cent this year but bounce back to grow 2.8 per cent in 2021.
According to the BOK, Korea's economy receded 3.2 per cent on-year in the April-June period.
Its exports rebounded for the first time in seven months in September, driven by increased shipments of chips and automobiles as major trade partners led by China gradually resumed their business activities amid the pandemic.
Exports came to US$48 billion last month, up 7.7 per cent from US$44.6 billion posted a year earlier, while imports edged up 1.1 per cent to US$39.1 billion, resulting in a trade surplus of US$8.8 billion, marking the largest surplus in two years.
South Korea has signed "fast-track" travel agreements with five countries including China, Indonesia, Japan, Singapore and the United Arab Emirates, sparing businesspeople on urgent business an obligatory two-week quarantine, senior trade ministry official Park said.
The country on Monday kicked off what it claimed was the first online international biohealth exhibition conference, where firms can until the end of October find potential buyers of products including Covid-19 testing kits and wearable air purifying masks.