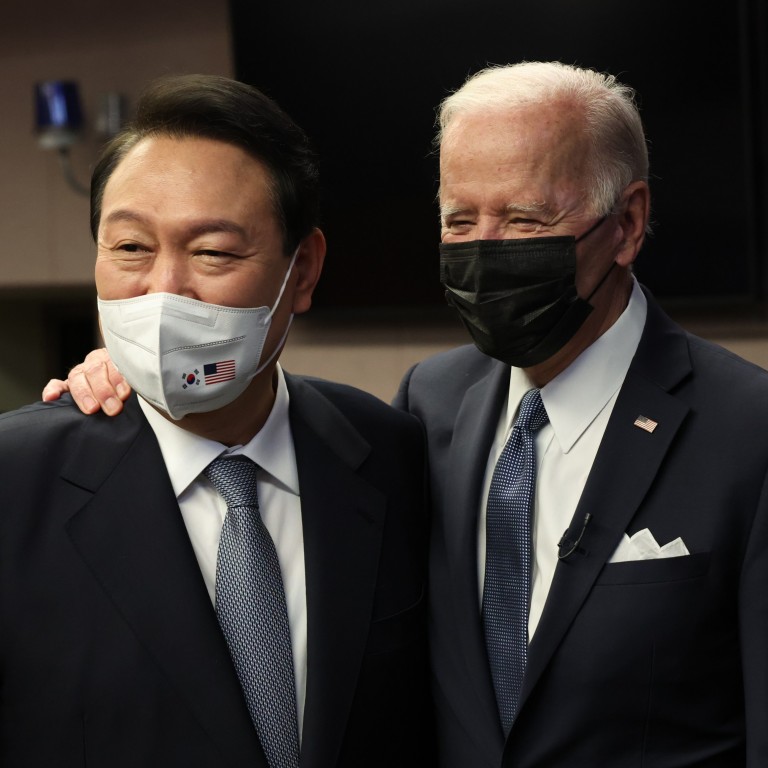 South Korea's Yoon Suk-yeol to unveil own Indo-Pacific strategy following summit with US President Joe Biden
Decision comes after South Korea said it will participate in the US' Indo-Pacific Economic Framework, which is aimed at countering China's regional influence
Strategy is expected to include plans such as how to coexist ― or collaborate ― with the Quad nations consisting of Australia, India, Japan and the US
Korea will map out its own diplomatic and security strategy for the Indo-Pacific region.
According to the office of President Yoon Suk-yeol Saturday, it will formulate and announce the new policy in the coming months.
The strategy is expected to include plans such as how to coexist ― or collaborate ― with the Quad, a strategic security dialogue consisting of Australia, India, Japan and the United States.
The decision comes after Yoon said that South Korea will participate in the US' Indo-Pacific Economic Framework (IPEF), a strategy through which the US aims to counter China's influence in the region, after his summit with US President Joe Biden.
In a joint statement, US President Joe Biden also supported Yoon's "initiative to create the ROK's own Indo-Pacific strategy framework," saying the two leaders recognise the importance of the region and commit to cooperating closely through the IPEF.
Moreover, the statement says Biden "welcomes President Yoon's interest in the Quad" and the two "reiterate the importance of preserving peace and stability in the Taiwan Strait as an essential element in security and prosperity in the Indo-Pacific region."
Although the statement does not directly mention China, it touches on sensitive issues relating to the country, such as "respect for international law" in the South China Sea and "human rights."
The Yoon administration's new policy is an official shift from the previous Moon Jae-in government's New Southern Policy, which focused on improving Korea's economic ties to Southeast Asian countries.
The latter policy direction was criticised by some for being "not useful" in solving the North Korean nuclear issue and "too trade-focused."
Foreign Minister Park Jin previously said that the New Southern Policy would not be effective for the rapidly changing diplomatic situation in the Indo-Pacific region, hinting at introducing a new policy with "a strengthened strategy aspect."