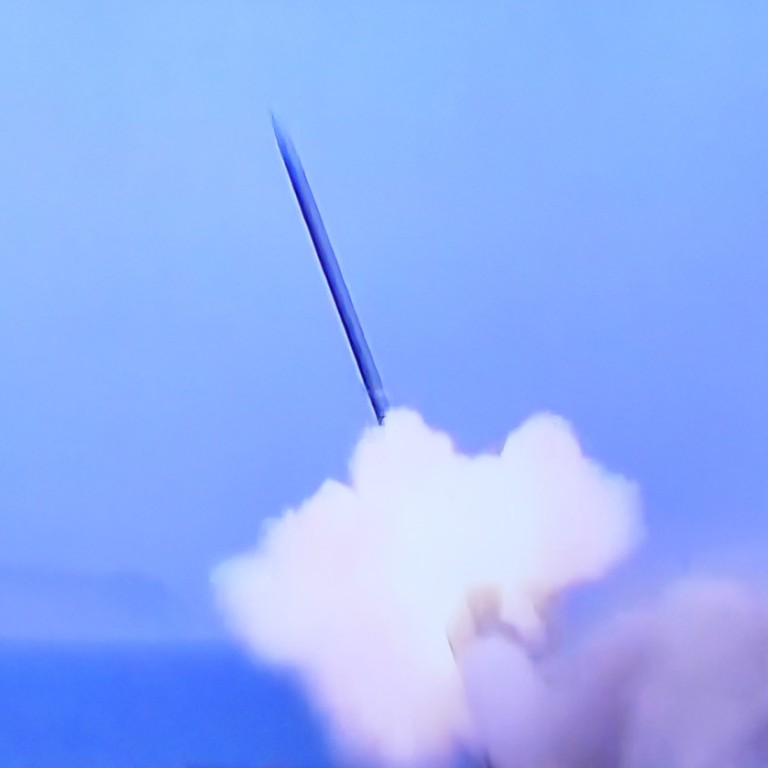 North Korea fires 'reckless and dangerous' missile over Japan, residents warned to take cover
Ballistic missile launch prompted Tokyo to activate its missile alert system and issue a rare warning for people to take shelter
The launch was Pyongyang's fifth in 10 days, amid military exercises by the US and South Korea
North Korea on Tuesday fired a ballistic missile over Japan for the first time in five years, prompting Tokyo to activate its missile alert system and warn residents in two prefectures to take shelter.
South Korean President Yoon Suk Yeol earlier said the missile had an intermediate range, while Japanese Defence Minister Yasukazu Hamada later said it was believed to have an intermediate range or longer.
Analysts said Pyongyang's latest actions represented a "significant escalation" compared to recent provocations.
"By now, North Korea's short-range missile tests must suffer diminishing returns in terms of technical advancement, domestic political value, and international signalling," said Leif-Eric Easley, a political-science professor at the Ewha Womans University.
The latest launch – Pyongyang's fifth missile launch in 10 days – signalled that the country is "still in the middle of a provocation and testing cycle and is likely waiting until after China's mid-October Communist Party Congress to conduct an even more significant test", Easley said.
South Korea said the intermediate-range ballistic missile (IRBM) flew some 4,500 kilometres (2,800 miles) – possibly a new distance record for North Korean tests, which are usually conducted on a lofted trajectory to avoid flying over neighbouring countries.
Kim Dong-yup, a professor at the University of North Korean Studies in Seoul, said the missile launch may have been an attempt to show off Pyongyang's ability to strike the US territory of Guam, where the superpower's nuclear-powered fast attack submarines and B-52 nuclear-capable bombers are deployed.
The US State Department said the "reckless and dangerous launch" posed "an unacceptable threat to the Japanese public".
Japanese Defence Minister Yasukazu Hamada said the missile could have been a Hwasong-12.
Pyongyang used Hwasong-12s the last two times it fired missiles over Japan – in August and September 2017 – tweeted Chad O'Carroll of specialist site NK News.
North Korea was not responding to routine daily contact on the inter-Korean liaison line on Tuesday, South Korea's unification ministry said.
"Diplomacy isn't dead, but talks aren't about to resume either", Easley said, following the latest launch.
Seoul, Tokyo and Washington have been ramping up joint military drills to counter Pyongyang's growing threats, staging the first trilateral anti-submarine drills in five years on Friday.
That came just days after the US and South Korean navies conducted large-scale exercises.
Such drills infuriate North Korea, which sees them as rehearsals for an invasion.
About 28,500 US troops are stationed in South Korea to help protect it from the North.
Pyongyang has tested nuclear weapons six times since 2006, most recently in 2017.
"North Korea always starts with a low-level provocation and gradually raises the level to attract media attention from all over the world," said Go Myong-hyun, a researcher at the Asan Institute for Policy Studies.
"Their final provocation will probably be a nuclear test", he said, adding that North Korea had taken the unusual and "very aggressive" step of overflying Japan to attract more attention.
"By launching the missile over Japan, they are showing that their nuclear threat is not just targeting South Korea."
Reporting by Agence France-Presse