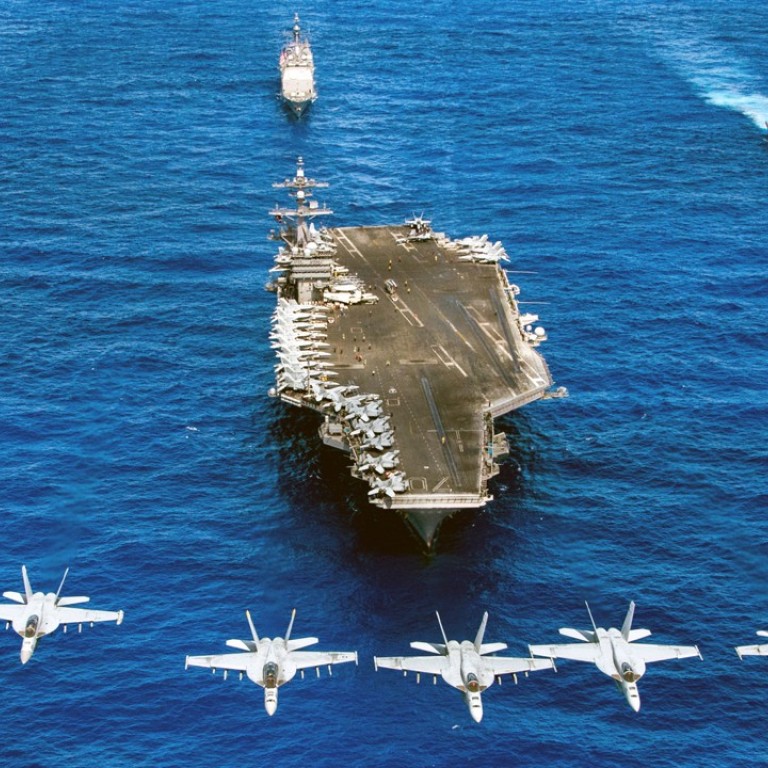 'US presence matters': admiral aboard USS Carl Vinson says carrier brings stability to South China Sea
One of the navy's longest-serving active carriers is conducting what officials say is a routine mission through the hotly contested waters, where Beijing is seeking to reclaim islands
With a deafening roar the fighter jets catapulted off the US aircraft carrier and soared above the disputed South China Sea, as its admiral vowed that the mighty ship's presence was proof America still had regional clout.
"US presence matters," Rear Admiral John Fuller told reporters on board the USS Carl Vinson. "I think it's very clear that we are in the South China Sea. We are operating."
The Carl Vinson, one of the US Navy's longest-serving active carriers, is currently conducting what officials say is a routine mission through the hotly contested waters where years of island reclamation and military construction by Beijing has rattled regional nerves.
Following criticism that the Trump administration's commitment to the Asian region has been distracted by North Korea, reporters were flown onto the ship on Wednesday as it sailed through the sea.
In a rapid series of take-offs and landings, F18 fighter jets roared off the deck, travelling from zero to 290km (180 miles) per hour in a dizzying two seconds.
Fuller, commander of the Carl Vinson Strike Group, said the 333-metre-long ship's presence was a way to reassure allies.
"The nations in the Pacific are maritime nations," he said. "They value stability … That's exactly what we are here for. This is a very visible and tangible presence. The United States is here again."
But the location of the strike group – which includes a carrier air wing and a guided-missile cruiser – is also a very direct message to China, whether US officials admit it or not.
Its voyage comes just a month after the Pentagon's national defence strategy labelled China a "strategic competitor" that bullies its neighbours while militarising features in the South China Sea.
Beijing claims most of the South China Sea – believed to hold vast oil and gas deposits and through which US$5 trillion in trade passes annually – and has rapidly built reefs into artificial islands capable of hosting military planes.
The Philippines, Vietnam, Taiwan, Malaysia and Brunei also have claims in the sea.
Compared to the 11 active aircraft carriers in the US Navy, China currently boasts just one. But the rising Asian superpower has made no secret of its desire to build up its naval forces and become much more regionally assertive.
Last month Beijing said it had dispatched a warship to drive away a US missile destroyer that had "violated" its sovereignty by sailing close to a shoal in the South China Sea.
Major naval nations like the US, Britain and Australia are determined not to let China dictate who can enter the strategic waters.
They have pushed "freedom of navigation" operations in which naval vessels sail close to Chinese-claimed militarised islets in the South China Sea.
"We will follow what international rule says and we will respect [it], even if there are disputes there," Fuller said.
The nuclear-powered USS Carl Vinson – the ship that took Osama bin Laden's body for burial at sea – began a regular deployment in the Western Pacific last month.
The carrier is home to 5,300 sailors, pilots, and other crew members as well as 72 aircraft.
Washington has announced plans for it to dock in Vietnam – a first for the communist nation which is rattled by China's expansionism in the sea and has forged a growing alliance with its former foe the US.
Britain said on Tuesday it will sail its own warship from Australia through the South China Sea next month to assert freedom of navigation rights in support of the US approach.
But alliances are shifting.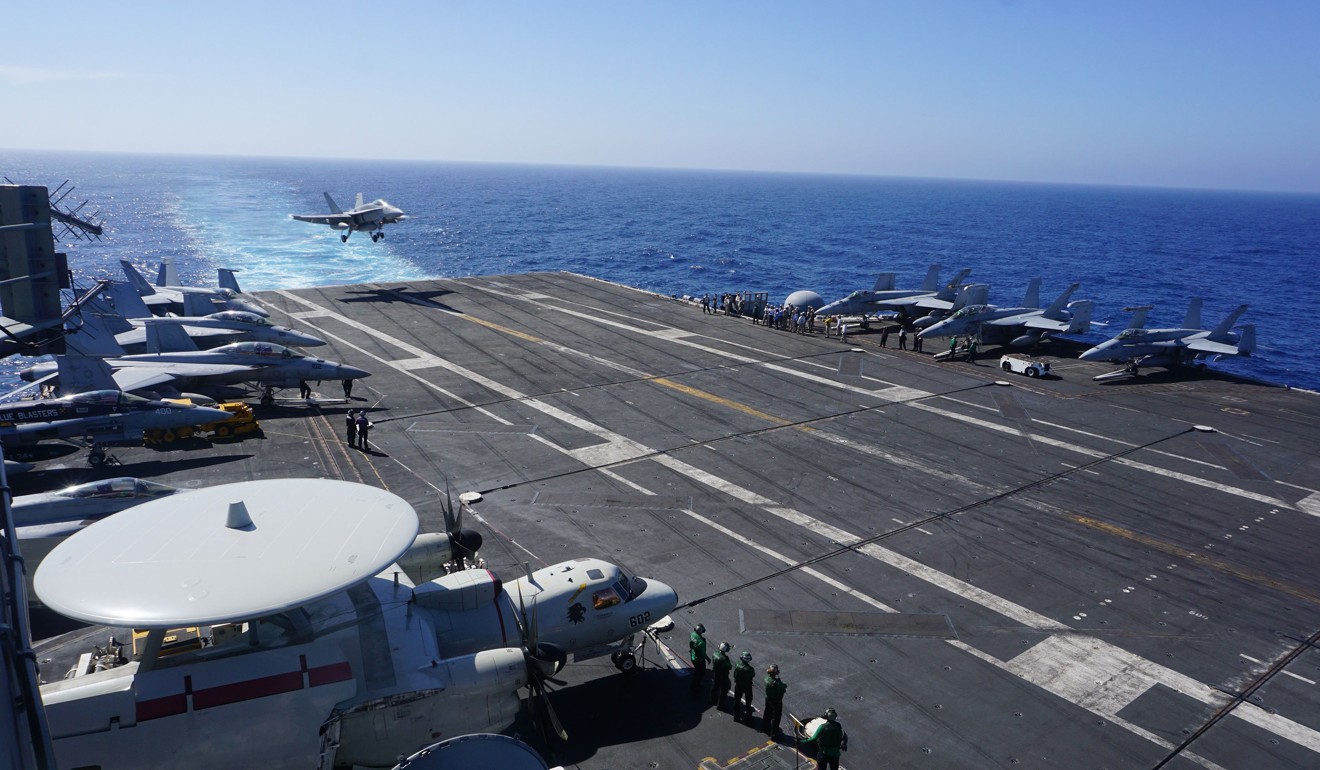 The Philippines, a US treaty ally, was once the strongest critic of Beijing's expansionism in the South China Sea, successfully winning a tribunal case in The Hague over their claims.
But it has changed course under President Rodrigo Duterte in a bid for billions of dollars worth of Chinese investment.
Duterte last week said it was not time to fight China over the row, adding the Philippines should "not meddle" with Washington and Beijing's competition for superpower status.
In Wednesday's trip, the USS Carl Vinson hosted top Duterte aides and key Philippine military officers.
Duterte's communications secretary Martin Andanar described the carrier as "very impressive" and its equipment "massive".
Asked if Manila welcomed US patrols in the disputed area, Andanar told reporters: "The United States has been a big brother of the Philippines, a military ally."