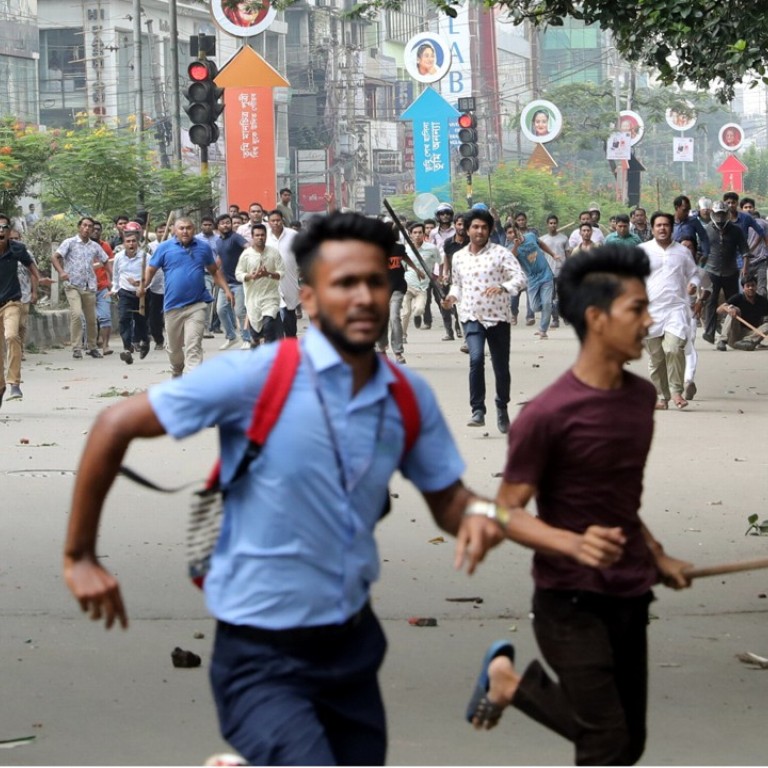 Bangladesh shuts down mobile internet to tackle student protests
Move came after police cracked down on protesters, firing tear gas and rubber bullets to try to end their week-long campaign for safer roads
Bangladesh Prime Minister Sheikh Hasina urged students Sunday to go home as police fired tear gas during an eighth day of unprecedented protests over road safety which have paralysed parts of Dhaka.
Students in their tens of thousands have brought parts of the capital to a standstill after two teenagers were killed by a speeding bus.
The unrest quickly spread beyond the capital. Authorities have shut down mobile internet services across swathes of the country, officials and local media said.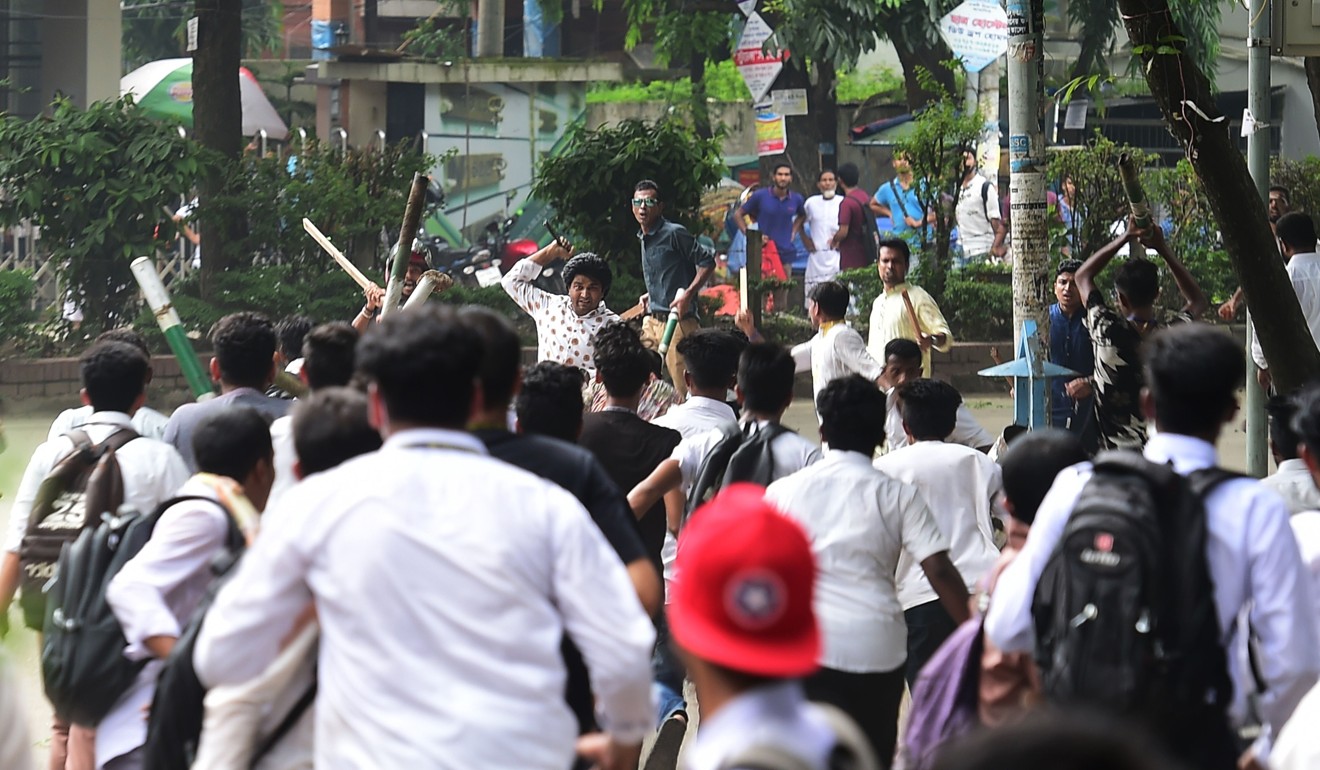 On Saturday the protests took a violent turn in Dhaka's Jigatala neighbourhood, with more than 100 people injured as police fired rubber bullets at demonstrators.
A car carrying US ambassador Marcia Bernicat was also attacked by "armed men" but she escaped unscathed, the embassy said.
The violence continued on Sunday with police firing tear gas into a large crowd marching toward an office of the ruling Awami League party.
Hasina warned Sunday that a "third party" could sabotage the protests and put the safety of demonstrators at risk.
"That's why I request all guardians and parents to keep their children at home. Whatever they have done is enough," the prime minister said from her office.
Some youngsters were rushed to hospital on Saturday after being attacked, allegedly by pro-government activists, witnesses said.
Hasina's warning came as protesters marched towards the scene of Saturday's clashes chanting "We want justice!"
Police denied they fired rubber bullets or tear gas at the protesters. However hospital staff said dozens of people had been injured, some seriously, and injuries were consistent with rubber bullets.
The Awami League has denied allegations that its officials beat up students.
On Saturday, US ambassador Bernicat's vehicle was set upon by a mob.
"As she was leaving about 11pm and getting into her car, a group attacked her car," said rights activist Badiul Alam Majumder, who was hosting the ambassador for dinner.
The US embassy confirmed an official vehicle "was attacked by a group of armed adult men" but the envoy and her team departed unharmed.
The country's biggest-circulation newspaper Prothom Alo said 3G and 4G internet services have been shut down for 24 hours since late on Saturday, shortly after the violence broke out.
Social media has been filled with comments from Bangladeshis unable to access the internet via their phones, although wireless and wired networks appear to be unhindered.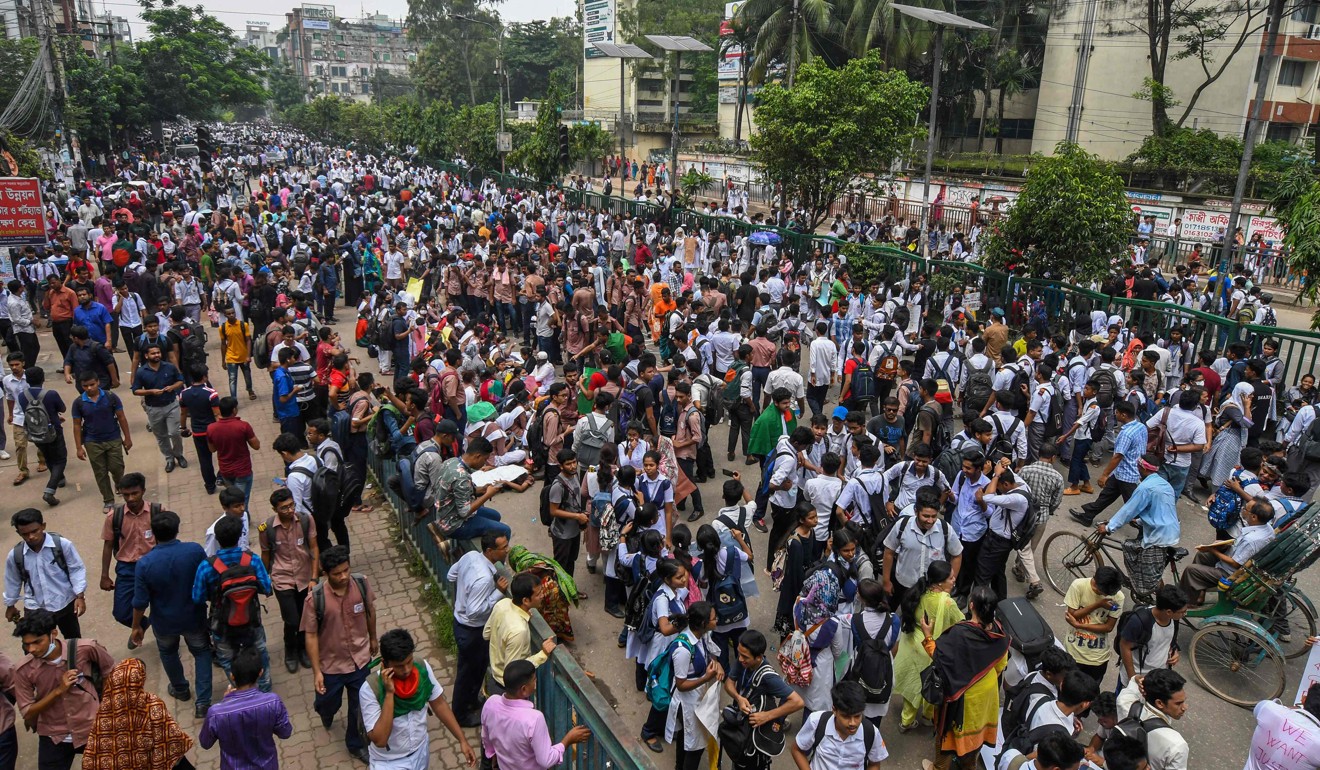 The Bangladesh Telecommunications Regulatory Commission said it would comment later Sunday.
A senior telecoms official who asked for anonymity said: "The BTRC has slowed down the internet at the order of the government."
The move may be an attempt to try and limit the ability of students to mobilise or express growing online anger at how the government has handled the protests, hours after police and unidentified men wielding sticks and stones clashed with students.
Images and photos of the attacks on students allegedly by ruling party activists have flooded social media, prompting renewed anger.
Bangladesh's transport sector is widely seen as corrupt, unregulated and dangerous. As news of the teenagers' deaths spread rapidly on social media they became a catalyst for an outpouring of anger against the government.
Hasina's government has ruled Bangladesh since 2009, but in recent months it has been shaken by separate mass protests demanding an end to a decades-old system of discriminatory civil service recruitment.
Several powerful ministers have pleaded with students to return to their classes, amid fears the unprecedented teen anger could spark widespread anti-government protests before a general election due later this year. But their pleas have had little effect.
An insensitive comment by Shajahan Khan, a government minister with ties to powerful transport unions, fuelled the flames last week.
Khan questioned why there was such an uproar over the two Dhaka children but no reaction when 33 people were killed in an Indian bus crash the day before.
There have been widespread social media demands for the minister's resignation despite his subsequent apology.
High schools were shut on Thursday as officials promised students their demands for road safety reforms would be considered.
The embassies of the US and Australia warned of significant delays and disruptions as a result of the protests across Dhaka, which already suffers from daily gridlock, and elsewhere in the country.
This article appeared in the South China Morning Post print edition as: PM urges student protesters to go home