India
Get more with myNEWS
A personalised news feed of stories that matter to you
Learn more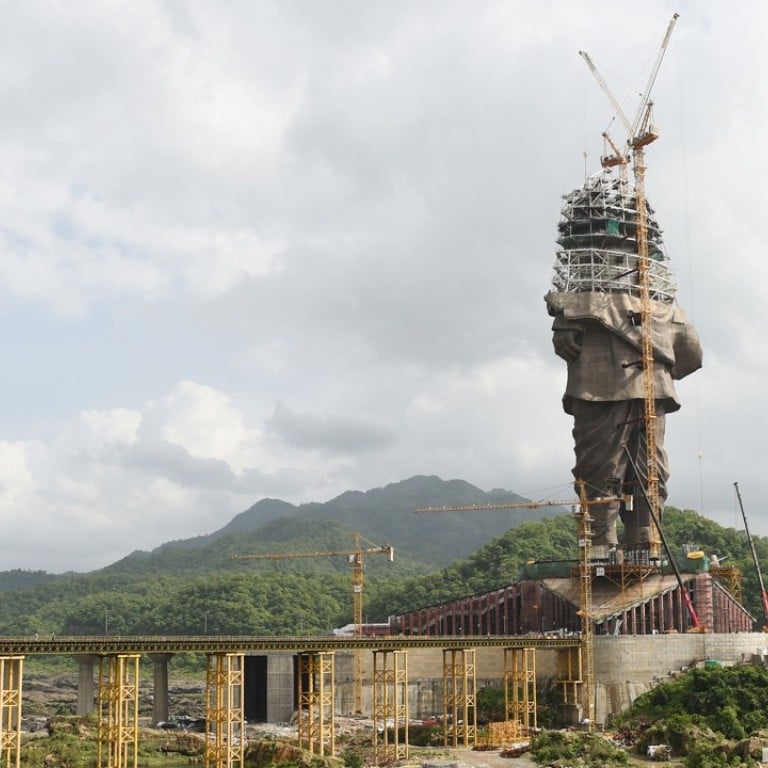 India's billion-dollar battle to build the world's biggest statue
More than twice the height of the Statue of Liberty, PM Narendra Modi predicts his pet project will attract 'hordes' of tourists
The world's biggest statue is rising in a remote corner of India to honour an independence hero but it could quickly be outdone by a monument to a Hindu warrior king in the sea off Mumbai.
In a burst of nationalist fervour, around US$1 billion is being spent on the two giant effigies, each more than twice as tall as the Statue of Liberty.
A 182-metre-high (600 feet) tribute to independence icon Sardar Vallabhbhai Patel in Gujarat state will be the first to dwarf the Spring Temple Buddha in China, currently the world's biggest statue at 128 metres (420 feet) in height.
Pick-axes are also swinging for a 212-metre-high likeness of 17th-century king Chhatrapati Shivaji, resplendent on a horse and brandishing a sword, which should dominate the Mumbai shoreline from 2021.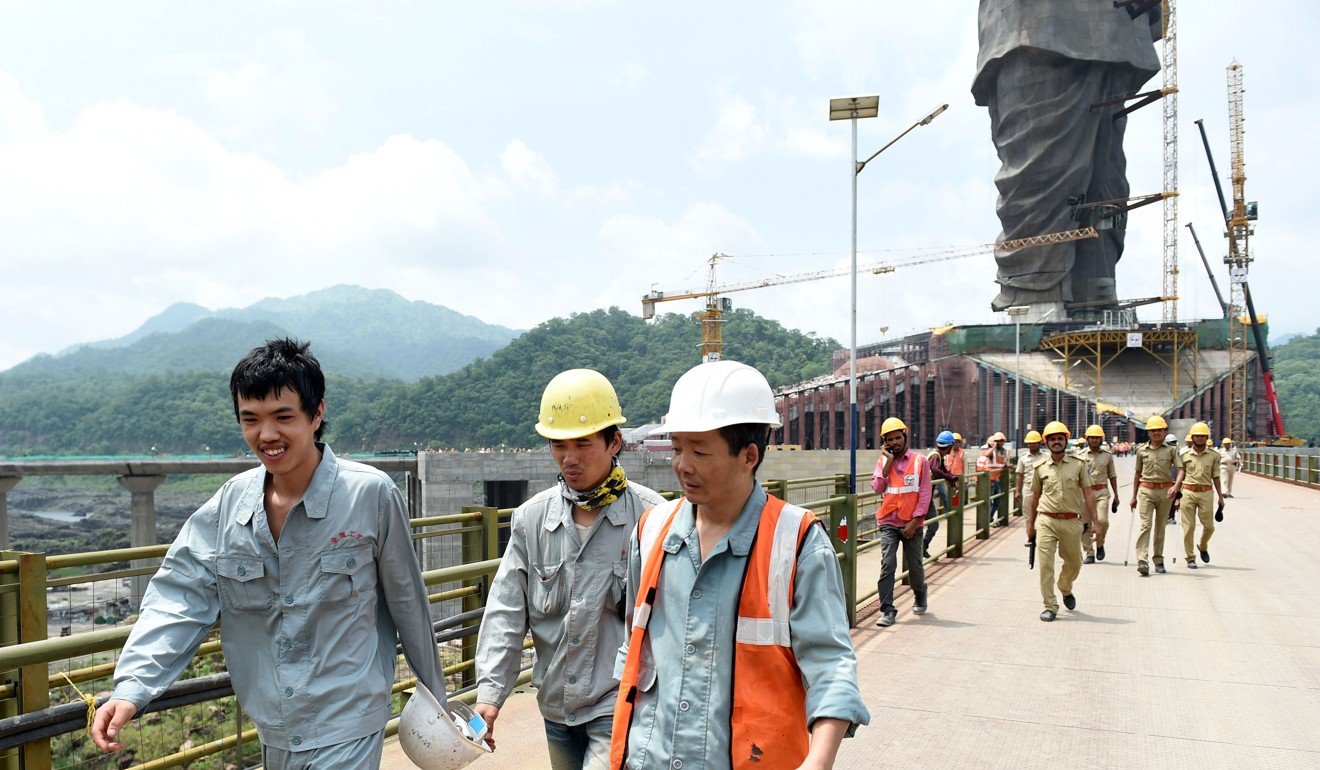 An army of 2,500 workers – including several hundred Chinese labourers – is toiling around the clock to put 5,000 squares of bronze cladding on the figure of Patel so it can be ready for inauguration on October 31 by Prime Minister Narendra Modi.
The 29.9-billion-rupee (US$430 million) "Statue of Unity" overlooking the isolated Sardar Sarovar Dam is a pet project of Modi.
He has predicted it will attract "hordes" of tourists, as the Statue of Liberty does in New York.
Visitors will be able to access a viewing gallery 153 metres up – about chest height on the huge standing figure.
But they will have to travel 250km (150 miles) from the state's main city of Allahabad to get there.
There is also a political motive to the mega project, with India heading into a campaign for a national election early next year.
Patel was deputy to India's first Prime Minister Jawaharlal Nehru after independence in 1947 and Modi's nationalist Bharatiya Janata Party says his name has been unfairly overshadowed by the dominant Nehru dynasty.
Patel became known as the "Iron Man of India" by persuading – through talks and a hint of force – some 550 princely states to become part of India after independence. He died three years later.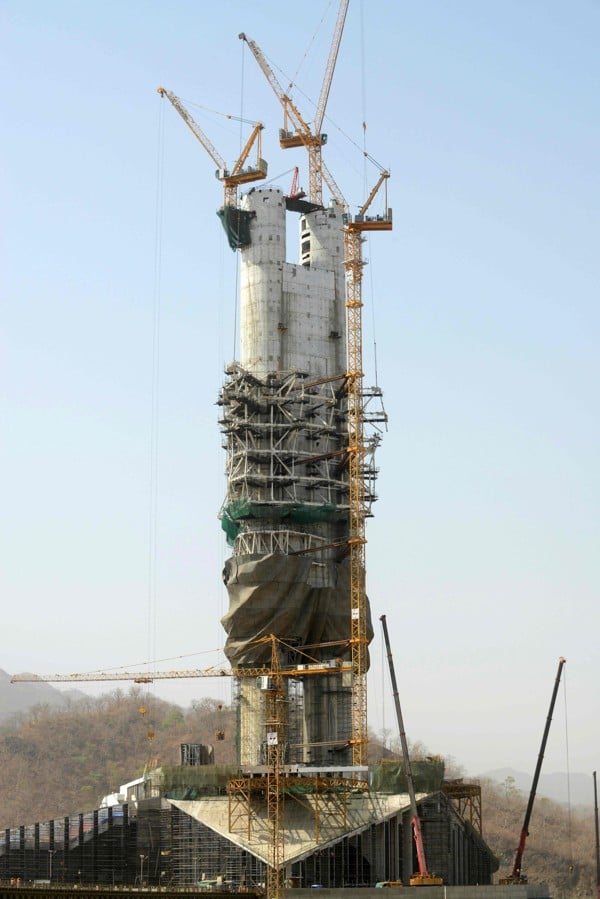 Many Hindu nationalists feel it was a slight when Patel was asked to step aside to let the secular Nehru become the country's first leader.
"Every Indian regrets Sardar Patel did not become the first prime minister," Modi said while campaigning in 2013.
"Modi has used Patel's legacy a lot in his election campaigns," said Ghanshyam Shah, a former professor of class politics at Jawaharlal Nehru University in New Delhi. "He is very likely to use the Statue of Unity during the upcoming campaign but I am worried about how it will influence voters."
The opposition Congress party says a plan to change the Nehru Memorial museum in New Delhi into a centre devoted to all of India's prime ministers is another bid to taint Nehru's name.
In 2016, Modi laid the foundation stone in Maharashtra state for the statue of Shivaji, a hero of the 80 million strong Marathi community based in the state.
Hindu nationalists have also adopted Shivaji, who made his name battling the Muslim Mughal empire. Critics say the 36-billion-rupee (US$515 million) statue is a way of winning Marathi votes in next year's election.
Fuelling the fervour, the government announced last week that the word "Maharaj", or king, had been added to the title of Mumbai's Chhatrapati Shivaji International Airport.
"The BJP has been appropriating icons for some time," said Sudha Pai of the Indian Council of Social Science Research. "Patel has been used to wipe out the Nehru legacy. The BJP wants to change the way history is perceived and show that the right-wing was as important in India's freedom struggle."
Preliminary work has started on the controversial project – with a museum, park and helipad – on reclaimed land 2km (1.5 miles) out to sea.
The price of the monument is certain to rise, analysts say and the state government has already changed the design to bring down costs.
How it will eventually look and when it will be finished is in doubt.
India's statue politics often fall victim to "hard economic reality", according to Badra Narayan, a professor at the Pant Social Science Institute in Allahabad.
An overrun is inevitable, according to I.C. Rao, head of a Mumbai citizens' group, who has questioned the cost and safety of the Shivaji design.
He said finishing the statue on time, would be "an impossibility even for the Trojans".
This article appeared in the South China Morning Post print edition as: India's quest for world's biggest ever monuments