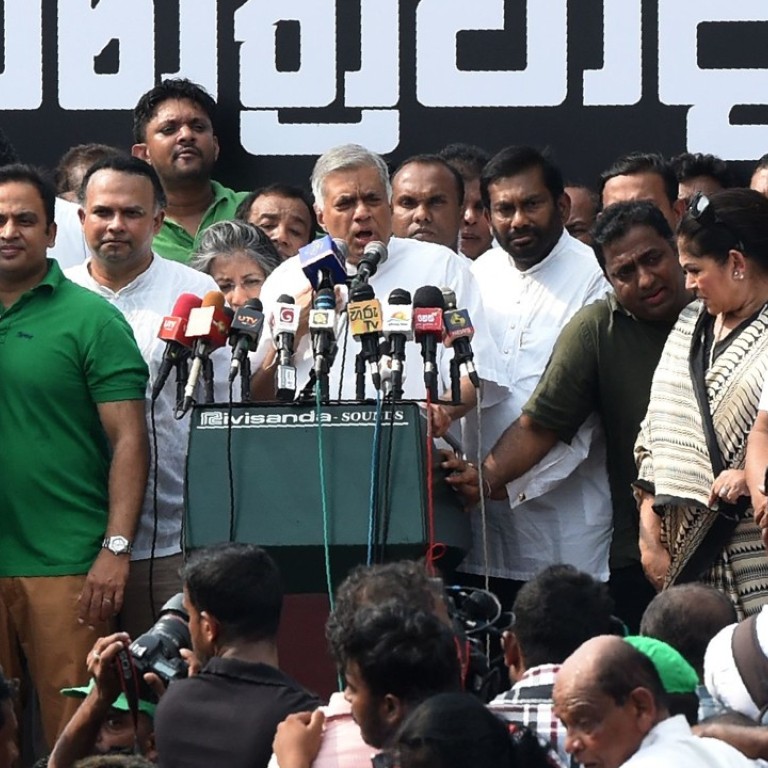 Thousands of Sri Lankans protest ousting of PM Ranil Wickremesinghe as nation grapples with political crisis
Demonstrators rally against President Maithripala Sirisena for dismissing Wickremesinghe
They are also angry that Mahinda Rajapakse, a former president accused of grave human rights violations, has been appointed as a replacement
Tens of thousands of supporters of sacked prime minister Ranil Wickremesinghe blocked roads in Sri Lanka's capital on Tuesday, stepping up a showdown with a former strongman accused of rights abuses – who also claims to head the country's government.
Wickremesinghe left his official residence for the first time since Friday to condemn President Maithripala Sirisena for dismissing him and appointing Mahinda Rajapakse, a former president accused of grave human rights violations and corruption.
Wickremesinghe's party said about 100,000 people flooded the streets, while police sources estimated 25,000 even as scores of buses brought more demonstrators to the biggest rally since the constitutional crisis erupted.
The army of followers chanted "Down With the Rogue PM" as they targeted Rajapakse, who Sirisena has brought back into frontline politics as his prime minister.
Effigies of Sirisena were torn up in a symbolic protest against the president, who has faced international calls to end a suspension of parliament so it can hold a vote on the rival prime ministers.
"We are against the sacking, the people did not vote for Sirisena to act in this manner," Wickremesinghe told supporters from a makeshift stage. "We will resist what the president has done."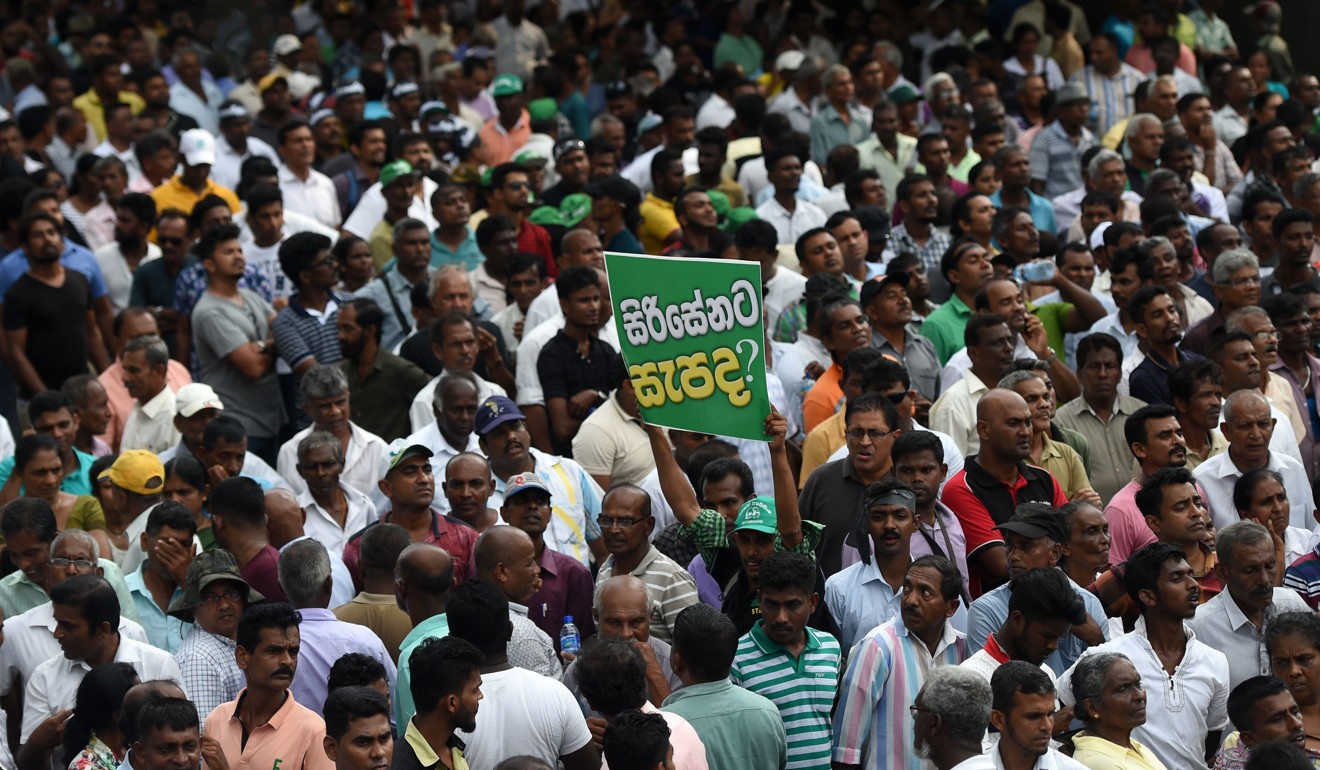 Parliament speaker Karu Jayasuriya has warned that the crisis could lead to a "bloodbath" on the streets if the assembly does not hold a vote, but the rally remained peaceful, watched by more than 2,600 police and special task force commandos, before it dispersed.
Behind the scenes, the rivals battled to tempt lawmakers from opposing sides to bolster their numbers if a vote is held.
Rajapakse, 72, gave four legislators from Wickremesinghe's party ministerial portfolios in his cabinet after persuading them to defect on Monday. Another defected on Tuesday and was made a state minister but Rajapakse was unable to name a full cabinet. Wickremesinghe has also convinced at least two lawmakers from Sirisena's camp to join his United National Party.
Following the latest defection, Wickremesinghe has 104 MPs in the 225-seat chamber while Rajapakse and Sirisena together have 99. A majority of the 22 remaining MPs are expected to back Wickremesinghe in any vote but the horse-trading is sure to intensify, observers said.
A deputy minister in Wickremesinghe's administration, Ranjan Ramanayake, accused China of paying for Rajapakse – who favoured a pro-Beijing policy during his decade-long tenure as president – to buy legislators.
"I am telling China not to spend their millions to buy MPs in Sri Lanka. They want to buy the country wholesale," he said.
The Chinese embassy in Colombo denied the claims in a statement.
"Recent allegations about China by MP Ranjan Ramanayake are groundless and irresponsible," the statement said, adding that Beijing follows "the principle of non-interference in other country's internal affairs."
With Sirisena showing no sign of lifting the parliamentary suspension which runs until November 16, Wickremesinghe's finance minister Mangala Samaraweera said the president was trying to buy time to secure votes for Rajapakse.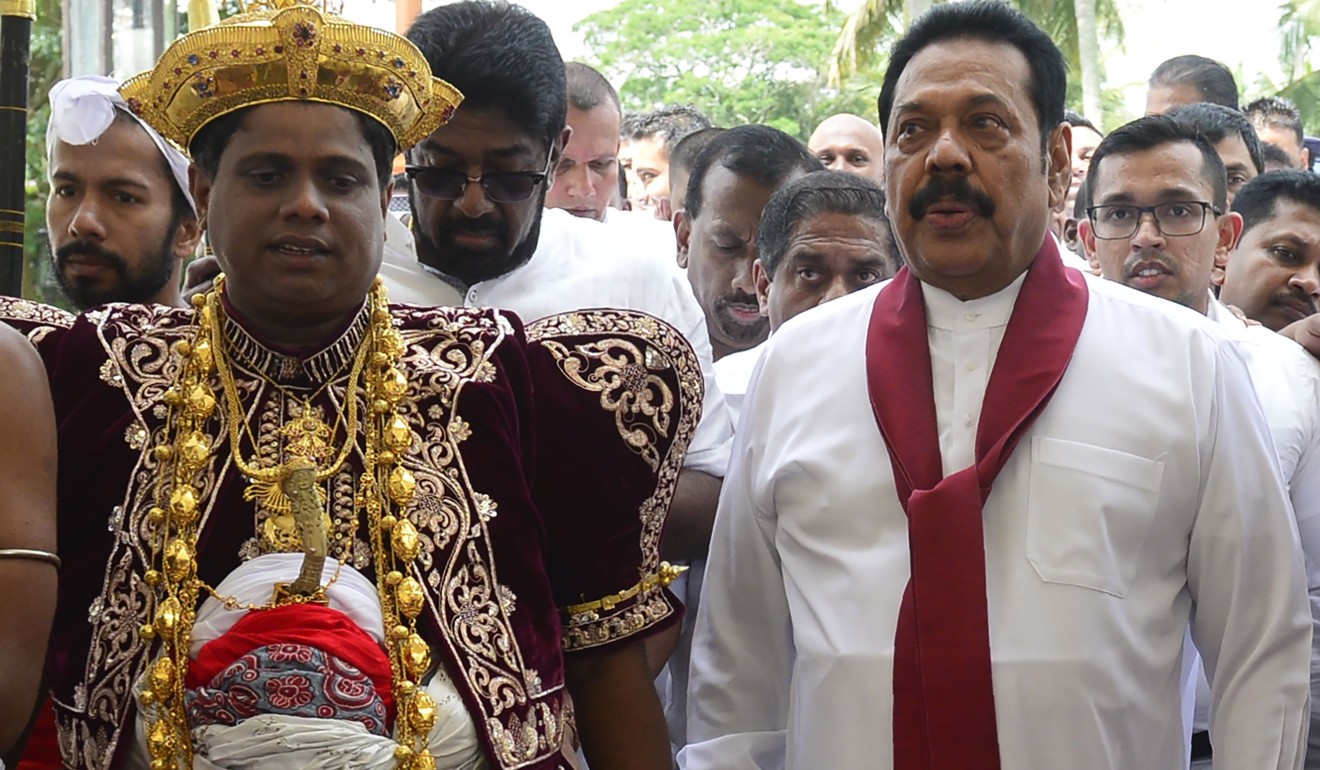 Speaker Jayasuriya followed up his "bloodbath" warning by officially calling on Sirisena to recall parliament or risk unrest.
"If you do not, we will not be able to stop people taking alternative action to protect their democratic rights," Jayasuriya said in the letter seen.
Tensions have been heightened by the killing of one activist in the capital on Sunday. The army has insisted, however, that it will let politicians solve the crisis.
Sri Lanka's army chief Mahesh Senanayake said military expected politicians to "constitutionally and legally" end the dispute. "The army will not get involved," he said, responding to queries on the role of security forces as the constitutional crisis drags on.
"The police are responsible for maintaining law and order and only if they require our help, we will help."
Sirisena appointed a 12-member cabinet late on Monday, giving the powerful finance portfolio to Rajapakse.
Rajapakse – whose rule was marked by allegations of rights abuses and authoritarianism – said on Monday he was given the job because his predecessor's party "engaged in a quest to sell off valuable state assets and enterprises to foreign companies".
"I was aware that at this moment of national peril, the people expected our leadership and protection," Rajapakse said. "Hence, I accepted the invitation."