Kashmir
Get more with myNEWS
A personalised news feed of stories that matter to you
Learn more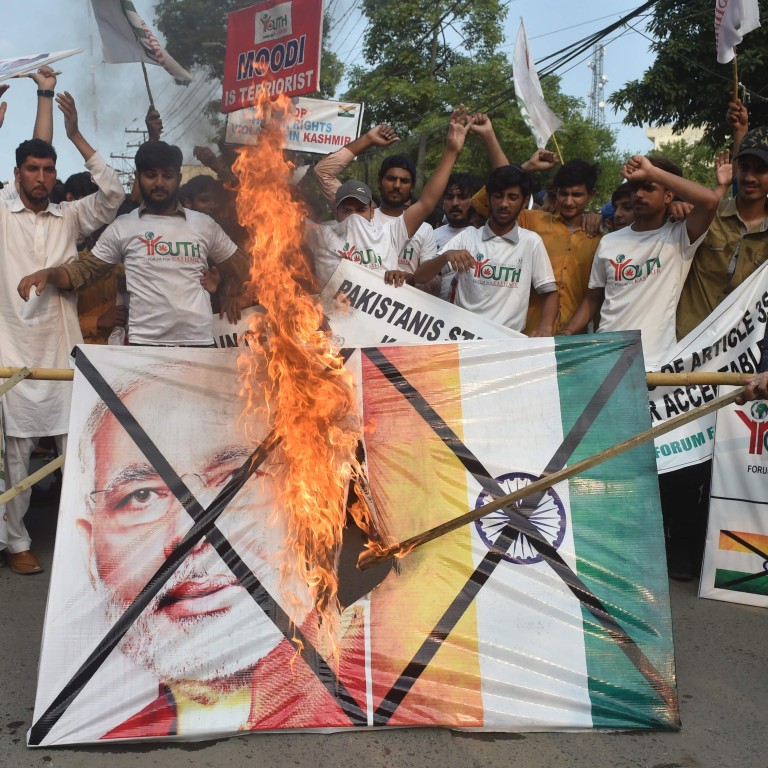 Protests erupt over India's Kashmir move, China voices opposition
Pakistan's army has pledged to go to 'any extent' to protect Kashmiris in the wake of New Delhi's revocation of Kashmir's special status
China's foreign ministry, meanwhile, described India's actions as unacceptable and said they would not have any legal effect
Pakistan
launched a diplomatic offensive against
India
's move to revoke the autonomous status of Kashmir, a disputed Muslim-majority state claimed in full and ruled in part by both the south Asian nations, by calling upon global powers to take notice.
Foreign Minister Shah Mahmood Qureshi wrote to the secretary general of the
United Nations
informing him about the "critical situation" in
Kashmir
, while its army pledged to go to "any extent" to protect Kashmiris.
The army's top commanders met in the garrison city of Rawalpindi to discuss India's decision, which is also set to exacerbate the long-running bloody rebellion in Kashmir.
"Pakistan Army firmly stands by the Kashmiris in their just struggle to the very end. We are prepared and shall go to any extent to fulfil our obligations in this regard," General Qamar Javed Bajwa said, in a tweet sent by a military spokesman after the meeting.
Spokesman Major General Asif Ghafoor said commanders "fully supported" the civilian government's rejection of India's move.
"Pakistan never recognised the sham Indian efforts to legalise its occupation" of the disputed mountainous region, he added.
On Tuesday, an estimated 500 people demonstrated in Muzaffarabad, the largest city in Pakistani-held Kashmir, with more protests expected in major cities across the country.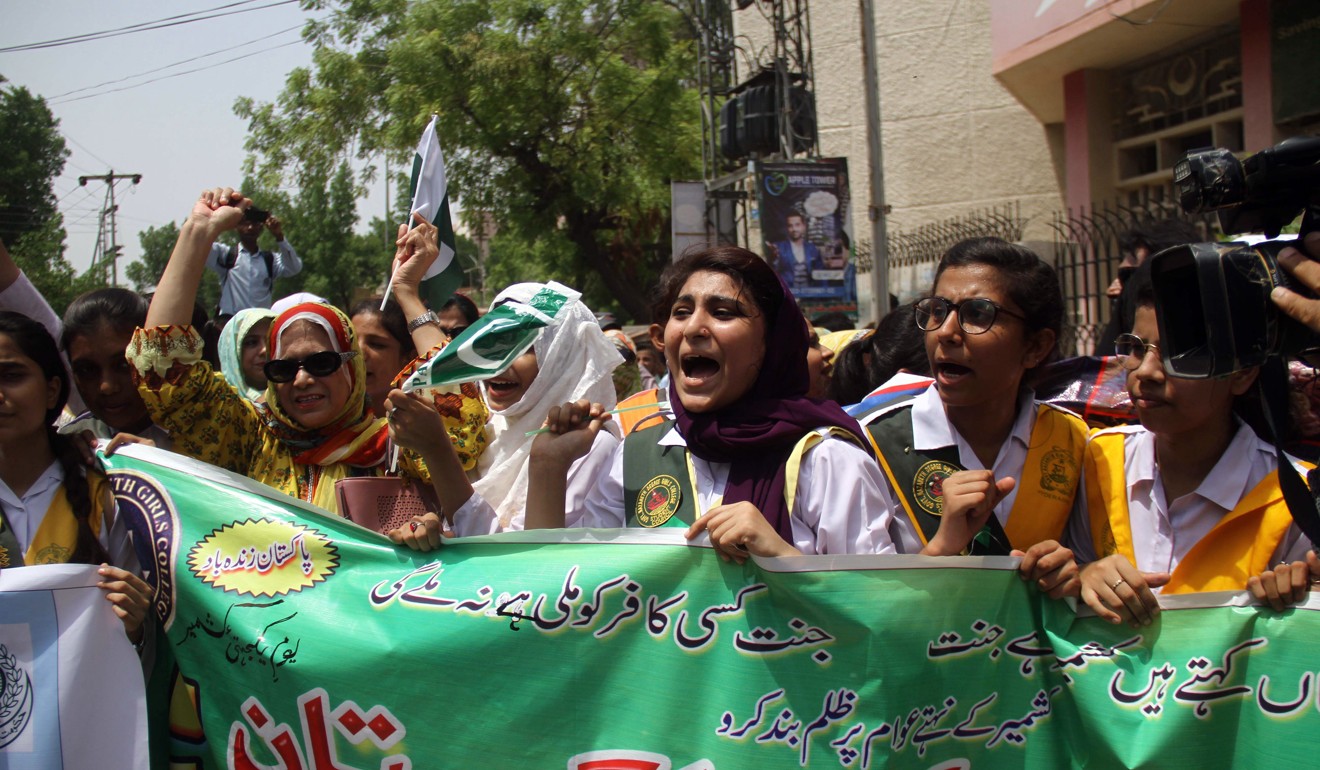 Fawad Chaudhary, Pakistan's minister of information and broadcasting, even went so far as to suggest the country "must be ready to fight if war is imposed" over the disputed region.
"The people and armed forces of Pakistan are on the same page when it comes to supporting Kashmiris' legal struggle against Indian occupation. We must stand by to take the bull by the horns," he told the South China Morning Post.
While Qureshi, the foreign minister, is leading a Pakistani delegation to attend a meeting of the 57-nation Organisation of Islamic Cooperation in Jeddah to discuss the Indian move in Kashmir, Prime Minister Imran Khan spoke to the top leaders of
Turkey
and
Malaysia
on Monday telling them that New Delhi's move would "undermine" relations between the two countries.
In a statement issued by its high commission in New Delhi, Malaysia said it was monitoring the situation closely and "encourages the two close neighbours to re-engage in dialogue and negotiations with a view to de-escalate the ongoing situation and finding an amicable solution".
China
said on Tuesday it opposed India's decision to revoke the special status of Kashmir, because it undermined China's territorial sovereignty.
"China is always opposed to India's inclusion of the Chinese territory in the western sector of the China-India boundary into its administrative jurisdiction," Foreign Ministry spokeswomen Hua Chunying said. "Recently India has continued to undermine China's territorial sovereignty by unilaterally changing its domestic law. Such practice is unacceptable and will not come into force."
The Indian government responded by describing the change as an "an internal matter concerning the territory of India".
"India does not comment on the internal affairs of other countries and similarly expects other countries to do likewise," Indian foreign ministry spokesman Raveesh Kumar said.
He added that both sides had committed to maintaining "peace and tranquility in the border areas".
A communications blackout in Indian-administered Kashmir entered a second day on Tuesday, after New Delhi cut television, telephone and internet links to deter protests in the country's only Muslim-majority region.
"We are managing for now," said a senior official at a hospital in the region's main city of Srinagar that was among the medical facilities hit by the communications crackdown.
Staff were working overtime at the 500-bed Lal Ded hospital, with ambulances having been sent out to fetch doctors and nurses, added the official, who sought anonymity as he was not authorised to speak to media.
Hours before Monday's announcement that a constitutional provision allowing the region to make its own laws was being dropped, an unprecedented communications blackout was enforced and a number of regional leaders were arrested, including two former state chief ministers.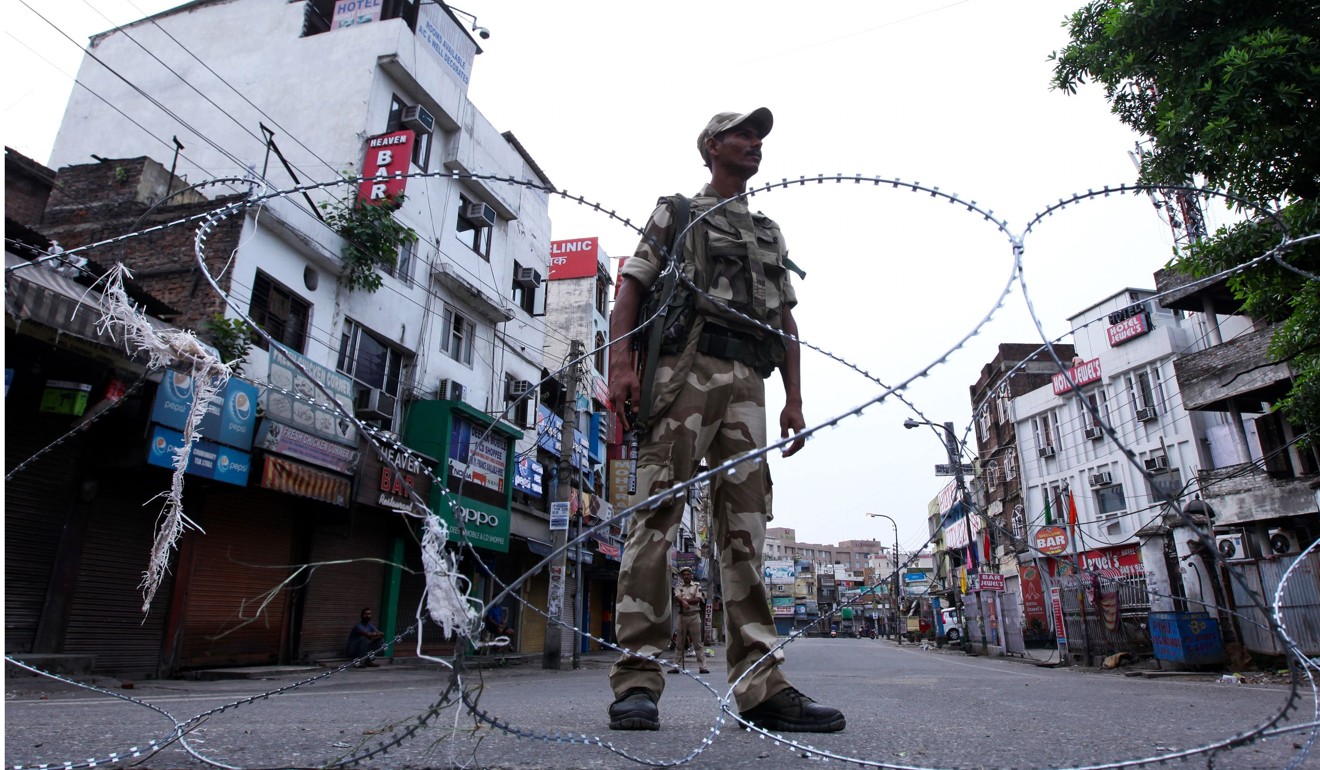 Although the leaders had warned that the change, which frees up land for purchase by non-residents, would provoke unrest, the blackout and a heavy deployment of troops, including tens of thousands of additional soldiers, have helped rein in agitation.
The decision to revoke the region's special status has won praise from many Indian politicians, including some in the opposition to Prime Minister
Narendra Modi
's ruling Bharatiya Janata Party.
Many in India see it as a bold move to end a three-decade-old armed revolt in the territory, drawing it closer to the rest of India.
Indian media on Tuesday called the move historic, although criticism is growing about the way Modi took the decision amid a security crackdown and without wider political consultation.
Kashmir's regional politicians said they were kept in the dark about the move and feared a wider crackdown in the next few days.
Armed police patrolled every few hundred metres in Srinagar, one of the region's capitals, where a ban on public gatherings of more than four people stayed in force on Tuesday. Educational institutions and most shops in residential neighbourhoods were shut.
Security forces fired tear gas and pellets in response to sporadic protests on Monday, said one police official who declined to be identified.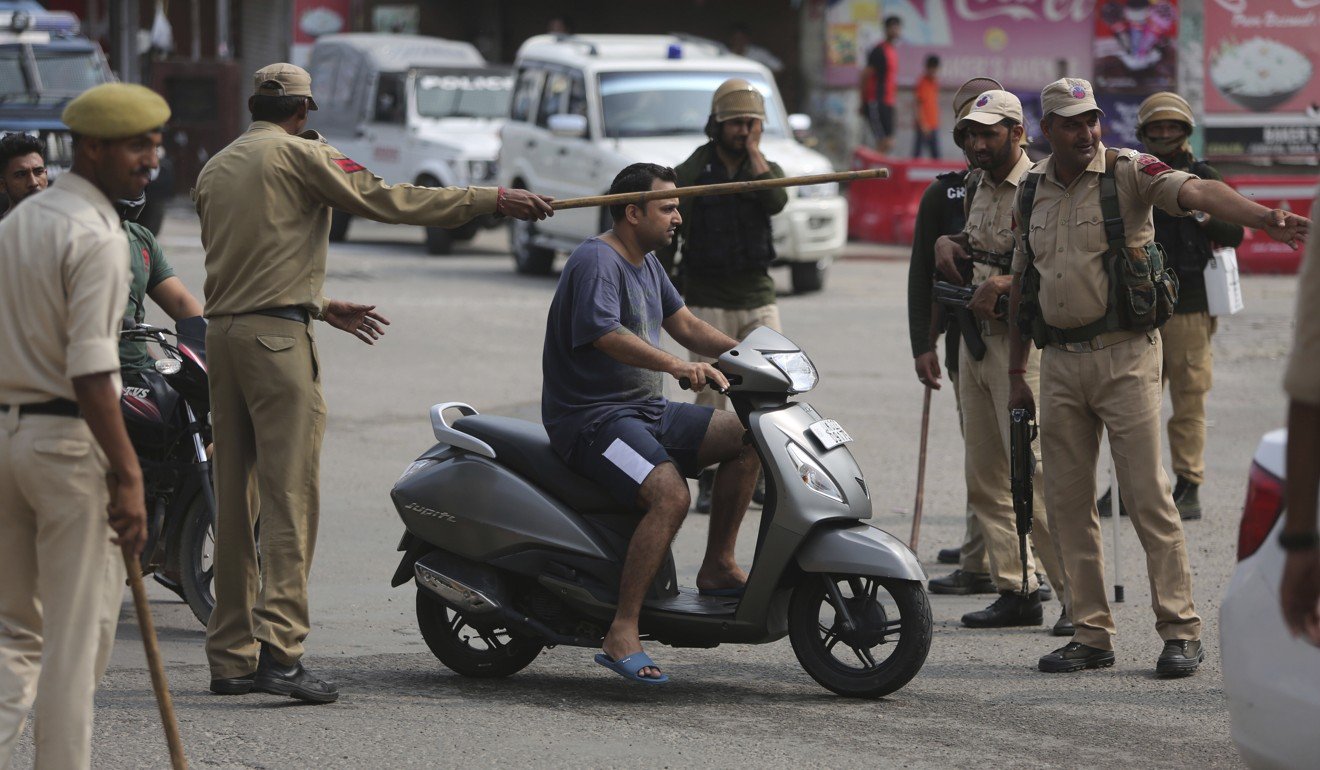 India and Pakistan have fought two of their three wars over Kashmir, where tens of thousands of people have been killed in a nearly 30-year-long armed revolt that India has sent hundreds of thousands of troops to quell.
India blames the rebellion on Pakistan, saying Islamabad provides money, training and weapons to Islamist militants who either live in Indian-controlled Kashmir or enter it from the Pakistani side.
Pakistan has consistently denied the accusation, saying it provides moral and diplomatic support to Kashmiris seeking self-determination for the region.
Meanwhile, India's lower house of parliament was set to ratify the "Jammu and Kashmir Reorganisation Bill" on Tuesday, which was introduced by Modi's Hindu nationalist government to downgrade the region's governance alongside Monday's presidential order dissolving its special status.
The lower house was expected to easily ratify the bill, which downgrades the Indian-administered part of Kashmir from a state to a union territory with a legislature and carves out Buddhist-majority Ladakh, a pristine, sparsely populated area that stretches from the Siachen Glacier to the Himalayas, as a separate union territory without a legislature.
Parliament's upper house approved the bill by a two-thirds majority, with many opposition lawmakers voting with the ruling BJP.
Residents of Ladakh, many of whom had been asking for union territory status, also reported intermittent communication blocks.
Additional reporting by Kaswar Klasra, Reuters, Agence France-Presse and Associated Press