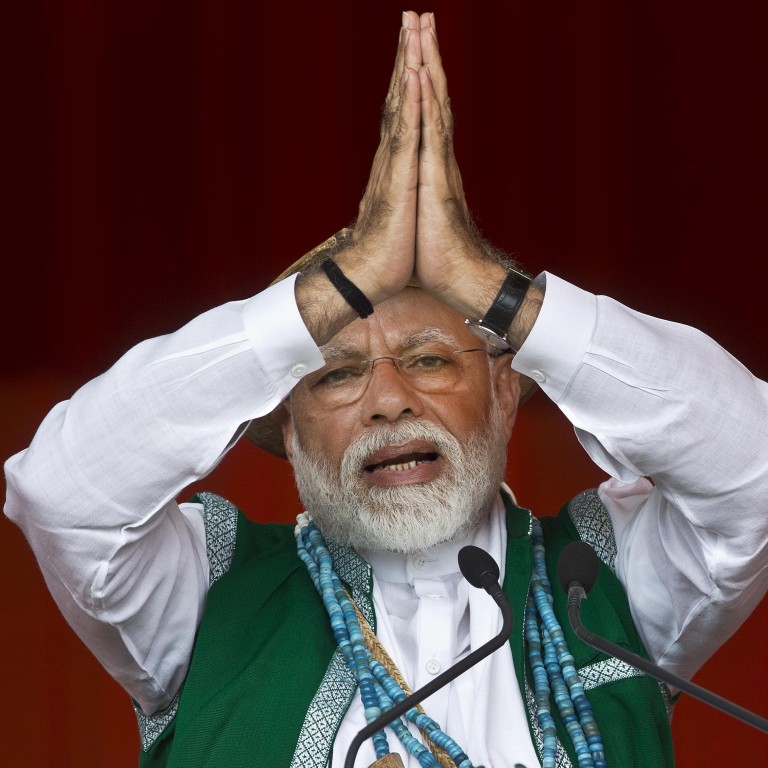 Coronavirus: India's lockdown to last till May 3, fuelling fears of economic catastrophe
Prime Minister Narendra Modi has asked employers not to fire people but migrant workers and those who rely on them have already taken a hit from the nationwide lockdown
An economist says India's slowing growth means its economy is 'poised to fall off a cliff'
India's
decision to extend its nationwide lockdown to combat the coronavirus has fuelled further concerns that its US$3 trillion economy – Asia's third-largest – will face a deeper downturn with millions set to lose jobs.
Prime Minister
Narendra Modi
acknowledged this in an address on Tuesday, where he described how social distancing and the lockdown had benefits but came with a high economic cost to the nation of 1.3 billion people.
"We have to pay a high price. but compared to the lives of Indians there can be no comparison,"Modi said, adding that regions showing improvement in containing the virus spread up to April 20 could see some relaxation for essential activities, though with conditions attached. Detailed guidelines could come on Wednesday, he said.
India has so far reported 10,453 infections and 358 deaths, according to data from Johns Hopkins University.
While the country was on track to grow 5 per cent in the financial year that ended in March, its weakest expansion in more than a decade, its unemployment rate has climbed by more than 20 per cent after
the lockdown took effect on 24 March , according to the Centre for Monitoring Indian Economy.
The jobless rate was 23.4 per cent for the week ending April 5, the business information company's CEO Mahesh Vyas said, with other economists saying this could expand by the time the lockdown was over.
"A large part of informal and semi-formal labour in the urban sectors, especially [in the small and medium enterprises] segment would get displaced as the lockdown pain drags," said Madhavi Arora, an economist with Edelweiss Securities in Mumbai. "The socio-economic cost of the same will possibly have much more protracted impact than the initial statistical assessments may reflect."
As part of its lockdown and social distancing push India has asked people to stay indoors and suspended almost all transport services. Over the last month it has gradually widened its testing norms even though the country's testing rates are still some of the lowest in the world. It has also diverted existing medical infrastructure to fighting the virus.
Modi's announcement came as debate rages in countries around the world on how to lift restrictions while ensuring that there is no renewed spike in new infections.
India's lockdown has been especially harsh for the more than 450 million informal workers who depend on daily wages. When the lockdown was instituted with little advance morning, millions left the cities to rural villages, many on foot.
A team of researchers working for digital news website The Print said based on their scan of local media reports, nearly 200 people have died during the lockdown period, with this attributed to exhaustion, hunger and people taking their own lives because they lost their livelihoods.
Speaking to T his Week in Asia, Ram said he used to earn 700 to 800 rupees (US$10.50) a day but the work had run out, and he was not able to pay for food, rent or medicine.
"I have to go back home, I can't survive in Bangalore any more," he said, in between sobs.
The government is assessing how it can resume highway construction and reopen some factories, Nitin Gadkari, the country's minister for roads and small and medium industries told Bloomberg recently. On Tuesday, Reuters reported that it had seen a government note describing how some manufacturing could be restarted, with firms in the autos, textiles, defence and electronics sectors allowed to operate at 25 per cent capacity while ensuring social distancing.
Rajiv Bajaj, the chief of India's leading two-wheeler producer Bajaj Motors, said in a commentary published by Indian media last week that the extended lockdown would be disastrous.
"I continue to believe this [lockdown] makes India weak rather than stronger in combating the epidemic. We should have kept only the vulnerable at home, closed all public spaces, and allowed the young and healthy to keep turning wheels of the economy – with due precautions," Bajaj wrote.
Economist Jayati Ghosh, from Jawaharlal Nehru University, agreed: "India is on the verge of an unprecedented economic catastrophe as the humanitarian disaster from the Covid-19 pandemic unfolds. The sheer scale of disruption from the ongoing national lockdown. is unprecedented in Indian history."
Ghosh says that the disruption is much starker than the global financial crisis of 2008, which hit the Indian financial sector and real demand, but did not bring production to a halt.
"Besides, at the time, the Indian economy was much better placed to handle the crisis, as it had been growing rapidly in the years leading up to 2008. By contrast, the Covid-19 crisis comes at a time
when GDP growth is slowing. If it was rolling down a hill earlier, now it is poised to fall off a cliff."
Additional reporting by Agence France-Presse
This article appeared in the South China Morning Post print edition as: Lockdown to last despite its 'high price', Modi warns