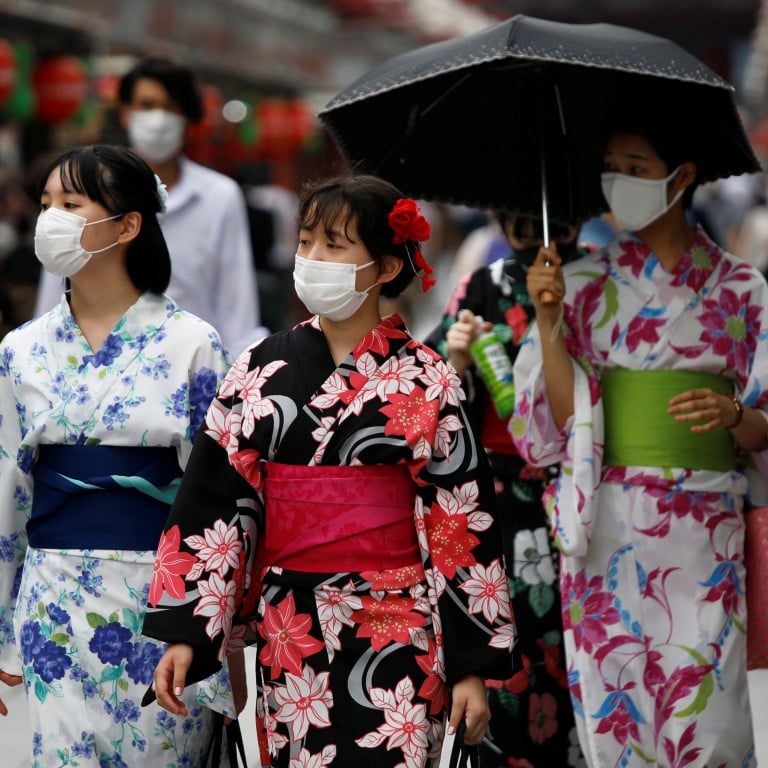 Women in yukata walk along Nakamise Street at Asakusa district, a popular sightseeing spot in Tokyo. Photo: Reuters
Coronavirus latest: Japan seeks to resume business travel with China, South Korea, others
Japan will also begin considering conditions of entry for athletes and other parties involved with the Tokyo Olympics and Paralympics
In Australia, tougher border restrictions have been imposed as it suffered its worst day yet for new infections
Topic |  
Coronavirus pandemic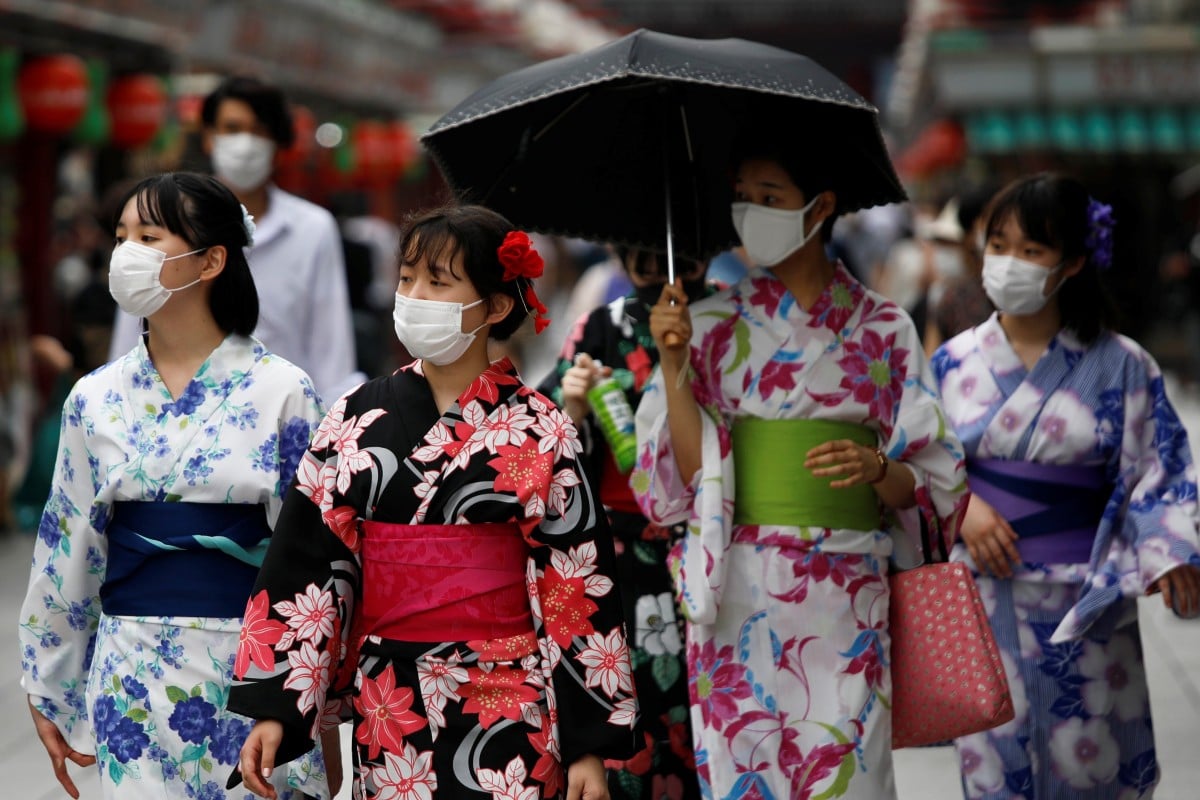 Women in yukata walk along Nakamise Street at Asakusa district, a popular sightseeing spot in Tokyo. Photo: Reuters
Abe also indicated the government would begin considering conditions of entry for athletes and other individuals involved with the Tokyo Olympics and Paralympics, now due to kick off a year from Thursday.
Japan presently has an entry ban in place for 129 countries and regions. The government is aiming to proceed with preparations for the Tokyo Games as the economy gradually reopens.
The government plans to progressively ease entry bans for employees of foreign firms in Japan, and overseas students who have a status of residence.
Japan is also expected to start talks on easing travel restrictions with Brunei and Myanmar, which have the pandemic under control. The Abe government has already begun similar discussions with Vietnam, Thailand, Australia and New Zealand.
Abe's announcement came after the governor of Tokyo on Wednesday told residents to avoid unnecessary trips outdoors, as the city surpassed 10,000 coronavirus cases ahead of a four-day holiday weekend.
Japan's capital had another 238 cases on Wednesday, as the country heads into a long weekend that was originally scheduled to celebrate the start of the now-postponed Tokyo Olympic Games.
"This long weekend is going to be critical in preventing further spread of the virus," Koike said in a briefing.
Hospitalisations in Tokyo have jumped almost five-fold over the past month. Fourteen of those hospitalised were listed as serious cases, in an ICU or on a ventilator, and the city has had recorded two deaths in the past month. Tokyo had more than 3,800 cases so far this month, higher than the previous peak in April when the city entered its state of emergency.
The dozen soldiers had all arrived at Osan Air Base in Pyeongtaek, south of Seoul, on US government-chartered flights from their home country on different dates across July, Yonhap reported.
"All individuals were transferred to an isolation facility designated for confirmed Covid-19 cases on Camp Humphreys upon testing positive," the US Forces Korea said in a statement. "Thorough cleaning of all transportation assets and quarantine rooms has been completed."
Earlier in the month, dozens of other newly arriving service members, dependents and others had tested positive for the virus, Yonhap reported.
South Korea has recorded about 13,900 coronavirus cases and 297 deaths.
There were 37,724 new cases reported in the past 24 hours, according to federal health data. India has reported about 1.2 million cases overall, behind only the United States and Brazil.
Organisers of the Amarnath Yatra, where saffron-clad Hindu ascetics walk 46km to the cave across glaciers and waterlogged trails, said a "very sharp" spike in virus cases had forced the cancellation.
"The health concerns are so serious that the strain on the health system, along with the diversion in resources to the Yatra, will be immense," said a statement by the organising committee released on Tuesday.
A strict lockdown was reimposed in Kashmir – also claimed by neighbouring Pakistan – on July 12 after a major spike in cases and deaths. Shops and businesses are shut, and in most parts of the main city of Srinagar roads are sealed and people are not allowed to leave their homes.
In Australia, hard-hit Victoria state reported a record 484 new infections on Wednesday, as Melbourne entered a second week of lockdown.
"We're at a really challenging phase of this pandemic," Victoria's Chief Health Officer Brett Sutton said.
"We can't necessarily expect numbers to go down. I think that will be an even greater challenge in days ahead," he said. "That means that we're going to look at 500-600 cases per day. I absolutely don't want us to go there."
Daniel Andrews, the state premier, said people had to self-isolate when they became sick.
He said nine in 10 people did not self-isolate between having symptoms and being tested. More than half did not self-isolate between when they were tested for the virus and when they got the results.
Andrews also announced two more deaths, both men in their 90s, bringing the national death toll to 128.
Face masks will become compulsory from Thursday for residents in lockdown regions when people leave their homes.
Victoria's rise in cases contributed to a national tally of 502 new cases on Wednesday, the highest rise ever, said Australian Deputy Chief Medical Officer Michael Kidd.
Australia has recorded some 12,500 coronavirus cases and 126 deaths since the pandemic began.
"It is still necessary to have the decree because we are opening up the country for more business meetings and tourism to stimulate the economy," said Somsak Roongsita, secretary-general of the National Security Council, adding that doctors had requested it be maintained.
The extension comes after a weekend where
The government should prioritise efforts to revive the economy rather than tackling the virus' spread, most of the participants in a poll conducted by independent surveyor Indikator Politik Indonesia said. Those opposed to tough mobility restrictions jumped to 60.6 per cent from 34.7 per cent in May, the July 13-16 survey showed.
Reporting by Thomson Reuters Foundation, Agence France-Presse, Bloomberg, Reuters, Kyodo