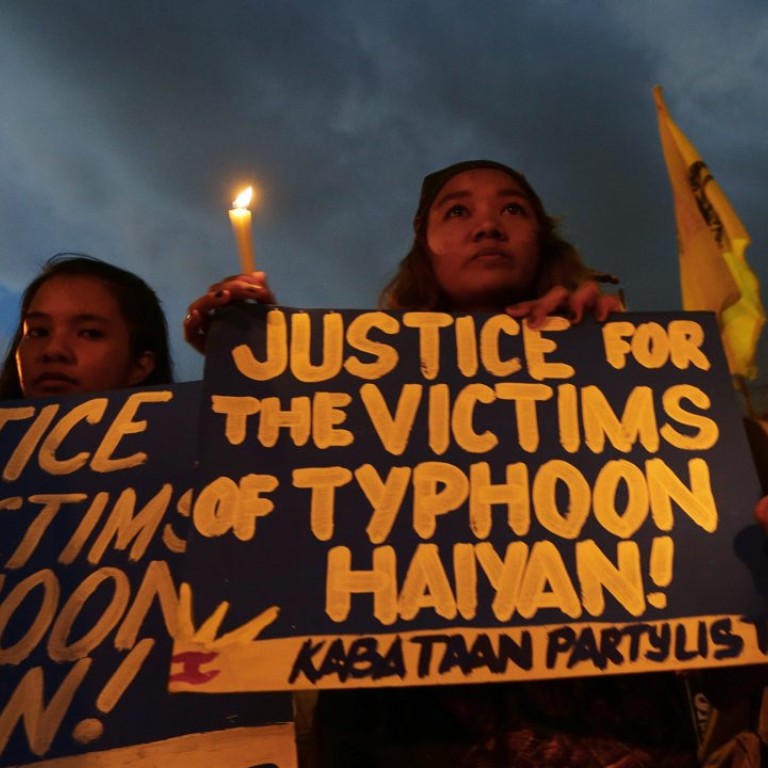 Philippine typhoon victims prepare lawsuit against fossil fuel companies accused of driving climate change
Legal experts have compared the fledgling legal push to seek damages from oil, gas and coal companies to early efforts to take on tobacco companies over health damage caused by smoking.
Responding to a complaint filed by typhoon victims, a Philippines human rights commission agreed on Friday to look into whether large international fossil fuel companies are violating the human rights of its citizens by driving climate change.
Holding oil, gas and coal companies responsible for deaths and financial losses in the Philippines "will be an uphill climb," admitted Roberto Cadiz, a member of the Commission on Human Rights of the Philippines.
But he said he felt duty bound to take on the case, both because losses from extreme weather are mounting so rapidly and because other efforts to curb climate-changing emissions are "moving very slowly, if at all", providing the impetus to explore other avenues.
Cadiz said the commission would launch an inquiry in the first quarter of 2016.
Activists called the complaint one of a first wave of legal challenges seeking redress for human right violations from climate change. It joins a string of recent legal filings, in countries from Germany to Pakistan to the Netherlands, seeking to force faster action to address climate change and its impacts, or claiming damages from energy companies.
"These cases are coming. There are many in the pipeline," said Alyssa Johl, a senior attorney at the Washington-based Centre for International Environmental Law.
Legal experts at UN negotiations in Paris, which aim to seal a new global deal next week to curb climate change and deal with its impacts, compared the fledgling legal push to seek damages from oil, gas and coal companies to early efforts to take on tobacco companies over health damage caused by smoking.
Winning compensation could take decades, or ultimately fail, they admitted. But simply filing suits can put pressure on fossil fuel companies and potentially drive away investors, they said.
"Companies fear nothing more than a lawsuit. The best way to get their attention is to say we have a legal basis for a claim and we're going to bring a lawsuit," said Gregory Regaignon, a lawyer and research director of the UK-based Business and Human Rights Resource Centre, which looks at the human rights implications of company action.
The aim is to "reach companies where their assets are," he said. "That's what they care about most, and how we're going to reach remedies."
The Philippines complaint, brought with the support of organisations including Greenpeace Southeast Asia, Amnesty International and the Union of Concerned Scientists, asks the country's human rights commission to look at the responsibility of 50 big investor-owned fossil fuel companies in causing climate change-related human rights violations.
The companies, including giants Chevron, ExxonMobil, BP, Royal Dutch Shell and ConocoPhilips, have contributed a large share of the carbon dioxide and methane emissions now driving climate change, according to a 2014 study commissioned by the Climate Justice Programme and Greenpeace International.
"It is only fair and just that the companies that have extracted and profited the most from fossil fuels account for the resulting harm and take measures to prevent more harm, to protect the rights of people in the context of climate change," said Zelda Soriano, an attorney with Greenpeace Southeast Asia. "Yes, it's going to be a difficult investigation, a very complicated investigation. But the petitioners believe it is not impossible."
The storm-vulnerable Philippines is widely ranked as one of the countries most severely impacted by extreme weather driven by climate change. Typhoon Haiyan, in 2013, killed more than 6,000 people and caused an estimated US$13 billion in damage.
Veronica "Derek" Cabe, one of the petitioners in the human rights commission complaint, said she spent Typhoon Ketsana in 2009 huddling in wet clothes with her two-year-old niece and other family members in her home's attic for 12 hours as floods surged through Manila.
"We saw floating people, floating animals, floating coffins. We could not do anything, we could not help them. It was like watching a horror movie and the cruel part is we could not turn it off," she said.
As such storms become more frequent, "should we just accept this as a matter of our fate?" the 42-year-old community organiser asked. "I believe something is wrong that we cannot live like this forever, that there should be accountability."