Focus
Get more with myNEWS
A personalised news feed of stories that matter to you
Learn more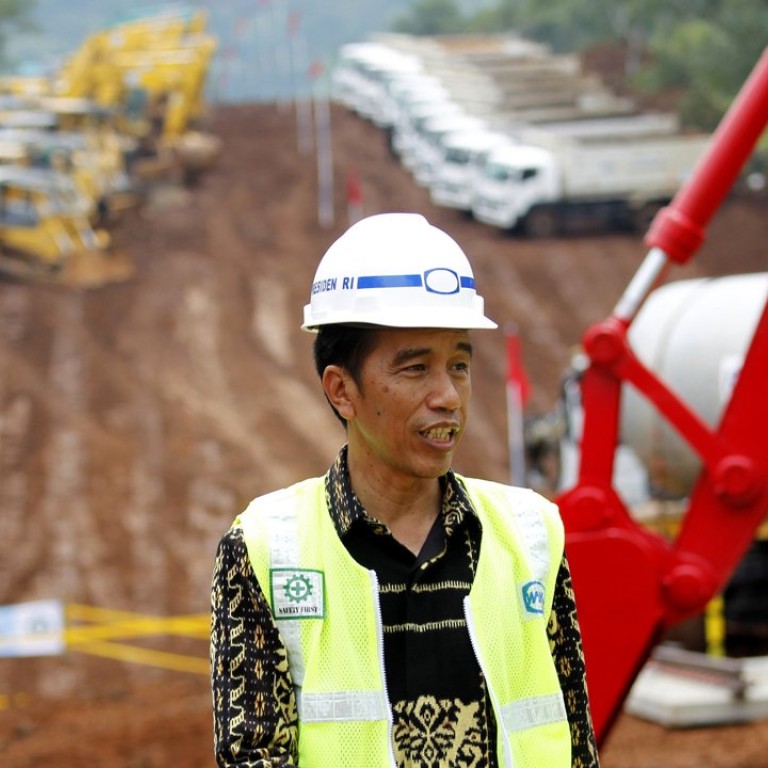 Discontent in Indonesia over high-speed rail project jointly developed with China may turn the current impasse into a more protracted one
It was the Indonesian president's "winning" moment: a groundbreaking ceremony for his nation's first bullet train and the fulfilment of an election pledge to start fixing his nation's rickety infrastucture.
The much-hyped high-speed rail project once operational in 2019 would enable passengers to travel from the capital Jakarta to Bandung , a city in western Java 142 km away in just 40 minutes, versus the current three-hour train ride.
The ceremony in January took place at a tea plantation in West Java, where one of the eight stations along the line will be situated, and capped off a months-long chaotic bidding process Between China and Japan, where Jakarta had midway through nearly scrapped the project altogether.
President Joko Widodo signed his name on a large stone, and spoke of the need for speedy decision-making and construction for a nation to remain globally competitive.
"Today, we live in the era of competition. A country that acts quickly will win," Widodo proclaimed, heralding the project as a symbol of "major cooperation" with China which won the bid to be joint venture partner.
"A country which is efficient, fast in making decisions, quick to build, will be the winner in the international competition."
But the president appeared to have spoken too soon. Within a week on January 27, the project had come to a halt because Indonesia's Ministry of Transportation had not issued a construction permit to PT Kereta Cepat Indonesia China (KCIC), the Chinese-Indonesian consortium building the US$5.5 billion high speed train network.
Two days later, China's Foreign Ministry denied the project had been suspended. But the confusion and delay over unresolved issues leaves a dent in one of Widodo's key plans to overhaul his nation's ageing infrastructure to boost economic development and create thousands of new jobs.
It also reflects a weakness in Indonesia's policymaking process in a system where corruption has had negative impact on the country's development and reputation for doing business.
"It is a sign of poor policymaking process, not necessarily meaning dissent [within the government]," says retired three-star General Agus Widjojo, senior fellow at Centre for Strategic and International Studies (CSIS).
"This will make investors and contractors proceed with caution in deals with the Indonesian government. It will not be conducive to setting a positive investment climate."
China's plan to replicate its Sub-Sahara African (SSA) investment success in Indonesia stalled when Transport Minister Ignasius Jonan said KCIC had not submitted all the required documents, including files detailing the development design, technical illustrations, field data and specifications needed for the construction permit. The firm now holds a permit only for building the first 5km of the 142-km railway.
The Jakarta-Bandung line is part of a 750-km high-speed train plant that would cut across four provinces on the main island of Java and end in the country's second largest city of Surabaya.
KCIC is a joint venture between an Indonesian consortium of four state-owned firms and China Railway International. China will hold 40 per cent of the venture, which will use as much Indonesian material, machinery and workers as possible, according to Xie Feng, China's ambassador to Indonesia. China Development Bank will cover 75 per cent of the project's loans.
Today's Indonesia paints a stark contrast to the archipelago under late autocratic President Suharto who ruled with an iron fist for 32 years until his ouster in 1998, where governments and companies needed only to negotiate with him for trade agreements and mega projects.
Suharto's absolute hold on power ensured every contract and government agreement was executed with clockwork precision.
Indonesia's transition from an autocracy to a democracy in 1999 may have been chaotic but it functions with all its complexities and idiosyncrasies. Democracy has given members of parliament, non-government organisations (NGOs), the press, wide berth in policymaking.
In addition, devolution of power from the central government to the provinces has empowered local governments, giving them a voice in government decision-making.
"Every regional representative disagrees with this project," says Ryaas Rasyid, former Regional Autonomy Minister and architect of Indonesia's decentralisation of power.
"This train costs so much money and it is seen as an unfair project as Jokowi has said he will give priority to developing provinces outside of Java island."
Many of Indonesia's resource-rich outer provinces lag behind in infrastructure development despite contributing to the central government's coffers.
Businessman Okki Soebagio, who is half Javanese and half Torajanese agrees.
"When I went for my grandmother's funeral in Toraja on Sulawesi island, there was no road leading to her home. I reject this project purely out of a sense of inequality. We should not just be pouring money into Jakarta and Jawa island," said Okki who lives in Jakarta.
Given the discontent, the current impasse over the project could turn into a protracted one as opposition has also been growing from civil society as well as from Widodo's own Indonesian Democratic Party of Struggle (PDI-P).
"I am critical of this high speed train as it does not bring any benefits to the poor people. This project will swallow huge sums of money. The train ticket is estimated to cost 250,000 rupiah (HK$143) one-way, which is beyond the reach of ordinary people. It will only be used by the elites," said Masinton Pasaribu, a PDI-P Member of Parliament.
"We already have toll roads and train service that goes to Bandung at the cost of 100,000 rupiah for executive class. We don't need this high speed train."
However, Bandung residents who work in Jakarta and who have to commute back home during weekends are keen to have the train.
"I spend seven to eight hours driving back to Bandung from Jakarta during the weekends as the roads are so jammed," said Eddy Sofyan.
"It is very tiring and a waste of my time. I really welcome this high speed train. Many people in Bandung feel the same."
Eddy says the price of the 250,000 rupiah ticket is acceptable as he spends up to 500,000 (HK$287) rupiah for petrol and toll rates for his journey. The cost of a round trip high speed train ticket would work out to be the same.
While Japan may have a more established reputation in building high speed trains, Eddy is confident the Chinese-made train will be safe.
"China is putting its reputation on the line on a global stage. I am sure China will prioritise the safety of the train," added Eddy.
Another PDIP MP expressed regret that the high speed train will cut into the country's air force base, located at Halim Perdanakusuma Airport.
"The terminal of the train will cut into Halim and pass through some 100 houses in the air force complex. It will also be too close to the Air Force command control headquarters," said PDIP's MP, TB Hasanuddin, a retired two-star general.
Halim is also home to the presidential plane.
"This is really not good. Halim is a place of national security. I urge the government to ensure all the proper procedures are followed for the construction of this project. If this project doesn't benefit the people, please don't [proceed] with it," said Hasanuddin.
While permit problems are an issue among foreign investors in Indonesia, which comes in at 109th place in the World Bank's ranking on countries' Ease of Doing Business, behind China in 84th place, analysts say the groundbreaking of the project was rushed through.
"The feasibility study was done in three months instead of the usual 18-19 months," says Agus Pambagio, managing director of Ph&H, a public policy interest group.
Commentators have said the Transport Minister Jonan was still poring over the project's documents when it broke ground.
Pambagio expressed concerns over the safety of the project, its impact on the environment and the country's security interest.
Bandung is the capital of West Java, the most densely populated province in the country with 46.3 million people. It is surrounded by rolling hills, volcanoes and magnificent rice fields and is a popular tourist destination for both locals and foreigners.
"The railway line has to pass through Purwakarta, an area with geological faults which is prone to earthquakes and landslides in West Java," says Pambagio.
The railway line will also cut through the town of Walini, West Java, which is a catchment area for two large dams namely Jati Luhur and Cirata, which is the largest hydropower plant in the region .
According to Pambagio, the project will disrupt the catchment area and impact on clean water supply for West Java including the capital Jakarta.
"Irrigation of paddy fields in West Jawa will be affected," said Pambagio.
The environmental impact study for the project was done in a space of seven days, according to Pambagio.
"It usually takes 1-1.5 years for an environmental impact study because it has to be very detailed, what more for an area prone to earthquake and landslides. I urge the government to review this project purely on ground of safety concerns."
Daniel Johan, an MP from the Nation Awakening Party (PKB), a coalition partner of Widodo, said it did not make economic sense to have an expensive high speed train for the short distance between Jakarta and Bandung.
"We should just optimise the existing facilities that we have right now – the toll road connecting Jakarta with Bandung and the train service," said Johan.
Officials from the Transportation Ministry did not respond to the Post's questions about the project.
Former Regional Autonomy Minister Ryaas Rasyid said it was possible the project could be cancelled if opposition to the project grew stronger.
"Jokowi is a character which listens to public opinion. If opposition against the high speed train grows stronger, I suspect the project could be cancelled," he said.
Additional reporting by Kyodo and Associated Press