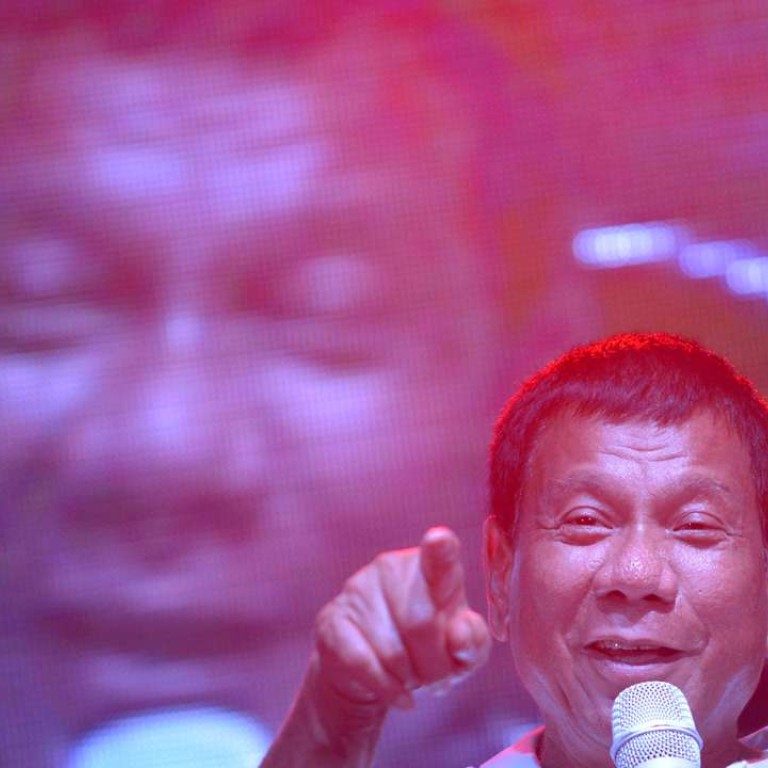 Philippine presidential front-runner Rodrigo Duterte open to talks with Beijing to resolve South China Sea dispute
Bilateral talks would mark a departure from the policy of outgoing President Benigno Aquino, who has brought China before an international arbitration panel to try to resolve the dispute, leading to a deterioration in bilateral ties
Rodrigo Duterte, the tough-talking Davao City mayor who is leading Philippine presidential polls, said he will hold bilateral talks with China to resolve a territorial dispute in the South China Sea if the current multilateral discussions don't bear fruit within two years.
Duterte told supporters Sunday night on Liwasang Bonifacio square in Manila City that he will defend Philippine claims in the contested waters while remaining open to the possibility of joint exploration for energy assets with China. He may also ask China to help build key railway projects connecting Manila to provinces and for assistance with a long-standing plan for a train system in Mindanao, his home region.
"If negotiations will be in still waters in 1 or 2 years, I will talk to the Chinese," Duterte, 71, told a crowd of about a thousand people.
China has been more aggressively asserting its claims to more than 80 per cent of the waterway in recent years, reclaiming more than 3,000 acres of land to build out artificial islands that will better allow it to project force in waters that are a rich fishing ground for the Philippines.
Duterte has said he will tout the Philippines' alliance with Western powers such as the US to get China to accept the Philippine position. He also said he would ride a jet ski to a disputed island occupied by China and personally stake the Philippines' claims.
The administration of outgoing President Benigno Aquino has brought China before the Permanent Court of Arbitration in the Hague to resolve the issue but Beijing has said it will only engage in bilateral talks with claimant states over the water, which hosts about $5 trillion in shipping a year. China's claims to most of the South China Sea overlaps with those of the Philippines and four other states.
Duterte, was leading the field of five candidates for the May 9 election with 33 per cent support, with Senator Grace Poe in second place with 22 per cent, according to the latest opinion poll by Pulse Asia Research Inc. released by ABS-CBN on April 29.
● The Philippine defence chief Voltaire Gazmin says his government has agreed in principle to lease five Japanese TC 90 surveillance planes to be used in patrolling disputed areas of the South China Sea and in search-and-rescue missions during disasters.
Additional reporting by Associated Press