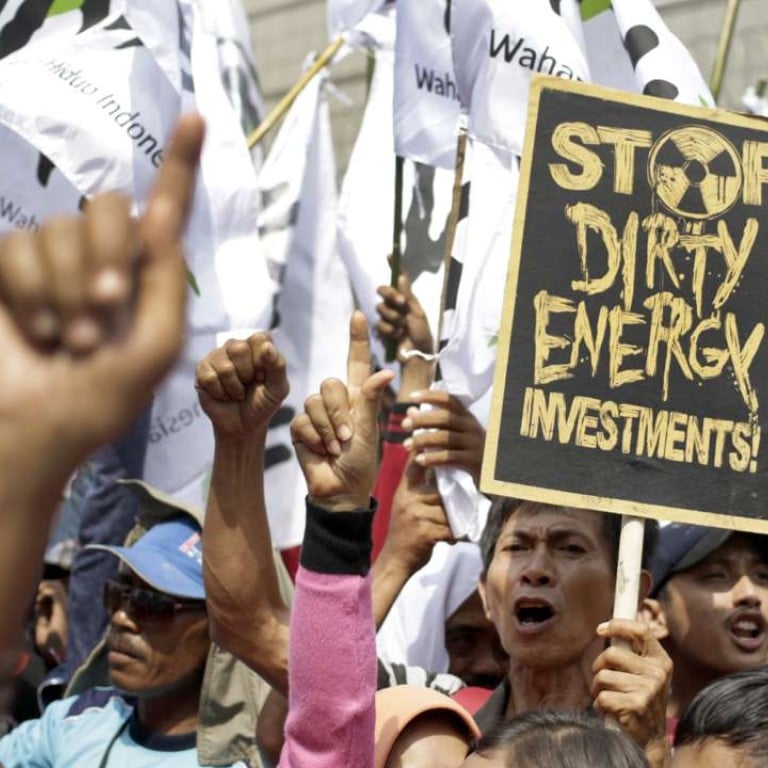 Thousands rally in Jakarta against Java power plant project backed by Japan
Participants demand that Japan drop the 2,000-megawatt project activists say will cause devastating effects on the environment and human health
About 3,500 people staged a protest in the capital on Wednesday against a controversial US$4 billion thermal power plant project funded by an Indonesia-Japan consortium, claiming the project will damage the environment.
Organised by environmental groups, the protest began in front of the Japanese Embassy, where the participants demanded that Japan drop the 2,000-megawatt project, before marching to the presidential palace.
The coal-fired power plant, meant to supply electricity to 13 million people in Central Java, has been promoted by PT Bhimasena Power Indonesia, a consortium of Japan's Electric Power Development Co (J-Power), Itochu Corp and Indonesian coal mining company Adaro Energy.
"The project poses risks to the public's health," said 48-year-old fisherman Iman, who joined the protest.
Conservation organisation Greenpeace Indonesia said the power plant will pump 10.8 million tonnes of carbon into the atmosphere a year, as well as air pollutants including neurotoxins such as mercury that could bring deadly consequences to Indonesia's environmental and human health.
Supporting the consortium, however, the government says the power station will feature high-efficiency generation, using an ultra-supercritical coal-processing system that will have a low impact on the environment.
Longgena Ginting, head of Greenpeace Indonesia, said that the Paris agreement on climate change signed last month by around 170 countries must be followed by political actions.
For that, she said, the Indonesian government needs to end its coal-based energy strategy and switch to clean and renewable energy.
Construction of the power plant, one of the biggest of its kind in Southeast Asia, was initially slated to start in 2012, with commercial operations expected to commence by 2016.
However, land acquisition for the project has been delayed amid on-and-off negotiations with local residents dominated by concerns over the plant's environmental impact.
On June 30 last year, the Central Java provincial government issued a decree allowing the state electricity company PLN to seize land from the residents, as villagers owning a total of 12.51 hectares of land were refusing to sell.
The project itself requires 226 hectares of land straddling three subdistricts in Batang Regency in Central Java.
Two months later, President Joko "Jokowi" Widodo started the construction of the project amid objections from the villagers.