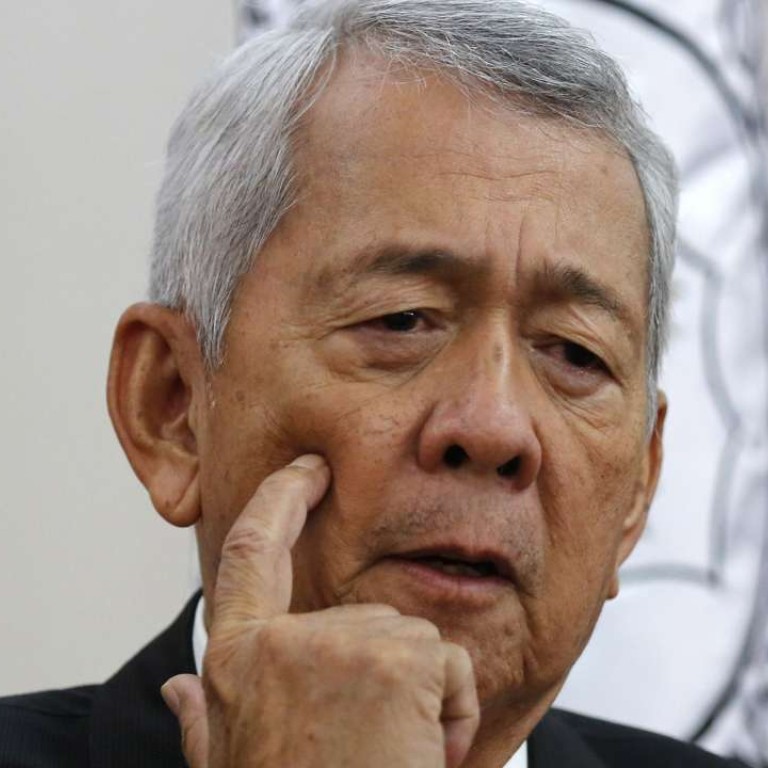 'We certainly are not leaving the UN': Philippines foreign minister in damage control after Duterte's latest tirade
When a United Nations human rights expert criticised the extra-judicial killings committed under the Philippines' anti-drug campaign, its president responded with a threat
The Philippines is not leaving the United Nations, the foreign minister said on Monday, a day after President Rodrigo Duterte
threatened to quit the body
after it called for an end to the wave of killings unleashed by his war on drugs.
Foreign Affairs Secretary Perfecto Yasay said Duterte's statement "is a statement expressing profound disappointment and frustration".
"We certainly are not leaving the UN," Yasay told a news conference at the Department of Foreign Affairs.
Duterte was angered by statements made by a UN official condemning the increasing number of vigilante-type killings in the country, which have hit about 1,800.
"Maybe we just have to separate from the United Nations. If you are that rude, we might just leave the organisation," Duterte told a news conference in Davao City on Sunday, referring to the UN critics.
Duterte even said that he might as well form a rival organisation with China and other African nations.
Duterte's spokesperson, Ernesto Abella, also told a separate news conference at the Malacalanang presidential palace that the Philippines is not "decoupling" from the UN.
"He is simply reiterating national sovereignty and the fact that he did not welcome interventions or what you would consider meddling. He was stating the fact that the Philippines is a sovereign nation and should not be meddled with," Abella said.
The UN's special rapporteur on summary executions, Agnes Callamard, last week said Duterte's promise of immunity and bounties to security forces who killed drug suspects
violated international law
.
UN Secretary-General Ban Ki-moon in June also strongly criticised Duterte, who during the election campaign promised to kill 100,000 people and dump so many bodies in Manila Bay that the fish would grow fat from feeding on them.
"I unequivocally condemn his apparent endorsement of extrajudicial killings, which is illegal and a breach of fundamental rights and freedoms," Ban said.
Duterte frequently peppers his public comments with swear words - he has also called
Pope Francis
and the
US ambassador to Manila
sons of whores - and days after his election win used typical language to criticise the UN.
"F*** you, UN, you can't even solve the Middle East carnage... couldn't even lift a finger in Africa," he said then.
Duterte lashed out in a similar fashion on Sunday, accusing the "stupid" UN of not doing anything in Middle East hotspots Syria and Iraq.
Duterte referenced
a haunting photo
taken last week of a little Syrian boy, who was pictured sitting in an ambulance dazed and covered in blood after an air strike, as evidence of the UN's ineffectiveness.
"Is that stupid body complaining about the stench there of death. Look at the iconic boy taken out of the rubble. When he was made to sit in the ambulance, and we saw it. So what's the difference?"
And Duterte asked why police killings in the United States were not attracting the same kind of criticism as the Philippines.
"What do you think the Americans did to the black people there? Is that not rubbing off also? And (critics) say what?"
Duterte also accused the UN of doing nothing for the Philippines - ignoring its poverty reduction programmes and enormous help following typhoons and other natural disasters.
On the day he was sworn into office, Duterte called for people in slums to kill neighbours whom they believed were drug addicts, repeating a campaign line.
His aides have since said such comments are merely hyperbole and not meant to be taken literally.
The number of drug-related killings since Duterte took power in May and began his anti-narcotics war has doubled to about 1,800, police said on Monday.
Philippine National Police Chief Ronald Dela Rosa told a Senate committee investigating extrajudicial killings that 712 drug traffickers and users had been killed during police operations. Police were also investigating 1,067 drug-related killings outside police work, Dela Rosa said.
Duterte has repeatedly insisted police have only killed in self defence, while maintaining the other deaths are due to drug syndicates killing each other.
Reuters, Agence France-Presse, Xinhua
This article appeared in the South China Morning Post print edition as: Official: Manila still committed to United Nations