Asean
Get more with myNEWS
A personalised news feed of stories that matter to you
Learn more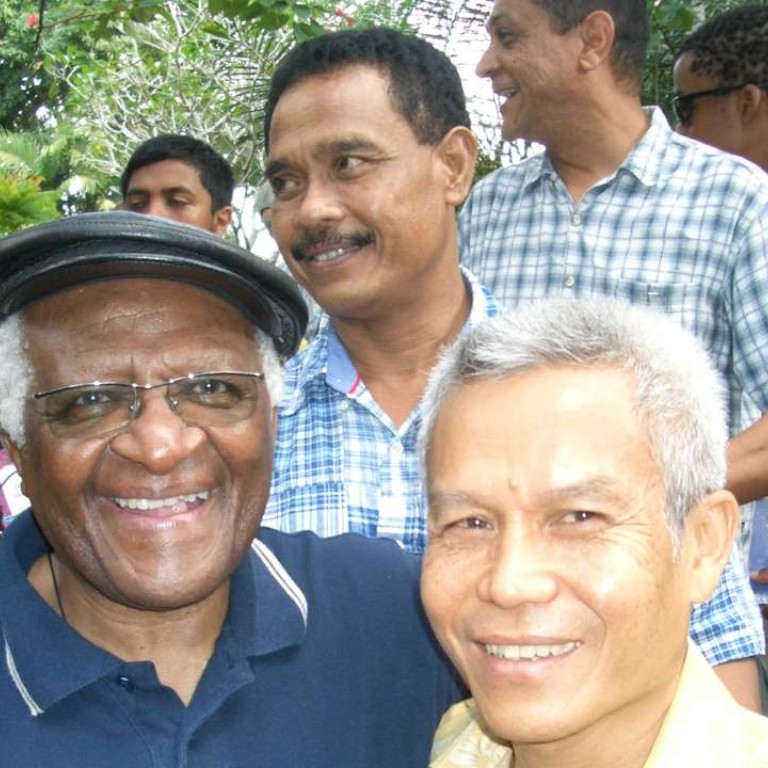 Where's Sombath? Activist's mysterious abduction a human rights thorn for Laos as it hosts major summit
The disappearance of an award-winning activist nearly four years ago is a reminder of the dismal human rights record of the authoritarian government of the tiny landlocked nation
The light was fading over Vientiane on a cool December evening when a Jeep was stopped at a traffic light. CCTV video later showed the occupant of the car being pulled out and taken away in a pickup truck, never to be seen again.
The
disappearance of Sombath Somphone
nearly four years ago is a reminder of the dismal human rights record of the authoritarian government of Laos, which prepares to host Asian leaders and US President Barack Obama at a regional summit starting Tuesday.
The government says it is investigating but has provided no leads into Sombath's whereabouts, and no arrests have been made, leading critics of Laos' communist government to believe that his disappearance was state-orchestrated.
"It's a test case for Obama. If he mentions it publicly it would make it much more difficult for Laos to sweep it under the carpet. The fact that the most powerful man on the planet cares about Sombath will count for something," said Phil Robertson, the deputy Asia director of Human Rights Watch.
The three-day summit of the Association of Southeast Asian Nations is a rare opportunity to put the spotlight on the landlocked nation of Laos, which usually stays under the radar. Along with Brunei, it is the most under reported and under-scrutinised country in the 10-nation Asean.
Unlike fellow communist country Vietnam, the country of 6.2 million people is no economic beehive of activity. Nor does it have a democracy icon like Aung San Suu Kyi in Myanmar. Tourism, which has made Thailand a household name around the world, remains nascent; and it is not a U.S. ally like the Philippines, Singapore or Malaysia. Nor is it the world's biggest Muslim nation by population like Indonesia to give it prominence.
Little wonder then that what goes on in Laos, largely stays in Laos.
But by virtue of taking on the rotating chairmanship of Asean this year, it has suddenly sprung into limelight. It's the first time a US president will visit Laos.
Sombath's disappearance on December 15, 2012, was captured on a traffic CCTV video, in which he is seen stopped at a police outpost and asked to step out of his Jeep, according to Amnesty International. Within a few minutes a man on a motorcycle arrives, drives away Sombath's vehicle and a pickup truck takes Sombath away with armed people riding a motorcycle leading the way. The passenger on the motorcycle fires a gunshot in the air, said Amnesty.
"More than three years have passed since Sombath Somphone was last seen. We have no alternative but to conclude that the authorities are either directly responsible for his disappearance, or have failed miserably to take all necessary measures to get to the bottom of what happened," said Rafendi Djamin, Amnesty International's director for South East Asia and the Pacific.
Sombath's wife, Shui Meng Ng, was driving her car ahead of Sombath. She thought she had lost him in the traffic and didn't see the drama happening behind her.
"I am sorry to say I have no new information to share, except that the Lao Government has continued to stonewall any queries to his whereabouts. The government continues to maintain that 'the state is not involved and the police are still investigating,'" said Ng, a Singaporean and a former UN official.
If Sombath was taken away by the government he was an unlikely target. The US-educated activist mostly worked in rural development, showing farmers how to use more creative ways to raise fish and make handicrafts. But he was also vocal about land deals that had left thousands of villagers homeless without compensation, sparking rare political protests. And he had international connections.
Sombath is not the only one to be a possible victim of a government crackdown.
In 2015, an ethnic Lao who is a Polish citizen disappeared while visiting Laos, according to his Polish wife, allegedly for posting critical comments on Facebook. He was subsequently charged in court and sentenced to prison for 4 years and 9 months.
In March this year, three young Lao migrant workers who returned to Laos to renew their passports vanished, and reappeared on state TV in prison uniform to "confess" to using the internet to "defame the government." They have not been charged and their parents have not been allowed to visit them. Another dissident, Ka Yang, who had fled to Thailand was deported to Laos in 2011 and was imprisoned.
Most Laotians are unaware of such events because of the government's watertight control over the media, the security forces and the judiciary. Those who know are too fearful to talk about it.
"Laos has now become one of the most rights-repressing countries in Asean: leaders in the region and from around the world must stop looking the other way, and demand Vientiane end its asphyxiation of independent civil society," said Walden Bello, a former member of the Philippines Congress and vice chair of Asean Parliamentarians for Human Rights.
Most of Laos' top leaders are from the first generation of revolutionary fighters, and even those who have retired retain influence over the Communist Party and the government. But the leadership is passing on to a younger generation slowly, as seen in the party congress held this year.
While the top two posts — party secretary and president — are held by an old guard, former General Bounhyang Vorachit, the cabinet has many young ministers, including Prime Minister Thongloune Sisoulith, the second-highest ranking person in the Politburo.
There is hope that this transition will lead to change in Laos. Thongloune has acknowledged corruption in the government and has taken action to halt timber and illegal wildlife trade. Still, many problems remain, such as environmental degradation, forced evictions and illegal land concessions.
Also, Laos wants to improve its economy and the life of its people by attracting more foreign investments, especially from its Asean neighbours. It also wants to forge closer ties to the US as a counterbalance to China, which has a massive economic influence here
"I believe that the Asean Summit provides some opportunities for world leaders like President Obama ... to engage the Lao," said Ng.
"Such dialogue ... may not lead to any immediate change but they can at least remind the Lao that improving its human rights record and relaxing control on civil society will in fact lead to real dividends for improved economic and social development in the long run."
This article appeared in the South China Morning Post print edition as: missing ACTIVIST casts pall on laos