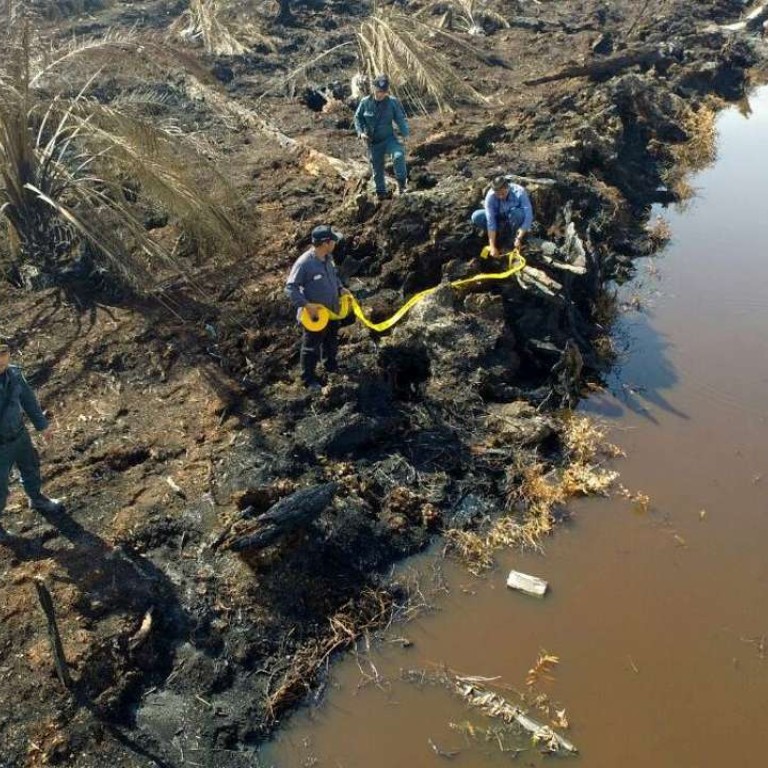 Indonesia environment team threatened with death while investigating forest fires
A group of about 100 men detained seven investigators for about 12 hours and threatened to burn them alive and dump their bodies in a river at an oil palm plantation
Dozens of Indonesian men, suspected of being hired by an oil palm plantation company, threatened to kill environmental investigators checking on fires on Sumatra island, the environment ministry said.
The incident illustrates the difficulties Indonesia faces tackling the illegal burning of vegetation to clear land for palm oil and pulp and paper plantations that causes clouds of smoke every dry season, which at times blanket the region, raising fears for public health and air travel.
The ministry said a group of up to 100 men detained seven investigators for about 12 hours on the weekend and threatened to burn them alive and dump their bodies in a river at an oil palm plantation in Rokan Hulu, Riau province.
The team was following up on satellite images showing "hot spots", or suspected fires, in a concession of PT Andika Permata Sawit Lestari (APSL) oil palm plantation company.
There were "strong indications" the mob was deployed by the company, the ministry said in a statement.
"With this incident, the investigation of PT APSL will become our top priority," Environment Minister Siti Nurbaya said in the statement, referring to both suspected forest encroachment by the company and the detention of the team.
"The environment ministry will investigate this and take strict action in accordance with the law," she said.
A company official, contacted on Monday, declined to comment.
The team was released only after lengthy negotiations involving police and after they agreed to delete photographic evidence and to leave behind two vehicles and equipment. The equipment and vehicles were recovered the next day.
The investigators, however, managed to retrieve video footage shot by a drone showing thousands of hectares of forest had been burned illegally in and around the APSL concession.
"As far as the eye can see, an area that was once peatland has been converted into oil palm plantation," Nurbaya said.
Plantation companies drain swampy peatland before planting their crops and the dried-out peat is particularly flammable and often catches fire when companies set fires to clear vegetation.
More than 450 individuals have been arrested in connection with land and forest fires this year.
Under Indonesian law, companies found guilty of clearing land by burning can be fined up to 10 billion rupiah (US$735,000), and the management faces up to 10 years in jail. Companies that fail to control fires started elsewhere but which spread into their concession land also face punishment.
Smoke from fires in Riau often drifts over nearby Singapore and Malaysia. Air pollution in Singapore rose to "unhealthy" levels late last month after a spike in fires in the area.
This article appeared in the South China Morning Post print edition as: Haze investigators were detained and threatened by mob