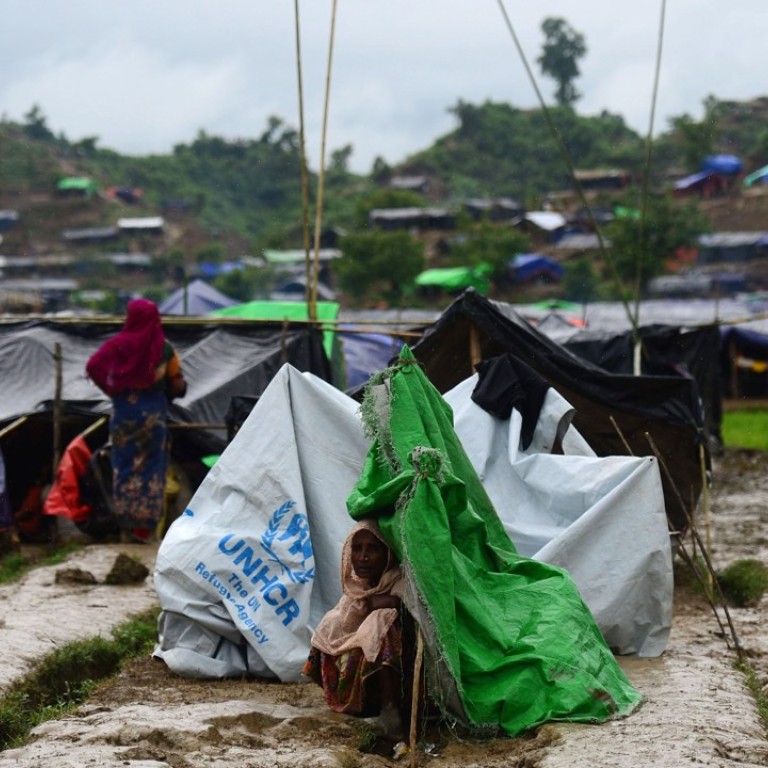 'Those that ran were hacked to death': Rohingyas relive massacre in Myanmar after fleeing to Bangladesh
Almost 300,000 of the Muslim minority have fled across the border since militants attacked police posts in Rakhine last month
Myanmar soldiers barred the entrance to the mosque, men arrived with machetes and petrol cans and then, according to Rohingya Muslim eyewitnesses, the killing began.
"Those that ran were hacked to death. Others that got away were shot by the army," said Master Kamal, a 53-year-old teacher, and one of the survivors of the massacre in Aung Sit Pyin in Myanmar's Rakhine state.
"They were burning houses. We fled to save our lives."
Kamal said he saw three neighbours – including a father and son – butchered as he fled, making a 10-day trek across monsoon-drenched hills, rivers and fields to Bangladesh.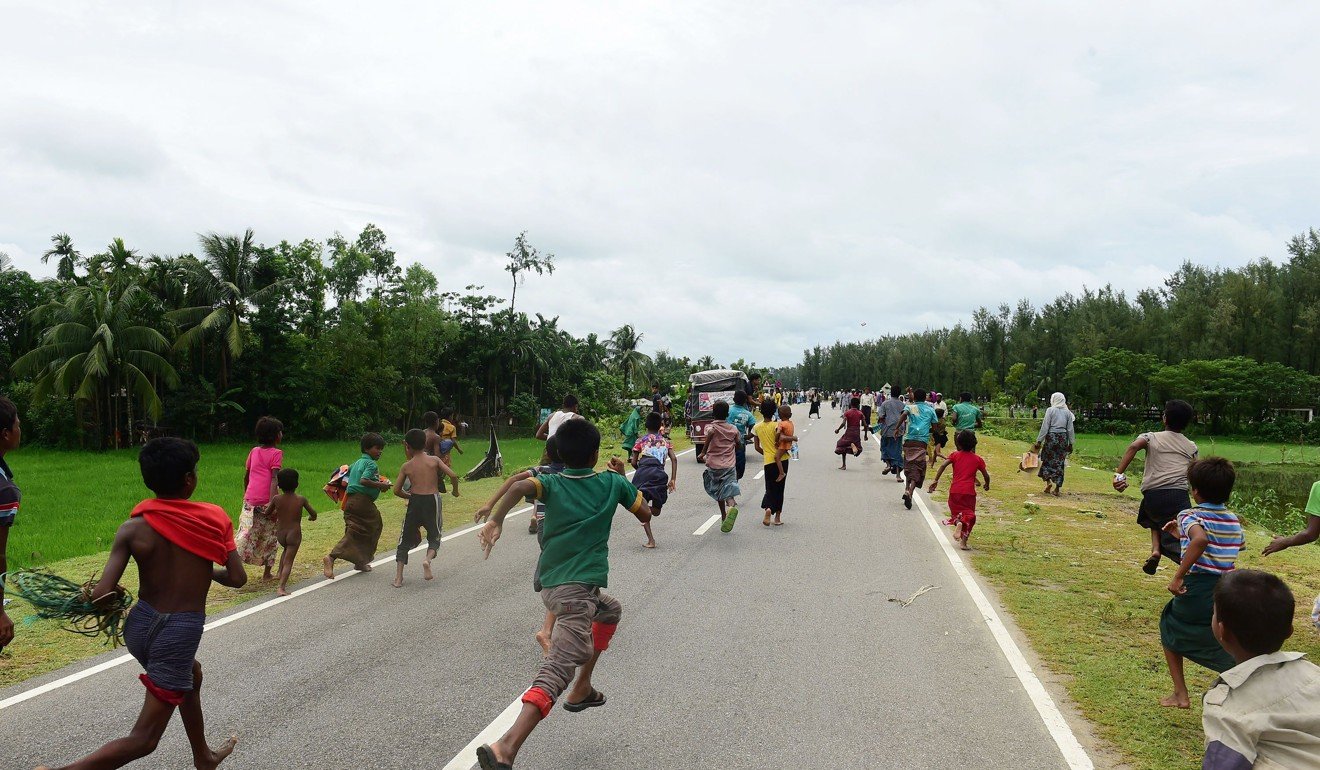 Interviews with about 10 people from the village who found refuge at Balukhali camp in Bangladesh revealed horrific details of the events in Aung Sit Pyin on August 25.
That was the day Rohingya Muslim militants attacked police posts across Rakhine, sparking a violent crackdown that has so far driven almost 300,000 of Myanmar's 1.1 million Rohingya population across the border.
The stateless Muslim minority blames Myanmar's army and Buddhist mobs for the widespread killings. Their testimony is difficult to verify because access to Rakhine is heavily restricted.
Myanmar's government has blamed Rohingya militants for the atrocities, including firebombing their own villages and killing civilians suspected of collaborating with the army.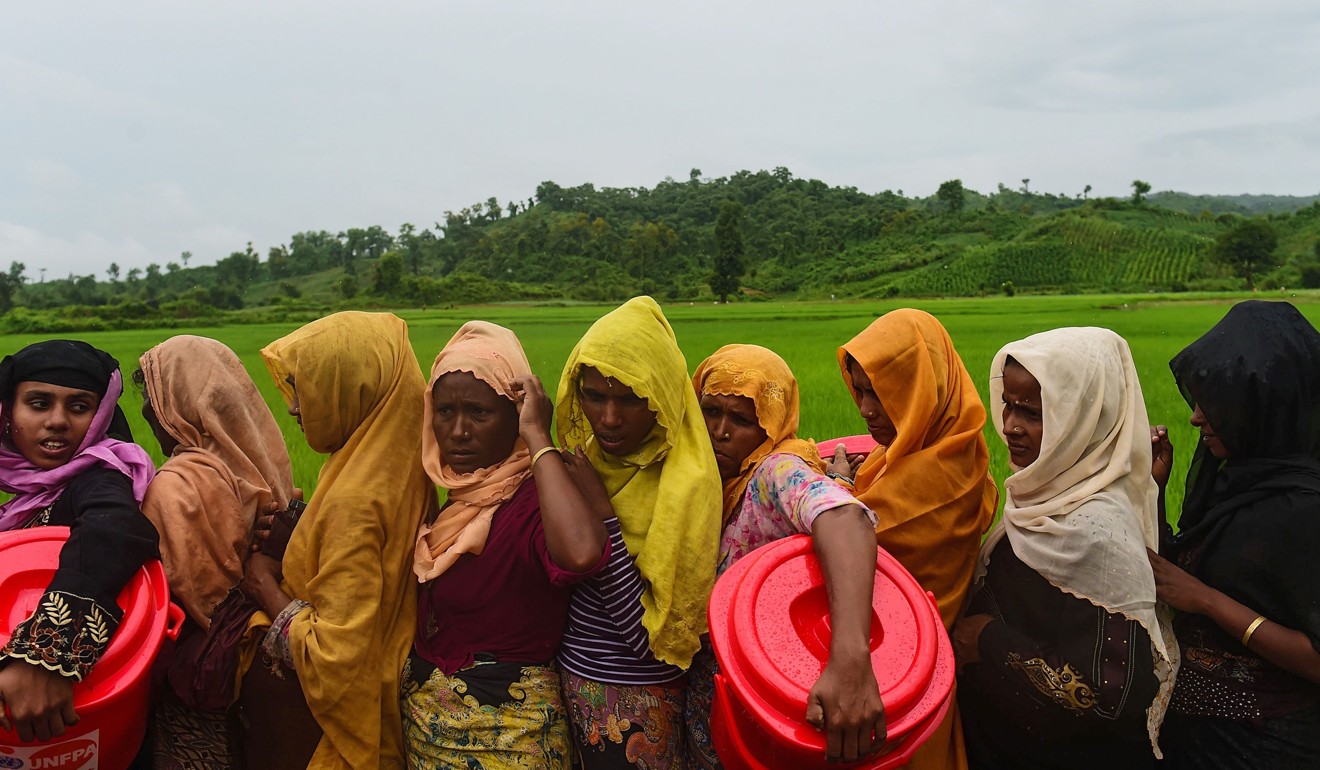 Mohammad Amin, a 66-year-old farmer whose father was a village chief, said his family had lived in Aung Sit Pyin for three generations.
"This is the first time we have fled. I have never witnessed violence like this," the farmer said.
When the shooting began he said he ran into the jungle to hide and crossed a river to avoid soldiers pursuing civilians. He then spent days searching for his seven sons and daughters in the brush, dodging military patrols.
Myanmar's army says at least 400 people, mainly militants, have been killed in the violence. But there are fears that figure is underestimated, with other Rakhine villages also the target of alleged massacres.
Many of the refugees from Aung Sit Pyin reported seeing people slaughtered, or passing corpses cut down or burned as they sprinted in all directions from advancing forces.
Twenty-six families who made it out are now cramped underneath a large tarpaulin sheet in a muddy field behind Balukhali. There are no toilets nor clean water.
Some said the journey took seven days. Others said they spent up to 12 days hiding from the military and tackling steep passes and rain-soaked jungle to reach Bangladesh.
Nearly 100 people have drowned trying to cross the Naf river on the border, their bodies washing up on the shore. Others have arrived bearing injuries consistent with bullet wounds, or missing limbs from alleged landmines placed to deter evacuees from returning.
The sprawling camps inside Bangladesh have swollen with newcomers like Jamal Hussain, 12, who said his five older brothers were cut down by machine gun fire in Aung Sit Pyin as they ran. He has not seen his parents or seven sisters since.
"We were all together but suddenly they started firing. I could not look back, because I thought I would die," the softly-spoken boy said.
"When I was hiding, I remembered the whole thing. I started crying."
On his shoulder was a welt and scar the size of a small coin, evidence of the splinter of shrapnel or bullet that he said struck his back and passed through.
"At first I didn't know what happened, then people behind were saying there was blood on my back," he said.
Myanmar considers the Rohingya illegal migrants from Bangladesh and denies them citizenship, even though many have lived in Rakhine for generations.
Pressure is mounting on de facto leader and Nobel peace laureate Aung Sung Suu Kyi to end the violence.
Impoverished Bangladesh has been overwhelmed by the influx of hundreds of thousands of Rohingya over the past two years.
For those squatting in the mud in Balukhali there is nowhere left to go. Taking solace under a plastic sheet, mother of six named Begum, said she was prepared to "beg" for a living.
"If I have nothing to eat, I will eat soil, but I will never go back."
This article appeared in the South China Morning Post print edition as: Villagers 'will never go back'