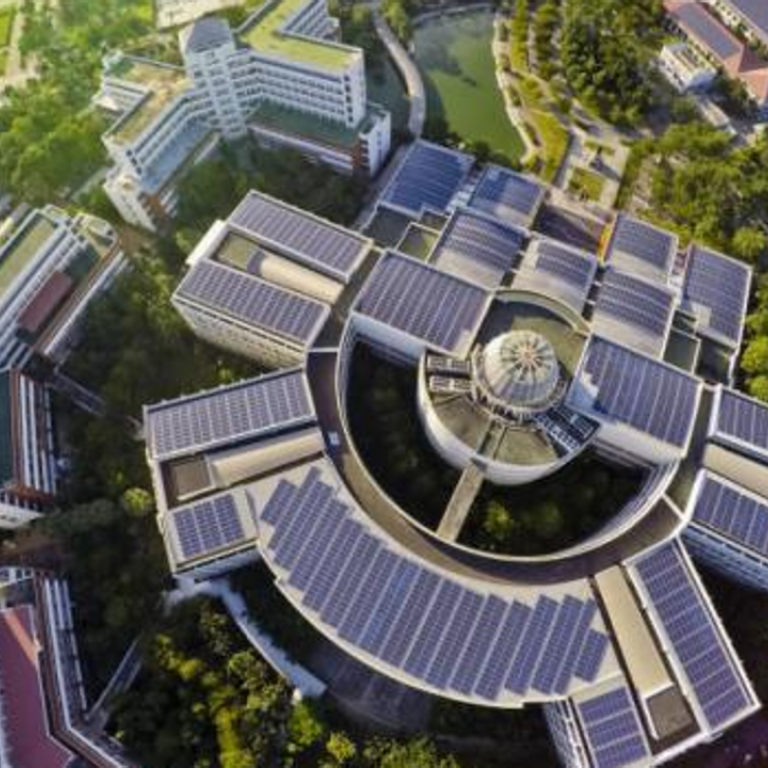 Solar future bright in Thailand despite hazy backing
Households and businesses are increasingly looking to generate their own electricity, with help from energy companies and soon, the government
By Yuthana Praiwan
Although the government has not yet sent a clear signal for when it will start buying solar power generated from private buildings and households, the boom in solar rooftops in that segment has started, say industry officials.
The number of households and buildings generating power for their own use is expected to rise sharply, fuelled by a new business model from renewable energy companies offering practical solar rooftop deals.
Businesses ranging from small and medium-sized enterprises (SMEs) to big companies with their own buildings have started installing solar panels on their rooftops to cut power bills, say energy analysts.
The cost to buy and install solar panels has dropped by half from 400,000-500,000 baht (US$15,092) per household over the last several years, causing a stampede in demand, even though the government does not yet allow individuals or businesses to sell excess power back to state utilities.
Two SET-listed energy firms are offering new purchasing models to help residents afford their own solar rooftops, allowing several payment types including hire-purchase, similar to auto leasing companies.
Some companies say solar rooftops can help residents slash their power bills by 10 per cent, which they can then use to pay for the solar panel installations.
Commissioner and spokesperson of the Energy Regulatory Commission, Veeraphol Jirapraditkul, said a major concern for households and businesses is what they can do with the solar power generated by their own solar rooftop installations.
Solar power generation in Thailand has reached 2,990 megawatts, of which 2,860MW is from solar farms and 130MW from solar rooftop installations at households and businesses.
Another sign pointing to the increased role of solar power in the country was the change in peak power demand in May.
In May, peak power, which normally occurs during the day, instead happened in the evening, when solar systems stop producing power.
That demonstrated that solar power is supplying a sufficient amount of energy to the grid to make a dent when it switches off, said Mr Veeraphol.
SPCG, the country's first solar farm operator, which started in April 2010, expanded its business into the solar rooftop sector via its subsidiary, SPR Solar Roof Co, in September 2014. The firm collaborates with Home Products Plc to serve as its distribution channel, targeting households and the business sector.
Banpu Plc, a SET-listed coal miner, has also diversified into this sector via its wholly-owned subsidiary, Banpu Infinergy Co (BPI), which is likewise targeting the business sector.
Banpu chief executive Somruedee Chaimongkol said BPI is providing a raft of services including consultancy, engineering, procurement and construction, operations and maintenance. BPI also operates as an energy service company.
"Each service receiver could reduce power costs by at least 10 per cent, potentially generating an investment return in seven-nine years," said Ms Somruedee.
BPI also offers several payment choices for its clients, including payment via monthly instalments and receiving discounts on their power bills.
BPI expects total demand from solar rooftop services to reach 20MW in the first year of operations.
She said that demand is expected to grow substantially due to rising power cost concerns, which is encouraging residents to think about producing their own solar power.
Energy policymakers are expected to finalise the process to deregulate solar rooftops and allow residents to sell power back to state utilities by the end of this year. BPI said it expects to revise up its target to over 300MW as demand is likely to rise in the same direction.
Sales of solar panels are also expected to jump by 150 per cent, generating 1 billion baht (US$30,184,130) annually, up from 400 million (US$12,073,652) last year, according to SPCG's estimate.
SPCG said the major reason behind the growth is easy access to loans and falling installation costs that make it easier for clients to afford their own solar rooftops.
SPCG's chief executive, Wandee Khunchornyakong, said solar rooftops have received a warm welcome from clients since last year and rising demand for the rooftops is expected to come from commercial buildings, which seek to use their own solar power during the day to help cut their power bills.
"Many purchase orders have come from various companies, ranging from small firms to SET-listed companies," said Ms Wandee.
She added that SPCG's solar rooftop sales via its partner HomePro are forecast to double to 100 million baht (US$3 million) over the next several years.
Rising demand means rising economies of scale, helping cut solar power installation costs to 60,000 baht (US$1,811) at present, down from 150,000 (US$4,528) 10 years ago.
PTT Plc, the national oil and gas conglomerate, is also looking to get in on the action, as it has installed solar rooftops at 10 petrol stations via a joint effort with its power and utilities subsidiary Global Power Synergy Plc.
Auttapol Rerkpibook, senior executive vice-president, oil business unit, said the solar panel roll-out was a pilot project to test just how much the rooftop installations could cut power costs at the petrol stations.
He said that three petrol stations with solar rooftops are expected to generate 50MW.
Mr Auttapol said PTT Group also has dozens of production facilities, including offices and research and development centres in Ayutthaya, Bangkok, Chonburi and Rayong, which are expected to have solar power by next year.