Malaysia
Get more with myNEWS
A personalised news feed of stories that matter to you
Learn more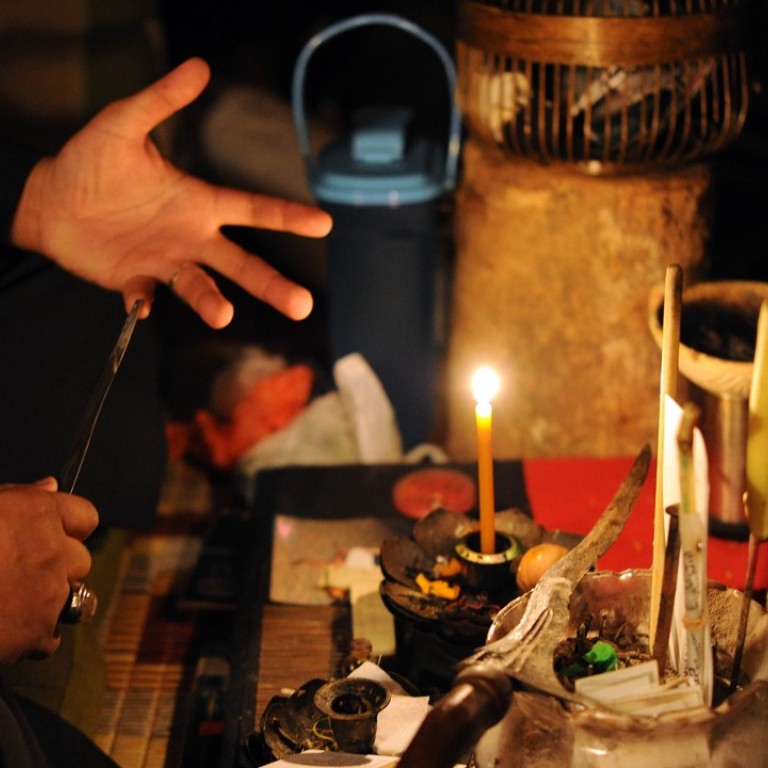 Malaysian police haunted by complaints about the occult
Spells sent through social media among complaints coming from around the country and police say elderly make up most of the victims
By R.S.N. Murali
This is the 21st century. Yet, Malaysian police have to deal with complaints of the supernatural type.
Besides fighting crime and dealing with traffic and commercial cases, the police are bogged down with reports about bomoh (mediums) and spells.
Sources told The Star that a raft of reports were received nationwide last year relating to supposedly paranormal cases including witchcraft spells being sent through social media.
These bomoh-related cases include being fleeced for seeking services to cure illness and seeking to purge jinxes.
There were also reports made by those who accused their workmates of casting spells on them.
There was a bizarre case where a 51-year-old man lodged a police report in Negri Sembilan on December 19, alleging that a female relative had used witchcraft to make him ejaculate all of a sudden.
The same man lodged another report on December 31, alleging that the witchcraft had affected him badly as he ejaculated at odd places.
There was also a case reported in Kuala Muda, Kedah, on December 24 where a 39-year-old female factory worker claimed she was a victim of witchcraft sent through cyberspace.
She alleged that she had been under the spell of a 53-year-old man since 2015 that led to her even having sex with him on several occasions.
Apparently, she had to seek the help of a spiritual healer to rid herself of the spell and then braved herself to lodge a police report.
There were also a number of cases involving a Siamese medium who demanded a fee for those who wanted to know his predictions on lottery draws.

The medium, who openly advertised his services, would collect an upfront fee to conduct prayers and cleansing rituals.
Once the initial payments were paid, the medium's henchmen would normally seek a second payment which could amount to thousands of ringgit. 
Clients who sought a refund from the ­medium would be intimidated or threatened.
There were also victims duped by ­mediums who had promised them they would prosper if they purchased amulets and prayer items.
In hypnotism cases, most of the victims were offered supposedly winning four-digit tickets that guaranteed instant wealth.
According to the sources, 1,172 police reports were lodged last year against ­mediums throughout the country.
Another 1,320 reports were made by individuals who claimed they were hypnotised before their belongings were stolen.
The highest number of reports relating to mediums were made in January last year with 129 reports and a total of 104 reports for February and March.
There were 105 cases in April, followed by 109 cases in May, 82 in June, 110 in July, 103 in August, 71 in September, 91 in October, 93 in November and 71 in December.
As for the number of victims who alleged to have been hypnotised by strangers, there were 103 reports in January followed by 114 in February, 117 in March, 100 in April, 105 in May, 101 in June, 136 in July, 125 in August, 92 in September, 96 in October, 119 in November and 112 in December.
It is understood that most of the reports lodged are being investigated under Section 420 of the Penal Code for cheating.
Melaka police chief Deputy Comm Datuk Abd Jalil Hassan said most of the victims were elderly folk.
They were easily duped because they were usually in desperate situations such as being stricken with a terminal illness, he said.
"They should go for proper medical treatment instead of seeking help from medicine men out to make a quick buck," he said, adding that in most cases, police could not take action due to a lack of evidence.
United Crime Prevention Association Melaka Chapter chairman R.A. Saravana Theertha has handled several cases related to mediums.
"Some of these mediums could turn aggressive when confronted and would threaten to cause harm using witchcraft."
Saravana said that in most cases, there was no proof as the victims paid the crooks in cash.