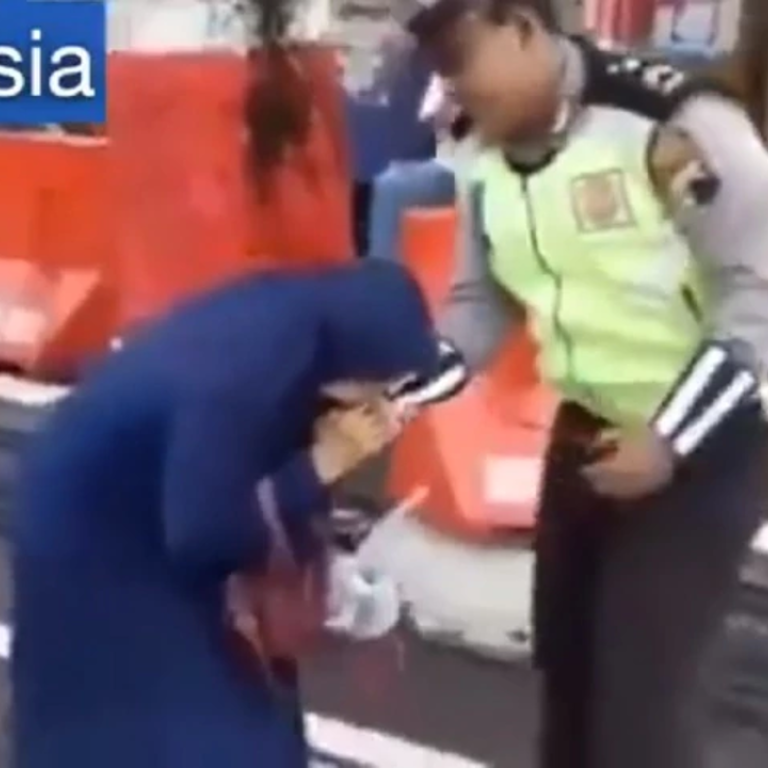 Enraged woman bites cop in bizarre Indonesian road rage incident
Woman stops biting the officer momentarily to scream at him before continuing to gnaw on his right hand
Footage of a bizarre case of road rage in Indonesia has gone viral on social media.
The incident surrounds a hijab-clad motorcyclist in Ipilo, North Sulawesi, who was stopped and cited by a policeman for not wearing a helmet.
In the 30-second video caught by a passer-by via mobile phone, the woman, who has dismounted her motorcycle, is seen ramming her vehicle into the stationary policeman, screaming furiously all the while.
After carefully parking her motorcycle, the woman then advances towards the cop and chomps down on his right hand, biting it with all her might.
The officer cringes in pain, but does not pull his hand away, nor does he retaliate. He is only heard calmly telling the woman to cease what she is doing.
As passers-by are heard yelling at the woman, she momentarily releases her teeth's grip on the policeman's hand to scream at him, before continuing to gnaw at his hand.
It is unclear what action was taken against the woman for her rather bestial behaviour, but she has been thoroughly thrashed by netizens.
© New Straits Times Press (M) Bhd