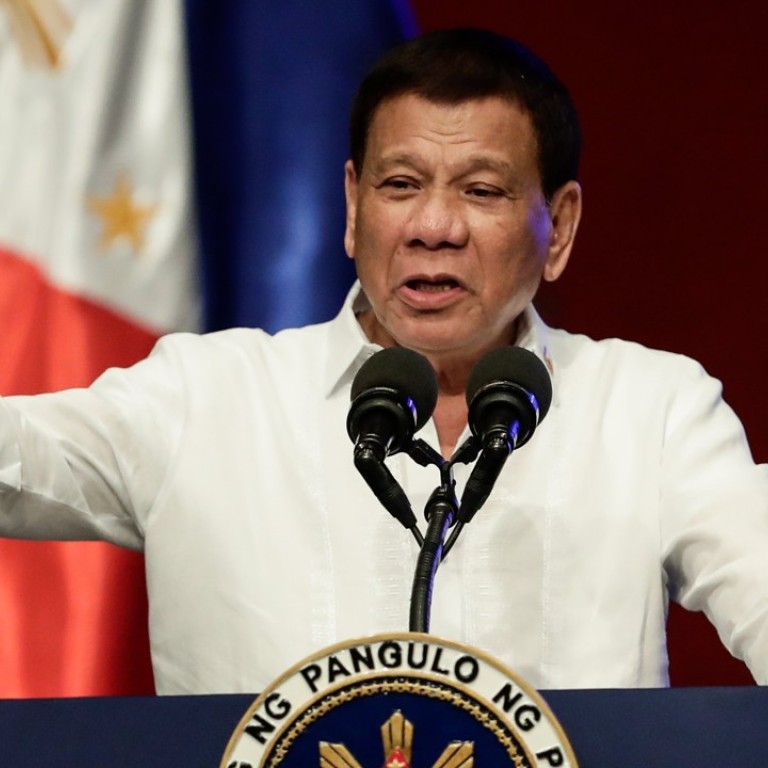 Explainer: the connections between Philippine President Rodrigo Duterte and Cambridge Analytica
Duterte's defenders have denied any relationship with the controversial consulting firm that exploited the data of millions of Facebook users – this is how the South China Morning Post established those links
What we know so far
La Viña recently said both were "guests" the day they listened to Nix talk about managing elections using emails, social media and psychographic analysis since Duterte was "weighing a run for the presidency".
A 2015 news report said Nix, a board director of Strategic Communications Laboratories (SCL), visited Manila to do "research". Nix also, according to a recent report, met a lawyer from Duterte's Davao City named Ray Faizal "Taipan" Ponce Millan – one of the men in the photo.
Millan owns part of a political consulting firm, Istratehiya, which an SCL brochure dated 2013 identified as its Manila office. Istratehiya president Jed Eva recently told online news site Rappler the firm was at that time negotiating a possible partnership with SCL, but this fell through. It had asked SCL to remove the reference.
The fourth man in the photo is Joel Sy Egco, President of the National Press Club then, working now as Undersecretary at the Presidential Strategic Communications Office.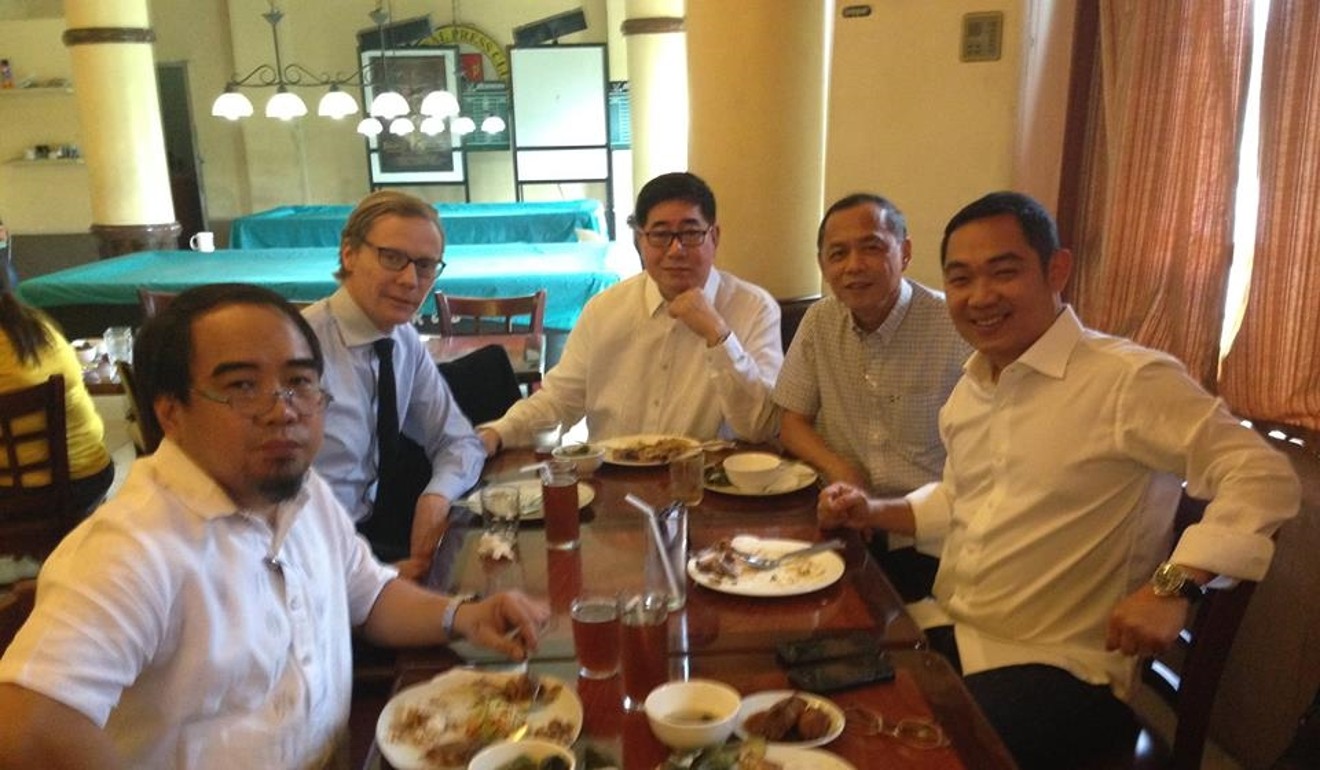 The photo provoked a flurry of denials from the Duterte administration
Presidential spokesman Harry Roque said: "The Secretary of Finance, in his capacity as treasurer of the PRRD [President Rodrigo Roa Duterte] campaign, assures that he did not pay anything to Cambridge Analytica nor did he transact with them."
However, the Post story and Egco said Alexander Nix came to Manila representing SCL, not its subsidiary, Cambridge Analytica.
Another campaign official, "social media manager" Nic Gabunada, said: "I never met Alexander Nix. Nor anyone connected to SCL ... the strategist of the campaign is [Leoncio] Jun Evasco [Duterte's cabinet secretary]. The master strategist is Mayor Duterte. The rest of us are volunteers."
President Duterte himself denied knowing Nix or Cambridge.
"I don't know anything. I don't know them," he said. "Why would I work with those fools from Cambridge to work on my campaign? I would have lost had I teamed up with them."
Pompee La Viña, one of the men in the photo, was less categorical in his denials. In a 49-minute interview with Rappler last week, he confirmed the 2015 event but claimed he did not even remember Nix's name. However, he said "I think the short talk of Nix influenced my work" and that Nix taught him that "emotions drive elections".
Asked repeatedly if the Duterte campaign had any ties to SCL, La Viña gave different replies. Initially, he said there were no links "as far as I know. And I also know that Secretary [Carlos] Dominguez who was our finance officer came out and said they did not pay for any of these."
But then, when asked if someone else in the campaign might have worked with the consultancy, he replied: "What my knowledge is only what I know."
When asked the same question again, he said he did not know.
Finally, when asked if he was "aware of any" foreign consultants used for the campaign, La Viña replied: "If I were aware I wouldn't tell you because this is – there is – you know, friendships involved. I don't think it's in my place to do that."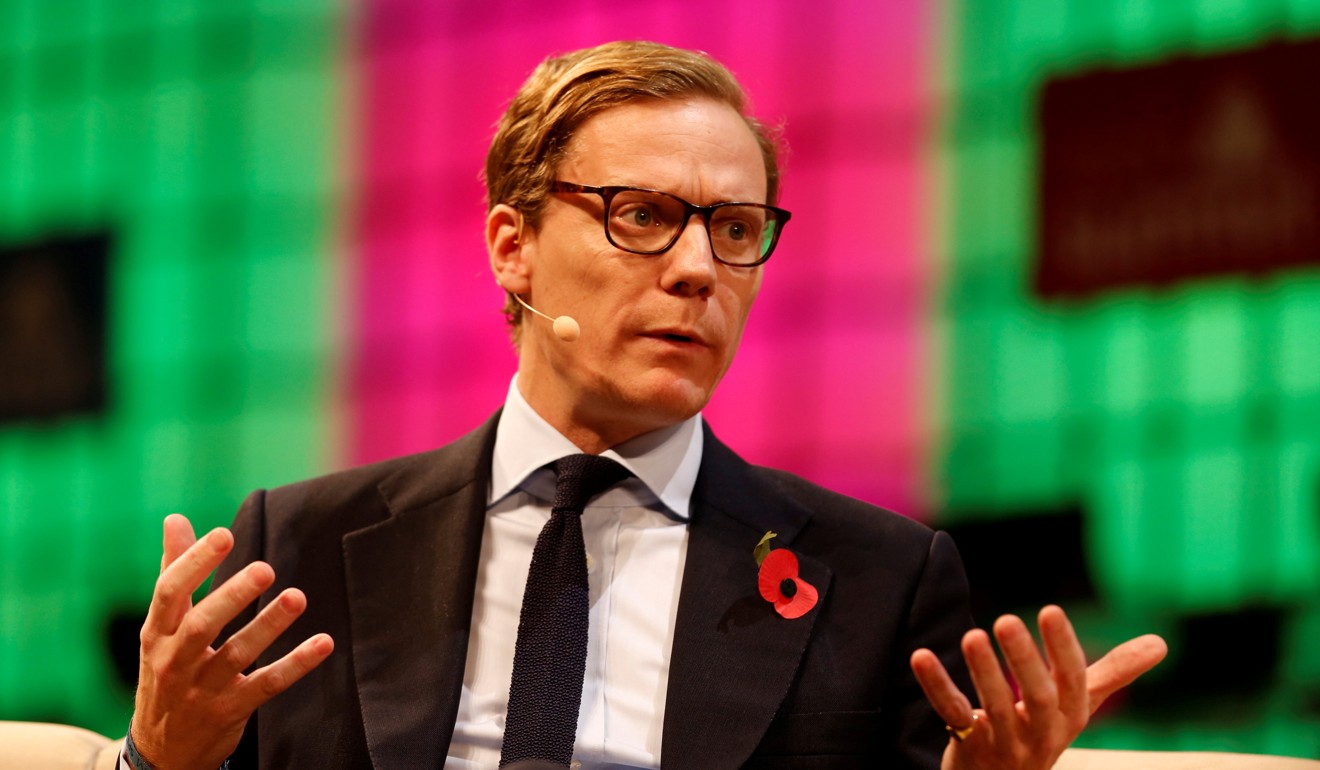 How the South China Morning Post came to the story
It started with a tip that Nix delivered a talk in Manila in 2015, which Egco confirmed. Looking for more evidence, the Post found an archived copy of the SCL website.
Because of two blue arrows on top of the page, which appeared to cover the period 2014 to 2015, the Post reported the capture as covering the 2016 elections – since potential candidates started campaigning in 2015 – but now has to correct this to December 31 2014. This SCL page claimed it had overseen a project in the Philippines where it "used the cross-cutting issue of crime to rebrand the client as a strong, no-nonsense man of action".
How this SCL page led to the discovery of the photos
Using the 2015 time frame, the Post searched for further proof and found the photos on Peter Laviña's Facebook page and contacted him. He could not recall Nix's name but denied "any foreign help during the campaign".
Watch: inside Cambridge Analytica's data collection methods
Why Duterte seemed to fit this description
Long known as a crime-buster, Duterte did not immediately adopt this branding. In 2015, he initially positioned himself as the champion of federalism and economic prosperity using Davao City as the model.
Pompee La Viña himself, in an October 2016 interview, revealed how rebranding Duterte turned the war on drugs and crime into a hot-button election issue, "whereas it wasn't an issue most Filipinos considered pressing by December 2015".
Why others interpreted the digital data to mean the SCL client was former president Benigno Aquino
One newspaper columnist claimed: "my sources in the Aquino camp alleged that it was his cousin Rapa Lopa, formerly president of polling firm Pulse Asia who contracted the SCL's services ... Lopa asked Yolanda Ong of Campaigns and Grey, to implement the SCL's recommendations for Aquino's campaign strategy."
The columnist claimed Aquino did not adopt SCL's recommendations. He was unable to name his alleged sources.
Contacted by the Post, Lopa said: "Not true at all. The only thing I know about Cambridge Analytica is what's coming out in the news. I don't even fully understand what they do."
Separately, Ong also denied the same.
How the digital data could be interpreted differently
The 2010 screen capture listed the Philippine case under "clients successes/case histories". The first case cited was the 1999 win of Indonesian leader Abdurrahman Wahid. Beginning with 1999, the Philippines held presidential elections twice: in 2004 which Gloria Macapagal-Arroyo won by a narrow margin and in 2010, when Aquino won by a landslide. Between them, Arroyo would have had more need of SCL services.
The 2010 SCL write-up described helping a candidate "over a seven-month period". Aquino quickly branded himself the son of the late democracy icon President Corazon Aquino. Within four months, by December 2009, he had surged to the top of opinion polls with 44 per cent support.
The unanswered questions
Who were SCL's Filipino clients?
Why is the Duterte camp now downplaying social media's role in his victory? After winning, his campaign team had thanked the "social media warriors" and threw them a dinner.
The story is still developing and the Post will continue to investigate.