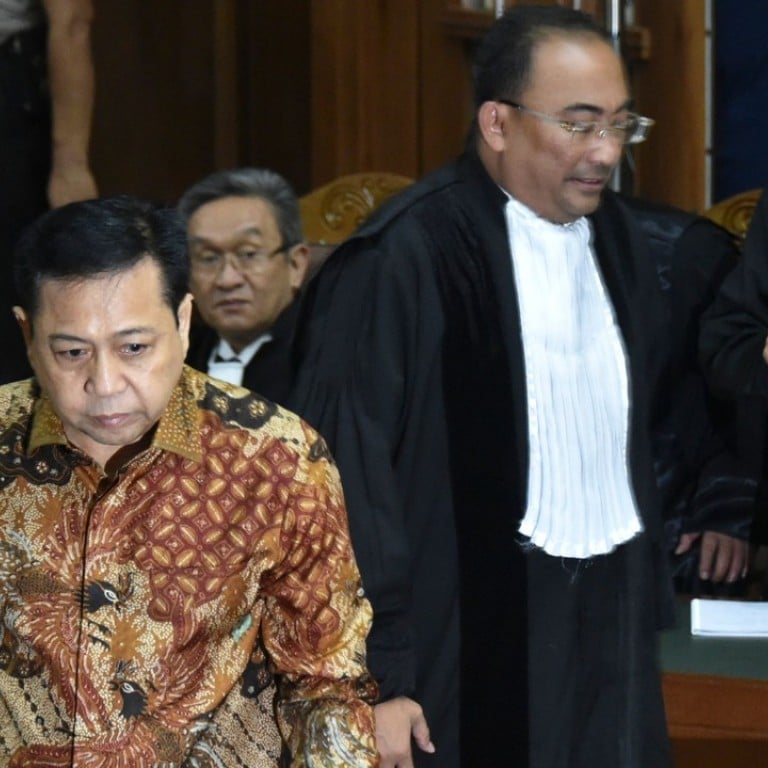 Indonesia's former speaker Setya Novanto jailed for 15 years on graft charges stemming from government ID scheme
Novanto, who had managed to sidestep corruption allegations in the past, was accused of playing a key role in embezzlement from the US$440 million ID card project
Indonesia's former parliament speaker was handed a 15-year prison term on Tuesday in one of the country's harshest sentences for graft, marking a victory for its clamp-down on widespread corruption.
Setya Novanto, once among the country's most influential politicians, had been accused of taking millions in kickbacks and bribes linked to the national roll-out of government ID cards.
"We have found defendant Setya Novanto, beyond reasonable doubt, guilty of violating anti-corruption law," presiding Judge Yanto told the packed Jakarta courtroom.
Novanto, who showed little reaction to the sentence, said he would "need time" to consider an appeal.
His months-long trial came after a string of manoeuvres – including allegedly faking an injury in a car crash – that critics say the 62-year-old used to dodge serious charges.
Prosecutors had demanded a 16-year sentence. 
Judge Yanto, who like many Indonesians goes by one name, also fined Novanto 500 million rupiah (US$36,000), far less than the US$7.4 million prosecutors had wanted him to pay as restitution to the state.
Novanto, who had managed to sidestep corruption allegations in the past, was accused of playing a key role in embezzlement from the US$440 million ID card project, with some US$170 million disappearing from state coffers.
Several other politicians, government officials and businessmen have been charged in the scandal.
The scope of the claims shocked many Indonesians even by standards of one of the world's most corrupt countries, where pay-offs and bribes are rife at all levels of society and endemic in many state agencies, including the police force.    
Indonesia ranked 96th out of 180 countries on Transparency International's corruption index last year, while it scored a lowly 37 on a scale of perceived public corruption with 100 seen as "very clean" and zero "highly corrupt".
The war on graft has come with a high price for some. 
A top investigator for Indonesia's powerful Corruption Eradication Commission (KPK) was partially blinded in a 2017 acid attack as he was heading a probe into the case involving Novanto and others. No one has yet been arrested.
The verdict comes several years after the former chief justice of Indonesia's constitutional court, Akil Mochtar, was jailed for life after being found guilty of accepting bribes to issue favourable decisions in local election disputes.
It was the heaviest ever sentence for corruption in the graft-riddled Southeast Asian nation.
Novanto, who dodged questioning by Indonesia's anti-corruption agency for months, was arrested in hospital in November after he claimed to have been injured in a car crash.
The reported accident came shortly after a failed raid on his palatial estate.
Indonesia's graft buster subsequently charged Novanto's then lawyer and doctor with obstructing justice over allegations they booked a hospital room for the supposedly injured politician before his purported car accident happened.
Novanto was forced to quit as speaker in 2015 after he was caught on tape trying to extort a stake in the Indonesian unit of US mining giant Freeport-McMoRan in exchange for extending the company's right to operate in the archipelago.
He was later cleared and reappointed as speaker in 2016. He quit again last year after the most recent charges were laid.
This article appeared in the South China Morning Post print edition as: Ex-speaker gets 15 years for corruption