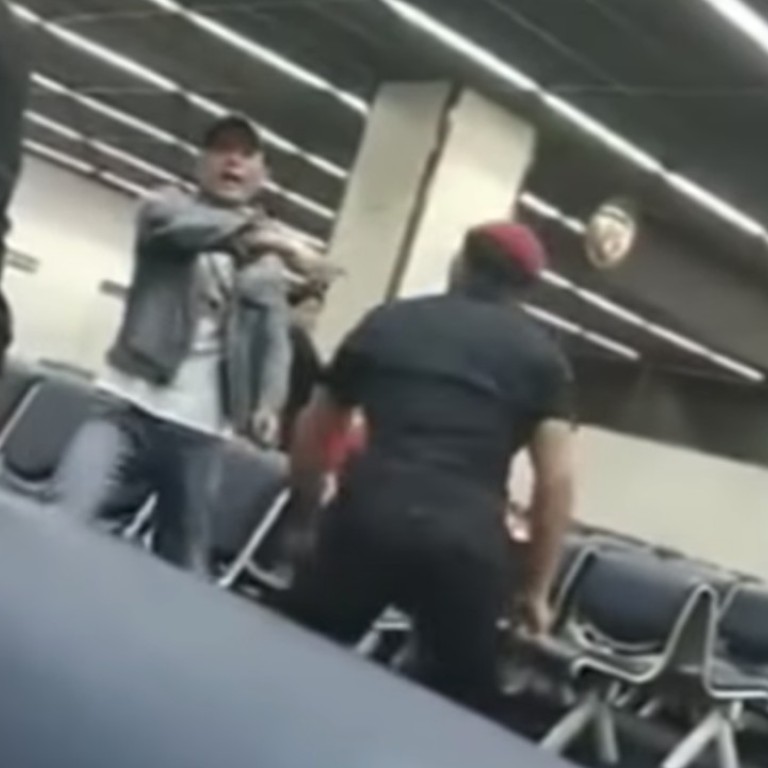 Video captures Thai airport security guard hitting Chinese tourist, prompting government to apologise
The quick response from Thai authorities highlights lingering sensitivity over Chinese tourists, following a deadly boat accident in Phuket in July
A video clip of a Chinese tourist being hit by an airport guard in Thailand has prompted a flurry of apologies and vows to take action, as the government went into damage control over the incident.
China is Thailand's biggest source of tourists, making up about a quarter of its 35 million annual visitors.
But a boating disaster on the popular island of Phuket in July that killed dozens of Chinese holidaymakers has caused a drop-off in visits and put Thailand on alert for problems that could impact the market.
The clip on September 27 at Bangkok's Don Mueang airport, which shows a guard briefly scuffling with and then hitting a man, fell into that category and quickly set off reactions from some of the highest levels of government.
Sunsern Kaewkumnerd, a spokesman for the government, said on Sunday that Prime Minister and junta leader Prayuth Chan-ocha was "upset" by the incident.
"The prime minister thought that even though the tourist could not produce documents to reaffirm his accommodation in Thailand, refused to stay in a detention room, and acted inappropriately with officials, still officials must compose themselves and treat him in line with international practice," Sunsern said in a message to reporters.
He added that two senior airport employees had been suspended and the guard would eventually be sacked.
One of the employees, Suthirawat Suwannarat, who is the general manager of the airport, received a 30-day suspension.
"We cannot deny responsibility over this shortcoming and I regret and apologise to the Chinese tourist," he told reporters on Saturday. "Although we have a right to defend ourselves, in this case it was not reasonable."
The tourist was identified as Mei Ji and had arrived via a flight from Jakarta, the airport authority said. It added that he had refused to wait inside a room.
He was later deported but not before the encounter had been filmed on mobile phones and uploaded online.
The quick response from Thailand highlights lingering sensitivity over the Phuket disaster, in which nearly 50 people died.
The Ministry of Tourism and Sports has estimated that it would lose more than half a million Chinese tourists angered and scared over the boat tragedy.
In August some 860,000 of the 3.2 million tourists who visited Thailand were Chinese, according to government statistics. The numbers represent a nearly 12 per cent decline in Chinese visits from the same period last year.