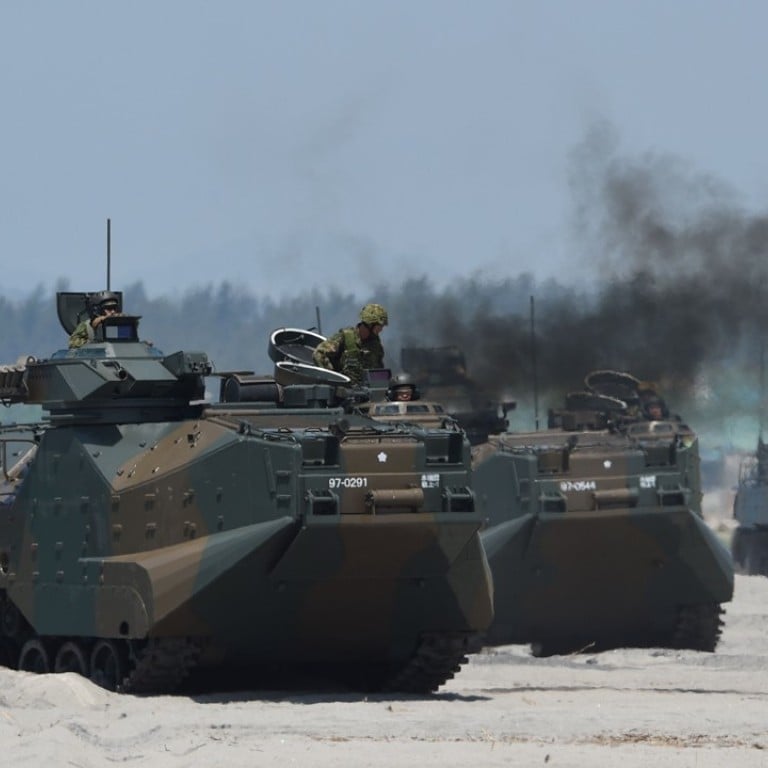 Philippines drills: Japan sends armoured vehicles to foreign soil for first time since second world war
The exercise was held at a Philippine navy base facing the South China Sea
Japanese troops stormed a beach in the Philippines this weekend in joint exercises with US and Filipino troops that officials said marked the first time Tokyo's armoured vehicles rolled on foreign soil since the second world war.
The small Japanese contingent played a humanitarian support role in the drill after US and Filipino marines made an amphibious landing to retake Philippine territory from a "terrorist" group.
On Saturday, 50 unarmed Japanese soldiers in camouflage marched behind their four armoured vehicles and picked up Filipino and American troops playing the role of wounded combatants while moving inland over sand and sparse bushland.
The exercise, code-named Kamandag (Venom), marked the first time Japanese armoured military vehicles were used on foreign soil since the country adopted a pacifist constitution after its 1945 defeat, said Japan's Major Koki Inoue.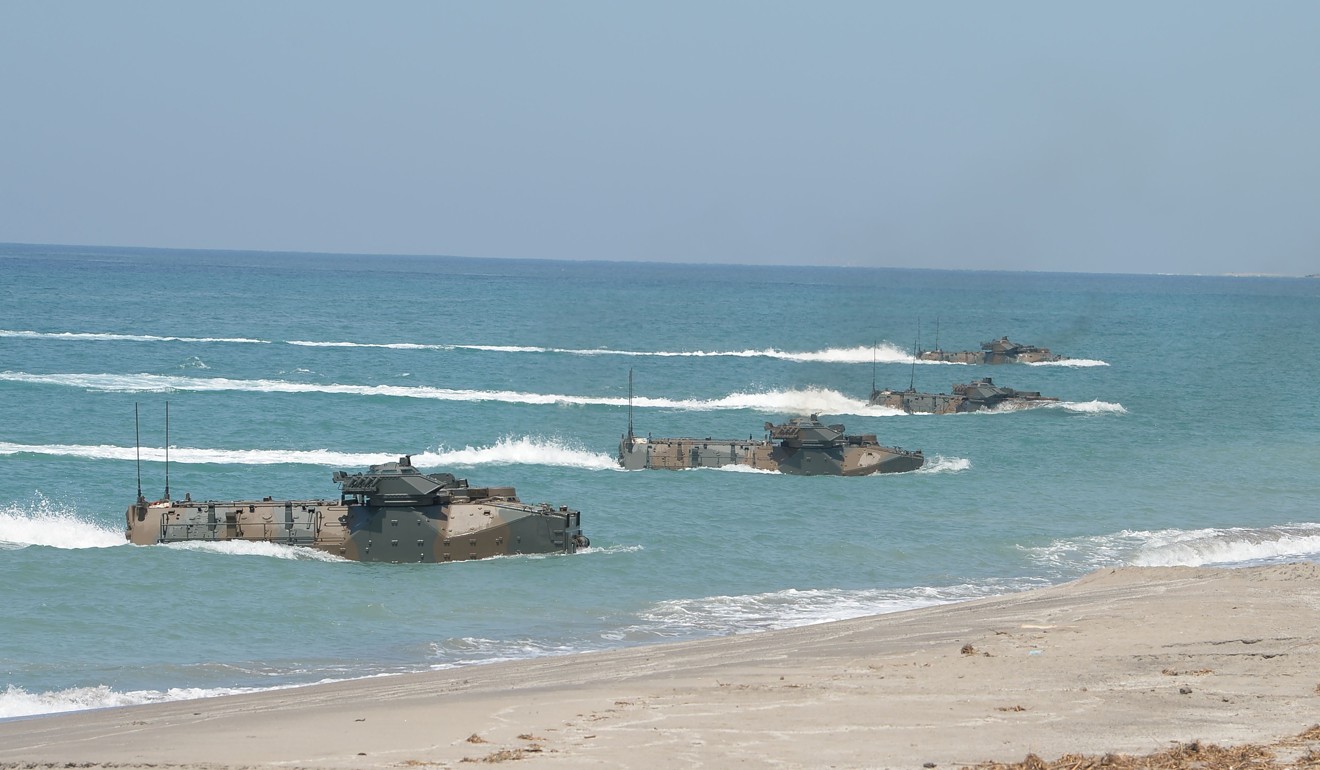 "Our purpose is to improve our operational capability and this is a very good opportunity for us to improve our humanitarian assistance and disaster relief training," Inoue said, adding Japan was not involved in the drill's combat component.
The exercise was held at a Philippine navy base facing the South China Sea some 250 kilometres (155 miles) from the Scarborough Shoal, a territory claimed by Manila that was seized by China during a 2012 naval stand-off.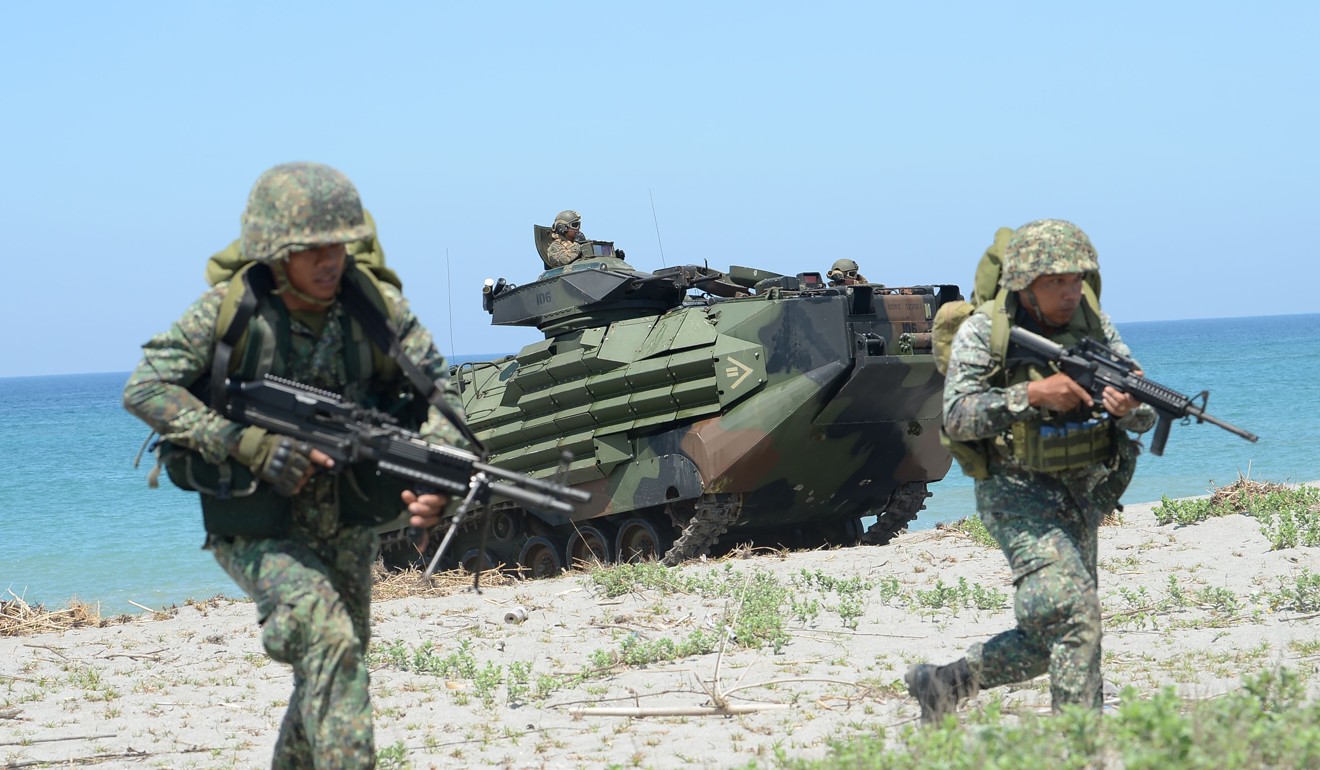 The Philippines has since ramped up military cooperation with Washington, its long-time ally, and also held joint naval exercises with Japan near Scarborough Shoal in 2015.
Japan has its own maritime territorial dispute with Beijing in the East China Sea.
The US military stressed that Saturday's exercise was not aimed at China, which has also built artificial islands on disputed areas of the South China Sea and installed military facilities on them.
"It has nothing to do with a foreign nation or any sort of foreign army. This is exclusively counterterrorism within the Philippines," US Marine communications officer First Lieutenant Zack Doherty said.
About 150 US, Filipino and Japanese troops took part in Saturday's landing, Doherty added.
This year's 10-day Kamandag exercises finish on Wednesday.
● A Japanese soldier participating in the joint exercises died in a crash, Japan's Ground Self-Defence Force said Sunday.
The 38-year-old sergeant 1st class belonging to the Amphibious Rapid Deployment Brigade of the GSDF, died after being involved in a crash Tuesday while being driven in transit, according to the GSDF.
The GSDF member, Suguru Maehara, was in a large-size vehicle driven by a Philippine man near the Subic naval base on Luzon Island.
Another GSDF member, who is in his 40s belonging to the Central Transportation Command, suffered a fractured bone in the accident, the GSDF said.
The vehicle with Maehara aboard hit another vehicle on a curved section of road during a squall when visibility was low, it said.
Additional reporting by Kyodo
This article appeared in the South China Morning Post print edition as: Japan takes part in historic war games in the Philippines