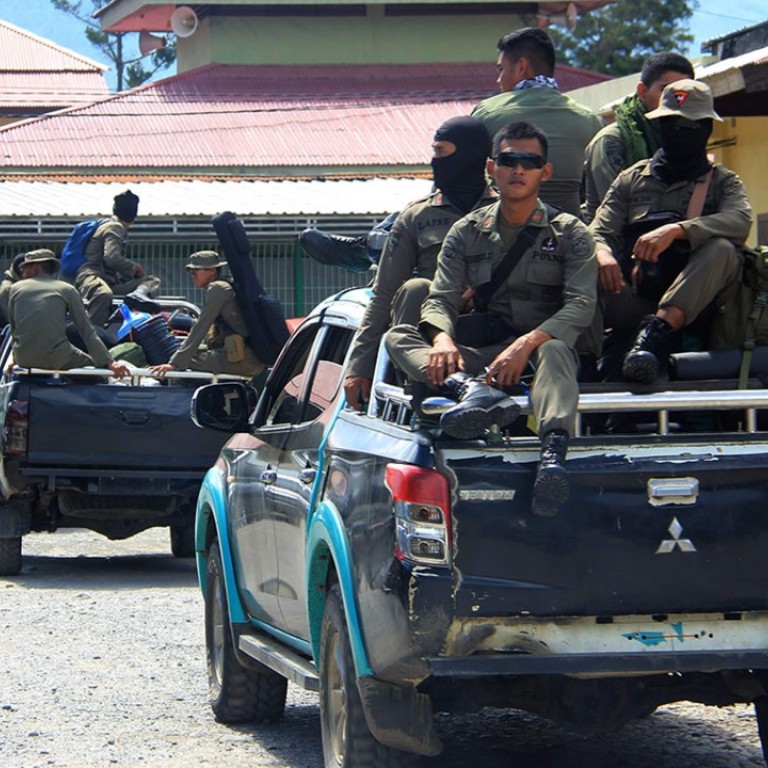 Indonesia attempts to recover bodies of 31 construction workers executed by separatist rebels in remote region of Papua
Killings reportedly carried out by rebels who have led a decades-long insurgency against Jakarta's rule
Papua declared itself an independent nation in 1961 but neighbouring Indonesia took control of the region by force in 1963
Security forces tried to recover the bodies of 31 construction workers and a soldier who were killed in one of the worst separatist attacks in Indonesia's restive province of Papua, officials said on Tuesday.
The killings mark the deadliest bout of violence in years to hit the region, which has long been at the centre of a low-level independence insurgency.
Papua police spokesman Suryadi Diaz said 24 workers were killed on Sunday when gunmen stormed a government bridge construction project in a remote mountainous village in Nduga district, on the western half of New Guinea island.
Eight other workers fled to the nearby house of a local parliament member, but an armed group came a day later and killed seven of them, Diaz said, citing reports from several witnesses. The eighth managed to escape and remains missing.
Diaz said security forces were trying to recover all 31 bodies but they were scattered and guarded by gunmen in the district, a stronghold of separatists who have battled Indonesian rule in the impoverished region for nearly 50 years.
Separately, Papua province military spokesman Lieutenant Colonel Dax Sianturi said an armed group attacked a military post in Mbua village in the same district late on Monday, killing a soldier and injuring another.
Police and military teams were sent to the area on Monday when they came under rebel gunfire with one soldier killed and another wounded in the firefight, authorities said.
The employees of state-owned contractor Istaka Karya were building bridges and roads as part of efforts to boost infrastructure in the impoverished region, Indonesia's public workers minister Budi Hadimuljono said on Tuesday.
All work in the area has been halted pending the investigation, he added.
"We're shocked and saddened to hear the media reports this morning," Hadimuljono told reporters in Jakarta. "All work is going to be suspended [in the area] given this incident."
The killings were reportedly carried out by rebels who have led a decades-long insurgency against Jakarta's rule. Indonesia routinely blames separatists for violence in Papua.
Some workers reportedly managed to escape the shootings, which are thought to have been sparked by separatists angry at some workers who were taking pictures of pro-Papua independence activities.
Foreign media need permission to report from Papua and obtaining reliable information is difficult.
The unconfirmed killings occurred after more than 500 activists – including an Australian – were arrested in a nationwide police crackdown that coincided with rallies on December 1, a date many Papuans consider should be the anniversary of their independence from the Dutch.
Papua declared itself an independent nation on that date in 1961 but neighbouring Indonesia took control of the region by force in 1963. It officially annexed Papua in 1969 with a UN-backed vote, widely seen as a sham.
Jakarta keeps a tight grip on the resource-rich region, which has been the scene of a low-level independence insurgency since the late 1960s.
Papua experienced several outbreaks of violence this summer including the killing of three local people, allegedly by rebels.
The deaths followed a gunfight that saw a small plane carrying 15 police officers – sent to oversee the local elections – was shot at as it landed at Nduga.
Some of the violence has been centred on protests against a huge gold and copper mine operated by US-based firm Freeport McMoRan – a frequent flashpoint in the local struggle for independence and a bigger share of the region's rich resources.
Additional reporting by Associated Press
This article appeared in the South China Morning Post print edition as: Jakarta probes reports of 31 shot dead in province