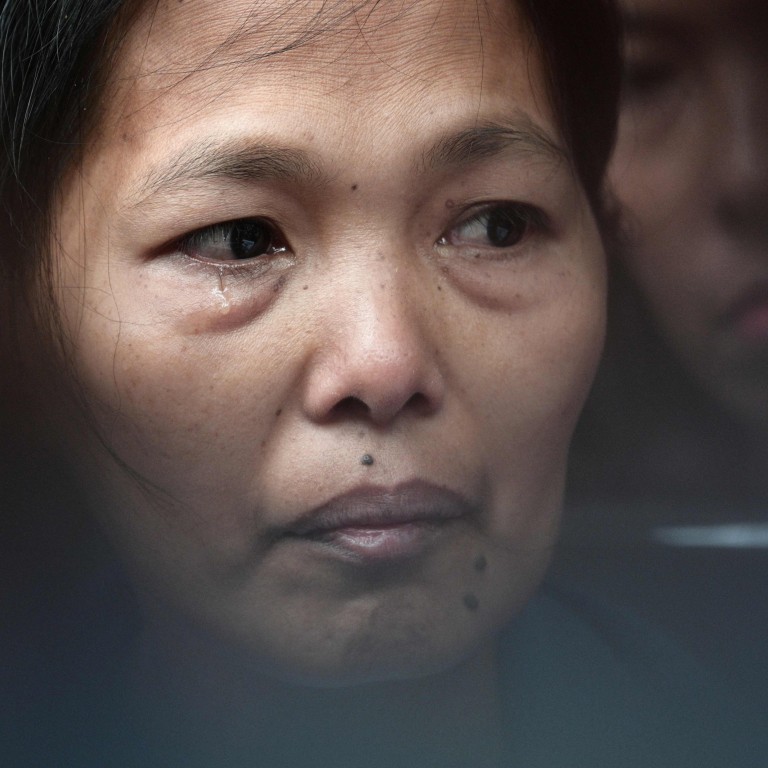 Filipino domestic worker Baby Jane Allas wins HK$30,000 in damages after being fired over cancer diagnosis
Allas, who has stage-three cervical cancer, was fired in February after her employer found out about her diagnosis
Supporters described the hearing into her case at Hong Kong's Labour Tribunal as 'disappointing' and 'upsetting'
Filipino domestic worker Baby Jane Allas, who was
fired in February
after being diagnosed with cervical cancer, has won HK$30,000 (US$3,800) in compensation from her employer. The settlement of the case at the Labour Tribunal in Hong Kong was reached on Monday, amid disappointment and criticism of the judge's attitude.
"I am disappointed that my employer did not show up, when I am more sick than her," said Allas, who had to reschedule a radiotherapy session to attend the hearing. Although she had agreed to it, the worker said she was not satisfied with the settlement.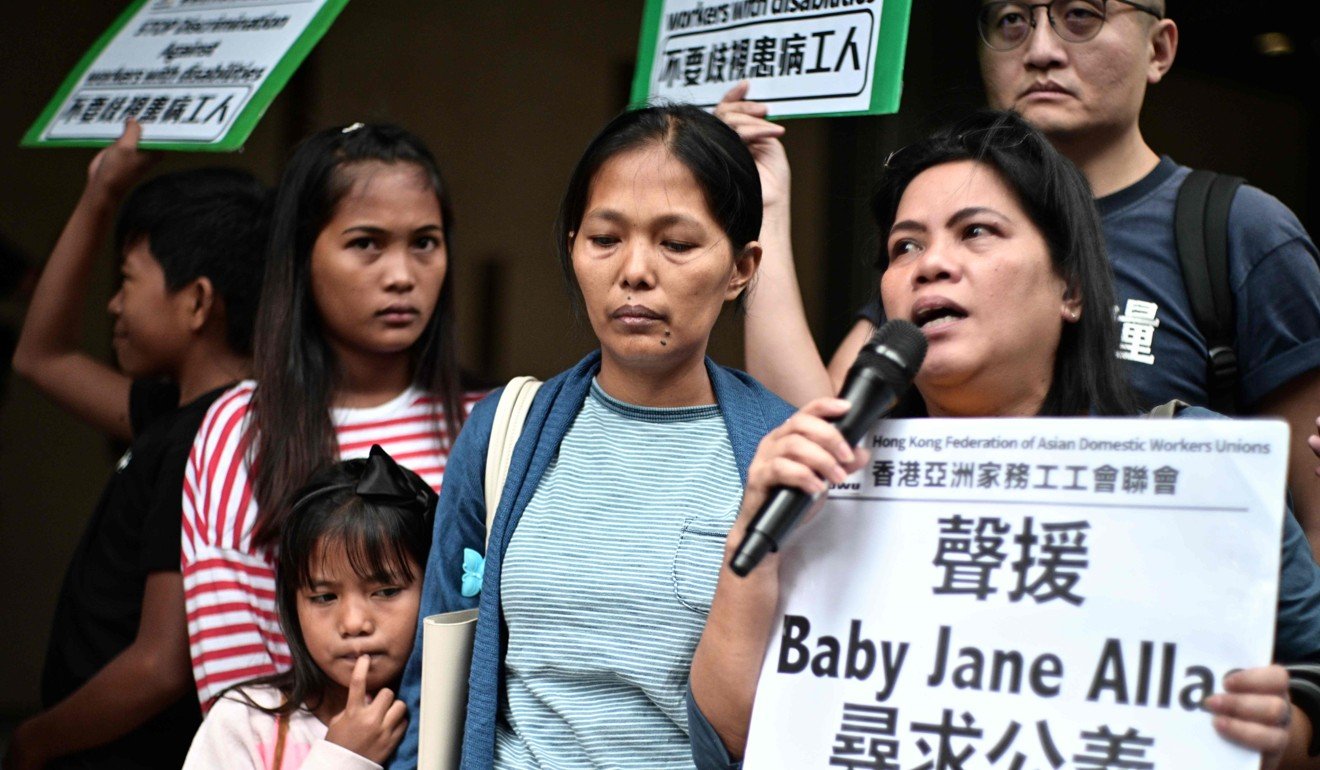 Allas, 38, has stage-three cervical cancer and has been undergoing daily radiotherapy sessions as well as chemotherapy once a week. The
Post
first revealed
her case on March 3, highlighting the plight of foreign domestic workers who are fired after being diagnosed with serious diseases and often left with no access to medical care.
Her employer, Jamil Bushra, was represented by a brother-in-law, who told the court that she could not attend the hearing because she was pregnant and had been told not to travel – even though she is currently in Hong Kong.
The first part of the hearing saw a spectator storm out of the courtroom in disgust at Principal Presiding Officer Eric Tam's initial treatment of Allas.
At the beginning of the hearing, he pushed Allas to respond to questions that she did not seem to fully understand, despite the interpreter sitting next to her. He repeatedly raised his voice, only lowering his tone after the member of the public interrupted the session.
Allas' sister, Mary Ann, described the hearing as "upsetting" and said that the way her sister was treated was also "a form of discrimination."
"Baby Jane's hearing today at Labour Tribunal went very badly," said Jessica Cutrera, an advocate who has helped Allas and launched a
fundraising campaign
to support her treatments. "The judge was belligerent and yelling at her. He wasn't prepared for the case and was pushing her to explain her case more clearly which she couldn't."
Allas, a single mother of five, told the court that she did not have a proper place to sleep and that her employer did not provide enough food. "They let me sleep in the storage room under the stairs, which was used for storage during the day," she said.
She also told the court that she had not had a full rest day in 15 months of employment. "I had to wake up and clean first, walk and feed the dog. And I had to return home between 8pm to 8.20pm because they had a family gatherings every weekend," Allas said.
Tam said: "But you did go out most of the day … Every domestic helper needs to be back at 8pm, 9pm or 10pm."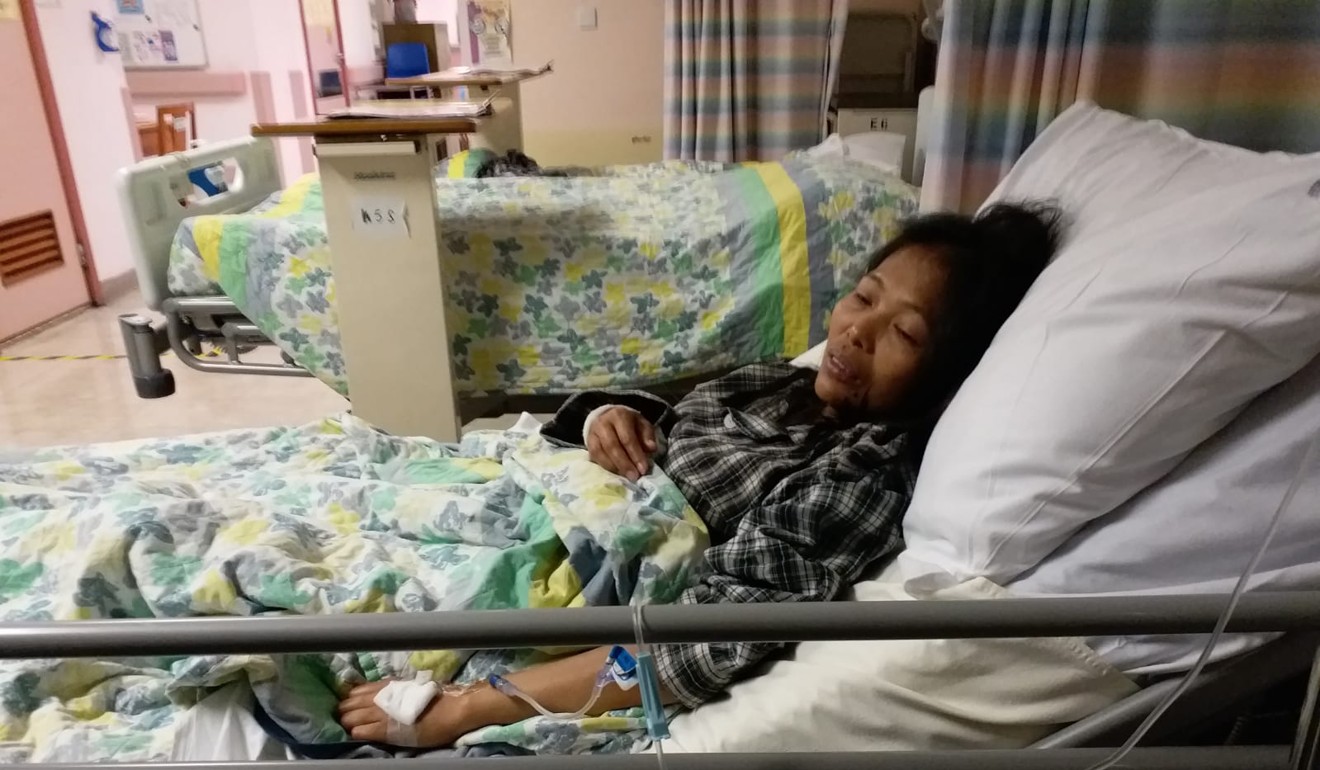 The employer's representative claimed that Allas had been offered a separate mattress in a bedroom.
"We have had a very good relationship … I sympathise with her case and what happened to her is unfortunate," he said. But he insisted that his family needed a domestic worker in good health.
When approached by the Post, he declined to make further comments and did not disclose his name.
Allas had initially asked for HK$46,000 compensation to cover items including medical fees, sickness leave and wages in lieu of notice, but she ended up being offered HK$40,000 if she agreed to drop her discrimination claim – a separate case – or about HK$28,000 if she would not. The two parties eventually settled at the HK$30,000 figure after nearly three hours in court.
Allas has now set her hopes on the claim she filed with the Equal Opportunities Commission, in which she argued that it is illegal to discriminate against someone who has a disability. A decision on that claim has yet to be made.
"This is not just about the money, it's about what they did to us," said Mary Ann.
"I am standing here right now to encourage other workers to come out if they have cases like mine," Allas said. "And I advise workers that if they are not being treated well, they should speak up and get evidence."
This article appeared in the South China Morning Post print edition as: Fired cancer-stricken helper wins HK$30,000