Thailand
Get more with myNEWS
A personalised news feed of stories that matter to you
Learn more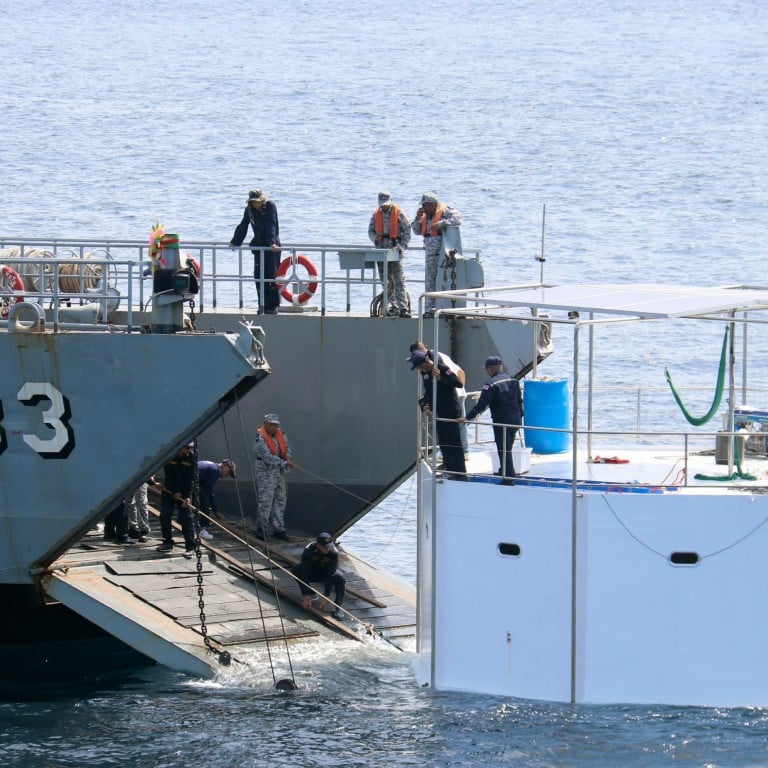 'Seasteading' couple Nadia Summergirl and Chad Elwartowski face arrest warrants after Thailand dismantles sea shack
The navy deployed three frigates to demolish the structure and dragged the cabin back to shore to be used as evidence against the couple
On Monday, the Royal Thai Navy deployed three frigates to dismantle the shack as divers from the force's SEAL team separated the hexagonal fibreglass structure from the underwater base and dragged the cabin back to shore to be used as evidence against the couple.
Elwartowski, an American national, and Summergirl, a Thai citizen, whose real name is Supranee Thepdet, fled before the Thai navy first raided the structure on April 13.
The navy accused the pair of trying to establish a breakaway nation, an offence punishable by death.
In a Facebook post on April 16, Elwartowski said the couple were safe.
The duo, who are bitcoin investors, began living on their floating home to the southeast of Koh Racha Yai last month. In doing so, they became the first couple to live out the vision of the Seasteading Institute, a think-tank that promotes the establishment of the self-ruled sea colony not under any governments or statehood.
"The couple spoke clearly they were not willing to live under any particular state. They also extended invitation to others to commit the same act. The Thai navy sees this as undermining the Thai sovereignty," said Rear Admiral Withanarat Kochaseni, citing the 1982 United Nations Convention on the Law of the Sea.
According to Withanarat, the shack is located in the transitional waters and not the international waters as claimed by Ocean Builders, which funded and built the seastead.
Pol Col Nikorn Somsuk, at Wichit Police Station in Phuket, said online materials, including posts or information cannot be the only evidence in the case. "It will take some time to investigate. I cannot tell when arrest warrants can be issued but we have to check the evidence thoroughly."
It's unclear whether the owner of the boatbuilding company in Phuket, who helped the couple build the floating structure, would also face charges.
Elwartowski's visa was revoked last week and the pair's whereabouts are unknown. The Thai navy said they can appear in court to fight the case.
Earlier, the American said in a Facebook post he and Summergirl only wanted "to be free".
"I was free for a moment. Probably the freest person in the world. It was glorious."