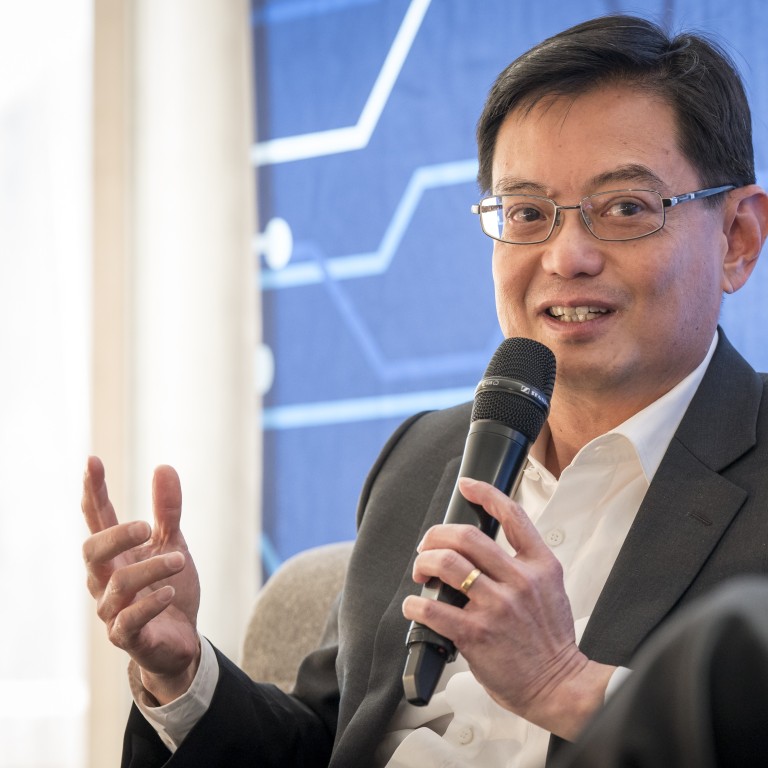 Heng Swee Keat becomes Singapore's sole Deputy Prime Minister, paving the way for him to succeed Lee Hsien Loong
Heng, 57, will be the sole No. 2 leader after current Prime Minister Lee Hsien Loong, a departure from convention as there are usually two DPMs
The cabinet reshuffle announcement also said Lee would move his two current deputies, Teo Chee Hean and Tharman Shanmugaratnam, to senior minister roles
Singapore's Finance Minister Heng Swee Keat on Tuesday was promoted to become the country's sole Deputy Prime Minister, moving him closer to succeeding Prime Minister Lee Hsien Loong as the Lion City's next leader.
Lee, 67, moved his two current deputies, Teo Chee Hean and Tharman Shanmugaratnam, to senior minister roles.
Heng, 57, will be the sole Deputy Prime Minister and will also continue as Finance Minister. The changes will take effect next Wednesday.
While Heng's elevation had been expected, few observers had guessed Lee would part from convention by making the finance minister his sole deputy.
Ruled by Lee's People's Action Party (PAP) for the last six decades, Singapore has traditionally had two deputy prime ministers.
Political observer Eugene Tan said naming Heng the solo deputy premier left "no doubt who Prime Minister Lee's successor is".
And amid earlier speculation that Lee may call a snap poll as a form of initiation for his successor, the Singapore Management University law professor said "the nature of the reshuffle does suggest that Prime Minister Lee has not excluded a general election this year."
Lee's office announced the changes in a statement on its website. On Facebook, the prime minister said Heng's promotion was "part of the ongoing leadership renewal" in the country.
"The next generation leadership is taking shape, and progressively taking over from me and my older colleagues," he wrote. "The team is working closely together, building up public trust and confidence in their leadership."
Heng, also writing on Facebook, said he was honoured by Lee's trust in him, and "will do my very best, together with my colleagues, to fulfil our responsibility to serve Singapore and Singaporeans."
Heng's promotion comes after the PAP last November elevated him to the position of first assistant secretary-general, a post traditionally held by the city state's number two leader.
The November development put to rest speculation over who would succeed Lee. The earlier uncertainty was unprecedented for the PAP, which has stage-managed political succession through its six decade rule of Singapore.
The talk within the city state's political commentariat had been that Heng, along with trade and industry minister Chan Chun Sing and education minister Ong Ye Kung – all part of the younger 4th Generation or "4G PAP leadership – were vying for the top job.
Heng, a career civil servant and one-time central banker, is believed to have eventually garnered majority support from both his colleagues in the 4G clique, and the PAP's powerful grassroots cadres.
Prime Minister Lee, son of the country's revered independence leader and founding prime minister Lee Kuan Yew, is the country's third leader. He took over from the elder Lee's successor Goh Chok Tong in 2004. Lee has said he hopes to step down soon after the next election that is due in 2021.
Tharman, one of the two current deputy prime ministers, said Heng was the best person to succeed Lee.
"He has the exceptional ability, mettle, and the confidence of the 4G team," Tharman, once seen as a potential successor to Lee, wrote on Facebook.
The widely popular former finance minister, 62, declared himself out of the running for the top job in 2016, saying that he had no interest in succeeding Lee even though a rare survey on the topic showed Singaporeans overwhelmingly preferred him to other fourth-generation or 4G leaders.
Heng and Lee have both said they do not believe Singapore, a majority-Chinese society, is ready for a non-Chinese prime minister.
Critics have attacked that stance as being at odds with the city state's meritocratic ethos.
"We have avoided sudden change. It may be unexciting and predictable, but it works for Singapore," Tharman wrote on Facebook.
This article appeared in the South China Morning Post print edition as: Heng named sole deputy premier in Lee reshuffle