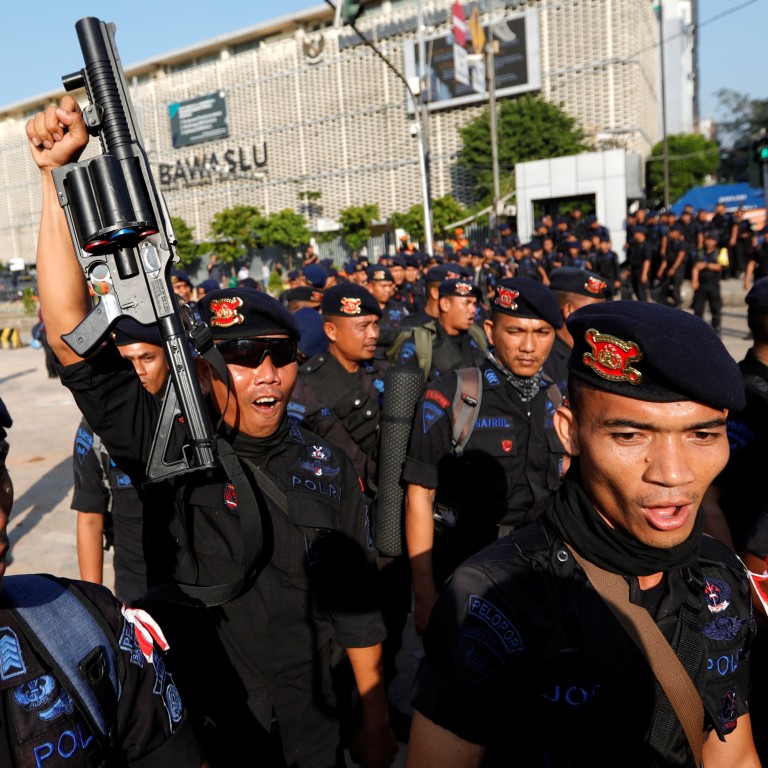 Indonesia riots: police draw Islamic State links to deadly Jakarta protests that killed seven
Protests against incumbent leader Joko Widodo's poll victory had petered out by Thursday but authorities remained on high alert for new clashes fuelled by supporters of Widodo's challenger, Prabowo Subianto
There were curbs on WhatsApp and Facebook to prevent fake news and hoaxes, including accusations against ethnic Chinese, from inflaming tensions
Indonesian police on Thursday said members of an Islamic State-affiliated group had infiltrated into the mobs involved in violent protests that broke out in Jakarta this week.
National Police Spokesman Muhammad Iqbal told a press conference on Thursday that among 442 detained protesters, two were members of the radical Islamic Reform Movement (Garis), that had pledged loyalty to IS, and sent almost 200 Indonesians to Syria.
"They intended to carry out jihad during May 21 and 22 protests," Iqbal said, adding that several hundred rioters had been arrested.
Seven deaths were confirmed, he said, stressing that police had not used live rounds, and "only rubber bullets, tear gas, shields and sticks" when facing the protesters.
Among those arrested was a woman who tried to breach the police barricade outside the elections monitoring body or Bawaslu on Wednesday night.
Dressed in a black niqab or face veil and carrying a black backpack, the woman refused to halt despite repeated police warnings. Officers then fired tear gas at her, prompting her to turn around and leave the scene. However, when the police checked her bag, they found only a Koran, mineral water and medicine.
Harry Kurniawan, the central Jakarta police chief, said the police would evaluate the 32-year-old woman's psychological condition.
Tens of thousands of Indonesian troops were deployed to the streets of Jakarta early on Thursday, after
two nights of rioting
triggered by the announcement of incumbent leader Joko Widodo's election win.
By Thursday evening, calm had returned to the Indonesian capital, police said.
Jokowi's challenger, former general
Prabowo Subianto
, has refused to accept the result and instead declared himself the winner.
Prabowo and his campaign have alleged massive election fraud but not provided any credible evidence. They did not file a constitutional court challenge to the election result on Thursday as expected, but have until Friday to do so.
The election supervisory agency earlier this week rejected Prabowo's complaint about the election's integrity after the only evidence of fraud provided by his team was links to online articles.
Hundreds of rioters, mostly young men, clashed with police at six locations around central and west Jakarta on Tuesday and Wednesday night.
The rioting was planned and many of the several hundred arrested came from outside Jakarta, according to police.
Officers found an ambulance filled with stones and other weapons. Some of those arrested had envelopes containing 250,000-500,000 rupiah (US$17-US$34), said Jakarta Police spokesman Argo Yuwono. The minimum wage in Jakarta is about US$9 a day.
Jakarta governor Anies Baswedan said 737 people had been treated in hospitals, with the majority suffering from minor injuries.
In the run-up to this week's riots, police had been on
high alert for terror attacks
and mass violence after learning militants were seeking to exploit political unrest following the announcement of Widodo's election win.
At least 31 terror suspects were arrested this month with 11 home-made bombs seized, amid fears they would use rallies or mass gatherings to attack crowds comprising protesters, journalists and security personnel.
National police chief Tito Karnavian, who showed reporters a sniper rifle with silencer and two revolvers that were seized from people arrested days before the rioting broke out, said: "There is an effort to provoke, to create martyrs, blame the authorities and invoke public anger."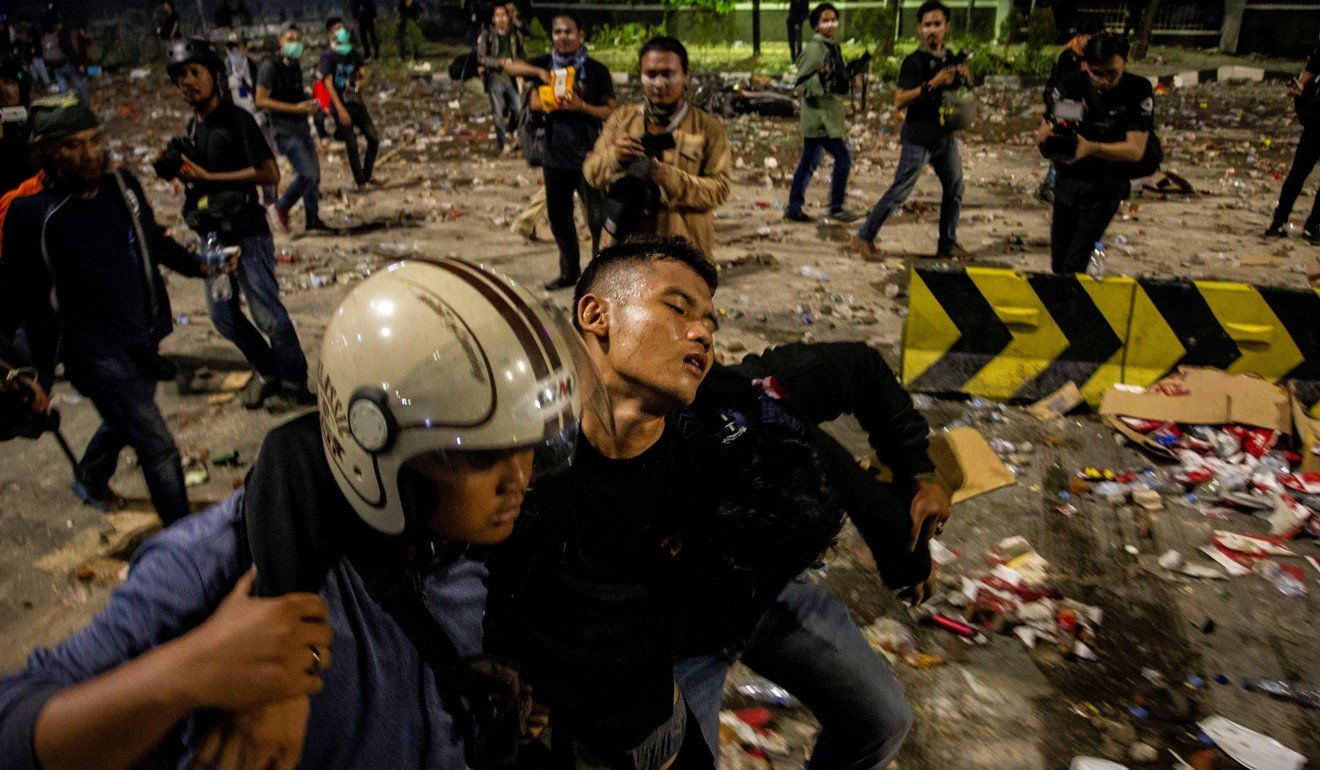 After Indonesia's election commission on Tuesday confirmed
Widodo defeated Prabowo
– securing 55.5 per cent of votes – peaceful protests by about 6,000 of the former general's supporters escalated in the early hours of Wednesday, as they threw rocks at police and burned vehicles.
On Wednesday, rioting continued deep into the night as protesters gathered outside the Bawaslu, which maintained there was no truth to allegations of systematic cheating.
Parts of Jakarta resembled battlefields as protesters destroyed street signs, set fire to food stalls and tried to storm the Bawaslu office.
In other parts of Indonesia, a mob burnt a police station on Madura island, northeast of the main island of Java, while two police posts were set ablaze in Pontianak on Borneo island, media reported.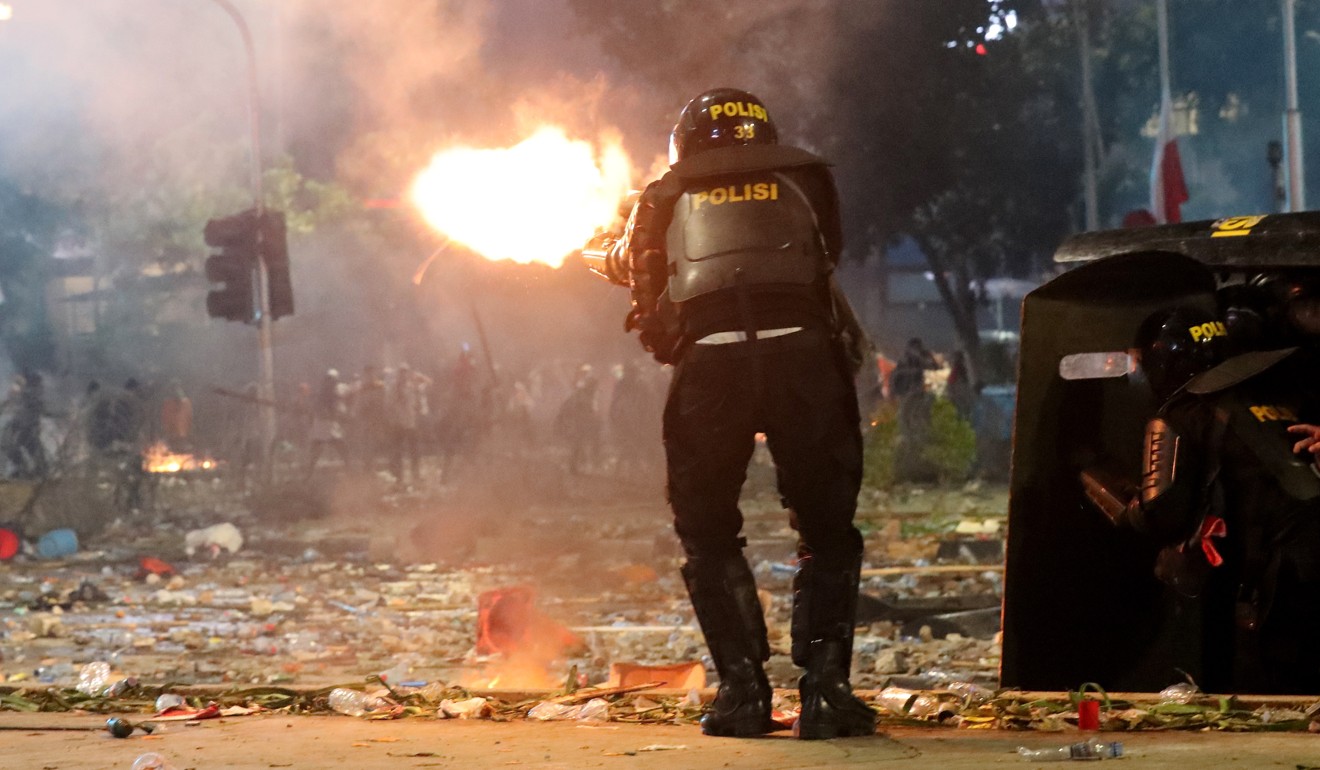 Prabowo, in a video posted on his Twitter account before midnight on Wednesday, urged his supporters to stop protesting.
"I beg you to return to your homes to rest, avoid any actions that would break the law," he said.
Prabowo's political party, Gerindra, complained the authorities were trying to pin blame for the riots on him.
"We saw efforts to herd public opinion so that the peaceful protest would look like disturbing acts, with an end goal of discrediting Mr Prabowo," Gerindra said on Twitter.
Authorities have blamed the violence on "provocateurs" they claimed had come from outside Jakarta to stir up trouble. Many of the protesters are thought to be members of the fundamentalist Islamic Defenders Front (FPI) that had thrown their support behind Prabowo for the election.
Police found envelopes containing money on some of the people they searched, police spokesman Iqbal told a news conference on Wednesday.
"This is not a spontaneous incident – this is something by design. There are indications that the mobs are paid and bent on causing chaos," he said.
At a news conference on Thursday, police addressed reports of an ambulance filled with stones and cash ostensibly meant for protesters, saying they had seized the vehicle and were investigating the matter. They confirmed the ambulance belonged to Prabowo's Gerindra party's branch in Tasikmalaya, West Java, but refused to comment further.
Police earlier said some of those arrested were found with envelopes containing 250,000-500,000 rupiah (US$17-US$34). Iqbal on Thursday added that some of those arrested were "street thugs" who hung around Tanah Abang market, one of the protest sites, and had received 300,000 rupiah to cause trouble.
On Thursday morning, Amran H, 33, who was at Petamburan in central Jakarta, said he and his friends would return home to rest.
"But it doesn't mean that the fight for a fair election and better future will end here. This fraudulent election is not just a problem for Jakartans but a national one," said Amran, who added he had come from Makassar in South Sulawesi. "These riots happened because we were responding to police violence."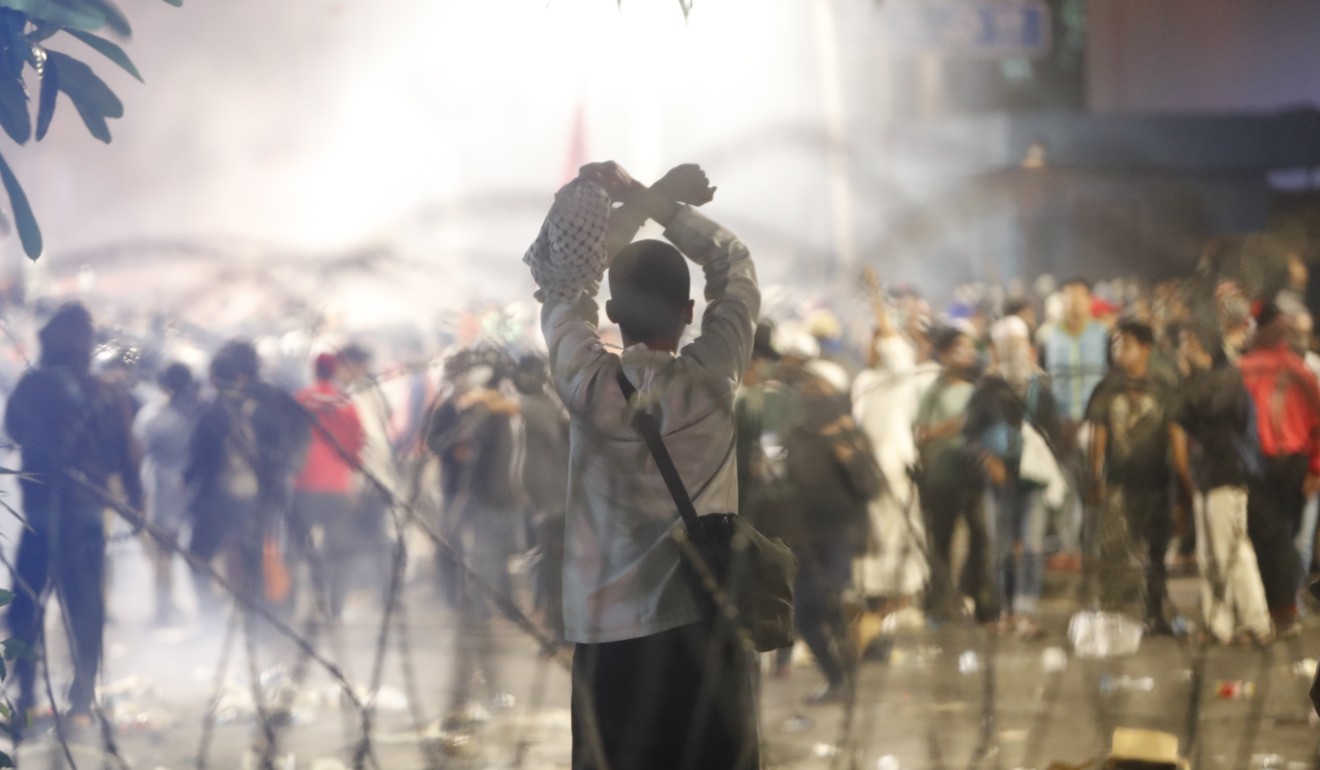 Since the violence broke out, the volume of
online hoaxes and fake news
has spiked in the world's biggest Muslim-majority nation. These include claims police raided a mosque, which authorities denied. The government restricted social media use, saying it would inflame unrest.
On Thursday, several users reported it was taking a longer time than usual to upload videos and photos on platforms such as WhatsApp, suggesting the curbs were ongoing.
On the streets on Wednesday, some protesters chanted anti-Chinese slogans such as "Usir Cina" (kick Chinese out) and "Awas Asing" (beware of foreigners) – apparently in reference to Widodo's alleged favouritism towards the Chinese Indonesian community and his openness to investments from China.
Sadikin, a 45-year-old cleaner who was sweeping debris off the streets of central Jakarta on Thursday morning, said he was exhausted.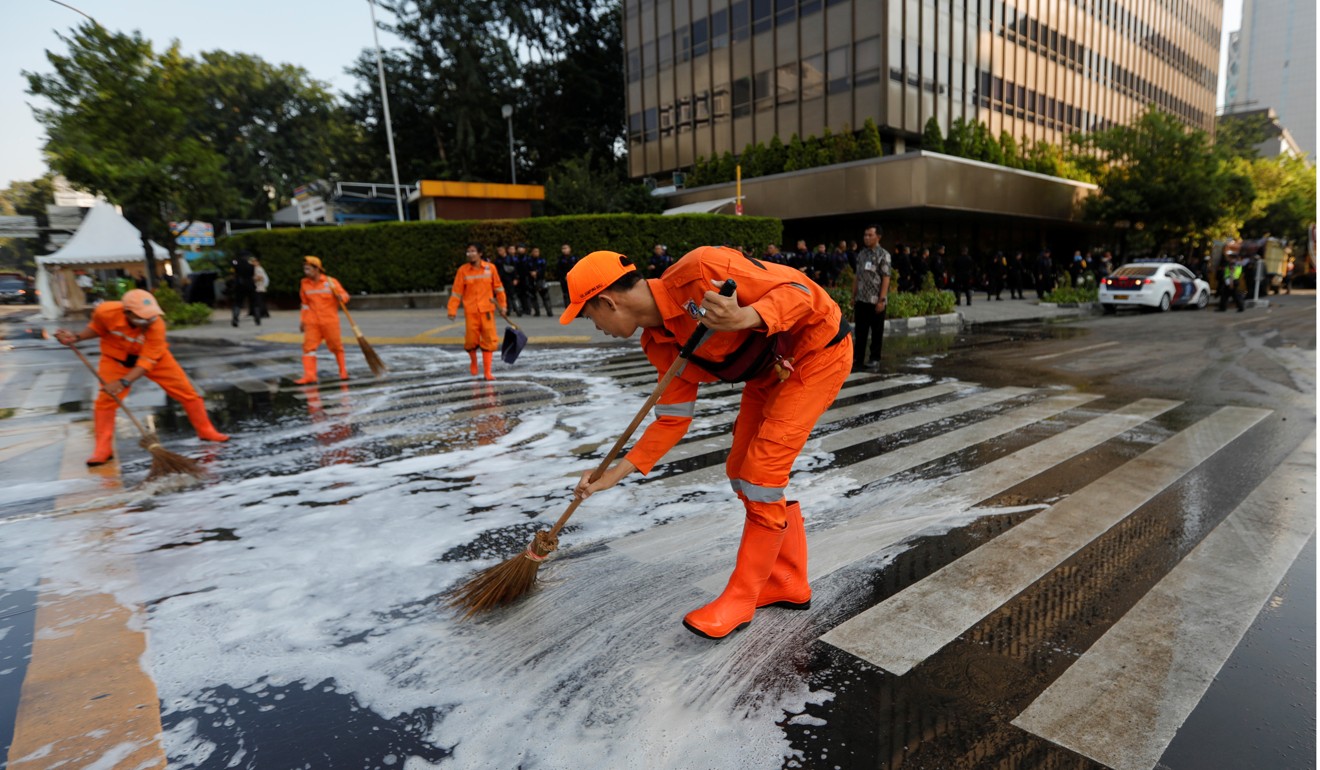 "We can't understand why they needed to start riots, burn cars and buses, burn police posts and things on the streets, leaving nothing but damage and garbage for us," he said.
"Protesting is everyone's right but they stormed and destroyed properties. After all that destruction, they simply walked off and left nothing but more work for us. I am so tired and been working for two days non-stop to clean the roads."
Additional reporting by Agence France-Presse, Reuters, Associated Press
This article appeared in the South China Morning Post print edition as: radical islamic group linked to deadly riots