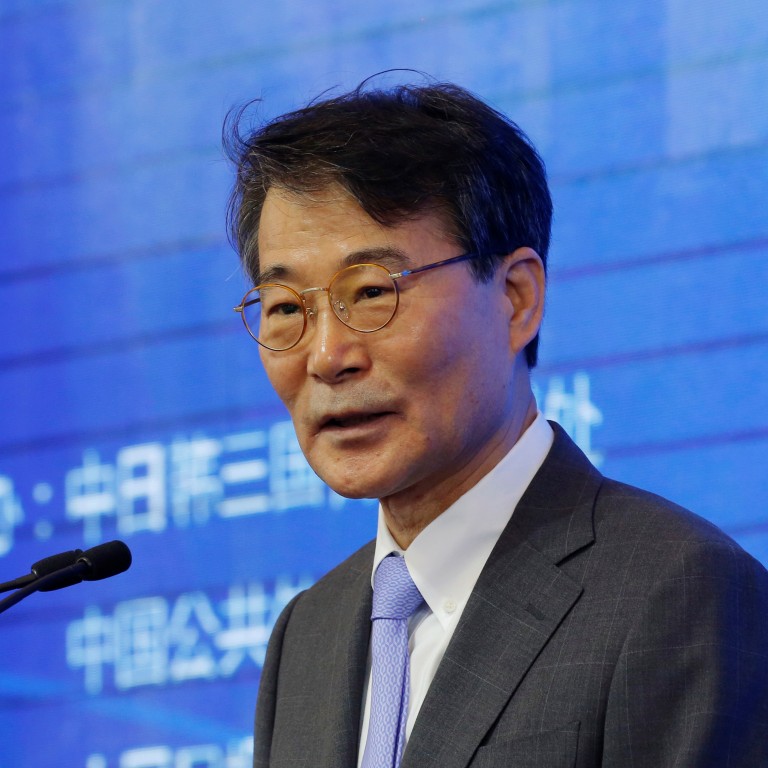 What does South Korea think of China's belt and road? It's complicated
Seoul's new ambassador to Beijing was quoted saying his country hoped to 'actively participate' in vast infrastructure initiative, prompting denial from foreign ministry
Mixed messages reflect South Korea's delicate balancing act as it weighs strategic and security objectives shaped by relationships with US and China
When Jang Ha-sung appeared at the Great Hall of the People in Beijing to present his credentials as South Korea's new ambassador to China, he might well have expected the formality to proceed without so much as a ripple of controversy.
The event, though, did not go according to plan, instead highlighting South Korea's delicate balancing act between China and the US – its main trading partner and security guarantor, respectively – after he was quoted expressing support for Beijing's Belt and Road Initiative.
Jang, a former economist with no formal diplomatic experience, and six other incoming envoys on Tuesday told Chinese President Xi Jinping their countries wanted to "actively participate" in the global infrastructure drive after Xi asked for their cooperation, state-run CCTV reported.
South Korea's Ministry of Foreign Affairs denied the report, insisting Jang, who has emphasised the importance of Beijing involvement in securing peace on the Korean peninsula, had never discussed China's signature infrastructure plans and his remarks had been wrongly conflated with other envoys' comments.
It was not the first time South Korean President Moon Jae-in's administration has felt compelled to correct the record on Beijing's initiative, which calls for vast investment in roads, railways, ports and bridges to create a new Silk Road linking Asia and Europe.
In March, Seoul denied reports South Korean Prime Minister Lee Nak-yeon had called for the joint development of belt and road projects during a meeting with Chinese Premier Li Keqiang.
While offering no ringing endorsement of belt and road, South Korea's Ministry of Foreign Affairs told local media its latest clarification did not indicate it was against the initiative, and it was interested in finding "common areas" in policy between countries. The ministry did not respond to questions from the South China Morning Post about its exact stance.
The conflicting messages, analysts said, reflect South Korea's delicate balancing act as it considers how belt and road could help achieve its long-standing objective of linking a reunified Korean peninsula with Europe via Eurasia, while trying to avoid strategic conflict with the US.
South Korea sends about one-quarter of its exports to China, its biggest trading partner, but relies on the US for its security under a defence pact forged in the aftermath of the Korean war, which ended in 1953. Washington has derided the belt and road strategy, touted by Beijing as a vehicle for "common prosperity", as a way for China to assert control over other countries by burdening them with unsustainable debts.
"We know the government wants to be in the belt and road but whenever questioned they become defensive, leading us to believe they are being conscious of the US," said Jaewoo Choo, a professor of Chinese foreign policy at Kyung Hee University in Seoul.
Although South Korea has yet to officially sign on to Beijing's infrastructure plans or participate in any of its projects, it has directly signalled its support. During a visit to Chongqing in 2017, Moon called for integration between Beijing's plans and his New Northern Policy, which envisages the creation of new transport, logistics and energy networks linking the Korean peninsula with China, Russia, Mongolia and Central Asian states such as Kazakhstan.
Moon, who has made rapprochement and eventual reunification with North Korea a signature issue of his presidency, said combining the initiatives would "lead to peace and joint prosperity in the region".
"The South Korean government wants to participate because of the symbolism and meaning associated with taking part," said Sungku Jang, a fellow with the Asan Institute for Policy Studies in Seoul.
"South Korea has a special relationship with North Korea as part of the same land mass but in reality it has been an island country for the last 70 years. In the South Korean constitution, the entire Korean peninsula is treated as South Korean territory but because reality doesn't align with the constitution, the symbolism of connecting the continent can't be exaggerated."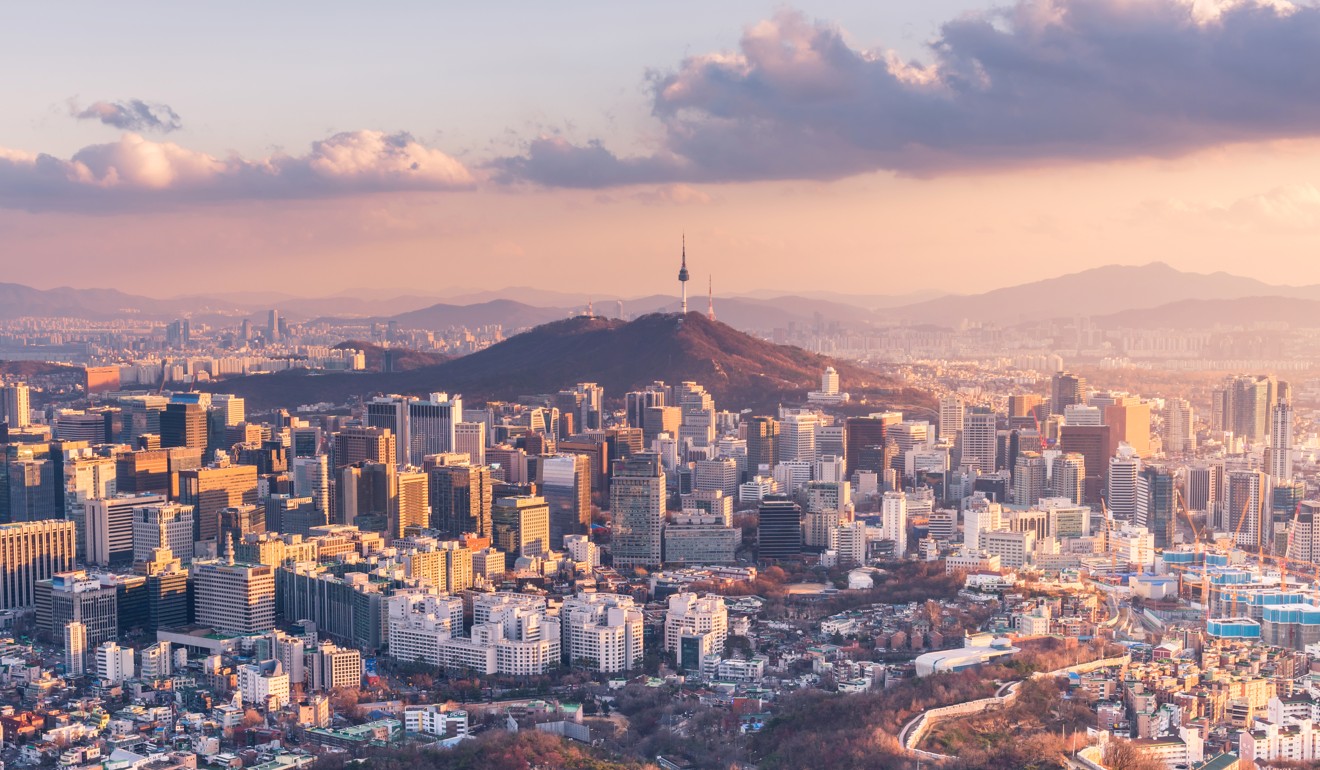 Ryo Hinata-Yamaguchi, a visiting professor at the College of Economics and International Trades at Pusan National University, said belt and road offered South Korea numerous potential economic benefits, including "new opportunities in Eurasia, including China, Southeast Asia, Central Asia, Russia, and beyond".
"It will provide opportunities for both North and South Korea to initiate joint economic and industrial projects taking advantage of the new logistical routes," Hinata-Yamaguchi said. "It also allows South Korea to access much needed energy resources from countries in Eurasia."
Any embrace by Seoul of Beijing's belt and road, however, risks upsetting Washington, against the backdrop of escalating tensions over a range of issues, including trade, technology, Taiwan and the South China Sea.
Despite pursuing closer relations with Beijing since taking office in 2017, Moon "is mindful of concerns raised by Washington, which poses a serious dilemma to South Korea," said Nam Chang-hee, a political science professor at Inha University.
Moon's has sought cooperation with the North, which is crucial to building links with Eurasia, but that has been hampered by Pyongyang's renewed missile tests and lack of action on nuclear disarmament, and South Korea's sluggish economy.
In a Realmeter poll last month, 52 per cent of South Koreans said they supported Moon, who enjoyed sky-high approval ratings for much of his tenure, in his outreach to the North, compared to 48 per cent against – a precipitous drop from last year when 88 per cent expressed enthusiasm about the liberal leader's first meeting with North Korean leader Kim Jong-un.
"With criticism over the economy and foreign policy growing louder, I think it will be difficult for the Moon administration to freely manoeuvre," Kang said.
Increasingly negative perceptions of China among the South Korean public further complicate matters. In a Gallup Korea poll last year, 46 per cent of South Koreans named China as the biggest threat to peace on the Korean peninsula, the highest proportion ever recorded – a result attributed to Beijing's economic retaliation against Seoul over its deployment of an American anti-missile defence system the previous year.
"The public in Seoul began to perceive China as a future predator against Korean businesses rather than as a wide, open, lucrative market," Nam said.
Nam said Moon's administration would likely end up participating in at least some belt and road projects, while emphasising the continuing importance of the US-Korea alliance.
"Seoul probably will do its best to reconcile the conflicting demands from Washington and Beijing, slightly leaning toward its ally with a careful consideration that without the US endorsement of the inter-Korean peacemaking process, Moon's New Northern Policy coupled with a soft North Korea policy is not sustainable," he said.
This article appeared in the South China Morning Post print edition as: Belt and road a balancing act for South Korea