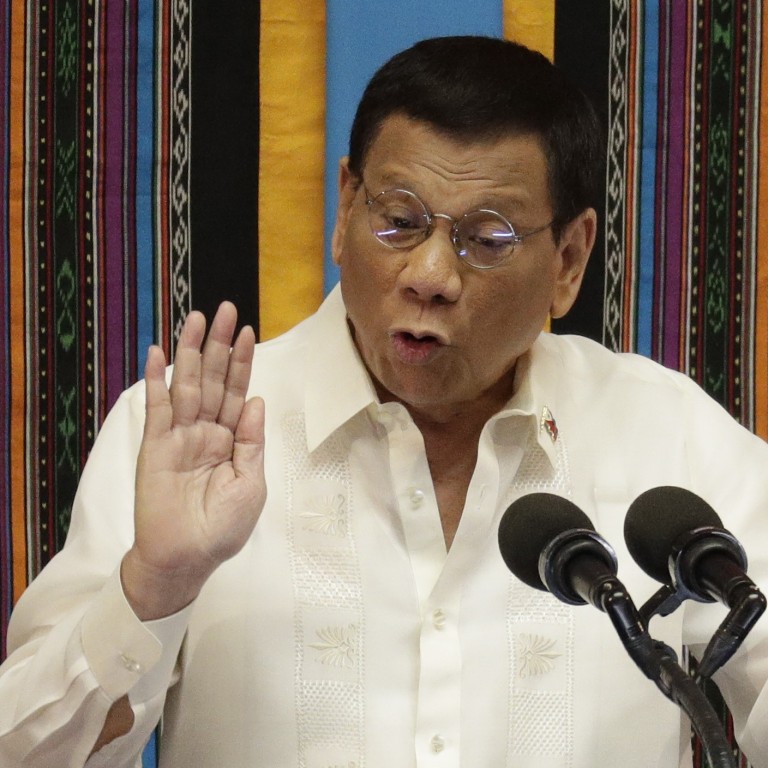 Duterte orders foreign ships to gain permission to sail in Philippine waters, in message aimed at China
Manila warned that non-compliance could result in an 'unfriendly' response by the country's armed forces
Duterte is expected to soon meet Xi Jinping in China, where he has said he will bring up the arbitral ruling on the South China Sea and assert Manila's territorial rights
In a rare message aimed at China's use of warships near Manila's coast, President
Rodrigo Duterte
has ordered that from Tuesday, all foreign vessels intending to sail through
Philippine
territorial waters must now notify authorities and receive permission before proceeding.
"Either we get a compliance in a friendly manner, or we enforce it in an unfriendly manner," presidential spokesperson Salvador Panelo said.
Asked by reporters what "unfriendly manner" meant, Panelo replied: "It means we have to stop them and tell them to move out."
Manila would not rule out using military force if foreign vessels crossed the line, he said. "If it will have to take that, we will do it."
Panelo noted that while there have been repeated passing through by foreign vessels, "particularly Chinese warships", Manila has so far kept silent. "But this time we will tell them, please get out of our territory."
Duterte's new command, which requires vessels to notify and gain clearance from authorities "well in advance of the actual passage", would prevent future misunderstandings, Panelo said.
According to defence analyst Jose Antonio Custodio, apart from Chinese vessels, ships from the region also on occasion trespass into Philippine waters.
"Practically all the neighbours of the Philippines intrude in its waters, especially since many lawless elements such as pirates and terrorists use Mindanao [in the south] as a safe haven from which to attack the citizens of neighbouring countries," Custodio said. "Hence our neighbours sometimes stray into our territory in pursuit."
He noted that US vessels regularly provide information of their presence in Philippine territory, and the Philippines' armed forces are routinely asked by the foreign affairs department to verify passages.
But "a country can choose not to comply, and given the abysmal state of Philippine military monitoring capabilities and even interception capabilities, it is sometimes caught flat-footed by foreign vessels present in our territories", said Custodio, a senior fellow at Manila-based think tank Institute for Policy, Strategy and Development Studies.
Commenting on the timing of Duterte's new directive, Custodio said: "Probably it's a ploy by Duterte to show he is fighting for Philippine interests to head off any discontent from elements within the military which is uncomfortable with China."
Manila has in recent weeks lodged several diplomatic protests over the activities of Beijing's coastguard, navy and paramilitary fishing vessels in Philippine-controlled areas of the
South China Sea
and in its territorial waters.
The Philippine armed forces has released images and cited witness sightings between February and early August of Chinese warships off Palawan and Tawi Tawi islands, a pattern that Defence Secretary Delfin Lorenzana last week described as an "irritant".
Lorenzana revealed last month that Chinese warships had passed through Sibutu Strait in the southwest tip of the Philippine archipelago in "four instances" without telling the Philippine government.
Yesterday, Foreign Secretary Teodoro Locsin Jnr told his staff to file a diplomatic protest over China's "trespassing".
"Fire diplomatic protest over Chinese warship; drop the diplomatic crap; say it is ours period; they're trespassing," he wrote on Twitter. "If we did it already fire another. We won't run out. And don't wait for formal intel."
The bellicose words from Locsin and Panelo are the closest the Duterte government has come to being testy with Beijing. Since taking office in 2016, Duterte has fostered close ties with China, even to the extent of apparently renouncing the Philippines' traditional ally, the United States.
In his first visit to China in 2016, Duterte said: 'If China would find it in his heart to help us in our needs, then we will remember you for all time." He also announced "my separation from the United States".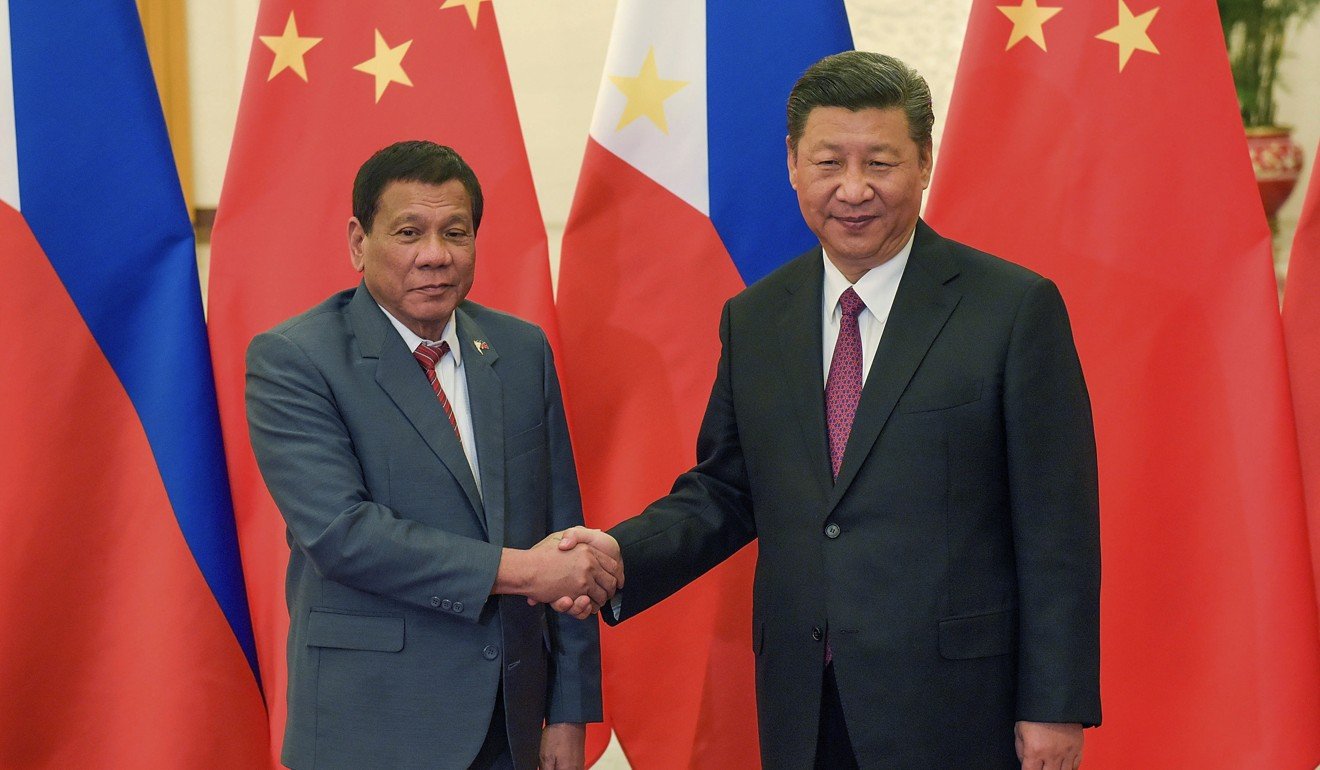 The Duterte administration also set aside an arbitral ruling by an international tribunal against China's "nine-dash line" claim over the South China Sea. The ruling had been requested by the previous Benigno Aquino administration.
Panelo's announcement comes eight days before Duterte is expected to make his fifth visit to China, on August 28 to September 3.
The president has said that during his visit, he will bring up the
arbitral ruling
and assert the Philippines' rights over its exclusive economic zone in the contested South China Sea, known by Manila as the West Philippine Sea.
The waterway is a vital route for ships carrying more than US$3 trillion in trade every year. The Philippines, Malaysia, Vietnam, Taiwan and Brunei have overlapping claims to parts of it.
The US has been conducting freedom of navigation operations in the region's waters and the US Navy supercarrier Ronald Reagan visited Manila two weeks ago after concluding a US-Australian naval exercise.
In a teleconference last Tuesday, US Air Force chief of staff General David Goldfein commented on the maritime tensions, describing the presence of Chinese vessels in Philippine waters as "concerning".
"I think activity that we see both at sea and in the air … has got to adhere to some international rules of order that we all live by. So, anybody in the region that violates those, it's concerning."
Additional reporting by Reuters
This article appeared in the South China Morning Post print edition as: order by duterte has china in sights