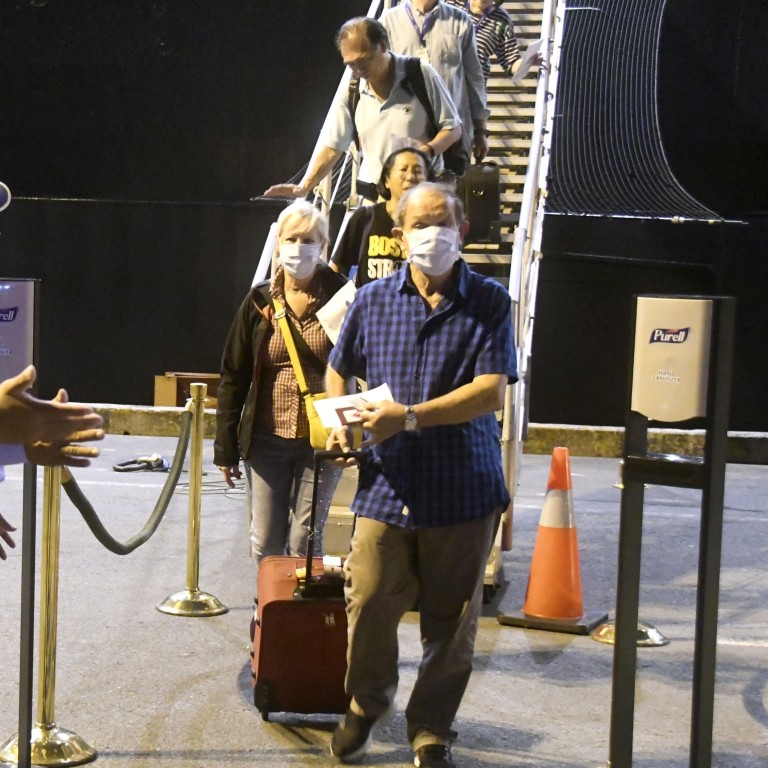 Coronavirus: US passenger from Westerdam cruise ship tests positive twice in Malaysia
The 83-year-old woman flew to Malaysia after disembarking from the ship in Cambodia. She was found to have coronavirus
The Westerdam had been stranded at sea for two weeks after being blocked by five places over virus fears, until Cambodia allowed it to dock
A
United States
citizen who arrived in Malaysia after disembarking in Cambodia from the MS Westerdam cruise ship has tested positive for the new
coronavirus
, the Malaysian health ministry said on Saturday.
On Sunday, the ministry insisted that it had correctly diagnosed coronavirus after conducting a second test.
The 83-year-old woman flew to
Malaysia
on Friday from Cambodia along with 144 other passengers from the ship, said the ministry.
The woman and her 85-year-old husband were the only ones of the 145 to show symptoms of the Covid-19 disease, said the ministry, adding that her husband had tested negative.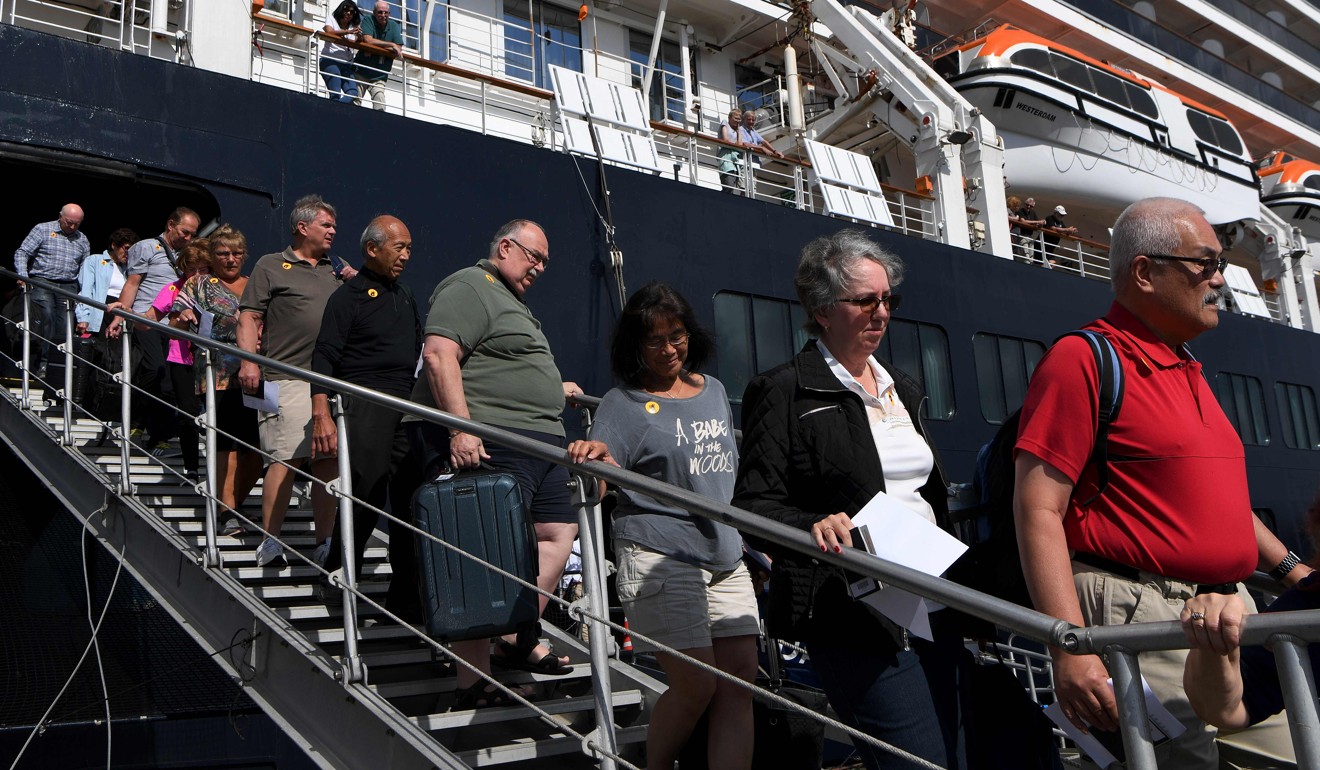 The Westerdam had been
stranded at sea
for two weeks after being turned away from five places – the Philippines, Taiwan, Japan, Guam and Thailand – over coronavirus fears. It was given the green light to dock at
Cambodia
on Thursday.
The ship, which had 1,455 passengers and 802 crew on board, arrived at the port of Sihanoukville early on Thursday morning to allow Cambodian officials to board and collect samples from passengers with any signs of ill health or flu-like symptoms.
Passengers
began disembarking
from Sihanoukville on Friday, and were expected to have been sent on their way by Sunday.
Malaysian health authorities on Saturday said the US couple was discovered to have "symptoms" during airport screenings.
They were sent to a hospital on the outskirts of Kuala Lumpur, the Malaysian capital. A test for the
coronavirus
came back positive for the elderly woman on Saturday. Her husband remains hospitalised for observation.
Cambodia urged Kuala Lumpur on Sunday to "double-check" the diagnosis, but Malaysian deputy prime minister Wan Azizah Wan Ismail said the 83-year-old American woman had already been tested twice.
"Our protocol is actually world-class … it's a positive," she told a press conference.
The American couple were among 405 cruise passengers who, after disembarking on Friday, boarded charter flights to either Cambodia's capital Phnom Penh, or to Kuala Lumpur.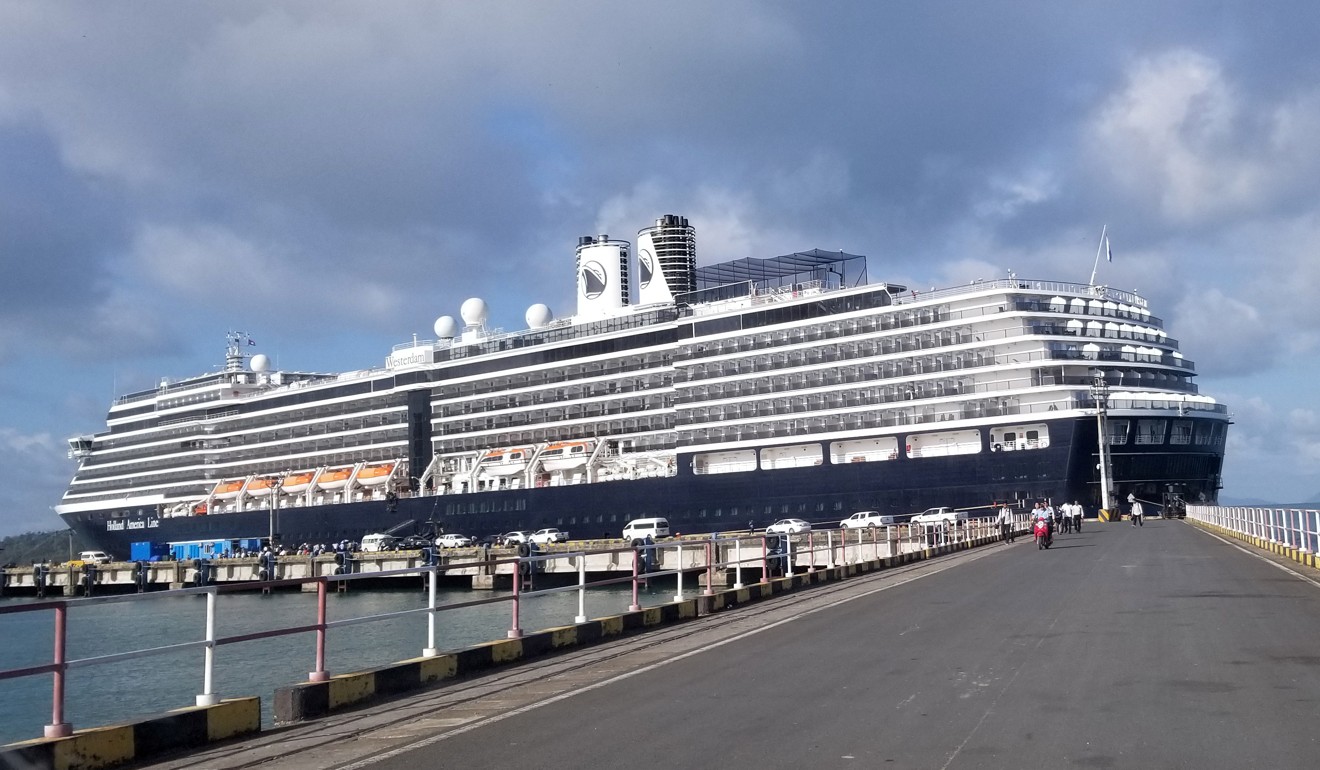 As of Saturday afternoon, more than half the 2,257 people on board had disembarked the cruise ship, a Cambodian official said.
At least 835 people disembarked on Saturday and flew out of Cambodia.
Due to the large number of passengers involved, the entire disembarkation process was expected to take at least three days to complete, according to a Cambodian official.
Before it arrived in Cambodia, the ship's operator, US-based Holland America Line, repeatedly stated that passengers were regularly tested and there were
no suspected cases
of the Covid-19 disease on board.
With the latest case, the total number of the
coronavirus
infections in Malaysia rose to 22, including 15 Chinese nationals and six Malaysians.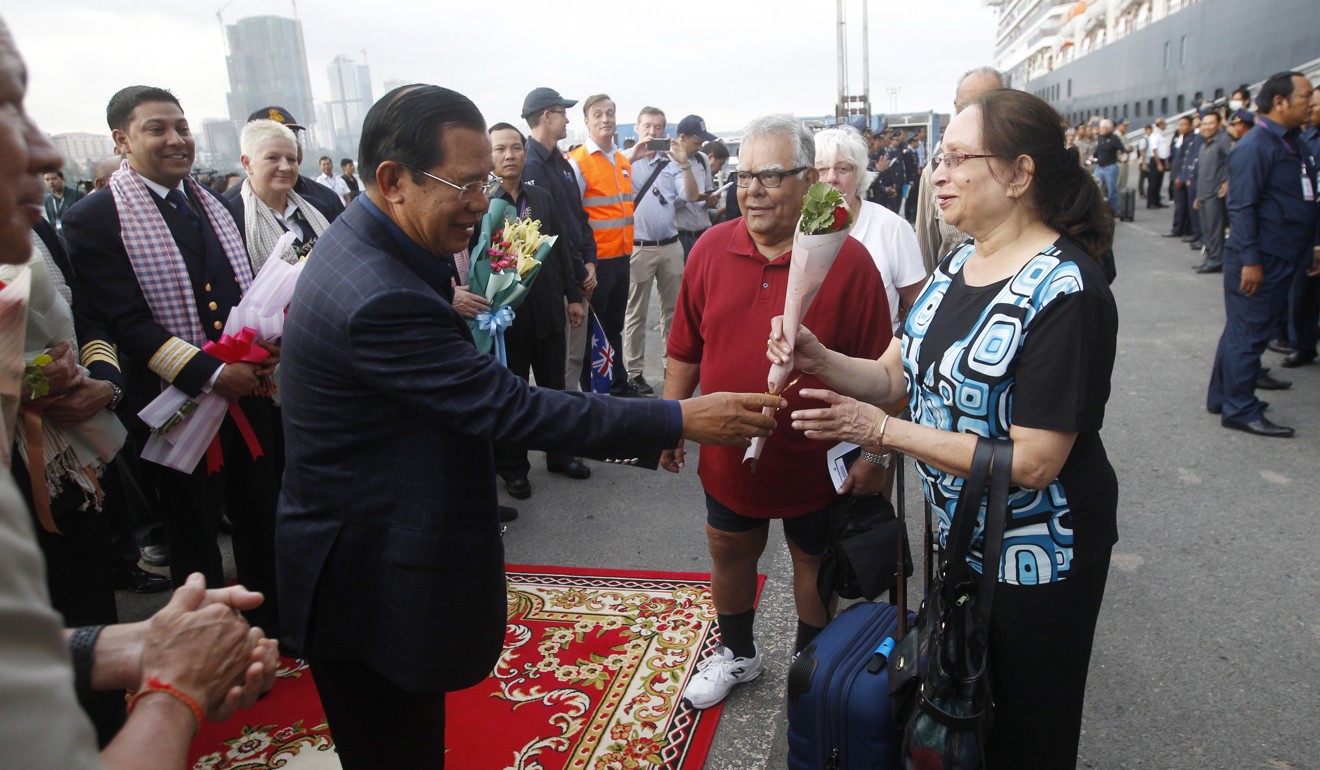 In a dockside news conference on Saturday while passengers were disembarking, US Ambassador W. Patrick Murphy said there were more than 600 people on board the Westerdam who were American citizens.
British passenger John Stanley said that in addition to the Americans, there had been about 150 people aboard from the UK, along with other travellers from Australia, Canada, France the Netherlands and Germany.
The European Union Delegation to Cambodia said there were 260 EU citizens from 20 different EU members states aboard the Westerdam.
Cruise ships around
Asia
face widespread fears they may be spreading the
coronavirus
.
The biggest cluster outside China has been on the
Diamond Princess
, quarantined off
Japan
's Yokohama. Out of about 3,700 passengers and crew on board,
at least 285
have tested positive and have been sent to hospital.
Vietnam turned back two ships on Friday. The AIDAvita, a German-owned cruise liner, had made stops in the
Philippines
,
Malaysia
and
Singapore
, state media said.
The Norwegian Jade was also denied permission to dock in
Vietnam
, passengers on board said in social media messages citing a letter from the captain.
Additional reporting by dpa