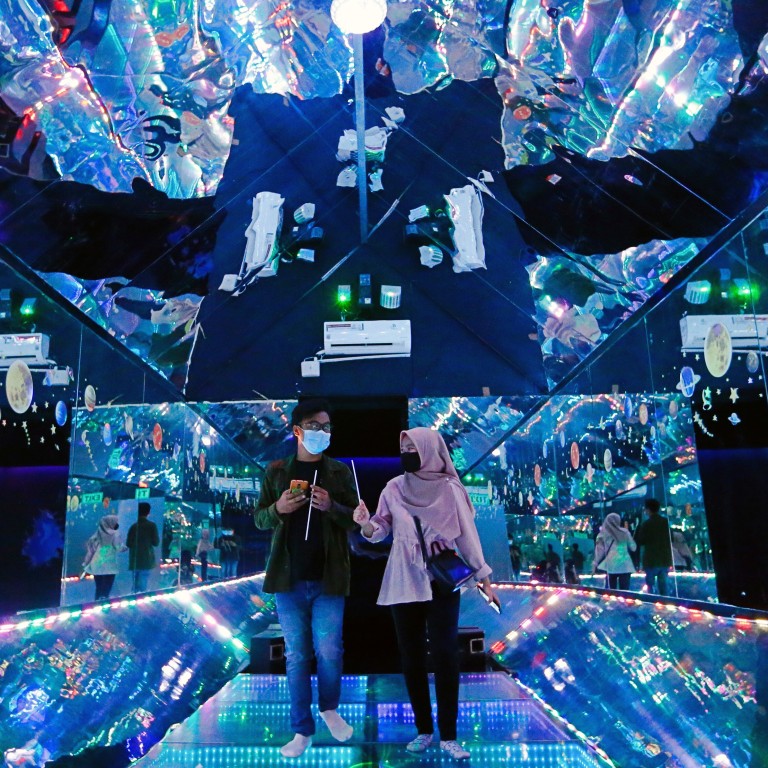 Coronavirus latest: Jakarta to reimpose lockdown; India reports record daily jump of 95,735 cases
The large-scale social restrictions will be reinstated on Monday amid soaring Covid-19 infections in the Indonesian capital
South Korea mulls extending curbs, while India's caseload surges past 4.4 million
Indonesia
's capital Jakarta will reinstate large-scale social restrictions beginning on Monday due to a resurgence in coronavirus infections, its governor said on Wednesday.
After first imposing the restrictions in early April, Jakarta gradually eased the measures starting in June as it managed to flatten the curve of new
coronavirus
cases. More recently, however, the emergence of new cases has seen a rapid increase.
Jakarta governor Anies Baswedan told a virtual press conference, "We have no other choice except immediately pulling the emergency brake" because the fatality rate and bed occupancy rate for new coronavirus patients keep going up, bringing the capital into an "emergency situation."
"We will be back to the early days of the pandemic – working from home, studying from home and performing religious activities at home," he added.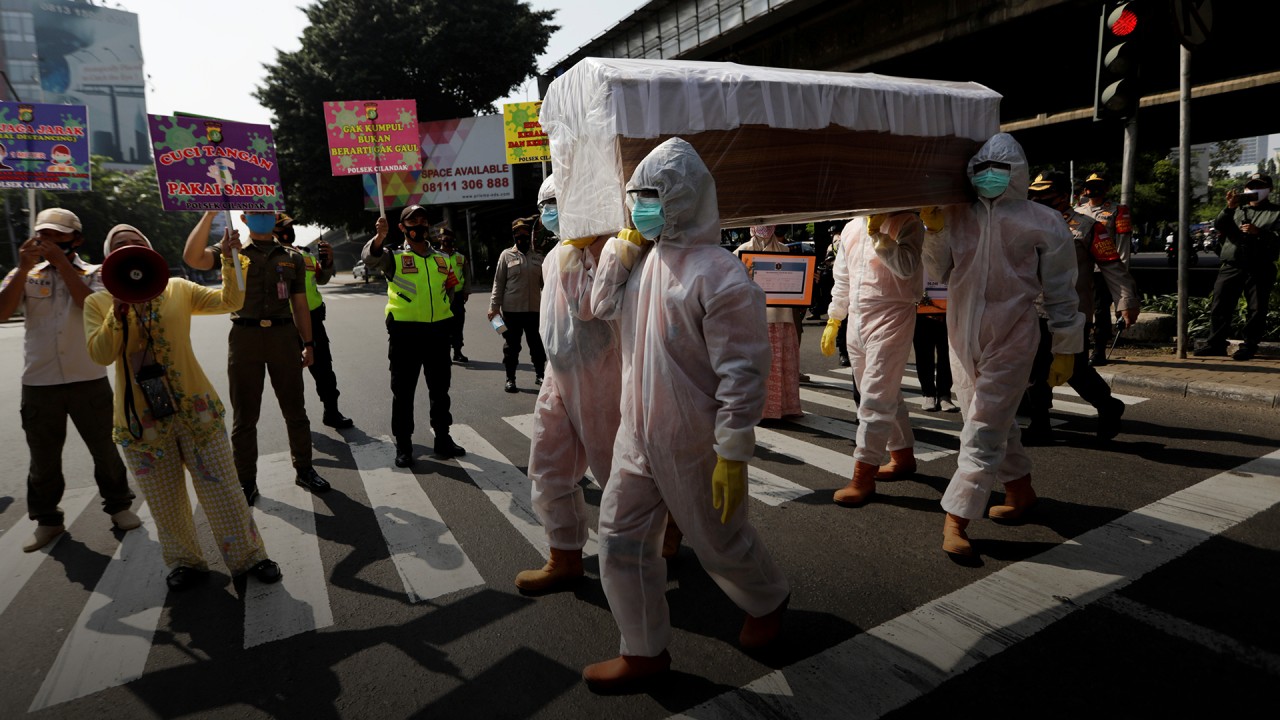 01:56
Indonesia parades 'coffin' through busy traffic to emphasise dangers of Covid-19
Indonesia parades 'coffin' through busy traffic to emphasise dangers of Covid-19
According to Baswedan, about 77 per cent of the hospital beds available for Covid-19 patients with moderate symptoms are occupied, with the limit expected to be reached by September 17 at current capacity levels.
Under the tightened restrictions, many socioeconomic activities outside the scope of essential services must be halted again, forcing some entertainment parks and shopping malls that have been operating under special conditions since June to be closed.
"Restaurants can only provide delivery service and are not allowed to give dine-in service," Baswedan said.
Public transport will be limited again and religious activities can only be performed in very small communities, the governor indicated.
"Until the vaccine becomes available, we must be ready to combat the pandemic by implementing social restrictions seriously and with full discipline," he said.
The Indonesian government has eased restrictions despite warnings from epidemiologists over a possible second wave of coronavirus infections in the country.
On Wednesday, Indonesia reported 3,307 new confirmed cases of the novel coronavirus, bringing the total number to 203,342, with 8,336 fatalities. Of the country's 34 provinces, Jakarta recorded the highest number of new cases with 1,004, bringing its total to 49,397 cases with 1,334 fatalities.
South Korea cases on a steady decline
South Korea's new Covid-19 cases stayed below 200 for the eighth consecutive day on Thursday, but rising untraceable transmissions and a spate of cluster infections have diminished the hope of easing social distancing rules at an early date.
The Korea Centres for Disease Control and Prevention on Thursday reported 155 additional cases, including 141 local infections, taking the national tally to 21,743 with 346 deaths.
"I am afraid we are going to see a long-tailed epidemic" in which small cluster infections continue popping up and daily case numbers are persistent staying over 100 for a long time, Professor Lee Jae-gap of Hallym University Medical Centre said.
"This puts the government in a dilemma over the issue of whether to extend distancing or not as officials are concerned about mounting economic damage and the public growing weary of distancing," he said.
Authorities have imposed stricter social distancing measures in the greater Seoul area until September 13, restricting dining at restaurants and shutting down churches, nightspots, gyms and after-school academies to contain the virus.
South Korea will soon decide whether to extend the restrictions in the Seoul area, which are due to expire on Sunday.
Health officials are concerned about untraceable cases which are hovering over 20 per cent, while scattered cluster infections continue occurring at medical facilities, churches, call centres and other workplaces.
Authorities worry the Chuseok autumn harvest holidays from September 30 to October 4 could lead to further outbreaks as millions of South Koreans visit their hometowns and ancestors' tombs.
"Please keep in mind that it would be of more filial piety for you to avoid visiting hometowns than seeing your parents in person during the Chuseok holidays," said Sohn Young-rae, a senior health ministry official.
The number of patients in serious or critical condition on Thursday came to 169, up 15 from the previous day, sparking concerns that the recent spike would lead to shortages in hospital beds and more deaths as most of them are seniors.
Meanwhile, President Moon Jae-in said the government is drafting the fourth supplementary budget of this year of 7.8 trillion won (US$6.58 billion) to aid struggling small businesses and jobseekers.
At an emergency economic policy meeting, Moon said the new outlays will be used for cash payments to small businesses as well as to households for paying mobile phone bills.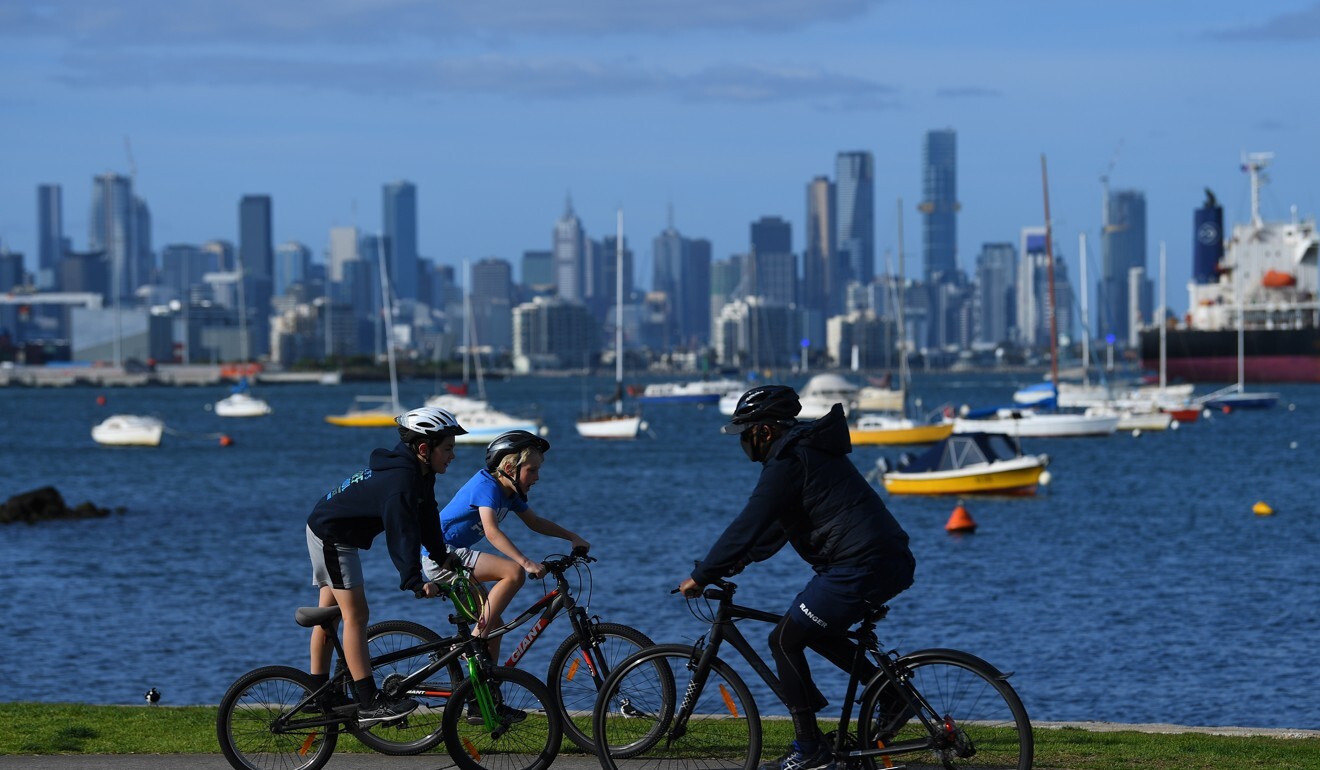 Australia urges Victoria state to lift night curfew
Australia's Covid-19 hotspot state, Victoria, should consider lifting a night curfew if the decision was not made on health advice, federal Health Minister Greg Hunt said, as total pandemic deaths in the state crossed 700 on Thursday.
Victorian authorities are trying to fend off criticism after its chief health officer told local radio he hadn't recommended the night curfew in state capital Melbourne, although he was not against it from "a public health perspective."
State premier Daniel Andrews confirmed to local media that the curfew had been enacted to make it easier for police to enforce a more general lockdown, which includes sweeping business shutdowns and restrictions on movement.
Hunt told Sky News he had been surprised at the news on the curfew. The federal government has been anxious to ensure state restrictions are not prolonged for longer than necessary given the damage to the economy.
"If there is no medical basis for something, then obviously, that is then something entirely within the remit of the Victorian government to address and we'd encourage them to consider that in the coming days," he said.
The state on Sunday extended tough restrictions to September 28, including a night curfew from 8pm to 5am in Melbourne.
The daily rise in cases eased in Victoria on Thursday as it reported 51 new cases in the past 24 hours, compared with 76 cases a day earlier. Seven people died from the virus compared with 11 deaths reported on Wednesday.
Victoria now accounts for about 75 per cent of the country's 26,516 Covid-19 cases and 90 per cent of its 788 deaths.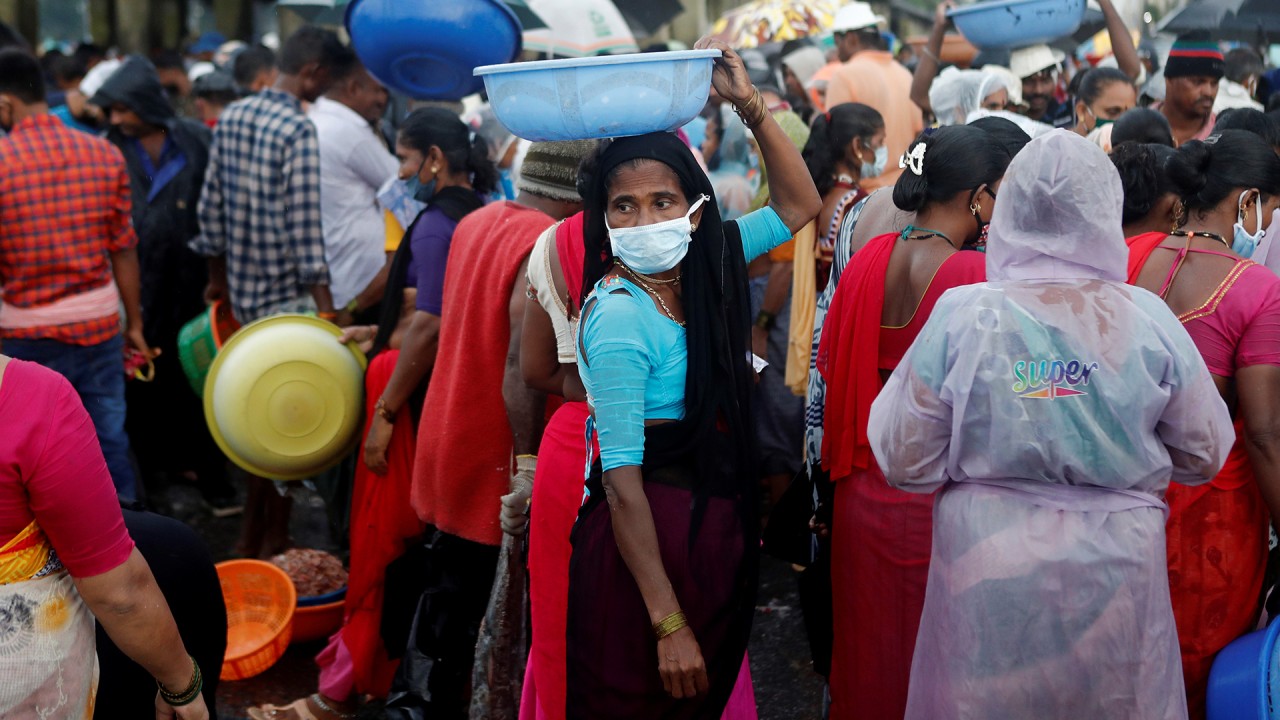 03:05
India overtakes Brazil with second-highest number of Covid-19 cases, city of Pune national hotspot
India overtakes Brazil with second-highest number of Covid-19 cases, city of Pune national hotspot
India sees record daily infections
India reported record jumps in new coronavirus infections and deaths on Thursday, taking its tally of cases past 4.4 million, health ministry figures showed.
In the last 24 hours, 95,735 new infections were detected, with 1,172 deaths accounting for the highest single-day mortality figures in more than a month, to push the toll beyond 75,000.
Infections are growing faster in India than anywhere else in the world and the United States is the only nation worse affected.
The health ministry said the surge in new infections is due to ramping of daily testing that exceeds 1 million now. However, experts caution that India's outbreak is entering a more dangerous phase as the virus spreads to smaller towns and villages.
The Indian capital saw a record surge of 4,618 new cases in the past 24 hours with 19 deaths. New Delhi, Pune, Mumbai and Chennai are the worst-hit cities in the country.
With the economy contracting by a record 23.9 per cent in the April-June quarter, leaving millions jobless, Indian authorities have said they have little choice but to continue reopening the economy.
Meanwhile, the Serum Institute of India maintained that the temporary halt to late-stage studies of AstraZeneca's Covid-19 vaccine candidate would not impact the timeline for vaccine trials in India. The studies in multiple countries were halted because of "potentially unexplained" illness in a British recipient.
Indian authorities said they would review the illness report and assess the information from the initial human clinical trials in India.
19 infected at Japan sumo stable
A coronavirus outbreak at a sumo stable in Tokyo has infected 19 people, the governing body said on Thursday, adding that a tournament will go ahead this week as planned.
The Japan Sumo Association said one wrestler and 18 trainees at the Tamanoi stable have tested positive for the virus, with 12 of those infected sent to hospital.
The cases follow the death in May of a 28-year-old sumo after contracting coronavirus, the sport's first Covid-19 fatality.
They were discovered after a trainee became sick last week and tested positive, prompting the stable to test everyone who had been in contact with him, the association said.
Of the confirmed cases, 12 have been hospitalised with minor symptoms, while seven others with no symptoms are being isolated at the stable.
The entire stable will be barred from the September basho, which starts on Sunday in Tokyo.
Additional reporting by Park Chan-kyong, Kyodo, AFP and Reuters