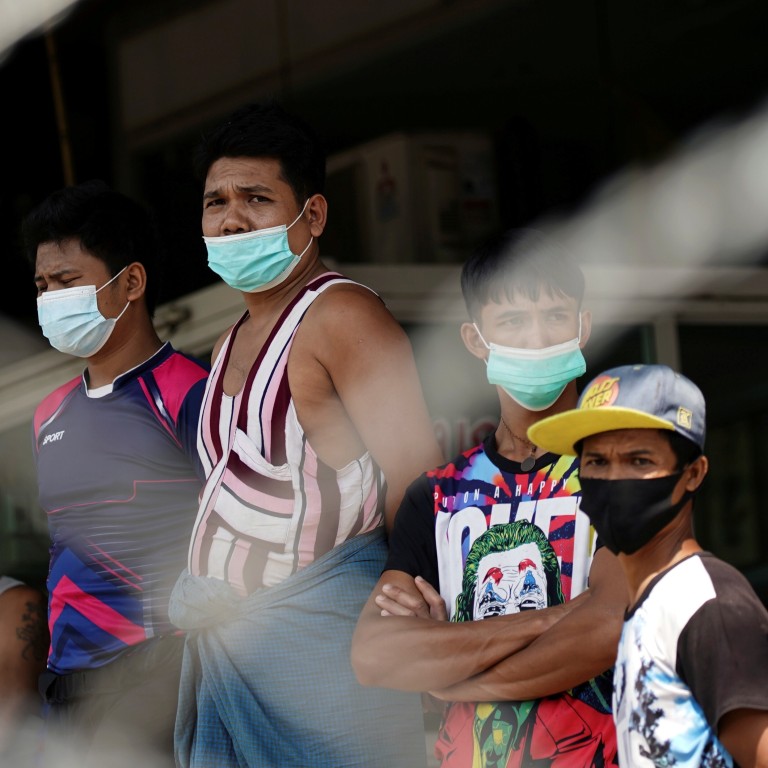 Coronavirus: Sydney tightens curbs as second cluster emerges; Duterte's guards used 'smuggled' vaccines
Household gatherings were limited to five people in Sydney, while Victoria saw three new infections after two months of no locally acquired cases
The Philippine defence minister said members of the Presidential Security Group obtained the shot without government authorisation
Authorities restricted movement and tightened curbs on gatherings in Australia's biggest city on Wednesday, hoping to avoid a
coronavirus
"super spreader" event during New Year's Eve celebrations after finding a new cluster of infections.
Household gatherings were limited to five people while the maximum number of people allowed to gather in public in Sydney was capped at 30. Residential care facilities were closed to visitors.
"We don't want New Year's Eve to be the cause of a super-spreader," New South Wales state Premier Gladys Berejiklian said as she announced the restrictions would take effect from midnight on Wednesday until further notice.
Berejiklian reported 18 new coronavirus cases on Wednesday, the biggest daily increase in a week, with nine of them part of an outbreak in the city's northern beaches that has grown to more than 100 people over the past week.
NSW Chief Health Officer Kerry Chant said a new cluster in the city's inner west, which includes six members of an extended family living in three different households, is expected to grow as members had joined Christmas gatherings.
The outbreaks in Sydney have dampened plans for the city's New Year's Eve harbour fireworks display, an event televised around the world.
In addition to the new restrictions, authorities have imposed a "green zone" in key vantage spots around the harbour that will be restricted to residents and people with confirmed bookings who get a permit.
The usual 9pm fireworks have been cancelled and the midnight session has been cut to seven minutes.
In the state of Victoria, after two months of no locally acquired cases, the health department late on Wednesday said three new infections had been diagnosed outside hotel quarantine.
It had no immediate details on how the infections happened. Australia has reported just over 28,300 Covid-19 cases and 909 deaths since the pandemic began, mostly in Victoria.
Thailand bans New Year gatherings
Thailand
imposed a ban on Wednesday on large gatherings and events across the country in an effort to contain its worst coronavirus epidemic yet during New Year.
Authorities have asked the public to avoid travel and have imposed tighter control measures in some areas, including entertainment businesses. Targeted lockdowns have been imposed in some provincial districts.
The health ministry confirmed 250 new infections on Wednesday, among the largest number of confirmed daily cases since a big outbreak found nearly two weeks ago that was the country's largest yet.
"Today's figures made me nervous... what we don't want to see is a second or third lockdown," Covid-19 task force spokesman Taweesin Wisanuyothin told a briefing.
"If the situation can't be controlled, rather than count down to the New Year, we may count up (the number of cases)".
Meanwhile, the Thai tourist city of Pattaya and the surrounding district were placed under lockdown on Wednesday.
The governor ordered the closing of non-essential shops in Banglamung district in Chonburi province, which includes Pattaya. Restaurants are allowed to serve only takeaway food. The province has also shut schools and ordered 24-hour convenience stores to close between 10pm and 5am.
Thailand also said it will allow undocumented migrant workers from
Cambodia
,
Laos
and
Myanmar
to work in the country legally for about two years to curb the spread of
Covid-19
.
Migrants have to sign up online and be registered by an employer to receive a work permit valid until February 2023, according to a resolution by the cabinet. They will first have to undergo health checks at a cost of about 7,200 baht (US$240), a Thai government spokeswoman said.
The Migrant Working Group (MWG) – a network of civil society organisations – estimated that between 600,000 and 800,000 migrants would be eligible to register under the new measures.
Though low in comparison to many countries, Thailand's average of 142 new daily cases is a setback for its efforts to keep the virus at bay, having recorded just 6,690 infections and 61 deaths overall.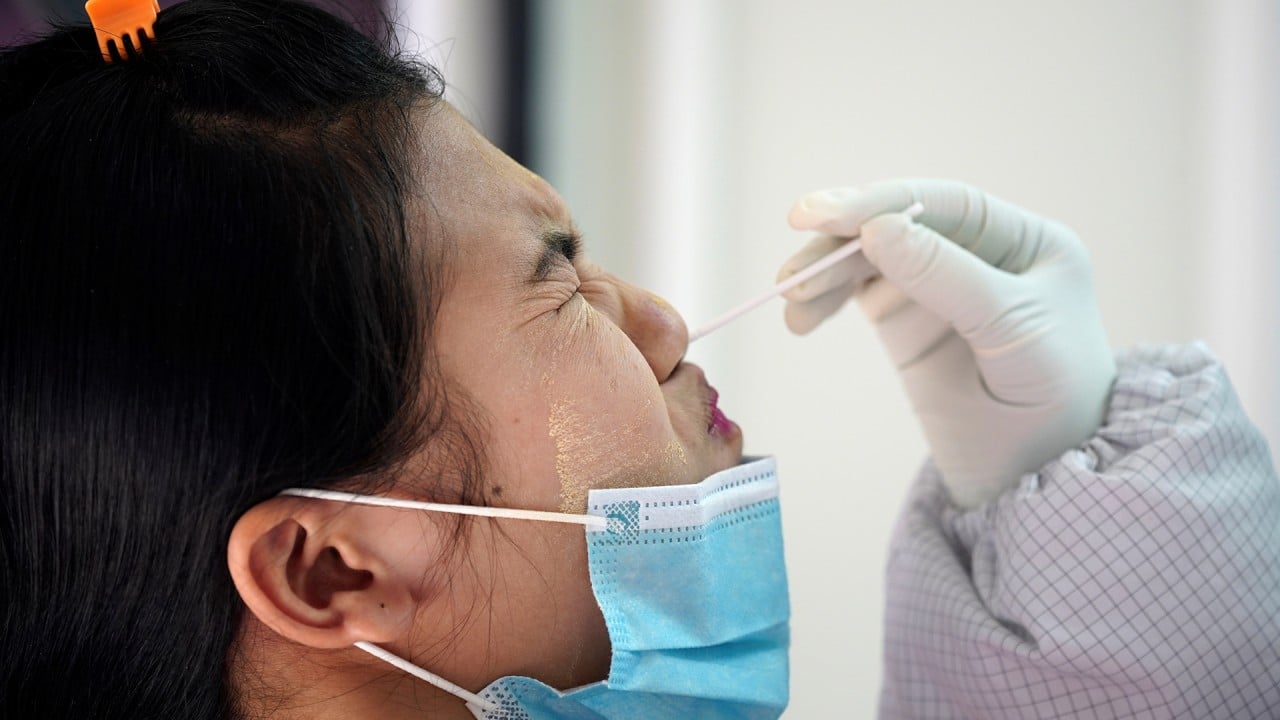 01:50
Thailand testing more than 10,000 for Covid-19 after record daily spike of coronavirus cases
Thailand testing more than 10,000 for Covid-19 after record daily spike of coronavirus cases
Duterte's guards used 'smuggled' vaccines
The Philippine defence minister said on Wednesday that
unapproved Covid-19 vaccines
given to President Rodrigo Duterte's military security detail had been smuggled into the country, but called the move "justified".
News of the special troop unit being inoculated as early as September has caused a stir among activists, with the Food and Drug Administration (FDA) yet to approve any Covid-19 vaccines and no set timeline for when health workers would receive one.
Defence Secretary Delfin Lorenzana said members of the Presidential Security Group (PSG) obtained the vaccine without government authorisation and had administered them without his knowledge.
"Yes smuggled, because they were not authorised, only the government can authorise," he told reporters when asked if the vaccine was smuggled into the country.
"They need to explain because they violated FDA rules."
He added: "It is justified ... it will protect them so they will not be infected and at the same time they can protect the president."
On Tuesday, PSG head Brigadier General Jesus Durante told news channel ANC that a handful of unit members had given themselves a coronavirus vaccine "in good faith" and the president was only informed afterwards.
Durante said the unit could not afford to wait for approval. He did not say how the vaccine was obtained, or which one was used.
Asked how the PSG obtained the vaccine and which was used, the health minister, Francisco Duque, said the FDA was investigating. FDA chief Rolando Enrique Domingo said his enforcement team had yet to complete its report.
South Korea tries to contain outbreak in Seoul prison
Authorities in South Korea scrambled to contain a cluster of Covid-19 infections in a prison as inmates waved signs through barred windows pleading for help.
There were 1,050 new cases nationally as of Tuesday midnight, bringing the total pandemic tally to 59,773 with 879 people having died, the Korea Disease Control and Prevention Agency (KDCA) said.
A prison in southeastern Seoul had 771 inmates and 21 staff infected, bringing the total number of infections linked to the facility to 792, Yonhap news agency reported, citing the justice ministry.
Justice Minister Choo Mi-ae on Tuesday visited the prison and ordered the separation of infected inmates from those who were not and the expansion of granting parole to exemplary prisoners, the ministry said in a statement.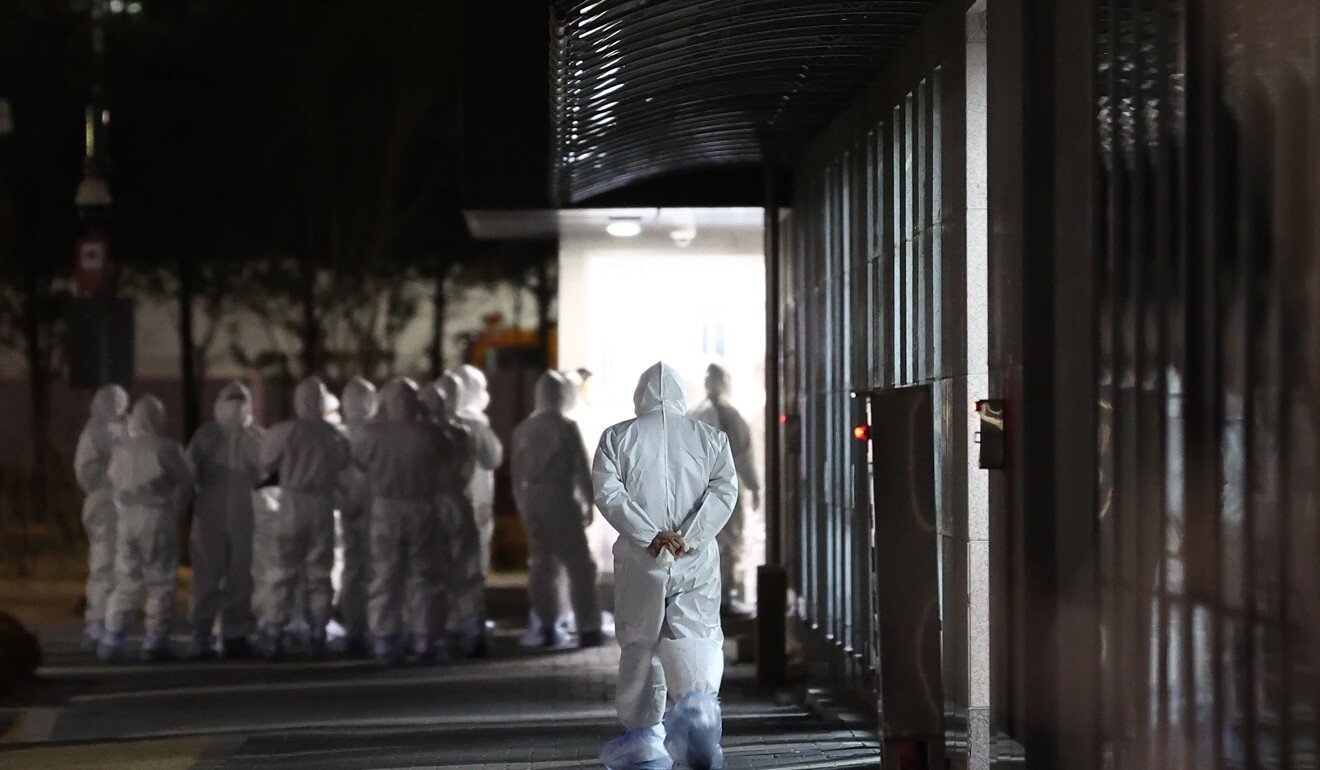 Meanwhile, media displayed pictures of the inmates holding up signs reading, "Please save us".
The KDCA had said an inmate with underlying conditions had died this week from Covid-19.
Authorities could further tighten social distancing rules this weekend as year-end travels increased the risk of more confirmed cases, Prime Minister Chung Sye-kyun told a government meeting.
"We have relatively low rate of confirmed cases to population, but about 40 per cent of the cumulative confirmed cases occurred in the past month," Chung said. "This wave of infections is becoming the biggest crisis."
India races to find UK arrivals
Indian authorities were trying on Wednesday to track down tens of thousands of people who entered the country from Britain in recent weeks as cases of a new and fast-spreading coronavirus strain more than doubled in 24 hours.
They have launched efforts to locate around 33,000 people who flew to India in the last month from the UK after 20 people tested positive for the new, more virulent strain – up by 14 cases since Tuesday.
India also extended on Wednesday the ban on flights to and from Britain by a week to January 7 in a bid to combat the new variant.
"Comprehensive contact tracing has been initiated for co-travellers, family contacts and others," the Indian health ministry said on Tuesday, referring to those who flew between November 25 and December 23, when Delhi suspended air links with London.
It remains unclear how many arrivals from Britain it has traced so far.
Of the 33,000 passengers to enter the country in the last month, more than 130 people have tested positive for coronavirus. The cases have been reported across India, but most are in Delhi and Bangalore. India has the world's second highest coronavirus caseload behind the US, with more than 10 million infections and 145,000 deaths.
Tokyo's cases keep jumping
The Tokyo metropolitan government reported 944 cases of the novel coronavirus on Wednesday, marking the second-highest daily tally on record and prompting Governor Yuriko Koike to warn that the capital is facing "a third wave" of infections of an "unprecedented magnitude."
Tokyo had just logged a record 949 infections on Saturday, and saw the seven-day rolling average of new cases top 800 for the first time at 815.7.
"We are in a very severe and crucial phase," Koike said. "It is no surprise that an explosion of infections could occur at any time."
With the latest figure, the capital has seen 58,840 confirmed cases in total.
Koike said that if the situation continues to worsen, the metropolitan government "may have no choice but to request" that Prime Minister Yoshihide Suga declares a state of emergency in a bid to curb the pandemic.
The recent discovery of new strains of the virus – first detected in Britain and South Africa, and then Japan and elsewhere in the world – has warranted "the highest levels of alert and precaution," the governor said.
Calling the year-end and New Year holidays a "watershed," Koike said individual actions will determine the pandemic's situation next year and urged people to heed precautionary measures.
A total of 3,711 new cases were reported in the country on Wednesday.
Indonesia to buy 100mn doses of AstraZeneca, Novavax shots
Indonesia has signed two deals to procure 100 million doses of coronavirus vaccines from British pharmaceutical firm AstraZeneca and US vaccine developer Novavax, the foreign minister said on Wednesday.
"Today we have secured more vaccine supply from AstraZeneca and Novavax, with 50 million doses, respectively," Marsudi said.
The signing of the procurement deals comes just a day after Health Minister Budi Gunadi Sadikin said that Indonesia would be signing agreement with Pfizer in a bid to secure more coronavirus vaccine to inoculate about 18 million out of its population of 269 million.
The deal with Pfizer to procure a confirmed 50 million doses and another 50 million optional doses is expected to be signed in the first week of January. Marsudi also said that 1.8 million doses of CoronaVac vaccine from Chinese company Sinovac is scheduled to arrive in the country on Thursday, following the first 1.2 million doses that were delivered earlier this month.
Reporting by Bloomberg, Kyodo, Reuters, DPA and AFP